SMB sticks to System 21 from EDS software
EDS, has been chosen to represent the Seychelles Marketing Board (SMB) - a government body engaged in importing manufacturing and distributing food items and other essential and non-essential goods in the Seychelles.
The SMB selected System 21 against heavy - competition from software giants in South Africa and Europe a company release said. EDS succeeded in securing the bid. Mrs. Lilani Perera, Executive Director, spokesperson for EDS credited John Salmon, Group Director and Mr. Sakthikumar, Seniormost Consultant from EDS Singapore Office with the Seychelles success.
EDS sources further confirmed that the EDS group and System 21 was evalutated against three shortlisted software suppliers and products and was recommended by BDO Stoy Hayward management consultants to SMB in UK.
As an organization that currently has many systems running covering both the integrated and the stand alone systems, among which is an IBM AS/400 application internally developed for invoicing, SMB was keen on obtaining the right package to suit their requirements.
The EDS solution suits SMB needs well, says a spokesperson for EDS; the systems will include a SKY Master accounting system running on a PC network, a payroll system running on a PC and an AS/400 invoicing system for wholesales invoicing of essential, non-essential, meat and vegetables and building material items. Most of the accounting reports will be produced using Lotus spreadsheets.
System 21 financial, distribution and manufacturing suites, human resource management applications and corvu business intelligence suite of applications are the other modules that will be covered under the offer.
An IBM AS/400 series model 620 will be chosen by the Seychelles Marketing Board as the base for the programme, according to EDS sources. The new system is expected to take overall systems other than the Supermarket Point of Sales System which will be integrated.
User education and product walkthrough is being handled already by N. Kugendran, a Business Consultant and Niranjan Vaidyakularatne, Technical Consulatant from EDS Lanka Office.
Company sources confirm that Mr. Sakthikumar who visits the site, plays a key role in providing expert guidance on implementation issues.
The project is managed by Dhananjaya Goonesinghe, Divisional Manager of RPG group. Walkthrough and the first phase covering financical and distribution modules will be attended by accountants, product managers, the unit managers and supervisors of the Seychelles Marketing Board.
---
Students turn bank managers
HNB for the first time conducted a conference for the students who are managing savings units in schools on 20th June 1998. Over 75 students from 30 schools participated at this occasion together with their respective teachers.
Many of the students were from the outstation areas such as Ambalantota, Ham-bantota,Anuradhapura, Balangoda, etc.
The programme was inaugurated by the Managing Director of Hatton National Bank, Rienzie T. Wijetilleke who in his address stressed on the importance of developing leadership qualities and fostering a relationship with a commercial bank. Mr. Wijetilleke also emphasised on the importance of having a vision of one's life in order to be sucessful.
Upali de Silva, Senior Deputy General Manager - Administration & Marketing, stressed on the importance of teamwork which is necessary to carry out any successful project and in establishing successful careers when the students leave schools and find employment.
The one-day conference consisted of lecturers presentations on key areas of importance for the students who are mainly from the commerce streams in the advanced level classes. The role of the Student Banker in the economy, the use of techonology in modern banking, rural banking and international banking were the key presentations made on this day.
The presentation on "Technology used in Modern Banking" conducted by P. R. Jayawardena, Asst. General Manager - Information Technology which highlighted and demonstrated all modern aspects of Tele Banking, Automated Teller Machines and the Computer Systems used in the bank was greately appreciated.
The presentations on "Rural Banking and International Banking" were conducted by M/s. Gamini Yapa and Lalith Fernando respectively. These were of immense benefit to the students to develop their knowledge on aspects related to their educational curricular. "The Role of the Student Bankers" presented by C. P. Abeywickrema, Asst. General Manager - Deposit Mobilisation & Marketing highlighted how the student can contribute to the development of the country and society by learning the habit of saving from their young days.
The programme was successful and the response of the students was highlighted by their request to the bank to conduct such programmes on a regular basis. HNB at present maintains over 30 such savings units in schools throughout the island and hope to expand this base to more than 50 by the end of this year.
---
Qatar Airways now flies to Munich
Qatar Airways flights between Doha and, Munich commenced last week.
The flights are operated under a code-share agreement with Lufthansa German Airlines, and bear the flight designator codes of both the carriers, a company release said.
Speaking on the occasion, Akbar Al Baker, Chief Executive Officer (CEO) of Qatar Airways said: "This is one of the significant days in the history of Qatar Airways. This is the beginning of the realisation of a tremendous amount of time and hard work that has been invested in the airline since its relaunch last year and an emphatic confirmation of the standards we have now achieved.
"The code sharing is as significant as the flight itself. By operating this way, not only do we have a public endorsement of our standards from one of the best airlines in the world, but we are also able to open up the entire European continent to Gulf-based travellers. The deal means that passengers can transit onwards from Munich to any of almost 70 European destinations operated from Munich airport by Lufthansa," the CEO added.
The CEO cut a ribbon at the stairway leading to the aircraft to mark the launch of the Doha-Munich flights. The launch ceremony was attended by Daniel Naoumovitch, General Manager, Sales & Marketing at Qatar Airways, Marwan Koleilat, Sales & Marketing and other officials of the airline.
Qatar Airways is represented in Sri Lanka by Delmege Forsyth Tours (Pvt) Limited an Associate Company of the Delmege Group.
---
FASL celebrates 16 years
The Forex Association of Sri Lanka celebrates its 16th anniversary this year. It was founded in 1982 as the Sri Lanka Forex Club, with a small membership, and has since grown to a membership of over 140 which include all banks and financial institutions dealing in fixed income securities, money and foreign exchange markets.
The year 1997 was historic, as the Sri Lanka Forex Association hosted the first South Asian dealers Forex conference which was a success. At this confercnce Sri Lanka was elected to chair the first presidency.
At the AGM held in April, the following members were elected to the executive committee for the period 1998/1999.
President : Dula Weeratunga ( Commercial Bank)
First Vice President : Farook Pallie (Bank of Ceylon)
Second Vice President : Kapila Jayawardena ( Citi Bank)
Secretary : Shantha Balasuriya (Standard Chartered)
Asst. Secretary : Tony Gomez ( Hatton National Bank)
Treasurer : Brindley Kroon (A.N.Z Grindlays)
Asst. Treasurer : Ashan Dassanayake ( M.B. Financial)
Committee Members : Sachith Perera (Honkong Bank) and Senaka Udugama (Vanik Inc).
---
Training farmers for multi competence
The Sri Lanka Business Development Centre (SLBDC) is conducting a series of training programmes on Entrepreneurship Development for the second and third generations of farmers of In-Mas scheme in North-Central and North-Western Provices in the months of June and July.
The main objective of this programme is to develop entrepreneurial competencies of the participants to enable them to embark on other income generating activities or self-employment initiatives. Consequently these measures are expected to upgrade their standards of living and improve their quality of life, a centre release said.
The training methodology used to train the participants is called competency based economies through formation of enterpreneurs (CEFE). It has been developed by the German Agency for Technical Co-operation (GTZ) and successfully implemented in more than 60 developing countries, including Sri Lanka.
---
Banking All year-round at Commercial Bank
The Commercial Bank of Ceylon has become the first bank in Sri Lanka to offer its regular services 365 days a year. Its Cinnamon Gardens branch is now opened to customers from 10.00am to 2.30pm on weekends and public holidays, a company release said.
This would enable the customers of 47 ComNet branches of the Commerical Bank to transact business at this branch as they would at their own, even on weekends and holidays. This is possible because the Cinnamon Gardens branch is linked to ComNet the largest computerised banking network in Sri Lanka.
This means that customers of any ComNet branch will be able to encash cheques and withdraw savings upto a maximum of Rs. 100,000 (or more with prior arrangement), make deposits to any account, carry out MasterCard settlements and obtain account information even on holidays.
Any member of the public too may open accounts, encash or purchase Travellers Cheques, Foreign Currency notes or Sri Lankan Rupee drafts, apply for MasterCard and CAT card facilities on holidays and weekends.
The convenience of settling utility bills such as telephone, electricity and water bills is another facility offered by the branch.
"Customers who are too busy to transact business during weekdays would also find this extension of banking hours a great convenience," a spokesman for the Bank said.
The Commercial Bank's Cinnamon Gardens branch is situated at 209, Dharmapala Mawatha.
---
GM People's Bank
Chandra Sahabandu has been appointed General Manager of the People's Bank. A graduate of the University of Peradeniya, he joined the People's Bank in 1973 and was serving as its Additional General Manager until the new appointment.
Dr. Gamini Fernando, Chairman of the People's Bank has said in a company release that Mr. Sahabandu's long experience in diverse fields of the banking sector would be directed mostly to streamline its facilities extended for domestic and international business activities, and to implement effective measures to recover past due loans.
Mr. Sahabandu who commenced his banking career as a staff officer in the Bank of Ceylon, joined the People's Bank as the manager of the Katugastota branch and later served as the Manager of the Peradeniya branch.
In 1987, he assumed duties as Regional Manager and was in charge of the Bank's operations in the North Central Province and the Trincomalee District. During his period of service in the North Central Province, he was in the forefront in providing banking services to the peasant sector overseeing specially the Mahaweli Project areas.
He was promoted as assistant general manager in 1989 and as a deputy general manager in 1995. He has headed the division of finance and planning, information technology, administration and human resource development and treasury during his two-year stint as a deputy general manager, before being appointed as the additional general manager in October 1997.
Mr. Sahabandu, an old boy of Thurstan College, Colombo, has followed many banking development programmes overseas. He has undergone training in bank management in the United Kingdom and with the Central Bank of Indonesia. He was also attached to the Banking Development Centre in India on a UNIDO Fellowship to follow a course on Project Financing and Management.
---
Fantastic Internet possibilities
Despite the fact that Sri Lanka Telecom has a monopoly over all IDD transimissions in Sri Lanka, there is nothing they could do to prevent communications taking place via Internet as it basically transmits digital data and not voice, a leading communications expert said recently.
Romesh de Silva, Sales Manager of the VSAT division of Ceycom speaking before The Sunday Times/Celltel Business Club meeting held last Monday said that the ability to send messages across borders via e-mail at a fraction of the cost of the coventional means of communication has been a 'great driver' from the consumers' point of view.
Another important development in the Internet is the increasing number of business transactions taking place via the network.
For example, in countries like Hong Kong and Singapore, consumers can order their meals via credit card.
Cyber-shopping for books by means of International Credit cards could now take place with the Amazon Bookstore of USA which has a vast range of 16 million works, he noted.
Mr. De Silva, tracing the origins of the Internet, said that the system was evolved in the late 1960s after the US government had come to realise that in case of a thermonuclear attack, a single atomic bomb falling into the pentagon could disrupt its entire military command structure as far as communication was concerned.
As a result, the Rand organisation was commissioned to come up with a solution, which they did.The solution was to enable the distribution of information from the hub system where valuable data was concentrated in one single location to a pier-to-pier structure where such information could be conveyed to different locations. This system known as Apanet continued from 1969 to 1990 had to be discontinued when state funding was withdrawn.
The system however continued to exist in important institutions such as universities and thus was born the Internet-avast network of computer networks transmitting digital data.It was only in 1991 that the Internet was made available to US citizens.
Although initially based on textual communication, the WWW Protocol developed shortly afterwards enabled the conveyance of visual images as well.
It was only in 1994 that positive steps were taken to provide Internet connections to Sri Lanka and it is estimated that today about 25,000 Sri Lankans have access to the network, said Mr. de Silva.
There are special sites for cyber-shopping in Sri Lanka, he noted like that at Avakasa Kade, run jointly by Ceycom, ITMIN and the Golden key Credit Card Company.The store has about 700 products ranging from flowers and cosmetics to greeting cards and books.
Customers are given the option of two methods by which they may purchase items, viz. by the credit card method via e-mail or by filling in a special form meant for the purpose and faxing it to the Golden Key Credit Card Company.
The credit card company serves as a sort of verification body ascertaining that the customer gets his goods and the supplier, his payment.
Mr. de Silva said that Web TV where consumers will have access to the Internet via television will probably be made available to Sri Lankans in the near future.
---
New CEO at Mobitel
Ms. Cathy Aston, Group Manager, Telstra Asia South and a senior officer of Telstra International has assumed duties as the new Chief Executive and Managing Director of Mobitel.
Ms. Aston who joined Telstra Corporation in 1989 has held numerous senior positions within the group making significant contributions to Telstra's international businesses in the region, a Mobitel release said.
She has obtained her Bachelor of Economics (Economic major) from Macquarie University and Master of Commerce (Accounting & Legal Studies) from the University of New South Wales. Ms. Aston has served in the Directorates of Mobitel, Telstra V. Comm-lndia, Modi Telstra-lndia, Telstra India, South Asia Holdings in Mauritius and Satel JSC Kazakhastan.
Ms. Aston is no stranger to Sri Lanka, having visited on numerous occasions on business.
This appointment was announced by the new Chairman of Mobitel (Pvt) Ltd and Managing Director Telstra International Mr. Ted Pretty, after the recent meeting of the Board that was held in Colombo.
Telstra International of Australia is a major shareholder of Mobitel (Pvt) Ltd a joint venture Company with Sri Lanka Telecom. Mobitel continues to be a market leader in the cellular industry in Sri Lanka focusing on providing the best network service.
Telstra is the largest integrated telecommunications provider in Asia and the Pacific Region.
---
Tokyo Cement Company gets ISO - 9002 status
Tokyo Cement Company Lanka Ltd. became the first Sri Lankan cement manufacturer to be awarded the Accredited Certificate to the ISO 9002 quality management systems standard.
"This is yet another acknowledgement of our well defined quality process and our commitment to our quality policy - this time by an international body" Managing Director Mr. Abe, has said in a media release. The brand was also the first to be awarded the SLS mark certification by the Sri Lanka Standards institution, the release added.
Over the years the company has transferred Japanese technology and know-how to the Sri Lankan work force who have had their grounding in Japan and are able to take total responsibility at various levels of production. Mr. Abe said that the Company's commitment towards maintaining the highest quality standards, systematic documentation, information gathering and prompt attendance to customer needs have resulted in them being rated at an international level.Mitsui Cement Company Lanka Ltd is a collaboration between Mitsui Mining of Japan and St. Anthony's Consolidated.
"The pledge of quality is binding" and Mitsui Cement more than lives up to its promise". Mr. Gnanam, Joint Managing Director, Mitsui, said that the requirement of conducting regular internal quality audits will benefit and result in a continuous review of their systems, which in turn will help in improving the quality process, thereby improving the quality of the product.
Det Norske Veritas (DNV), an autonomous independent foundation with the objective of safeguarding life, property and the environment, conferred the ISO 9002 status on the company, and is one of the leading certification bodies in the world, accredited to carry out quality management certifications as per ISO standards. Infact DNV is a founding member of the European Foundation for Quality Management. As per the certification process DNV will be carrying out regular periodical audits on the company. The certification of Tokyo Cement Company [ Lanka] Ltd. was by Raad Voor Accredite [ RVA ] who is the Accreditation Council for the Netherlands.
---
Sampath leads with Bancs 2000
Sampath Bank recently signed up with Millennium Information Technology to provide clients with a complete range of on-line financial services through an ultramodern corporate banking solution,Bancs 2000, the digitally networked information system provided by Infosys Technologies of India through their local support partner, Millennium IT, will enable customers having access to a wide range of banking service including web-based banking via Internet.
According to CEO Millennium IT, Tony Weerasinghe, the new system will put Sampath Bank ahead of its competitors.
Bancs 2000 which is an integrated retail and corporate banking solution offering rich functionality, portability, scalability and flexibility, will help the bank increase operational efficiency.The system is capable of providing connectivity to miltiple delivery channels such as ATM's, telephones, remote terminals and the Internet.It will also ensure security and integrity of all on-line transactions and provide accurate, up-to-date information enabling quick and efficient decision-making.
---
Left inspires Ceylinco group to do right business
By Feizal Samath
If one is to acknowledge that internationally- famous revolutionary guerrilla leader Che Guevera partly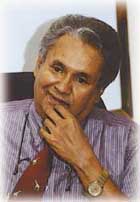 inspired the success of one of Sri Lanka's biggest conglomerates, many would say the company is mad, crazy or insane.
Guerrillas in Sri Lankan parlance are terrorists.... mass murderers as the dreaded LTTE leader Velupillai Prabhakaran is so often called. So what do you learn from them - a method of madness, a method of terrorism?
Well the amazing truth is that Sri Lanka's Ceylinco Group owes some of its success to guerrilla tactics and Che Guevera. That is, insofar as the management part of a guerrilla organisation is concerned.
The group, involved in a range of trading and services with the flagship being life insurance, is modelled on the lines of a cellular organisation not a pyramid one, which is the corporate norm of running a business.
A cellular organisation can be of any size, but the smaller it is, the better. The man in charge of a cell can be a manager, director or general manager. He is in full control of the funds, the management, the administration and prepares the business plan the way he sees it.
So where does Ceylinco fit into this jigsaw puzzle of guerrilla warfare and how one's business can be organised?
"I read about guerrilla fighter Che Guevera, Mao Tse-Tung, Ho Chi Minh and other guerrilla leaders in the world including Prabhakaran. They all have this cellular organisations, one of the most effective organisations in guerrilla fighting because if one cell is captured it doesn't jeopardise the whole organisation."
"The pyramid-type organisation is a product of the military. See how effective the cell is against the pyramid. Under the pyramid type of organisation, a soldier receives a command through a chain. By the time he receives these instructions it could be too late for whatever he is doing. In comparison, the guerrilla cell has about five to ten men and decides its own strategy."
These are the words of Ceylinco Group Chairman Deshamanya Lalith Kotelawala, explaining the similarities between the guerrilla cell and the group's 12 profit centres or key companies.
It is probably the only group that follows the cellular type of structure where there is no holding company like other big corporate entities. No consolidated accounts.
By having independently-run organisations in the group, Ceylinco is never in danger of collapsing in case of one company failing. It also makes economic sense to streamline and decentralise management and allow senior staff more responsibility and authority in the decision-making process.
A classic example of what a success the cellular structure has been came in the wake of the Central Bank bomb blast in 1996. The Ceylinco House, the staid flagship of the group, was shattered and only a shell remained. Worse than that, Kotelawala narrowly escaped death, almost lost his sight in one eye and suffered cuts all over his body as he watched the tragedy from his rooftop office.
What should have happened to Ceylinco? Crumble like the building as its chief guide and mentor went out of action? No way.... the cellular organisation structure worked. Even though one building or profit centre was down, other profit centres continued to grow, develop and thrive.
"It is the best tribute that they could give me - keeping the company afloat and developing it while I was absent. They (staff) ran it. They developed it. I have never centred everything around me. I never wanted that. Ceylinco is not a family business, as some people may see it. It is an institution. It has a life of its own. Generation after generation, it must go on. I am just a part of it," he said.
After the Central Bank blast, the group has spread out its senior executives to ensure they work in different places and are not concentrated in one location for security reasons. The group's deputy chairman Daya Senanayake, does not share an office floor with Kotelawala, like he did at Ceylinco House.
This is a general practice followed by most international companies. For instance it is a rule of thumb for company executives not to travel together in a single plane because in the event of an air crash, it would wipe out the entire top hierarchy.
In a wide-ranging interview, Kotelawala speaks with emotion, authority and humility.
The interview is not about profit and loss or the stereotype piece. It is about - what some company executives may find mundane - lifestyles, poverty, unemployment, being a good corporate citizen, creating wealth amongst the people, creating a Sri Lankan identity, equality among all beings and helping the poor.
Of course, profits matter if you are to stay in business. "We are not unduly concerned about profits. We take profit as a measure of success. Never profit for the sake of profit," he says, drawing on his pipe.
Ceylinco's key business is insurance but it has interests in a wide range of activities like banking and finance, leisure, real estate and housing, automobiles, diamonds and services among others.
The 12 main companies are run by chief executive officers cum directors who have risen from the ranks. "They are tried and tested," says Kotelawala. The group has no religious, racial or political bias. It cuts across all barriers and ensures a level playing field for every employee.
As a standard practice, the company's application forms contain no cage - as found in government forms - for religion. "We want to create a Sri Lankan identity. Once you do that you have Sinhalese, Tamils, Moslems, Burghers whose strength lies in their loyalty to the organisation and their talent," he said.
"How awful it is to know that a man is not promoted because he belongs to the wrong religion or the wrong race in the eyes of his boss. It is against all fundamental rights," Kotelawala argues.
Ceylinco has more than 60 directors in different companies and nearly 90 percent of them have risen from within, being sales representatives, accountants and other categories of staff. There are very few outsiders serving as directors on boards.
Two former security guards - one of whom "often opened the car door for my father (Justin Kotelawala, the founder of Ceylinco)" - are now company directors.
The wide spread of companies - 68 in all - and in not having a holding company means it cannot be categorised like John Keells, Aitken Spence or Hayleys. But it was creditable for Seylan Bank, which accounts for just 10 per cent of turnover of the Ceylinco group and 90 of the group's 200 branches across Sri Lanka, to be listed in the top 10 companies in the island by Business Today magazine.
Kotelawala feels that though the country won political freedom, 50 years ago, "we are still to win our economic freedom".
Kotelawala said he wished the rules of banking and finance would be gentle on "small" people who fault in their repayments. "The regulations are so strict and rigid."
Few people may be aware that the group has introduced the Grameen Bank concept in Sri Lanka. This micro-credit scheme started in Bangladesh by Grameen Bank founder Professor Mohammed Yunus - in which small loans are given to entrepreneurs with no security or collateral - has been a huge success and is now practised in many other countries.
Ceylinco Venture Capital and Ceylinco Development Bank have hired a group of graduates - who with no banking experience whatsoever - study the requests for loans and make recommendations.
These barefoot bankers don't wear ties or travel in posh cars. They go on cycle or by bus to rural communities. The loans range from Rs. 1,000 to one lakh and the recovery rate has been as high as 90 per cent.
"So what of the future? Well it's exciting times ahead for Ceylinco as it moves into the new millenium. Commodities exchanges in rural areas - through their network of offices - video conferencing facilities in its banking network again in rural areas and networking of all branches are some of the things in the pipeline.
The Ceylinco House is set to rise from the ashes and a new Ceylinco-Seylan Towers taking shape opposite the Oberoi Hotel, is due to open next October. But Kotelawala hopes to remain at the Duplication Road office, for now. Forever.
That's where home is. And that's where the heart is.