---
Critics laud Pavuru Valalu
The film we are all waiting to see - Pavuru Valalu - qualified to enter for the Critics Awards 98 because it was completed and ready for screening last year. While we wait, it swept the boards at the Awards, winning 10 out of 11 awards - possibly a record. Sri Lanka Film Critics Forum, which organises Critics Awards, considers films produced in a particular year for the awards. So even the ones which have not been screened are eligible for participation.
In contrast to Pavuru Valalu, the panel of judges found that out of the films produced in 1996, there wasn't a single film fit to be given an award. So it was 'nil' awards for 1996 and except for one, all the other awards went to 'Pavuru Valalu ' for 1997.
"For portraying the shattering of selves bound by alien and soul destroying norms and values in a sophisticated and restrained filmic style that shows a sensitivity to the psycho-sexual construction of the individual", Pavuru Valalu was adjudged the most outstanding film of the year.
Its director Prasanna Vithanage was declared the most outstanding director "for combining technical knowledge and skills with a deep understanding of human relationships to develop a cinematic narrative structure that portrays the complexities of a situation in which two human beings are caught in a web of post-colonial heritage and social obligation and for bringing that experience to a level of universal perception".
Nita Fernando won the award for the most outstanding performance for "a sensitive portrayal of the emotional turmoil of a woman, a single mother, enmeshed in social norms that privilege the male, torn between respect for tradition and personal desires, between her obligations as a mother and her expectations for herself."
The other awards were for outstanding cinematography (Suminda Weerasinghe), editing (Lal Piyasena) and script (Tony Ranasinghe). Critics' Merit Certificates were won by Harsha Makalanda (music), Seetha Kumari (acting), Lionel Gunaratne (sound) and Kanchana Talpawila and Mahendra Perera (art direction).
We would certainly have appreciated these awards better had we got a chance of seeing the film.
Outstanding actor
Jackson Anthony's role as Thunmulle Padme in Gini Avi Saha Gini Keli won him the Critics Award for the most outstanding performance (male) - the only award that went outside Pavuru Valalu.
The citation said he won the award for "capturing the essence of the cycle of political violence that has gripped Sri Lanka through the last decades in a manner that transcends the limitations of both script and screenplay, creating, with immense humanism, a character of a man who is himself a victim of violent political circumstances and for underplaying a larger than life role with restraint and sophistication."
A tribute
Well known lyricist Dharmasiri Gamage met Veddah chief Tisahamy in the early nineties in Badulla at the time Tisahamy was agitating against moves to oust his community from Dambana. Gamage was impressed by the commitment and dedication shown by this leader of a community of 79 families.
"I will continue to live with the animals in the jungle. None can change our style of living," Tisahamy insisted.
Returning from Badulla, Gamage was convinced that here was a man, a true leader working with the sole objective of his community's future. He deserves to be remembered for posterity. While travelling Gamage started penning a few lines to pay tribute to this leader.
When Nanda Malini asked Gamage for some lyrics for a concert, he told her of what he had done. Nanda was more than happy to sing in remembrance of Tisahamy. They got a talented musician, H R Chulasinghe to compose the music based on Veddah tunes. The result was a beautiful song dedicated to the 'uncrowned king' of Sri Lanka's indigenous people. That was in 1993.
Five years later, Gamage discussed his involvement in producing this song in a programme broadcast by Lakhanda paying tribute to Tisahamy after his death.
A day to remember
How many of us realised that the birthdays of four well known artistes, who are no more, fall on the same day?
Fr Marcelline Jayakody, Professor Ediriweera Sarachchandra, Karunaratne Abeysekera and Premakirthi de Alwis were all born on June 3. Fr Jayakody who passed away last January would have been 98 this year, Professor Sarachchandra 84, Abeysekera (Karu Aiya as he is fondly remembered) 68 and Premakirti, who had a tragic end, 51.
Kala Lanka Foundation remembered these stalwarts with a Pinkama held in their memory.
Heard on news
A female TV news an- nouncer was heard referring to 'un - animous choice' where we would normally say 'unanimous choice.'
---
Book Shelf
Those days in London...
I went to the Times office and told the watcher I wanted to see the editor. A short while later I was called in to Mr Dhanapala's room. I was wearing a white shirt and a brown pair of shorts. Mr Dhanapala looked at me from head to toe over the specs he was wearing. He looked at my manuscript and asked me "why-you didn't have paper".
I had really written the short story not on writing paper but on some remnants of paper which had been used for decorations at a cousin's wedding.
Reputed novelist Madawala S. Ratnayake relates this incident of his first visit to Colombo (his hometown was off Kegalle) in Davas Gevee Giya Mese, his seventh novel. He was then a schoolboy. The short story he refers to won a prize at a competition organised by the Lankadipa. He had written a few more stories.
He was now keen to publish his first collection of short stories and wanted a foreword from the editor of Lankadipa.
This was Madawala's entry to journalism. Having served in a number of Sinhala newspapers he moved over to broadcasting. He continued his creative talent in the sphere of literature. Among his works are seven novels, another seven collections of short stories, three poetry books and two translations. Lester James Peries selected one of his novels, Akkara Paha to make a film.
Madawala wrote Davas Gevee Giya Mese mainly based on his stay in London on a training course. He has succeeded in presenting an extremely interesting collection of personal notes by combining incidents in London with the past thus relating many an eventful happening in his career. "While reminiscing I have also attempted to examine two societies - their similarities and dissimilarities," he says.
---
There's peace in her horror
An exhibition of paintings by Druvinka will be on from June 20 to 28 at the Heritage Art Gallery, 61, Dharmapala Mawatha, Colombo 7.
By Prof. S. B. Dissanayake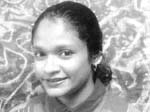 Druvinka's paintings are somehow intrin sically resistant to the efforts of language to apprehend them. The last time I wrote about them, the artist had given me a narrative clue; she said they were triggered by the plight of the Hutu refugees she had seen on a TV screen. This time when asked about her most recent work, she said they were just compositions with figures, and after some hesitation, she added this time the figures could be of children, the thousands of children in the modern world who are displaced, orphaned, sick and starving: in Sudan, Iraq and North Korea.
The representation of these children in the media that elicit from us only a momentary or a passing sense of horror, are in Druvinka's paintings, a constant presence; something we can meditate upon. They are not like the images of photo-journalism where we quickly pass on to other images and other things, but like icons. Yet what could best be written about Druvinka's paintings is still for me, her manner of doing it.
In these paintings, Druvinka activates her picture surfaces with her figures and charges them with something like "surface tension". The figures and ground even out, subsumed into the greater force-field of the total surface; making the whole, a living, pulsating thing. The flat forms are absorbed and integrated into the surface; and what we see in the totality of the work is a metaphor for a human tragedy, for a consciousness.
Because of a certain nearness of space in these pictures, Druvinka is able to induce in us something more than a mere awareness. The squares and rectangles of the compositions are a "shutter-like" device that constantly broadens our view, and brings into focus the things we have been casually dismissing and forgetting after seeing them in newspapers and TV screens. In these paintings, the refugee camps and institutions into which these children are corralled, suddenly open up for us again with a greater immediacy and a sense of urgency born of our own imagination. Our memories, fantasies, desires, anxieties, stray associations, acts of censorship and substitution, melt into a single consciousness of the fragile human condition that surrounds our lives.
These pictures have, to a remarkable degree, something of the sense of peace of the photographic in modern visual culture; in front of one of them we can have both a detached third person view of the world and our own position in it, and an engaged first person view from inside that of the artist's, as well as our own perspective. It may be one reason why these pictures will not be well served by titles; another might be that beyond what I have already said about them, there may be other, social, political or metaphysical underpinnings to them. In the end of course, it is for each viewer to interpret according to his or her sensibility, background and experience.
If there is a return to "primitivism" in Druvinka's figure representations, it is motivated by formal reasons I think, as it has been in some period of modern art. She has used these figures to serve as a link between representation and its reference in reality so that as signs they can circulate through an abstract field of relationships in an open language of representation. For her purpose the figures are classically stilled to emphasize the perennial reality of human suffering and its reflection in art.
With the frozen images in trancelike attitudes under sombre illumination, she reaches beyond the context of Western high-art, to illuminate a world in which dream and reality conflict and intersect.
---
They took us to a world of fun and make believe
By Alya Henry
It all happened one late af- ternoon at Bishop's Col lege. The wonderful old story of the Wizard of Oz was brought to life, presented by the Overseas School Colombo and performed by pupils drawn from the third grade upwards. The auditorium was humming with excited children, parents, teachers, and friends. The atmosphere reminded me very much of a happy family picnic.
Nonetheless, the audience was very well behaved: not a whisper, not a cell-phone bleep. Yet, where appropriate there was always enthusiastic applause.
The old story of Wizard of Oz recounts Dorothy's (Rachael Molitor) magical adventures after a tornado lifts up her home and carries it to Oz, a place unknown to her. She shrewdly informs her dog, 'Toto, I don't think this is Kansas'.
Little creatures called Munchkins welcome and congratulate her for destroying the Wicked Witch of the East - only the ruby shoes identified the victim. Apparently, Dorothy's house fell on top of her. And crushed her. The Witch of the North who is a jolly little thing dressed in gold, praises Dorothy's success but warns her of the Wicked Witch of the West (Simone Cullen) who is the sister of the dead witch and no doubt will want her sister's ruby shoes - but Dorothy must never give them up.
Meanwhile, Dorothy wants someone to show her how to get out of the magic world of Oz, back home to Kansas. She is told only the Wizard of Oz would know how to do that. She is advised to follow the 'yellow brick road' which will lead her to the wizard's castle.
On route to the castle Dorothy meets some interesting characters (good little actors) who have special needs. The Scarecrow Man (Petia Tzanova) needs a brain, a Tin Man needs a heart, a timid Lion needs courage. They all go with Dorothy on her quest for the Wizard of Oz and ask him to help them. But the wizard reveals to Dorothy that she must first destroy the Wicked Witch of the West.
The wicked witch, who is upset by the death of her sister, threatens to destroy them. She imprisons Dorothy and her companions in her castle, where they work as slaves under the watchful eyes of the evil monkeys. Eventually, Dorothy overcomes the wicked witch and turns her into a puddle.
To those in the audience who knew the story (and who didn't) the revision of the tale was a delight. Memorable songs like Somewhere over the rainbow or Follow the yellow brick road were charming and magical.
The singing was excellent - familiar songs and tunes were rendered by the young actors with great gusto; their innocent enjoyment transmitted itself to the audience.
The whole presentation was coloured by the youthful energy and vigour of the performers. And what a great idea to use discreetly hidden personal microphones. Although our seats were at the back of hall we heard every word.
The stage sets were bright, simple and effective, e.g., a background of colourful flowers, and these magically turn into boys and girls. The performers entered the world of fun and make believe with spirit and energy. The dance of the storm clouds was very effective. Dressed in black, the children ran about while the flickering strobe lights made it all look quite menacing, and spooky. Good effects.
Dorothy (Rachael Molitor), not unlike young Judy Garland some half a century ago, caught the imagination and the hearts of the audience. She was a true heroine, daring and brave; a serious little actress; showing resourcefulness and wit in the face of adversity, standing up against the wiles of the Wicked Witch of the West (Simone Cullen, another excellent little actress; her screams must have perforated the eardrums of many a viewer).
It was great fun. And of course, the wicked witch was destroyed, the evil monkeys returned to their innocent selves, and good triumphed over evil.
---
Book Review
All about plants in Sinhala
Plant Nutrition by Professor L.R. Jayasekera
Publishers: Lake House Investments Ltd.
Reviewed by Prof. H.G. Nandadasa
This text book on plant nutrition written in Sinhala for G.C.E. Advanced Level students by Professor L.R. Jayasekera satisfies partly a grave need in the science education in the country.
Text books available for 'A Level' Botany students in Sri Lanka are very few. Although some good books written in English have been imported they are out of reach of students because of their high price and the language barrier. The problem is shared by school teachers as well.
The few books in Botany written in Sinhala are either restricted to some parts of the syllabus or seem to need revision to include recent advances in the subject. The book on plant nutrition covers one aspect of plant function defined in the syllabus for which recent text books written in Sinhala are very scarce.
The book contains only four chapters. The first one defines and explains different methods of nutrition based on the recent classifications accepted by biologists. The other three chapters give descriptive accounts on the processes of photosynthesis, phloem transport and mineral nutrition of plants in a comprehensive form. The author has also given a series of laboratory exercises that could be performed in school laboratories.
Although the subject area covered in the book is narrow, the concepts and issues discussed in the four chapters have been dealt with fully, including recent knowledge in the subject area, to satisfy the requirements of an 'A Level' student. University students studying plant physiology would also find this book a useful basic guide. The value of the book has been enhanced by the inclusion of a dictionary and an index of the technical terms used in the book.
The language is simple and the presentation attractive.
---
Vision of a Malay artist
Nasireen Samdin, a Malay artist who paints in the universal medium and writes his literary contribution in Sinhala, poses interesting questions to the interpreters of his works.
"In the nature of things" Samdin's exhibition will be on at the Lionel Wendt from June 19 to 23.
"When the object and subject are one, everything is something... in the nature of things. The "seen" and the "scene" are one and all. The object and the subject of this exhibition is this," says Samdin, articulating his essential vision as an artist.
His exhibition of esoteric and mystic paintings entitled "In the nature of things" and his short stories focus on his ethnicity both as a Sri Lankan citizen as well as a representative of the Malay culture.