Part 9 of our series on the
environment with Studio Times
When water flows in all its fury
By W.R.H.Perera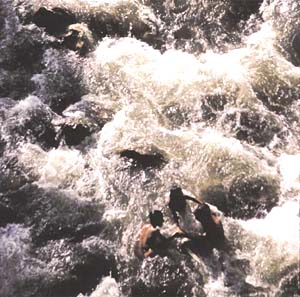 There are diverse forms of 'flash floods'- floods that suddenly inundate a region with lightning speed . They may occur within an hour or less of a rain or thunderstorm, or may be a sudden flood overnight. Some may not describe the latter as 'flash floods'.
An elephant tethered in a bungalow garden at Kitulgala was found next morning with only its raised trunk above the flood waters.
Three main contributory factors could be identified:
1. Unplanned development of cities and towns, with the relevant authorities ignoring the necessity to provide adequate drainage - storm drains - for the speedy flow of water after a heavy shower or cloud burst; including negligence to clear existing drainage systems.
2. Tampering of the environment - "The Ecological Grid' being denuded.
3. The 'fury of nature'- Massive and torrential rains caused by an intensive low pressure system.
The first contributory cause needs no clarification.
The 'pulsating nucleii' of our Ecological Grid, forms the birth place of all the tributaries that feed most of the life giving national Rivers. For example, the Pattipola, Horton Plain, Ohiya complex of forests forms a strategic location where many tributaries of the Mahaweli, Kelani, Walawe rivers and Uma-Oya, originate. Similarly the lands in the Madulsima, Poonagala range of hills are an important source of water for the Kumbukkan Oya, Kirindi Oya, Menik Ganga and Uma Oya.
The two examples given above, together with other nucleii of the Ecological Grid, act as a sponge, absorbing and 'storing water in the impervious potters earth' and discharging it gradually to the rivers.
Tamper with this 'sponge' and rainwater will flow in all its fury over a denuded surface in a matter of hours, overflowing the banks of rivers and causing misery in the path of the resulting flash flood.
By only declaring national rivers as sacrosanct and leaving the Ecological Grid to the possible mercy of regional 'War Lords' one may be committing national environmental suicide.
Torrential rains over a very short period, could cause flash floods overnight - some scientists may not call these flash floods. In December 1956 or 1957 torrential rain, over 30 inches (if I recollect correctly) of rain in a few hours in the Anuradhapura region, caused a massive flash flood, even breaching a major tank bund, with a tidal wave of flood water sweeping away villages between Habarana and Kekirawa. Ten years earlier, in August 1947, the Kelani river changed its course overnight.
An elephant tethered in a bungalow garden at Kitulgala was found next morning with only its raised trunk above the flood waters. In the mid nineteen thirties, the Getambe bridge at Kandy was inundated by over 20 feet of water in a short period.