---
'Forgotten' women of Mulleriyawa
By Kumudini Hettiarachchi
Gaunt, emaciated human beings. Close-cropped hair, which has not seen a comb for years, wide eyes some bereft of emotion, others quite intelligent. Smut pouring down their noses and small sores and rashes, most probably caused by bed bugs, covering their hanging skin. And flies in their hundreds.
Women, women and more women, women wherever you look, in clean but threadbare clothes-hungry, starving not only for food but also for some love, a kind word, a little bit of care_.or even just a chat. They are right here among us.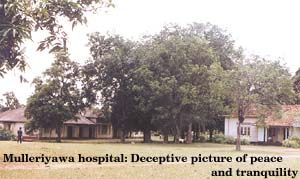 These are the hapless victims confined in UNIT 2, as the board so innocuously tells us, at Mulleriyawa. The world does not know they exist, maybe the world does not care. Most of them have been abandoned, dumped by their loved ones. They live their lives of misery, some mentally ill, others quite sane_and die there. They are the daughters of a lesser god.
I just happened to drop by to see a friend's distant relative. My friend suggested that I take a packet of biscuits, as "she loves sweets". So here I was, at the Mulleriyawa Mental Hospital. Wide open spaces, greenery everywhere. One passes UNIT 1, and takes a winding road....on and on, past a small temple, a few houses. More open spaces, paddy fields with cows grazing, an idyllic rustic scene. Over a small bridge, up an incline and through a rickety gate which has not been closed for a long time. Peace and tranquillity pervade the air.
And there I am clutching a packet of biscuits, hesitant to walk in to this "madhouse" as we say derisively while getting on with our daily lives. But this is not bad, I think.
The reception that awaits me stuns me. Suddenly I am surrounded by women, young and old. I ask them for the person I am looking for and they lead me to a ward. The ward is clean, the sheets on the beds are clean too. But the flies-large black patches on the white sheets. There are fans, but they are not working or have been switched off.
It's just before noon and the women in this ward are having their bath. So I wait awhile. The veneer of tranquillity is shattered. An old woman with dishevelled curly grey hair is seated in a cane chair. She is asleep with her mouth open and flies swarm over her face, especially round her mouth and even inside her mouth. She is tied tightly to the chair with a white cloth passed around her hips. Urine has seeped through her clothes, through the chair onto the floor leaving a puddle of yellow liquid. She must be a violent patient, I think to myself. Then I meet my "temporary" friend, hand over the biscuits, chat with her for 10 minutes and get up to leave.
I am mobbed once again by the women. Some of them plead, "Give me 50 cents." For what? I ask. This is a government hospital where everything is provided. "To buy jaggery, because we don't get much sugar," they explain. Others say they require the money to buy tobacco or betel. A pretty young girl wants to buy a cake of soap - the small luxuries of life we in the outside world take for granted. I see no mirrors, not even a tiny one. These women have not seen their own faces in years.
Can they go to the boutique? No they can't, but they will give the money to someone else to bring it for them. Then they lament, "Apita dankuda denne" (We are given the burnt remnants of food). Are they telling me the truth?

I stop awhile to chat. Some touch me hesitantly and others reprimand them not to do so. That I will get scared and leave soon. Suddenly I feel a tug at my plait- an old woman squatting on the floor flashes me a toothless smile and says I'm like her daughter, whom she hasn't seen for 20 years.They ask me whether I have children and are thrilled that I do. "Next time you should bring them along," they insist.
There are 14 wards and the place seems to be teeming with women. So I ask a passing attendant how many patients there are and she replies that they have about 950. Sometimes it jumps the 1,000 mark. Nine hundred and fifty in that building, it seems incredible. I don't think half of them have beds. This is long-term agony. Yes, most government hospitals are overcrowded and patients have to sleep on the floor, but they leave hospital in a few days, weeks or months.
But for most of these women at UNIT 2 it's a life term. Why?
According to them and the attendants, those who handed them over to the hospital must take them back. But most relatives, it could be a husband, brother or father, dump them there and never come back. Some of them give bogus addresses. Others have remarried or simply don't want to be bothered with these patients.
Some have been there for two years, others for 10 and still others for 20 or more. I think one even said 32 years-a lifetime. Some of them have accepted the quiet tragedy that they will die there. I didn't speculate on what would happen to the body.
I ask a young girl why she's here and she says, "Mee mes more" (epileptic fits). Should she be there at all? Epilepsy can be controlled, like diabetes. It's not a mental illness. Another claims she gets headaches. A few say they get "pissu" from time to time.
What do they do all day - absolutely nothing. A few, three or four are in the "Occupational Therapy" room doing crochet or lace work. But the others, more than 900 idle all day. Sometimes they watch television. It crosses my mind that even I would go crazy if I had nothing to do the whole day. There is only a very thin line between sanity and insanity.
I speak to the odd attendant and nurse here and there. I sympathise with them. Theirs is a very hard task. Cleaning up these women, maybe feeding the ill ones and being there all day. As I walk out I notice a filthy, dingy, dilapidated room, with dirty shirts hung over the windows. That is the kitchen. In there I see all men, about 10. A male domain. Men amidst these vulnerable women. My cynical journalist's mind thinks of rape, molestation, sexual harassment, may be even lesbianism among the women themselves. I quickly quell the idea. But even if a woman goes missing it would be hard to detect because there are so many.
About five women walk me to the gate in the scorching sun. As they say, "Theruwan Saranai" (May the Triple Gem bless you), they are shooed in by an attendant. I start my long, dusty walk back to the main gate and stop at a boutique in the village to quench my thirst with a soft drink. I casually ask the owner whether any patients from the mental hospital come there. He volunteers the information that many men do, but not a single woman, because it would be disastrous to let a "pissu" woman out. I nod and leave for home.
I try to get about my routine, but scenes of UNIT 2 keep haunting me. What can I do? I can only write an article and hope that the hospital administration would look into their "files" and see what they can do about these women - otherwise they are doomed to be daughters of a lesser god, live there and die there without a single tear being shed for them.
---
What can be done

Can some of them be sent home with medication?
Can't a rehabilitation centre be opened elsewhere for those who are cured so that they can recover fully before going home?
Can't those who need to be there for some time be taught a skill - flower making, embroidery or some handicraft. With such a lot of focus on gender, and foreign aid flowing in for gender-based projects, couldn't the authorities work out something?
The patients who cannot do anything should at least be engaged in gardening - with so much of land they could easily produce all UNIT 2's requirements of vegetables.
They could also be trained to help in the kitchen, of course with female staff.
If relatives of patients cannot be traced, appeals could be made through the media, both electronic and print,for people to contact the authorities for information.
---
Minister says mental health a priority
Health and Indigenous Minister Nimal Siripala de Silva when contacted by The Sunday Times said that he had identified mental health as a priority area and had persuaded the World Health Organization, during a very recent visit to Geneva, to provide US $80,000 as extra-budgetary funding.
On the instructions of President Chandrika Bandaranaike Kumaratunga, the Minister had also appointed an eight-member committee headed by Prof. Nalaka Mendis to look into the problems at mental hospitals and submit recommendations .
With specific reference to overcrowding at Mulleriyawa's UNIT 2, he said a peripheral unit had been opened in Walasmulla three months ago to transfer some of the patients there. But there was some resistance to such moves.
Conceding that most of the patients at UNIT 2 were not suffering from a chronic conditions, Mr. de Silva explained the need for more peripheral units in provincial hospitals so that patients could be treated there close to their homes.
He has identified Kataragama for the second peripheral unit.
He urged the medical profession to cooperate in decentralising mental health work.
Meanwhile, Mulleriyawa Medical Superintendent Dr. Roy Perera declined to comment... when asked by The Sunday Times about the state of affairs at Mulleriyawa .
---
More Plus * 'Please sir, we want some more'
Front Page| News/Comment| Editorial/Opinion| Business| Sports | Mirror Magazine