Dorset team here again
Another delegation from the Dorset Chamber of Commerce and Industry in Britain will be in Sri Lanka from June 15 to 19 on a trade mission, an official said. The 23 member delegation will be offering a wide range of goods and services and explore new business and investment opportunities in Sri Lanka.
On this second visit to Sri Lanka the delegation will meet the Trade Minister Kingsley T. Wickramaratne and the officials of the Chamber of Commerce here.
Some of the products and services on offer will be machine tools, laboratory chemicals, power generators, automobile and industrial maintenance. Sri Lankan businessmen who wish to get in touch with the delegation are requested to contact the commercial section of the British High Commission.
---
Vibhavi holds exhibition
The Vibhavi Academy of Fine Arts is to hold a presentation of drawings and paintings done by a group of leading artists on Friday.
VAFA was set up in 1996 as a non governmental non-profit organisation. It offers a three year full time course in drawing, painting and sculpture, and has a complement of 27 full time students.
The presentation will be held on Friday, June 5, at 5.30 p.m. at 38, New Jayaweera MW, Ethul Kotte.
---
Prasanna's day of joy ends in mishap
7 killed, 40 injured in bus accident
By Chris Kamalendran
For young Royalist Prasanna Domingo it was going to be a happy day when he was to join his friends on a trip to Nuwara Eliya.
Prasanna and his father, Asoka Domigo boarded a private outstation bus heading for Colombo at Panadura. Minutes after they boarded, the bus crashed into a lamp post at Koralawella in Moratuwa killing seven of the passengers and injuring 40 in one of the worst bus accidents in recent weeks.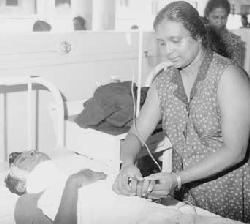 Prasanna in hospital


Both, Prasanna and his father were among the injured who were rushed to hospital.
Meanwhile Prasanna's friends at Royal College, Colombo went ahead with the trip unaware of the tragedy.
The midnight express from Ambalantota carrying more than 80 passengers was heading towards Colombo at a high speed when it hit the lamp post at Koralawella in Moratuwa. The bus driver had earlier been warned at a check point in Galle against reckless driving. The driver had apparently lost control of the bus, leading to the accident.
The driver Maduka, 24, who escaped with minor injuries told The Sunday Times the vehicle skidded off the road and hit the lamp post. The bus was carrying mostly passengers to Colombo on various duties including several patients who were due to keep early appointments with their doctors at clinics and hospitals.
A kidney patient, Nilmini de Silva, 28 from Galle said "I boarded the bus from Balapitiya with one of my aunts. Both of us failed to find a seat and were standing. The bus was travelling at a high speed. Suddenly we heard a big bang. When I woke up I was in hospital." Among the injured were also two cancer patients who were heading to the Maharagama cancer hospital. Moratuwa OIC Traffic, SI U. Tennakoon said that it appeared that the accident had occurred due to reckless driving.
---
Pakistan's currency curb won't affect Sri Lanka
By Arshad M.Hadjirin
Sri Lanka's trade will not be affected by Pakistan's decision to restrict the outward flow of foreign exchange, Pakistan's High Commissioner Basit Alia Haqqani assured yesterday.
"Sri Lankan businessmen will not be affected in any way, and they could continue their trade with Pakistan," he told The Sunday Times.
The deplomat said the restriction applied only to Pakistani nationals who were residing in Pakistan and were maintaining a foreign currency account.
"Sri Lankans could do business with Pakistanis in any foreign currency, and vice versa" he said.
Mr. Haqqani said the government in Islamabad was evolving a whole new agenda to tackle the situation arising from the economic sanctions imposed on Pakistan by US , Japan and other countries in the aftermath of last Thursday's five nuclear tests.
The Pakistani Finance Minister, Sartaj Aziz announced on Friday, a three month-temporary restriction, to stop the the outward flow of foreign currency in an attempt to stabilise the economy.
"Pakistanis could use their foreign exchange reserves for purposes of imports, travel, etc., and could also get it changed into Rupees," Mr. Haqquani said.
---
Asian MMC's talk problems
By Kumaradasa Wagista
The four day seminar on development of Asian municipalities and the role of private initiative and civic participation was inaugurated by Provincial Councils and Local Government Minister Alavi Moulana at Hotel Lanka Oberoi yesterday.
The Minister said seminars of this nature were always an encouragement to the growth of friendship by coming to understand each other. It's important as matters are discussed in an open forum away from petty political squabbles, without personal abuse.
Mr Moulana said private sector co-orperation and co-ordination was always welcome as in matters of administration is equal to all.
He was glad that NGO's were also fighting for peace at the risk of their lives.
As a trade unionist for the past 45 years he has understood the concept of consultation will bring the best of results.
---
All's well that ends well
A teller at the Kollupitiya branch of a prominent bank gave over the counter a sum of Rs. 6 lakhs 50 thousand, to a driver, who had tendered a cheque for Rs. 65,000 at a busy hour on Friday. On realising the error, a search was made to get at the driver who apparently did not know that he had been given money ten times over and above what the cheque was drawn for. Happily for everyone the episode came to a close, when around late afternoon the oversight was detected by the account holder, and the excess money promptly returned.