Now they are talking bull
A workshop spotlights animal and other novel alternative transport modes
By Feizal Samath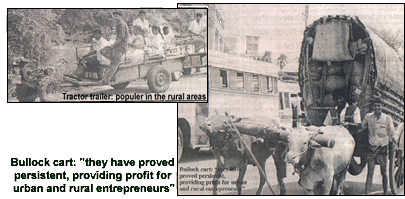 When British Professor Paul Starkey, an agriculture transportation specialist, was working in the Food and Agricultural Organisation (FAO) in Rome on a short-term assignment, he was told that animal power for transport needs would be replaced by machines, 10 years down the road.
Starkey, a firm believer of animal power in the rural countryside of Third World nations, didn't think so.
"While I held the view that animals would be still a powerful mode of transport, others at the FAO thought differently."
Ten years later, animal traction is still a popular means of transport in many parts of the world for agriculture, trade, domestic transport and recreation. Cattle (oxen, bulls and cows), buffaloes, horses, mules, donkeys and camels are among the numerous work animals that are used to pull carts, transport people and pack loads.
Starkey, in Colombo last month for a regional meeting on intermediate modes of transport, laughs when he talks about the view, 10 years ago, that animals would be off the roads or footpaths.
"Animal power is increasing in most parts of the world, particularly Africa and I think that this trend is unlikely to change in the next century," Starkey, visiting professor at Britain's University of Reading's Centre for Agriculture Strategy, told The Sunday Times.
Starkey, in an interesting research paper on "Transport using animal power: some key issues for Asia", discussed the reasons for the need for animal power in an era when the trend is towards rapid motorisation and argues that while motor vehicles will continue to increase, this does not imply that animal power will become redundant.
"The technologies can be complementary, and both can help spread the social and economic benefits that can come from transport," he told the meeting that drew rural transport specialists from Bangladesh, India, Pakistan, Laos, the Philippines, Sudan, Uganda, Britain, Zambia, Zimbabwe and Sri Lanka.
It was organised by the Lanka Forum on Rural Transport Development (LFRTD), a non-government network that designs and promotes rural transport systems, both motorised and non-motorised to meet different transport needs of communities. The two-day meeting in the southern coastal town of Galle was preceded by a parade of intermediate modes of transport (IMTs), developed by private individuals - some with the help of LFRTD.
The parade consisted of a modified bullock cart, cycle trailers, extended bicycles, motor cycle trailers, the "tuk tuk" (three-wheel scooter) and the tractor trailer. Kala Premachandra, a 42-year-old farmer, has produced between 300 to 400 bicycle trailers for commercial use in his village, Suriyawewe in the south. With little schooling, Premachandra followed the family vocation of farming but was not happy. He wanted to start a bicycle repair shop but instead developed a water collection system in his field that impressed a local NGO.
He was picked for a training course in welding and in 1983, produced his first bicycle trailer.
The news of his achievement cheered the small village and goaded into making more, he started his own workshop.
"I developed and improved on the first ones, and since then I have produced upto 400 trailers which have been purchased by village lads to transport goods and people," he said, after completing the parade swing through a couple of southern villages.
Starkey said that traditional ox-driven carts remain important in South Asia with India having 14 million carts. Although the use of ox-carts have declined in Sri Lanka, they have proved persistent, providing profit for urban and rural entrepreneurs. Horses, mules and donkeys are more important in north Asia and in arid and mountainous areas, he argued. "Donkey populations have been increasing in Pakistan and India, while China has the highest population of donkeys in the world, numbering 11 million," he said. Starkey said that work animals require high levels of management, particularly if females are employed which is a worldwide trend.
"The use of animals for transport should not entail cruelty. Animal welfare education, combined with legislation, may be necessary to reduce cruelty. Prevention through such education may have longer term value than veterinary treatment," he added.
The British specialist says that animal power has certain advantages such as that it is a natural, renewable energy source, ecologically sustainable as animals consume locally-available feed and reproduce themselves.
They cause less pollution and environmental damage than motorised alternatives and are generally affordable by rural communities. Starkey said that animal power may be the only viable option for inter-village transport in remote or hilly areas where road systems are not developed like in the Himalayas, Central Asia and Ethiopia.
Animals are important for local trade and the first stage of agricultural marketing (field to farm and farm to market) and feeding supplies into long-distance motor-based networks. Some people, Starkey says, question the continued relevance of animal power in countries that are rapidly industrialising and urbanising but contrary to many expectations, local animal-powered transport has proved highly persistent in many such countries.
Animal transport is generally only abandoned if most members of a society have access to affordable motorised transport which is why several countries which have rapidly increasing numbers of motor vehicles like China or India, also have stable or even expanding populations of donkeys and other transport animals. Horses are often perceived as the most effective transport animals, being strong and fast, and are used for riding, pulling carts or wagons or as pack animals while donkeys are growing in importance because they are low-risk and cheap. Starkey said that animal-powered transport brought important social and economic benefits in areas where most goods are carried by humans. "In such circumstances, farmers with animal transport tend to have larger circles of contacts and trade. The resulting enhanced market access allows them to increase their production and also their profit, so stimulating rural economies." The British expert discounted the theory that it was the poor that owned animals.
"Significant resources are required to purchase and maintain animals, and the very poor cannot afford transport animals. In most parts of the world, the poorest people have to carry water and goods themselves," he noted. While observing that animal-powered transport is extremely important in Asia and many other parts of the world, Starkey stressed the importance of not marginalising this sector. "National transport policies should address human- and animal-powered transport systems and their continuing economic and social importance should be recognised and ways of improving their efficiency should be explored," he argued.