For some it will be the memory of the sea, for others it will be the friendly people or the taste of Southern curry. Whatever the reasons, for 46 youth from the North-east their trip to the South will be a memorable one. Shelani de Silva reports
Growing up in the war-torn North and East, for most youths freedom is only an illusion. Their daily lives are monotonous and stressful. While the war drags on, they have little or nothing to look forward to, their lives centred around bombs and artillery attacks.
But for 46 young people from the North Eastern province, last week was both eventful and educative. Through a youth exchange programme organised by the National Youth Council Services they were given a six day trip to Galle.Except for the youth from Jaffna the rest travelled to Colombo by bus. All of them, though members of Youth Councils in their areas had to get security clearance.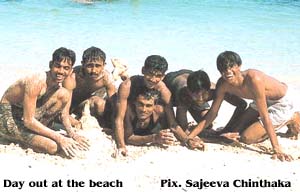 All 46 were given accommodation in Sinhala homes. A busy itinerary was planned with visits to a tea factory, places of religious worship, the famous Martin Wickremasinghe Museum and several cultural and historical sites.
One request they made from the officials was to allow them a dip in the sea.Many claim that although they have seen the beaches they have not had a sea bath for many years due to the security restrictions.
It was while they were taking a sea bath at a scenic spot in the Galle Fort that The Sunday Times met up with the group. Amidst screams of laughter they posed for pictures and shared their experiences of the past few days,and even of the difficulties they undergo living in a conflict area.
All of them were grateful to the hosts of the Sinhalese homes where they were staying. Many claimed they had no idea that Sinhala people were so friendly. Most have had contact only with the Sinhala forces. What was surprising is that there were six Sinhala girls and boys from Vavuniya in the group for whom this was their first visit to the South.


Nineteen year old Mohammed Sinthas, a first year Advanced Level science student from Batticaloa, said "There is so much to see and learn in Galle. I never expected the people to be so friendly.I will definitely have a lot to take with me to Batticaloa," he said.






It is the different kind of food prepared in the South that has attracted 20 year old T.Jayandan to this part of the country. Coming from Vavuniya, he says the Sinhalese can cook very well.
"The family I am living with makes it a point to prepare all types of food. My favourite is the 'Kos (jak) curry.' They even prepare the fish differently from the way we do," he said.
Twenty eight year old T Pradeepan from Jaffna is different from the rest of the group, having lived through most of the military operations. For him this trip has not only helped him to get away from it all but also to meet other young people from a different community.
"Although the government claims there is civil administration, life is difficult in Jaffna. All of us have suffered immensely. What I want to do is to tell the youth in this area what we have gone through.,' he said.
This being his first visit to Galle, Pradeepan is thrilled with its beauty. "It is so peaceful. People seem to be happy with what they have. This is so evident. The Sinhala family I live with are not rich but very content with life,' he said.
The biggest problem the group has experienced on their tour is the language barrier. Communication has proved to be a big stumbling block, but they are determined to overcome it.
"We use sign language and express ourselves in some way. The problem arose only in the first day. Now we feel like one family. I am sure we all will feel sad to leave them at the end of the trip," said Pradeepan.

For twenty year old Shivani, a teacher trainee from Jaffna the flight to Ratmalana was the most memorable aspect on this trip. This being her first visit she says that she is enthralled by the traditions and customs of the South.
A second year under graduate at the Jaffna University Nicholas Prabaharan (26) said that many Sinhalese people had a wrong impression about Tamils living in the North. He was keen to correct that.
"Although we live in the liberated area, life is not easy. Even if we gain university admission it is with the greatest difficulty. We have to study under the most difficult conditions. I was not able to do my Advanced Level in the year I was supposed to have. Our house was shelled and my grand mother died,' he said.
Nicholas who will be sitting for his second year exam next month had been determined to come on the trip mainly because he has never come to Colombo.
"The impression I had of the people and the place was very different. Economically people in the South are well off," he said.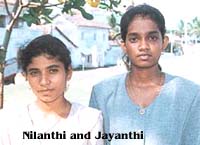 While all these Tamil youth expressed their views on Galle, twenty year old Nilanthi, a Sinhalese from Vavuniya said all these years she had only read about Galle but never had the chance to see it.
"It is only when you come here that you realise how much we are missing out on life. Education wise it is so difficult. Even meeting with people. The family I am staying with has gone out of their way to make this trip a memorable one," she said.
That much was obvious. Not only for Nilanthi but also for the rest of the group these six days spent in the South were not going to be forgotten.