No kudos for Kirinde
By Shehara de Silva
" A Child said "What is the grass?" fetching it to me with full hands;
How could I answer the child? I do not know what it is any more than he.
I guess it must be the flag of my disposition out of hopeful green stuff woven
or I guess, it is the handkerchief of the Lord ....."
Walt Whitman - Song of Myself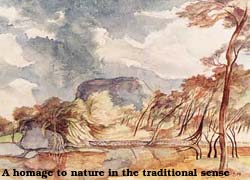 Stanley Kirinde is the last perhaps of a lost and forgotten tribe. A rare breed of true artists, true to the song of themselves, unpretentious, self effacing, sensitive souls, who have not lost the capacity to inhale the natural beauty of God's creations and transmute it to Art in an expression at times Turneresque and impressionistic. Above all, Kirinde's landscapes are pastiches of nature that reflect all the subtle nuances of light and colour and mood, that to the discerning are a communion with "God's Handkerchief."
Nature's beauty is often only touched by children with wonder, and sadly discarded by adults as mango-peel is, as familiar residues of a life taken for granted. Occassionally artists are inspired by the historicity or grandeur of sublime beauty of a landscape as Kirinde has been by Sigiriya, and many others by the Grand Canyon and the mountains and valleys of the world.
Kirinde's 'the Sigiriya series' is an expressive artistic statement that builds up with many repetitive views of the same vista that seem through this very repetition to become a meditation on the landscape. This to me is somewhat similar to the ornamentalism of oriental art whereby every repetition is a lulling of the senses. Once lulled, we are transported to be in the scene, to take it in nuance by nuance, detail by detail, moment by moment.
Sri Lanka's greatest exponent ever of landscape form Ivan Peiris did this in a more emotive way with his seascapes, coming back time and again to the same view like a ritual in nostalgia - a pilgrimage down memory's lane. Senake Bandaranayake (in his seminal work on Peiris) has aptly likened this to the musical development of a raga. But, Peiris in the truest sense is not a landscapist.
Kirinde's landscapes are a totally different genre. A true landscape artist, his Sigiriya series represents a homage to nature in the traditional sense. There is in it a tranquility, somewhat akin to the theravada disposition.
Kirinde represents nature with meticulous attention to detail, and yet has the ability to transcend the exhaustive use of detail to depict a mood, a colour of day and time that gives an existential glory to the paper that traps it.
Kirinde exhibited and stood contemporary with Sri Lanka's last great artistic movement, the 43rd Group but he was never totally part of it. Its key exponents – Keyt, Ivan Peiris, Collette, Deraniyagala, and Gabriel rose to a pre-eminence as the great moderns of Sri Lankan art. Kirinde too had commonalities with this School. He studied western art. Respected and revered the classical School for its discipline and technique. Kirinde's early sketches are a clear indication of how he emulated these techniques in his formative years. It was Paynter who played a big role in influencing him. Kirinde always talks about the Trinity Chapel as an artistic source of inspiration.
The average Sri Lankan, with little taste who struts by the now burgeoning galleries of Sri Lanka, has yet to discover Kirinde. The poor turnout at his last exhibition was a case in point. An artist now in the autumn of his life, he talks resignedly of the dearth of a true landscape art tradition in our land.
The, tradition dates back to colonial times when the British colonists were perhaps the true fathers of this genre. Indigenous art was ornamental and story telling, often celebratory of gods and godly pursuits. The figures always outspoke the setting. Familiarity no doubt breeds contempt, and it was the topographical interest and the fresh eye of the colonists looking at Paradise that started the form of water colour paintings of landscapes. Samuel Daniels (1775-1811) who visited Sri Lanka in 1805 and served as Superintendent of forests, Lyttler (you see his paintings in Davy's Account of the interior of Ceylon), Deuschamps, Corbet et al were a whole group of military trained officers who in the charmed genteel days of the Raj dabbled in landscape art and water colours.
A recent study of Kirinde's Sigiriya series is however now in print, and is a limited edition of 500 copies in celebration of the great Artist. Titled A Classified vision by Dr. Sinha Raja Tamitta-Delgoda, it is a slim elegant book. Of its 60 or so pages half are plates of paintings shot by Luxman Nadarajah. The work also contains a select bibliography and biographical notes compiled by Kapila Ariyananda. A reprint of an article by Kirinde on 'Contemporary painting in Sri Lanka' written in 1981 is also included. This book is a must for art lovers and collectors in the country. Above all one can but hope that this book might help re-instate the lost artist to the legion of the Great.