Sue's Story Part 3 ....
Manny to the rescue
by M.T.L. Ebell
I don't think of Mike all the time. I mean, there are times I do study, and at lectures, especially at Manny's when he makes you think all the time and challenges you to prove your points and to reason things out for yourself, Mike is just in the background. And I do notice my friends too. For instance I began to think all was not right with Rouanne and Manny. She said she didn't mind him taking Hardie's place but sometimes she seemed to resent his being there. And sometimes she was almost rude to him; this was Rouanne, sweet, funny, got-it-all-together Rouanne I was talking about, she's never rude to anybody. I'm not so wrapped up in my affairs (or lack of them) not to notice things concerning my best friend. Something was bothering her and I'd try to find out what it was.
It was really what happened at the Tennis matches that got me thinking. There are lots of sports activities in the spring and the Business Faculty, that's us, won at basketball, lost at cricket and tied with Engineering in the rankings for the Sports Cup and we were very keen to win. It had boiled down to the tennis and finals between the two sides were to be decisive. Manny's height and Mike's had helped in the basketball. Our women's team had nearly beaten the runners-up in cricket but the men's team had been soundly thrashed by Engineering who had two county hopefuls in their side.
Manny was the tennis captain, although he had not played in a single match. Mike and John were our best players quite capable of beating Greg and Alan "The Engineers". We won our men's singles, lost the women's singles. Engineering won the women's doubles and we were tied again. It was the afternoon of the men's doubles and John got an urgent summons from the Emergency Unit of our local hospital. His wife Anna, due to an accident while cooking, had upset a boiling pot of Chutney over her left arm and leg and was badly burned.
John, though torn, had really no choice. Rouanne and I went with him to the Hospital and stayed a while. Anna was sedated heavily and we just sat with John. After a while her sister came in and offered to relieve John. John stayed on though, and Rouanne and I went back, wondering what had happened to the match. Roger, our reserve was good, (and so was Sid), but would they have been good enough?
The match, we could hear by the cheers, was still going on when we returned. We agreed that was a good sign and rushed down to the Courts. There we saw Mike and the tall figure of Manny battling it out with Greg and Alan. "Isn't that great?" I enthused. "Just look at him play! Wow! He's really good! I wonder why he stayed out of it so far?"
There was no response from Rouanne who had stiffened and was staring intently. I shut up too. It was match point and Manny served....an Ace!
We've won!" I yelled prancing around. "We've won!"
Everyone was yelling and screaming and 1 rushed down to the net. Mike was hugging Manny and people were thumping them both on the back when Greg reached over and wrenched off Manny's arm. Really, that's what it looked like. One moment everything was fine and the next there was Manny reeling back, then doubling over, Greg's shocked face, everyone going 'oooh!' and 'aaaahl', Manny's left arm reached to the ground and he looked ghastly.
That's probably why he didn't play," I heard Rouanne mutter. She pushed past me reached Manny, caught his left hand and gave it a sort of jerk. "Ouch!" yelled at least a dozen people and I stared at Rouanne. Was she mad? But Manny's arm was in place, he was smiling, and I felt faint.
"Sit down and put your head below your knees," a quiet voice said nearby. It was Alan, adding, "It was gruesome wasn't it? He dislocated his shoulder, funnily enough, not due to the play but the handshake." He went on talking quietly and soon I felt well enough to raise my head. The crowd round the Court was clearing and then there was just our gang. Most of us were still bewildered, what had happened? Could it happen so fast and be set right so quickly'? And how had Rouanne known what to do?
"Yes, Rouanne, how did you know what to do?" I asked.
"I'm used to it," Rouanne said, looking a little upset nevertheless, "My . . . cousin back home had this problem and most of us are used to just reaching out and jerking his arm into place. It's almost a reflex action. I hope I didn't hurt you," she added, speaking to Manny.
He looked pale but was smiling still. "What does this cousin do now you're away? I mean who will put his arm into place?''
He's grown up." Rouanne answered. "I would hope he's too wise to engage in actions that might aggravate his problem." "But we won?" said Manny, pleadingly, and I was surprised by the teasing look in his eyes. Was he getting keen on Rouanne although she was so offhand with him? And what about Sid? I turned towards Sid. He was looking away.
"I think we should celebrate," said Vijay.
"I think Manny should see a Doctor," said Rouanne.
"We've all forgotten about Anna," said 1.
So, after the guys had changed, we walked down to the Hospital where Manny got his arm checked out and then we celebrated by drinking cups of weak coffee and sitting with John and Anna until the Nurses turned us out.
"Who are we to say that this story did not happen, that it is not happening somewhere at this very moment?"
---
Fire and fury
The power of Ariel Dorfmann's play lies in the fact that its content erases geographical boundaries. There is no one who can claim to have been unaffected by the issues which are so ingenuously raised in 'Widows'. It is a tale of betrayal and revenge and of love and war and promises an evening of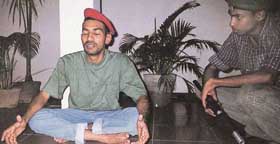 provocative and stirring theatre.
The action takes place in a small village 'somwhere in the world'. The plot ostensibly deals with the efforts of the village women to retain a semblance of normal life, in the aftermath of a civil war that has claimed all their men. Their struggle is chiefly portrayed from the perspective of the three generations of the Fuentes women. They are 'the dust'; a poor people with no means to resist the intimidation of an oligarchic rule which has harassed and bled them dry for centuries. The aristocracy is represented by a cold Lieutenant who belongs to one of the 'fourteen families' that have ruled the land for generations. He speaks for all his kind when he talks of a 'deep and inevitable structure' in the world - a world where the 'dust' will always covet the 'green'. He voices his ultimate fear - the inevitable revolt of the peasants - in which "everything decent and beautiful and civilized" will get covered in the dust.
Another largely symbolic role in the play is that of the Captain. He is a figure we recognize the world over. An idealist, full of good intentions and rash promises: "democracy and technology," which he finally cannot deliver because he is alone. Distrusted by the poor and the rich alike, he is backed up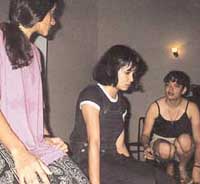 against a wall of intimidation, and forced to join the 'green' or die. He is not a weak man, but one unable to combat alone the "forces at work that intend nothing good for this country." Frustration turns into violence, as he goes the way so many others have been forced to by an unbending, harsh regime. Yet another interesting figure is that of Emmanuel, the captain's orderly, a young man who betrays his people at a very early age, and sides with the oligarchy. He is an outcast in both factions; an opportunist who will side with whomever has the upper hand. He seduces one of the village women, uses her to gain favour in the captain's eyes and ultimately is the cause of her suicide.
The only constant in the whole play is represented in the solidarity of the village women. Led by an old woman with an obsessive hatred for the aristocracy, and an equal obstinancy to let the 'disappearance' of their men go unforgotten, she starts a silent rebellion which forces the other women to acknowledge that "we have to say an end to this. Finally, finally an end. They have to give us what's ours."
Throughout the play, the author gives examples of their hardships in subtle language, through which they recount stories of torture, beating and death not only at the hands of the army, but also from the very men they are risking their lives for. Ariel Dorfmann also shows their unfailing resilience, their ability to laugh even in times of such grief. They love, hate, laugh and cry with each other, bonded by their mutual desire for justice.
The play is steeped in the symbolism of the 'dust' and the 'green', in the mystery of the river that gives and takes life, and which starts old Sofia Fuents on a path that all the women will inevitably follow. There is a 'Quality of timelessness ... the past awaits you..." in this story where it is undeniable that the people have always rebelled and have always been crushed. Finally, this story ends as many such stories do, in-escapable calamity of fire and fury. Sofia Fuentes speaks for all the women when she states that she gives her life "for the ones who come after." But according to the narrator, an exile from his country for the very same reasons, there is no end.
The play is a story made up by a man who has been forced to seek refuge in a foreign land, away from his family and all things familiar. He, the narrator, explains that this 'story' is how he saves his sanity, brings him "back to life", and gives him hope.
---
Behind the scene at 'Widows'
"Widows" produced by StageLight&Magic Inc. in association with the Workshop Players goes on the boards at the Lionel Wendt Theatre from May 14 - 17. The Workshop Players was formed five years ago through the inspiration of well known theatre practitioner Jerome de Silva. Under his guidance the company has presented many successful productions such as the much-acclaimed 'Les Miserables' in 1996, and "The Royal Hunt of the Sun' in 1997. StageLight&Magic Inc. was formed two years ago, and has also produced such successes as 'Julius Caesar - The Anatomy of an Assassination' in 1997, and "The Legend of Macbeth' in 1996.
The cast of 'Widows' includes some of the most talented performers of the English Stage in Sri Lanka. Over the past three months they have worked hard to bring to life a legend of a people who "will never die."
Widows is directed by Feroze Kamardeen, Artistic Director of SLM, and Tracy Holsinger. Feroze is a founder member of SLM, and directed both productions mentioned ealier. He plays the part of the Captain in this production of 'Widows'. Tracy Holsinger the co-Director of Widows, will also portray the character of Sofia Fuentes. Tracy began studying Drama as a pupil of the Wendy Whatmore Academy, and went on to graduate with a joint honours degree in Drama and Theatre from Goldsmiths' College in London. She has also worked professionally in the West End in Theatres such as The Piccadilly, the Apollo, and The Lyric as head of Stage Crew and Assistant Stage-Manager. She has also had professional radio drama experience with the London Broadcasting Company.
Mohamed Adamally plays the part of the Narrator in 'Widows'. Adam' is also Co-Founder of The Performing Arts Theatre Company which has produced hits such as 'Run For Your Wife', 'Don't Dress For Dinner', 'Funny Money', and 'Deathtrap'. He also produced SLM's 'Machbeth' in 1996. Adam played a memorable General Pizarro in The Workshop Players' production of "The Royal Hunt of the Sun' in 1997, John Benedict performs the role of the Lieutenant. John rose to prominence as an actor last year with his portrayal of Brutus in SLM's Julius caesar -'the anatomy of an assassination'.
Neluka Silva has long been associated with English and some Sinhala Theatre in Sri Lanka. Neluka is on the shortlist for this year's Gratien Award for her first novel, "The Choices We Make', which is set against the background of the JVP insurrection. Neluka obtained a Ph.D. in English from Leeds University in England, and is at present a lecturer at the University of Colombo. She portrays the character of Alexandra Fuentes in 'Widows".
Karen Balthazar plays the character of Fidelia Fuentes. She graduated with a joint honours degree in Drama and Business Management from Monash University in Australia. At present she teaches Drama at the Overseas School of Colombo, and is directing a forthcoming production of "The Wizard of Oz'.
Ruwanthi de Chickera who is also a well known playwright, plays the role of Yanina Fuentes. Her script "The Crutch' was awarded the British Council International Playwright for South Asia 1997. She has also been nominated on to the shortlist for the World Student Drama Trust, London, for her script "Two Times Two Is Two'.
Ifaz Bin Jameel is a very versatile performer, and plays four characters in 'Widows'. He was elected President of StageLight&Magic Inc. in 1996. He was Assistant Director in SLM's production of 'Macbeth' (1996).
Michelle Perera plays two roles in this production: Katherina (valley woman) and Beatrice Kastoria (one of the aristocracy). She was awarded the Best Actress Award for her portrayal of Cleopatra in 1993. She also played Lady Macbeth in SLM's 1996 production and played newscaster/Portia in 'Julius Caesar' (1997). Most recently, Michelle played the part of Eleanor in 'No Sex Please, We're British' (March '98) directed by Jith Peiris.
Wanda Godlieb plays the role of Teresa Salas in 'Widows'. She has performed in the productions of 'Les Miserables' (1996) and "The Royal Hunt of The Sun' (1997). She also played one of the witches in SLM's 1996 production of 'Macbeth'
Ranoj Kurukulasuriya is a member of the Workshop Players.. Ranoj also took part in 'Julius Caesar', directed by Feroze Kamardeen in 1997. Ranoj plays Emmanuel in 'Widows'.
Nilushi 'Nell' Dissanayake is a member of the Workshop Players, and performed in the 1997 production of "The Royal Hunt of The Sun.' Nell plays the role of Cecilia Sanjines.
Deanne Uyangoda plays Rosa (a valley woman) in 'Widows'. She has worked closely with Swarna Mihiripanna on many productions including 'Salalihini Sandeshaya' (1993), 'Kathak' (1996-recital) and 'Girija' (1997). Deanne also played the lead role of Musila in the 'Gutthila Musila' ballet in 1997.
Widows is sponsored by Keells Super Crescat with TNL Radio, Midweek Mirror and The Sunday Times being the Media Sponsors.