Kenny's World
Barbie Girls
Of the many things I don't get in this world, I think not getting the point of pop culture is the thing that bugs me the most. Why? Because everyone's into it. I guess that's the problem with pop culture, it's popular. I would think that the mere fact that something is so popular would encourage people to try something different. But here I go again, over-estimating the human race.
I wouldn't mind the rest of the world getting on with their pop culture if it didn't get in my way. But the problem is, since so many people are into it, all the radio and TV stations cater to it. So it looks like I'm gonna be stuck listening to plastic-pop songs every time I switch on the radio.
Why is that popular taste is bad as a rule? Take that song 'Barbie girl' for example. Am I just dreaming, or is that an extremely bad and annoying song that makes absolutely no sense? But I guess I can't expect to understand it. I mean, it's only fair that I don't understand the point of a song, that's about a doll that I don't understand the point of.
Barbie's the most popular doll in the world. Every girl all around the world wants her very own Barbie doll. There must be some sort of magic in those hunks of injection-moulded plastic that I just don't get. As far as I'm concerned Barbie doesn't even have the basics to be a really cool toy She's not all that big, so she wouldn't do too well in a doll-fight. She doesn't have any electronic parts, so it's no fun taking her apart. And her accessories don't include guns, knives, rocket-launchers or any other fun stuff. Girls are so weird.
How come girls enjoy playing with Barbie dolls? I don't get it. Barbie's popular, she's gorgeous, she's got great clothes, matching shoes, and she's got a readymade boyfriend. In short, if she were real, Barbie's the type of girl that other girls would hate on sight.
Did you know that there are thousands of different kinds of Barbie's? Apparently, they put out a new one almost every month. Each new doll has her own sets of clothes and accessories. That's not all, you also need to buy your Barbie some friends, a boyfriend, a house, a car, etc. You know, the essentials for any girl.
Even though she's quite old (Somewhere in her 40's I think), thanks to loads of plastic surgery, Barbie still looks good. What's more, she's managed to keep up with the times and women's changing roles in society. She's been Liberated Barbie, Astronaut Barbie, CEO Barbie, you name it, she's been it. I hear from reliable sources, that they're even thinking of releasing a 'President Barbie' in the near future, and are negotiating with the creators of 'Always breakdown' for the rights to a certain character. Further details were not available at the time of going to press.
Barbie really is an amazing phenomenon when you look at it as a product, though I do think that at least a part of its success has to do with the fact that it is aimed at little girls. Even though it's rather an expensive way to do it, parents realise this little doll's value when it comes to keeping their cute little angels occupied and off their backs. Little do they realise that they are helping to turn them into monsters. What on earth do I mean?
Think about it. Barbie is just about the most demanding, accessory-hungry doll in the market. And every little girl wants to be Barbie right? So what happens when these girls grow up? Is it unimaginable that they could turn into Barbie themselves? Take it from me, some do.
And the surprising thing is that these Barbie girls never really step out of their dream worlds into the real one. Or maybe they do, and find it to be exactly like the Barbie world that they're used to. Maybe they find that as long as their parents can afford it, they can always have their wardrobes packed with the latest fashions, live in little pink dream houses, and sometimes even buy their friends.
But in that case there must be quite a few Barbie boys as well. But this is not a green-eyed-monster-hatchet-job on rich kids. Don't mind me I'm just rambling about a little plastic bimbo doll.
---
Lankan Sapphire in Oscar Necklace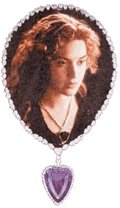 The eyepopping blue diamond necklace Kate Winslet is given in Titanic may be a 40 carat phony - but top singer Celine Dion's Oscar bauble is the real deal - carrying a hefty $3 million price tag.
The heart-shaped gem - known as Le Coeur de la Mer, or the heart of the sea - that Rose (Kate Winslet) receives as an engagement present from villainous fiance Cal (Billy Zane), was reproduced by the famed London jewellers Asprey.
And superstar Celine was the lucky lady who was picked to be all glammed up in the to-die-for jewels as she sang the haunting Oscar-nominated Titanic love theme, My Heart Will Go On, at the Academy Awards.
In the movie, the stone was fashioned out of coloured cubic zirconia. In real life, Asprey couldn't find a diamond that looked like the bigscreen version so they opted for a sapphire instead, shelling out $1.5 million for the 170 carat gem from Sri Lanka, which was originally pear-shaped.
Surrounding the stone are 103 diamonds, which add up to 36 carats, bringing the total value of the glittering bauble - unveiled first on Live with Regis and Kathie Lee - to more than $3 million.
The necklace, which is set in platinum, was auctioned for charity on March 21 at the starstudded Princess Ball in Hollywood, which benefits the Diana, Princess of Wales, Memorial Fund and a California Aids organization.
Titanic co-star Gloria Stuart who played the older Rose, was invited to help the auctioneers field the bids.
---
Stretch Marks
Stretch marks occur when the skin is stretched beyond its elastic capacity. Fractures of the skin develop in the lower layer of the skin, the dermis. Stretch marks occur in many women during pregnancy but may also occur during adolescent growth spurts or periods of weight gain and loss. They may also occur in weightlifters and those who perform heavy manual labour. Genetics seems to play a role since some people develop stretch marks more easily than others.
Common sites for stretch marks are the breasts, hips, flanks, and abdomen, but they may also appear on the buttocks, groin, thighs, and upper arms.
Stretch marks usually appear as reddish-purple, slightly depressed lines in the skin. Fortunately, they will spontaneously improve in appearance as the reddish colour fades. They eventually return to a normal skin colour, although they do remain depressed. There is currently no safe, effective means to either prevent or remove stretch marks. Emollient, lubricating products containing ingredients such as cocoa butter, lanolin, and vitamin E may make the skin feel more comfortable but will not have any effect on the stretch marks.
---
Embracing Bharatha Natyam
By Chamintha Thilakarathna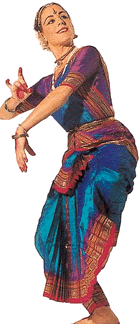 What do 'Bharatha Natyam,' the an- cient Indian dance and a young girl from Germany have in common? Not much you would say. But in the case of Sonja Kleiner, a twenty five year old German who came to Sri Lanka to do voluntary work at local hospitals in 1992, the relationship has been complementary.
At the age of twenty, her love for travel and her search for new experiences brought her to the shores of Sri Lanka. But, what she never expected, even in her wildest imagination was to embrace Bharatha Natyam.
"When I came to Sri Lanka, I had never heard of a dance form like this nor was I expecting to discover it. But by chance I met Ms. Haridevi Jayasundera (her dance teacher) who invited me to stay with her till I found a place to stay," she said.
Being there for a few days, she noticed that Haridevi conducted a dancing class at her house. "I thought, hey, I can do with a bit of exercise. So I took it up, never realizing what hard work it was," Sonja admitted.
When asked if she could give it a try her teacher had replied that she would give Sonja a two week trial. "I wondered what she was talking about. A testing period? After all it seemed very simple," said Sonja.
But, the realization of what Haridevi meant came in a painful manner. "It was so painful. It was almost like torture. When I travelled by bus I found that I had to get up from my seat a few halts earlier because my feet and thighs were all stiff and aching," she said.
However, her determined nature did not let her give up that easily. Coming from a completely different culture and background she knew she had a lot to learn and get used to. But most of all it was the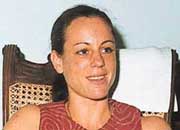 challenge and the new experience that she loved.
"In western dancing it is only a movement of limbs, there is no real meaning to it. But this dance form has more to it. It has emotions, it is spiritual, it has depth and meaning. Every movement has a meaning," she said.
How did she manage to adapt to these unfamiliar techniques and understand the stories behind the dances and the worship? "Well, it was not easy. I had no idea as to what the stories were about so it was a very difficult for me to dance them out, I was simply imitating the actions. Then, I figured that I must learn the background and culture, which I did. It was never difficult because I always loved the spiritual and holistic side of things," she said.
Her small apartment in Dehiwela is proof in itself of her admiration of eastern religions and culture. Where ever one looks, one would see either very eastern furniture, wall hangings, statues of god Krishna and Saraswathi, her bookshelf full of books on dancing and eastern cultures. Even her dress is a salwar kameez. So, except for her skin colour and accent, she looks more eastern than German.
Sonja is the Director of an Ayurvedic health care resort in Diyatalawa, that she visits twice a week. This is what she has always wanted to do. But while studying holistic and natural medicine, her love now is dancing. "For me, it was a magnifying glass which made me see a lot of things that I could not have otherwise. It also opened my eyes to a culture that was unknown," she said.
A committed dancer, she wakes up early morning and is at practice by 7a.m. and then again in the evenings. She is also determined to study the art form further. "I want to go to an Indian university where I could study the art from where it originated, and at the same time, study Sanskrit to help me in my dancing, for all the prayers are said in Sanskrit and I at first didn't understand a word of it."
How did her parents react to all this? "With shock," Sonja said. "But I wrote to them explaining why I decided to take it on and they gave me their approval." She herself has had moments of doubt like when she was dressed up in the formal dance outfits and was asked to dance. "I wandered how in the world am I going to dance in these heavy clothes and jewellery."
Sonja performs at the Lionel Wendt tonight. On stage, she says she gets to share her experience with so many