25th January 1998
Contents
---
Aravinda is not overawed by any situation, he thrives under pressure
By Saif Izzadeen
Aravinda de Silva is undoubtedly the world's best batsman is not overawed by situations where he has to do his bit to lift the side when in trouble. In fact he seems to thrive under pressure. The 'master blaster' who started his cricket career at D.S.Senanayake M.V. was a dashing batsman and all the bowlers were at the receiving end of his slashing blade.
He also showed that he is a batsman who will serve the country with distinction for a long time to come.
After leaving school, Aravinda joined NCC and turned out for the Maitland Place Club. The right hander got his big break when he was chosen to play in the one off Test against England in 1984 at Lords. It was just the place to launch his Test debut. In that Test match he went on to impress many past and present international cricketers. From that day on, he has never looked back.
Aravinda had to wait for only one year before he made his first Test century against Pakistan at Faisalabad. This century gave him the much needed confidence. Although he had the talent, he himself didn't recognise it and used to throw his wicket away after getting a quick 30 or 40.
He made his first big score against Australia in 1989 when he made a whirlwind 169.He took all the Australian bowlers to task and treated them with disdain.
Aravinda came of age two years later in Wellington when he made his first double century - 267 - against New Zealand. Aravinda's habit of throwing his wicket unnecessarily got the better of him at the SSC an year later against Australia where Sri Lanka had to make 181 to win. They were sailing smoothly with Aravinda batting with ease but Sri Lanka with only a stone's throw away from victory saw Aravinda getting a sudden rush of blood and was caught by Allan Border at long on off Macdermott. With this dismissal went Sri Lanka's victory chance and they lost the match by 16 runs.
After this incident Aravinda got the nickname 'Mad Max Aravinda'. During his Test career he has scored over 4500 runs. Aravinda had a marvellous 1997 where he equalled former West Indian captain Vivian Richard's record of seven Test centuries in one calendar year. He also became the second player to score over thousand runs in 1997. He started 1998 with a bang when he made a match winning unbeaten 143 to help Sri Lanka to win the second Test against Zimbabwe.
Aravinda who went for an year's stint with English County, Kent came back with the much needed experience and was a different cricketer altogether. He now bats with more responsibility and gives preference to the team than himself.
Aravinda has also captained the Sri Lanka team for the World Cup in 1992 where Sri Lanka got off to a dream start when they beat South Africa and Zimbabwe. However they couldn't keep up the pace and lost out. In this tournament Aravinda led the team admirably and came in for praise from many past and present cricketing greats. Aravinda is also the only batsman to open two innings with sixes. The two bowlers who were at the receiving end were Kap il Dev of India and Imran Khan of Pakistan. Aravinda has also taken most number of runs - 17 in the opening over in a Test innings against Kapil Dev of India.
He has also come up with some good innings at one day level. One of his two memorable innings was 66 against India, when he came to the wicket at a time when Sri Lanka were struggling at no score for two wickets after their two expolsive batsmen Romesh Kaluwitharne and Sanath Jayasuriya were back in the pavilion.But Aravinda was not put off by the occasion. He flayed the Indian bowlers all around the Eden Gardens Park and on his way made one of his best innings. Just one week later Aravinda made an unforgettable unbeaten 107 to help Sri Lanka win the World Cup final against Australia at Lahore. He came into bat when Sri Lanka were in a spot at 23 for 2 but his 107 saw that Sri Lanka didn't squander with the opportunity of winning the World Cup. These two innings can be classed as his best ever he has ever scored.
Aravinda, rather than being a good batsmen is also no mug with the ball. He has taken over 70 wickets in the one day arena. He used to get the much need breakthough when the occasion demanded. Aravinda is also a good fielder as he has taken some breathtaking catches. His rise to the top has not been a bed of roses. He has seen many ups and downs during his career. One incident which came close to ending his cricket career was a fitness controversy where Aravinda was dropped from the team which was to tour Sharjah in 1995 because of his fitness.
This annoyed one of the best batsmen Sri Lanka has produced to give up cricket and he had plans to settle down in New Zealand but Sri Lanka's captain Arjuna Ranatunga stood by him, and encouraged him to drop the idea. Arjuna saw that Sri Lanka didn't lose a good batsman as well as the world's best batsman at the moment. This mantle was given to him because he has been scoring runs at every stadium around the world.
Aravinda's hall mark shots are the pull and hook shot .He plays these shots with ease.
Apart from playing cricket Aravinda has a passion for cars. He has always loved automobiles from his younger days. His dream came true when he got a car as a present for his14th birthday. At the moment he has about four cars and he lavishes on them a loving care that perhaps comes only next to that he cherishes for cricket.
He has just about another three to four years of cricket left. During this time cricket lovers will be able to see more bowlers being bashed about.
Sri Lanka cricket will take a long time to replace a cricketer and batsmen of the calibre of Aravinda De Silva.
---
"When you play against a good side, your performance must be very consistent"
By Bhahi Sampanthan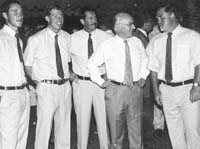 They are here! The long-awaited tour of the England A team is finally underway. The English team are scheduled to tour Sri Lanka for two months, and this comes at a time when the young Sri Lankan cricketers were looking for opportunities to gain experience in the competitive arena.
The touring party is led by two former exquisite English cricketers, in Graham Gooch (Manager) and Mike Gatting (Coach). The cricketers are led by Nick Knight, who recently featured in England's team that comprehensively wrapped up the Champions Trophy in Sharjah.
Picture : Graham Gooch is pictured here (3rd from left) at a function. The other England "A" cricketers are (from left): Ben Hollioake, Nick Knight and Mike Gatting - pic by Ranjith Perera
The Sunday Times got the opportunity to have an exclusive interview with England A's team manager, who once graced the crease.
Graham Gooch started the interview with his comments on the young contingent, he has brought down. He said, "Before we set foot on Sri Lankan soil we had a short tour of Kenya, where the weather denied us an opportunity to warm ourselves up. Now, the players are looking forward to lock horns with their Sri Lankan counterparts".
He added that the team was relatively young, having a hoard of players who are yet to reach their 20's. "We have come down with a very young side. Apart from Nick Knight, Ben Hollioake, Mark Ealham and Dougie Brown, the rest of them are quite inexperienced on the competitive scene. I think this is just what we needed in a long time. The players will enjoy it, and I am sure this will give them every opportunity to build up on their vital experience. With England set to host the World Cup in two years (18 months), this will give the English selectors the chance to evaluate each player, and select a team which would win the coveted trophy for us at home. It's a learning process, and I am confident in it being beneficial to every player.
Gooch stated that Sri Lankan wickets which are sluggish and consist of a lot of turn will help the English in their quest for success. "The two teams boast of talented players in every department, and I feel the wickets here will help both team's bowlers. Again, this is all good experience for the young players, as they will get a broad idea of wickets around the world.
Commenting on England's recent triumph in the Sharjah Champions Trophy tournament, Mr. Gooch said, "I must confess that it was a brilliant performance from our revamped one-day side. A lot of changes were brought about after the decline of the English one-day game. As you are aware, the captaincy of the limited overs' side was awarded to Adam Hollioake (who only made his debut in the Benson and Hedges one-day series against Australia in July). He is very inexperienced, but performed his task with enequalled responsibility and competence".
"Apart from the changes for the good the 'new look' England side lacked the exposure to one-day cricket. For example, India, Pakistan and West Indies had played a lot of cricket before coming to the Sharjah tournament, whereas England did not get the opportunity to play enough cricket. However, we sprang a big surprise, and it is all credit to the team-work and enthusiasm, which eventually reflectd in their game".
Mr. Gooch added that England learned a lot from the Ashes series last year. He said," We started off very well. We thrashed Australia 3-0 in the one-day series, and managed to win the first Test. But then our performance withered away. It is an undoubted fact that Australia are the best Test cricketing nation in the world today. When you play against such a good side, your performance must be very consistent. Out of the set five Test matches, you should be able to win a couple of them, if they (Australia) are to be challenged seriously. It's pointless winning one Test and hope to win the rest. If you are not consistent, you pay the price. They are an extremely professional cricketing force, and they came back to win the series 3-2".
The Sri Lankan team is set to tour England in August for a one-off Test match against England, and a triangular limited overs tournament. South Africa are poised to take the third slot.
The Sunday Times asked Mr. Gooch the reason behind the lack of cricket matches played between the two sides. He replied..." Well, England play very frequent matches with Australia and the West Indies. This probably is the reason. However, I am sure the lack of matches between England and Sri Lanka will be put to right in years to come. Sri Lanka is an indomitable force in the limited overs arena, and they have a good Test side too. This is because they have made positive strides in the recent past to uplift their game".
Reacting to a question on the conditions that will prevail in England in August, he said, " August means the end of the cricketing season for us back home. It will be dry, and the wickets will tend to favour the spinners. The Test match is to be played at Lord's, and I am sure both England and Sri Lanka are looking forward to playing there. As far as I am concerned, it is the best place to play cricket. It is where the sport originated, and just for this fact, I am sure it will be a historic Test match for Sri Lanka".
When asked to rate the top players in world cricket today, Mr. Gooch said, In the bowling department, I don't hesitate to rate Shane Warne highly. He is a prolific spinner of the ball. Recently, he captured his 300th Test victim (Daryll Cullinan) in the match against South Africa. 300 wickets in 60 games is no joke. He is definitely my choice for the world's top bowler.
As far as batting is concerned, Steve Waugh and Aravinda De Silva are both very consistent players. It was a pleasure to see Aravinda smash 143 n.o against Zimbabwe in the second Test match. It is difficult to rate both players, as they possess equal talent and potential".
Graham Gooch, Mike Gatting and their England team will be in Sri Lanka till the 4th of March, after which a couple of players in this tour are set to join their senior counterparts in the West Indies.
Let us wish the England party a pleasant and productive tour of the island.
---
The greatest batsman of our time...
By Bernie Wijesekera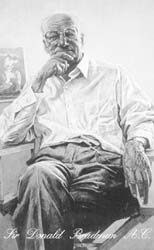 There were quite a number of greats in the past and in contemporary times their names linger in the hearts of cricket fans the world over.
But the name of Sir Don Bradman stands above them all at the end of the 20th century, for his cricketing deeds are unparalleled in the history of the game which started in the meadows of England.
Bradman will be celebrating his 90th birthday on August 27, 1998, 70 years after his Test debut and also coinciding with the 50th anniversary of the invincibles' tour of England. Be it friend or foe, Australian cricket is sure to honour this maestro, like they did the late Princess Diana, the Princess who took the world by storm for her contribution to overcoming human suffering the world over. The Bowral Boy's immense contribution to the development of the game is worldwide and is not confined to Australia alone.
This is what Prime Minister John Howard, had to say about Sir Don before he launched the two stamps:- "I can think of no Australian more fitted to be our first Australian legend than Sir Donald Bradman... Throughout his life, his integrity, his perceptiveness and his concentration have been devoted to the service and development of cricket. In wider public life he has been exemplary, meeting every fresh challenge with characteristic vigour and always encouraging the young to enhance Australia's national performance and reputation," This is what Sir Don is doing for the game through its Foundation and the Museum which is world famous. He never went for money. Unlike today where "professionalism" has tarnished in some areas, this was a much revered gentlemen's game. This is attributable to craving for too much money and the desire to win at all costs. It isn't cricket! This is why, today Bradman is held in high esteem, when he is just ten years away from the historic 100th birthday.
The cricketing world had some great players - Wally Hammond, Sir Leonard Hutton, Harold Larwood, Peter May, David Gower, Colin Cowdrey, Jim Laker, Fred Trueman etc (all England).
West Indies had 'black Bradman' George Headley, the late Sir Frank Worrell (Patron Saint of Windies cricket), Everton Weekes, Clyde Walcott, Gary Sobers, Wesley Hall, Viv Richards and the present World record holder (Test) Brian Lara.
India's Duleepsingh, Ranjitsingh, Vijay Merchant, Sunil Gavaskar, Kapil Dev and at present Sachin Tendulakar, M.Azharuddin; Pakistan's Hanif Mohamed, Khan Mohamed, Imran Khan, Zaheer Abbas, Majid Khan, Fazal Mahmoud. Today's Wasim Akram Saeed Anver, Waqar Younis to name a few.
The Kiwis had Richard Hadlee, Martin Donnelly, Bert Sutcliffe, Martin Crowe etc. While. S. Africa, too had their quota, namely Alan Melville, Eric Rowan, Hugh Tayfield, Ken Viljoen Cuan McCarthy etc. Sri Lanka, too was not short of great cricketers in the past; Sargo Jayawickrema, M.Sathasivam, F.C.de. Saram, C.I. Gunasekera, Mahes Rodrigo (a double international in cricket and rugby) B.R.Heyn (Bradman c Heyn b R.L.de Kretser for 20 at the Oval in 1948) - Bradman leading the Aussies in the all-conquering team to England. Clive Inman, Stanley Jayasinghe, H.I.K. Fernando (tagged as Asia's best keeper) Mike Tissera, Anura Tennakoon, Abu Fuard, Duleep Mendis, Bandula Warnapura, Roy Dias, and Ranjith Fernando and D.S. de Silva in the past which paved the way for Sri Lanka to gain Test status, with the then administrators the likes of P.Saravanamuttu, Robert Senanayake, Dr.N.M. Perera and Gamini Dissanayake, who made an epoch making speech at the portals of the I.C.C. in 1982. At present the good work is carried on by skipper Arjuna Ranatunga, Aravinda de Silva, Sanath Jayasuriya, Roshan Mahanama, M.Muralitheran with a spirited team effort which keeps Sri Lanka's image at a higher level.
Newcomers to the Test arena Zimbabwe had David Houghton a prolific run-getter in the past at Test and county level. In the present team there are the Flower brothers - Andy and Grant Flower, Allistair Campbell and Paul Strang, playing positive roles for its upliftment.
Besides Bradman, Australia, too had some great cricketers in the past and present, namely Bill Ponsford, Lindsay Hassett, Bill O'Rielly, Jack Fingleton, Bill Brown, Keith Miller, Ray Lindwall, Richie Benaud ( who led the team to a historic tie at the Gabba against the Windies in 1961), Alan Border (the highest run-getter in Tests), the Waugh twins Steve and Mark, the Chappell brothers Ian and Greg, K.D. Walters etc.
All these players be they from Australia or otherwise can't match the magic touch of Sir Don Bradman. Look at his Sheffield Shield batting average; Played 62 matches for N.S.W.South Australia-8926 runs-Av.110.1. The two other cricketers nearest to Sir Don - Dean Jones (Vic) 100 matches, 8769 runs-Av 54.13; Followed by David Hookes(S.A) 120-9364-Av.47.1.
There are fewer people living in Australia than in other countries. But his name lingers in the hearts of all Australians be it men, women or children for his cricketing deeds, until he called it a day, at the Kensington Oval, London in 1948, amid a standing ovation. It was his last innings at Test level. Emotion took the better of him and he was bowled by leg-spinner Eric Hollies for a duck.
Had he scored four runs he could have had a Test batting average of 100 runs, which will be hard to beat. Bradman, achieved this under varying conditions. There were no covered pitches, light meters, electronic eyes or the third umpire to adjudicate controversial decisions.
He led the invincible Aussie team (Invincibles) to England and won a test match chasing 400 runs in the fourth innings. This team included Lindsay Hassett, Sid Barnes, Keith Miller, Ray Lindwall, Neil Harvey Don Tallon, Bill Johnston, Colin McCool, Ernie Toshak, Ian Johnson, Doug Ring, Bill Brown, Sam Loxton etc.
Since then he has expanded his popularity undiminished Australia-wide.
Sir Don, had the vision to put Aussie cricket on the correct path. Today Australia is reaping a rich harvest, thanks to the seeds sown by him. The 'Bowral Boy' served as an administrator, advisor and selector. There is also a Bradman Industry to help develop the game at grassroots level, with the funds earned from it.
To honour him for all the services rendered by him on and off the field there is a huge photograph at the entrance to the ACB headquarters,at Jolimont Street.
At present there are names like Alan Border, Bob Simpson, Steve and Mark Waugh, Shane Warne, Ian and Greg Chappell and others, who are in demand, when it comes to marketing. But Bradman, is in greater demand than them all. There are no shortages when it comes to merchandising.
Six years ago Sir Don gave his name to the Bradman Museum at Bowral which has earned a reputation in Australia and the world over. It was a great gesture by him to promote the game, which earned him a name. Today it's one of the great marketable names, according to Richard Mulvaney- the Director of the Museum.
The great Don has allowed the museum to be his public presentation and one of the main links for cricket development. The Foundation has entered a number of commercial deals which pumped in big money-thanks to Bradman.
The Australia Post, in the summer of 1997, featured a 45c Bradman stamp to celebrate Australia Day, when Prime Minister John Howard, launched it, thus he becomes the first living Aussie to feature on a postage stamp.
Bradman never went for records, but it just flowed down the line. He once made 309 runs in Headingly, Leeds, one day. The following day ended up with 334.
His records are too numerous to mention. But he is involved in five of Australia's most memorable partnerships:- 451 W.H. Ponsford-D.G. Bradman-1934; 405- Sid Barnes- D.G. Bradman -1946-47; 388- W.H. Ponsford-D.G.Bradman-1934; 382-Bill Lawry and R.B. Simpson-1964-65; 380-S.R.Waugh-Gerg Blewett-1996-97; 346-J.H.Fingleton-D.G. Bradman 1936-37; 336-Bill Lawry-K.D.Walters-1968-69; 329-G.R Marsh-M.A.Taylor-1989; 301-A.R.Morris-D.G. Bradman- 1948; 298- W.M. Lawry-Ian Chappell 1968-69.
This itself shows his consistency with his batting despite playing fewer Test matches unlike the present players, who are afforded several home and away series in one calendar year. India's little Sunil Gavaskar, who surpassed Bradman's most number of Test 100s, once said that Sir Don's efforts still stand ahead of others as he played fewer Test matches compared to his own Test appearances. It was a fine gesture indeed, by a great opener, to the greatest batsman of the 20th century.
In some quarters here, some pundits of the game tried to compare Sanath Jayasuriya to Sir Don, after his great exploits against India last year with a near world record of 348 in Test cricket. Sanath, undoubtedly is a great, batsman, who was involved in a world record partnership for any wicket with Roshan Mahanama.
The cricketing world has high regard for Sanath's batting skills. But trying to compare lefthanded Jayasuirya to Bradman is only causing embarrassment to the genial Lankan batsman.
During Bradman's era he was consistent when compared to others the world over in whatever arena of present day cricket.
This phrase aptly fits those fanatic fans: "Where ignorance is bliss, folly it is to be wise."
Ian Craig the former Australian batsman, one of the youngest to play in Test cricket, is the Director of the Foundation. Craig was honoured on Australia Day in 1997 for his contribution towards cricket.
Harold Larwood, the England demon fast bowler, who even tormented Bradman with his bodyline bowling in the late 1920s and in the 30's was instrumental in England regaining the 'Ashes' in the 1932-33 series. He migrated to Australia in the early '50s and considers Australia his home. Two of Larwood's daughters Enid Todd and Freda Bashford, also contributed some of their dad's gear to the Bradman Museum, which is now world renowned.
---
By Ismail Khan
West Country dairy farmer Paul Barber's life's ambition to win the King George VI Steeplechase which was only a pipe dream became a reality when his seven-year-old gelding See More Business held off much fancied Challenger du Luc to carry away the prestigious royal event of the National Hunt meeting at Kempton on Boxing Day.
After this smart win his rider Andrew Thornton seems to have given the green light for his acceptance in the Cheltenham Gold Cup the super jump show of the season at Cheltenham in March. He is quoted at present at 12/1 and steadily coming down in the betting.
Paul Nicholls his trainer who was enjoying his greatest moment as a trainer in six years elated after the fantastic performance of his gelding said:
"Andrew gave him a slap after negotiating the last fence and that was that. He simply pulled away from the rest and won with much in hand. And now I just cannot wait till March to see him galloping up at Cheltenham to take the Gold Cup."
For Andrew Thornton his rider this was a fairytale story come true. He did not have a mount in the Boxing Day event, the prestigious King George VI Steeplechase but had to deputise for his regular rider Timmy Murphy who collected a suspension for rough riding a fews days prior to the big event. If that was a glorious chance out of the blue then more was still in the pipeline to come - as his connections satisfied with his work on See More Business in the King George have opted for him for the remainder of the big races to come in Britain and Ireland.
The Pertemps King George VI Chase is widely regarded as a stepping-stone for the March blockbuster at Cheltenham. Whether it is Queen Mothers Chase or the Gold Cup or some other prized event at the National Hunt Festival is another matter but the way See More Business brushed aside and floored some of the better known names in the chasing game has given food for thought for his owners - Paul Barber and John Keightley and now they are under the impression that it was more than a dream - the gelding is a real cracker.
The run of the race has brought out much hidden light of the gelding's in-laden talent. As One Man virtually stopped on his tracks, for inexplicable reasons, and much touted Suny Bay faded Thornton See More Business's rider sensing his chances moved closer all the time taking the fences like a ballet dancer never for a moment faltering his steps and jumping rhythm, and once over the last fence and Challenger du Luc breathing down his neck had to be slapped down only once and the gelding effortlessly moved away though the Challenger gallantly tried the hardest to make a race of it.
So such talent in a horse, especially a chaser should not be allowed to go unheeded and should not be thrust under the carpet. The hidden talent of such equines should be tapped to the fullest as generally chasers mature after seven years and they really race better with age. And with See More Business there's more races to be won, not only this year but next National Hunt term too and so on... And in any case Cheltenham Gold Cup and the Aintree spectacle - the Grand National are his prerogatives just now. The rest will surely come by.
The Gold Cup at Cheltenham in March has attracted a dazzling array of Steeplechasers from Ireland and Britain. Although the home contingent is led by See More Business who is 12/1 with most bookmakers in London, Ireland's crack jumper Doran's Pride leads the Ante-Post betting at 4/1 with another from the evergreen isle The Grey Monk at 5/1. Others who have come in for inspired betting are: Imperial Call at 10/1 and Rough Quest the British Challenger at 16/1.
Reutrn to Sports Contents Page
| HOME PAGE | EDITORIAL/OPINION | NEWS / COMMENT | BUSINESS | PLUS
Please send your comments and suggestions on this web site to
info@suntimes.is.lk or to
webmaster@infolabs.is.lk