7th December 1997
AIDS: how much do the children know?
By Tharuka Dissanaike
In Sri Lanka, official statistics point out only a single case of a child AIDS victim. But organisations working with children claim this is not at all representative of the possible problem of children and AIDS in Sri Lanka. With a large number of child, especially boy, prostitutes in the country the problem has the potential of blowing up on the faces of the country's health authorities. But what is being done to try to gauge the severity of this issue ?
What are the measures being taken to avoid children being exposed to AIDS ?
This year's AIDS Day commemoration focused on children- living in a world of AIDS. Children are vulnerable to the disease. They are often exposed to it unwittingly by forced sex activities, blood transfusions and infection passed down from the mother. Even if they consent to the sexual activity, e.g. as boy prostitutes, they would be forced into unprotected sex and they would not be in any position to protest.
There have been many cases brought before the courts against local and foreign child abusers. Several cases have been concluded and the defendant found guilty, deported and punished. But what of the child ? Often the child is also treated like an offender, sent to a detention home and forgotten by all except, possibly, the parents. "There is not a single instance when the child has been referred to counselling," Dr. Mallika Ganasinghe, attorney-at-law and social worker said. "Nor has there ever been a court decision to test the abused children for HIV."
It is not only sexually abused children who are exposed to the virus. According to Dr. Ganasinghe who lectures in school education programmes, children are becoming sexually aware and active at younger ages. "There is a lot of homosexual activity in schools and sometimes among children in their pre-teens." She said children's homes, detention and rehabilitation centres are also places where various kinds of sexual experiments could take place and equipping children with adequate knowledge to deal with AIDS on their own was very important.
At a seminar held at the BMICH on Saturday , November 29, a large gathering of school children and social workers thrashed out certain issues regarding the disease and ways of preventing AIDS. Despite what could be regarded as widespread publicity regarding AIDS, its spread and effects, judging from the questions raised by the audience of children it was apparent there was a large degree of misconception. Students stood up to query whether the disease can be spread through mosquitoes, kissing or using the same implements as an AIDS patient. Many asked "How do we identify an AIDS patient or an HIV positive person?". The answer was it was impossible to identify an HIV positive person and that even the patient would not know unless he had a blood test done. In the aftermath of the seminar, which was organised by PEACE and Plan International with UNICEF, many schools came forward to offer help to PEACE and inquire what they could do to spread awareness.
"It was a fantastic response," Maureen Seneviratne, Chairperson of PEACE said. "We will encourage them to formulate their own projects, offer guidance and expertise if and when they require."
She added it was important the children take it up as their own cause to educate their peers and set up a precedent. PEACE, funded by Plan International conducts school education programmes in the Western province spread over ten months. In each school the aim is to facilitate a programme including parents, teachers and prefects who will be responsible to carry out the education on sex and AIDS in school. "There is great interest and fear in the children. The teachers also welcome the project because most are shy to broach the subject and they encourage our volunteers to lecture at the schools."
Dr. Ganasinghe said there are many issues that have to be dealt with in addressing the problem of children and AIDS. "There are many legal considerations that have to be thrashed out. As children are minors, the issue is who can make a child have a test for HIV, the parents, or if the parents are unwilling can the magistrate order a test ?"
She said it was important that possible HIV positive children had their right to education and social interaction. "But parents of other children will not welcome such companions. What would the implications be if a child infects another unknowingly?"
She said even though there has not been a question of dealing with these issues so far, it would only be pertinent to consider a future population of children infected with HIV.
---
Remembering them
AIDS related illnesses have so far claimed 64 deaths in Sri Lanka. Two hundred and thirty people have been detected with the virus. WHO estimates however there may be as many as 6,000-8,000 people in the country with HIV, the virus that causes AIDS.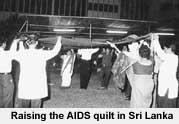 To mark World AIDS Day 1997, a Candlelight Memorial Ceremony was held in Sri Lanka on December 1. This ceremony, the first of its kind held in Sri Lanka, was organised by a group called the Coalition to Protect the Rights of People with HIV/AIDS. Spokesperson for the group, Sherman de Rose says, "The Candlelight Memorial is an international symbol of remembrance for those who have died and also to recognize hope for those affected with HIV/AIDS".
Amidst an informal gathering on the side lawn of the BMICH, the ceremony commenced with a welcome address delivered in English, Sinhala and Tamil. Red ribbons, the international symbols of AIDS awareness, were distributed to the participants. They are worn by people to show their solidarity and concern for those living with AIDS.
Brief presentations on relevant topics were followed by an interlude of music and dance. Awards of appreciation were presented to Dr. A.F. Sheriffdeen , Ms Sally Hulugalle and Dr. Gamini Jayakuru for dedicated services rendered.
The focal point of the evening was the unrolling of the AIDS Quilt by the Coalition partners and lighting of the candles. With lighted candles in their hands the participants dedicated themselves to the cause of AIDS. Two minutes of silence was observed to remember those Sri Lankans who have died of AIDS.
Isabel Duymar, a partner of the Coalition explained that the AIDS Quilt originated in San Francisco in 1985. It was started by mothers and sisters of those who had died of AIDS. A panel was made by a partner, relative or friend of each AIDS victim. The panels bearing the names of those who have died were stitched together. Relatives of new victims keep adding panels to the original quilt which has now grown very long. It is displayed on World AIDS Day each year.
In Sri Lanka, the Coalition decided to make the first quilt and carry on the tradition in order to give an identity to the victims. Since the names of all the victims were not known the number 60 was included. Four more AIDS patients had subsequently succumbed to the disease. Ms. Guymar said these numbers would be added onto the quilt which would be continued and displayed on every World AIDS Day.
"The coming together of Sri Lankans from various backgrounds to join with us, to do something about HIV/AIDS in our communities; that is what this gathering is about," Mr. De Rose said. - HF
---
Continue to Plus page 10 * A foundation in the sky
Return to the Plus contents page
| HOME PAGE | FRONT PAGE | EDITORIAL/OPINION | NEWS / COMMENT | BUSINESS
Please send your comments and suggestions on this web site to
info@suntimes.is.lk or to
webmaster@infolabs.is.lk