07th December 1997
| | |
| --- | --- |
| The International Bar Association held a conference in New Delhi on Business Law and General Practice. The conference was attended by more than 2,500 delegates from all over the world. The speakers at the conference included the Communications and Law Ministers of India and the Chief Justice of India. The delegates also met the Prime Minister and the President of India. The President of India hosted the delegates to tea at Rashtrapati Bhawan. Picture shows the President of the International Bar Association, Desmond Fernando PC., and Indian President K.R Narayanan greeting a delegate. | Contents |
---
By Imran Vittachi
A U.S.-based racket, falsely offering thousands of dollars in free jewellery, has targeted Sri Lankans and nationals of at least six other countries for over five months, a Swiss official said on Friday.
The cash award scam, run out of New York through two European front companies, has, since before July, tried to dupe an unknown number of "winners" in Sri Lanka, Australia, Chile, Cyprus, India, Saudi Arabia, and Singapore, Swiss police investigations had revealed, he said.
The racket, advertising prizes of up to US $27,500, was still in business despite earlier intervention from law enforcers in Switzerland, confirmed the official who spoke on condition of anonymity.
"It is the same organisation that did this in Switzerland," he said. "We have taken action against them and we have notified authorities in other countries, but obviously they haven't done anything, because it is still going on."
One of the suspected front companies, J. Arthurson Associates, had shifted its international mailing address to London from Zurich after Swiss police uncovered a post box there and recovered a stash of fake gold and gems.
The company had apparently stopped mailing its letters internationally from Switzerland, the official said. But last week, a colleague had passed him a letter from J. Arthurson that was almost identical — except for the country of origin — to those given to him by residents of Colombo and Kurunegala in mid-June, he claimed.
According to reports, hundreds of these letters have surfaced in Colombo in recent days. The British High Commission, said to have been flooded by telephone calls and visits concerning this matter, issued an advisory on Wednesday.
In it, the High Commission warned local recipients of the letters to "consider the terms and conditions of any offer very carefully before parting with any money."
The J. Arthurson letters refer addressees to contact its so-called prize distribution division, Crown International Jewellers of Amsterdam, should they accept their offer of gemstones set on 22-carat gold-plating.
Recipients would only have to pay $35 within 11 days to cover the costs of mounting, shipping and handling.
But, according to the Swiss official, jewellers in Zurich had appraised the real value of these stones to be as low as $14.
And, according to a spokesman for the Royal Netherlands Embassy, Crown International was "not a Dutch registered company."
The prize mailing packets also include a 24-hour, seven-day, enquiry hotline based in the United States. On Friday, a call by The Sunday Times to the number — traced to Sayville, New York — was answered only by a fax signal.
It remains a mystery just how the suspected racketeers — from as far off as New York, London, Zurich, and Amsterdam — obtained names and numbers of so many potential victims worldwide.
---
Trade unions belonging to PA coalition partners have joined hands with opposition trade unions to protest against the handing over of the Queen Elizabeth Quay (QEQ) to an international consortium.
Trade unions of the NDULF, LSSP— coalition partners of the PA — along with those of the UNP, JVP, MEP will jointly object to plans by the Ministry of Ports and Shipping to hand over the QEQ to P&O.
NDULF MP Ravi Karunanayake said they opposed the manner in which the QEQ was going to be handed over to P&O consortium.
"Although the minister states that he did not hold any discussions with the Australian consortium it does not mean that the President did not hold discussions.
We will support any person on this cause and we will raise it in parliament and whenever and wherever possible and request the minister to disclose the deal and to stop the privatisation of the QEQ," he said.
LSSP General Secretary Batty Weerakoon said they wanted the government to explore the possibilities of developing the QEQ while keeping it under SLPA control.
"The state has not explored the possibility of owning majority of the shares.
"We will support the port employees in their protest against the privatisation of the QEQ and their employment rights through our unions," Mr. Weerakoon said.
MEP leader Dinesh Gunawardena said they were against the privatisation for three reasons — the SLPA will lose more than US$ 10 million it earns annually against the US$ 2 million promised by P&O; With the navigation area being reduced, ships coming into the port will not be able to use that area:; A breakwater is to be built by the SLPA before the hand over to P&O.
UNP trade unionists said regardless of party politics they would join other parties and unions in voicing their objection to privatisation.
UNP MP Dr. Karunasena Kodituwakku said, "Privatisation does not mean the handing over of institutions to foreigners. It should be given to private companies in Sri Lanka.
We are opposing the privatisation of the QEQ to P&O. The port is a national asset and government is privatising it to finance the budget."
---
By Chamintha Thilakarathna
Old man and the three-wheeler could be the ideal title for the story of 64-year-old Ratnayakage Piyasena, who toils in the scorching sun and pouring rain, repairing bicycles and yet earning a mere Rs. 50 to 150 a day.
This money is hardly enough to feed him and his family in Attanagalle - a wife, a 30-year-old son and a 28-year old daughter who are unemployed.
Two years ago, when survival became a matter of life and death, Piysasena, a retired employee of the Agriculture Department bought an old three-wheeler with money borrowed from several people. The pension he got was a mere pittance as he counts only a few years of service as a driver at the Agriculture Department.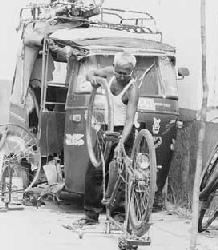 Wheeling and his three - wheeler- his home, wardrobe and workshop
Piyasena set out to make a living out of the only trade he learned from his father and was engaged from the age of 15 - repairing bicycles.
Every morning Piyasena parks his three-wheeler on the Havelock Road pavement near Wilasitha Nivasa, his mobile workshop bearing the number plate 12 Sri 2326 carrying his tool kit.
For two years the three-wheeler has been his home, wardrobe and workshop. The three-wheeler has only the driver's seat, the backseat being removed to make room for his tool kit and his clothes.
Why he decided on a three-wheeler was because his tool box was too heavy for a bicycle and too small for a larger vehicle. Although there isn't much room to eat or sleep, Piyasena feels the mobility of the workshop provides enough room to move around and to work in any place he pleases.
"After leaving school at the age of 13, I helped my father who was a mechanic and did a lot of work on vehicles. Then, leaving home, due to hardships within the family, at fifteen, I started my own bicycle repairing spot with whatever tools I could obtain," Piyasena said.
Today Piyasena has to work during the day and be vigilant at night, keeping an eye on the tool kit. On many occasions, thieves have stolen his tools, he says.
The red three-wheeler decorated with stickers and crowded with his heavy tool boxes and his clothes, stands next to him as a faithful friend.
---
A leading association that began with 20 dedicated Buddhists, and now has a membership of around 3000 will celebrate 100 years next month.
The Colombo YMBA which will celebrate its centenary on Jan. 8 has drawn up a programme, including a public meeting at the BMICH, a leading member of the association said.
He said a commemorative stamp would be issued on this occasion at the YMBA's headquarters in Borella.
---
High-powered Emirates team arriving here
By Frederica Janz
Negotiations for privatisation of AirLanka will begin tomorrow with the arrival of a high powered delegation led by Tim Clark of Emirates airlines, Dubai.
Mano Tittawela, the Director General of the Public Enterprises Reform Commission (PERC), told The Sunday Times the government would hold talks next week with one specific partner who would negotiate the take over of 40% of AirLanka shares plus 100% of the total management of the airline. Mr. Tittawela said negotiations with the prospective buyer would be held over the next three months. He refused to name the future decision makers of AirLanka.
The Sunday Times however learns that 9% of AirLanka shares will be divided among its employees and 40% will be purchased by Emirates while the government will retain the balance 51% majority shares. The Emirates team will make a final presentation of its offer early next week to PERC. Depending on whether this is a winning presentation, PERC will make a final decision on Friday, airline officials said.
Meanwhile, senior AirLanka officials told The Sunday Times that PERC which is handling the negotiations between Emirates and AirLanka had never sought advice from the national carrier on safeguarding measures with regard to the take-over.
The Sunday Times learns that all future projects in AirLanka are being kept on hold until the new management officially takes over.
A senior AirLanka official said the airline's mounting dollar reserves could be estimated at US$ 160 million. AirLanka made a profit of Rs. 40 million on its European sector last month, he said. AirLanka Catering brings in a monthly net profit of about Rs. 20 million. This profit is constantly increasing as the volume of traffic rises.
The ground handling services provided by AirLanka to all other airlines visiting Colombo bring in a monthly profit of over Rs. 70 million, he said.
AirLanka has suffered the consequences of bad management by leading projects such as South Africa with an estimated Rs. 500 million loss.
The Sunday Times was told that Emirates would perhaps divert some of its aircraft to fly to Asia and Australia, using Colombo as a base. This initiative will probably be in lieu of the 40% ownership which will include aircraft instead of cash. The Sunday Times, however, was unable to secure confirmation with regard to the exact agreement on share ownership between Emirates and AirLanka. Mr. Tittawela declined to comment on the details of ongoing negotiations.
---
Continue to the News/Comment page 2

| HOME PAGE | FRONT PAGE | EDITORIAL/OPINION | PLUS | TIMESPORTS
Please send your comments and suggestions on this web site to
info@suntimes.is.lk or to
webmaster@infolabs.is.lk