7th December 1997
---
'I have had my day' says Chitrasena
Meeting Chitrasena af- ter many moons was a pleasant surprise. He looked relaxed and free. "I am now managing others. No more dancing," was his reply when I asked him what he was doing these days.
"I have had my day. Now it's up to the others to carry on," he said. Going on 77, he did not show signs of ageing. Six decades of dancing is no easy task. His contribution to the upliftment of dance as pioneer of the Sinhala ballet is invaluable. He is synonymous with the evolution of the modern dance theatre.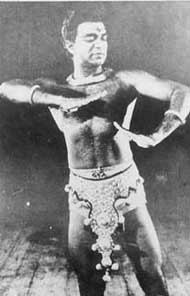 Chitrasena began his career at the age of 16 when he played the lead role in Siri Sangabo, a dance drama produced by his father, Seebert Dias at the Tower Hall. Forty two years later he played the role of Raktakshi in Henry Jayasena's production of Siri Sangabo to mark the revival of Tower Hall.
Apart from regular appearances in his productions depicting traditional dance forms, Chitrasena is remembered for some memorable performances. Few may recall Purnaka in the ballet, Vidura (1946) or Nala in the early production of Nala Damayanti, but he will never be forgotten as Mandadirala in Karadiya (1961).
Since the early forties Chitrasena's creations gave a new dimension to traditional dance forms. Nirthanjali (1965), a fast moving revue of the rhythms of our people was perhaps unique in this respect.
Chitrasena is no stranger to the English stage either. He played Othello in Ernest Macintyre's production and Emperor Jones for Karen Breckenridge.
Between Chitrasena and Vajira there are over two dozens of productions to their credit. In addition, they have created a new generation of dancers. And it must be so comforting to both of them to see daughter Upekha continuing the family tradition. Among the students they have at least two - Ravibandu and Channa who have already proved their talent.
---
The return of Pethsama
Ex-Civil Servant Leel Gunasekera served the Raja Rata as government agent in the late fifties. His experiences among the peasantry there made him write a novel, a highly successful one at that, in 1961. Titled Pethsama (Petition) it won the Sahitya Award for the best novel the following year.
The popularity of the novel is evident from the fact that its sixth edition has just come out as a Dayawansa Jayakody publication. Originally it was published by Saman Press which introduced a host of new writers in the early sixties.
"I wrote Pethsama during my spare time just for relaxation. More for the fun of it, having observed the life and behaviour of the people of Nuwara Kalaviya," Leel says.
The language in Pethsama is simple. The story is absorbing.
Pethsama is considered the second novel written by a government agent. The first was Leonard Woolf's Baddegama written in the early part of the century when he was serving in Hambantota.
With the success of Pethsama, Leel wrote two more novels in quick succession - Athsama (1963) and Mang Nethida (1965). Then he moved over to children's literature and to other literary works. He hasn't done much writing in recent years though he has been editing quite a few journals.
---
Award winner
Fear of AIDS makes Appuhamy suspicious of getting the barber to use the razor on him. He decides to buy a razor set in town. He returns to the village, gets a young man to use it for the benefit of other villagers as well and paves the way for the young man to open a salon, promoting self employment. This forms the theme of this year's award winning children's book, Appuhamige Deli Pihiya, a Gunasena publication written by Vincent Periyapperuma. He had earlier written Welikatare Mang Mulawa.
Veteran journalist Sirilal Kodikara points out that two basic ingredients are essential for a successful publication. Inspiring the reader and improving the reader's taste, both of which Periyapperuma possesses as evidenced by his works, Kodikara says.
---
Sad yet true
C.T. Fernando's songs are still extremely popular. So much so that there are CDs with his voice and new music renderings. Young and old alike still sing his numbers at home parties, picnics, outings, in short, whenever a few get together. The words are simple, easy to remember. The tunes are catchy.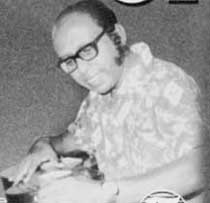 CT was a simple man who obliged anyone any time for a song, even on the telephone!
CT died 20 years ago. Here was a popular singer who is worthy of being remembered. Has there been a single gathering to commemorate him? Sad yet true.
Out of the hundreds of songs he sang, possibly the most popular was Vana Bambaroo (he preferred to identify it as Piyumehi Penibothi). The song had been composed by Karunaratne Abeysekera for the film Chandiya but it had been dropped for some reason. CT first sang over the radio in 1946. Pinsiduwanne Ane Bala Lamunne, a plea by a little bird not to destroy her nest, was the song. A new era began. Along with Sunil Shantha's Olu Pipeela and Ananda Samarakoon's Punchi Suda Sudu Ketiya, everyone started humming CT's songs - Ma Bala Kale, Barabage, Ambilimame, Selalihini Kovul, Amba Ruk - the list can go on and on.
---
Continue to Plus page 3 * Oh! what's in a name?
Return to the Plus contents page
| HOME PAGE | FRONT PAGE | EDITORIAL/OPINION | NEWS / COMMENT | BUSINESS
Please send your comments and suggestions on this web site to
info@suntimes.is.lk or to
webmaster@infolabs.is.lk