23rd November 1997
God forsaken living in Tampitiya village
It is a harrowing tale of terror and frequent hunger, in this village on the border of Batticaloa. Tampitiya, is isolated, enclaved in a siege situation, ringed by bunkers offering it uncertain protection, says Mallika Wanigasundara
Ven. Tampitiya Gnanananda arriving in Colombo last week to take a truck load of dry rations back to his war-struck village explained of the unbearably wretched and frightening conditions under which the people of Tampitiya with 475 families live in.
In a joint effort the Dharma Vijaya Foundation and the Shanthi Foundation both of Colombo, loaded the truck with rice, dhal, sugar, tea, milkfoods, clothes, toys etc. A special donation of bed sheets sent to the Dharma Vijaya Foundation by the Society for Peace, Unity and Human Rights in Sri Lanka (SPUR) of Melbourne, Australia were included in the lorry load for the temple.
The army provided the truck and transport for the monk. It is a harrowing tale of terror and frequent hunger, in this village on the borders of Batticaloa. It is living on borrowed time and borrowed cash and kind. Tampitiya, in the Maha Oya police area in the Bintenne Pattu, off the Amparai-Maha Oya road is now an isolated enclave in a siege situation, ringed by bunkers offering it uncertain protection.
If the people go out of the protective ring death and kidnappings await them. They have been attacked since 1985 and there have been around 20 incidents. The worst was in June this year when 17 persons - home guards, STF men, and civilians were killed. 30 persons have been killed since 1985.
"There were four villages around here and I am the Viharadhipathi of two temples - the Purana Raja Maha Vihara believed to have been built in the time of Saddhatissa (137-119 BC) and the Serankada Purana Vihare," Ven. Gnanananda said .
Recently, 70 year old R. B. Gunabandara was kidnapped and before that three villagers vanished from the fields forever, the Thera said.
"We were four villages here earlier - Tampitiya, Dumana, Pulavaliya and Kosgolla. Kosgolla is no more, abandoned by frightened villagers, after frequent attacks.
"We were the text book village settlement - tank, fields and dagaba," said the monk defiantly. The 900 acre tank fed 350 acres of paddy land and beyond were the chenas. Now food is very scarce because the villagers cannot work in their fields or the chenas, the monk said.
Transport is one of the greatest problems for the villagers. Maha Oya is the centre of gravity where you have the Divisional Secretary's office, the government offices, the hospital, the pola and the market centre. From Tampitiya there is a dangerous ten mile stretch to Maha Oya. The army can provide security on that road for only three days of the week. On other days you can take your life in your hands and venture out. Sixteen buses plied between Maha Oya and Ampari earlier. Now there is just one.
"Look what happens if you take your child to the Maha Oya hospital. You leave Tampitiya early morning taking your sick child. The bus goes to Amparai after dropping you at Maha Oya. You have to wait till 5 pm for the journey back, with the sick child," Ven. Gnanananda said.
Ven. Gnanananda's main task was to ask for security for their cultivation activities. But can the comfort-oriented populace in less dangerous parts of the country deny themselves marble on their floors, expensive bathroom suites, nights out on the town, expensive conducted tours abroad and safaris and pay for some bags of rice, some kilos of dhall, sugar, tea. sprats, paracetamol tablets and simple vitamins for these people who are mostly hungry and do not know whether they have a tomorrow.
Periyapullumalai is another village which went the way of Kosgolla. It is deserted now, abandoned by both Tamil and Sinhala families. Periyapullumalai, however was the place where the Ven. Gnanananda was persuaded by the Commanding officer of the area in 1990 to meet the LTTE representatives. He refused, but was finally persuaded.
Both the army and the LTTE representatives tried to convince him that there was no need for the nearby army camps which he was fighting to retain. He was not convinced, and they went ahead and dismantled the army camps. One month later Tampitiya village was attacked. The people fled to Maha Oya. Much later they trickled back.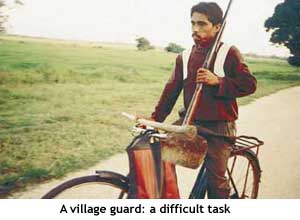 So they resorted to their own survival strategies. About 60 home guards have been trained. They earn between Rs. 3000-4500 which goes a long way to keep the families in food while some of it goes in loans for the needy. Some farmers venture out and cultivate the banks of the tank at great risk. Last year 150 acres were cultivated and only ten acres were harvested. The rest were abandoned.
Even the home guards are being pinched. 16 of them have been taken to guard the Arantalawa Road. There are various duties lined up for the others but they are refusing to budge from the village which they guard.
For the villagers who are hanging on, the temple is the centre of gravity , the anchorage of their lives, the font of courage and the voice for the silent.
At Periyapullumalai they rebuilt the temple several times after terrorist attacks. But they got letters asking them to leave immediately or else..... When they left they carried with them the bricks, timber, statuary of the temple of their gods.
W. G. Wijayananda, a carpenter who accompanied the monk, when asked how the families manage said, "I do not know myself how we manage, how we eat. There are yams, some rice from here and there and very uncertain Samurdhi payments, given to selected persons, and often not available for two months. So that's it," he said disgusted.
The village school is on an equally bad footing. Some time ago there were classes upto A' Levels, now there are no teachers even for O/'Levels. Occasionally, a solitary politician drops in and talks a lot. They say "no-ek, no-ek, deval" and nothing happens," says the monk in despair and anger. In a letter to President Chandrika Bandaranaike Kumaratunga the people of the village asked for relief and protection to carry on their cultivations. 20 camps upto Toppiagala jungles have been dismantled. The letter to the President says:
"We are accustomed to war. All of us including infants have heard the gunfire, seen the hacked bleeding corpses. We do not wish to abandon the village, but if the government does not give us relief we will be compelled to, " Ven. Gnanananda said.
If Tampitiya is abandoned other villages right upto Maha Oya will fall within the power of the LTTE. Tampitiya, they say, should be strengthened and made a bulwark against further infiltration.
---
In SHE's Maldives
Since inception SHE has battled all odds and proved its work to be unique. Its volunteers travel across the Indian Ocean to reach remote islands, promote family health and good values and most importantly Thalasseamia education ...
By Feizal Samath in the Maldives
Once a year on a moonlit night a group of people gather on a beach in a desert island in the Maldives Islands and virtually "eat the night way."
The group - all wealthy residents of Male, the country's tiny capital has a sumptuous dinner, sometimes to the strains of lilting tunes and the sound of drums of the islanders. The sound of waves lapping the shores blend with the music for this motley crowd.
It's all for a good cause. On November 14, dozens of boats carried between 300 to 500 Male residents who can afford the several dollars-per-plate dinner at a faraway island as it has been done in previous years and the money collected will swell the coffers of the country's best known non-governmental agency.
"We have done it every year and wealthy residents gladly join in this unique fundraising exercise," says Nasreena Ibrahim, a founder member of the Society for Health Education (SHE), which prides itself on working towards the well-being of the family.
"The dinner has worked well as a fund-raiser in the past and it is now an annual event," said Ibrahim, also the modest wife of Maldivian President Maumoon Abdul Gayoom.
Ibrahim and three friends launched SHE on April 8, 1988 and since then this group has battled all odds, particularly in travelling to remote islands, to promote family health and good values.
The Maldives is an archipelago of 1,192 islands or atolls spread over 754 km in the Indian Ocean with India and Sri Lanka as its closest neighbours. Over a fifth of the country's small population of 245,000 lives in Male which is just one square kilometre in size.
All residents are Muslims, but Islamic traditions are combined with western type dress and many youngsters, both girls and boys, wear denim and other trousers.
Only 200 islands are inhabited, of which 86 are tourist resorts catering mainly to western visitors and those from Japan, Taiwan and Hong Kong. Tourism is the biggest foreign exchange earner and, fishing and shipping the other major economic activities.
The resorts draw an average 300,000 tourists a year. In addition to the palmfringed milky-white beaches, visitors enjoy seclusion and privacy as no locals are allowed on the resorts except a few who are employed in some hotel departments, according to government rules.
The far-flung islands are a money-spinner for the government in its efforts to boost tourism but a headache for SHE. "Travelling alone takes away two-thirds of our budget and getting to these islands is hard and takes a lot of time," says Mohamed Zuhair, the organisation's chief executive officer.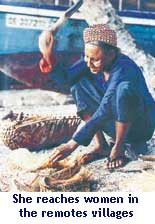 Reaching these islands is by boat or, depending on the distance, by air. Island hopping by boats called 'dhonis' is common when the group has to cover two or more islands during one to three-day visits.
SHE works in all areas concerning the wellbeing of the family. It could be health education, family planning, good parenting, counselling, hygiene and medical care. Another important focus is victims suffering from thalasseamia, a congenital disease that affects the blood and is incurable.
The questions and calls, about 10 to 12 a day, are all on family-related issues, pressure and teenage problems including drugs.
Five to six years ago, teenage problems and concerns were rarely discussed in public. They had no one to go to, but the times are changing in the Maldives and the needs of adolescents are being looked into.
Aishaath Shiham, another founder member, concentrates on counselling and education. She said the volunteer group visiting the islands are involved in general and reproductive health plus training teachers.
The first task in reaching out to the islanders is to create a bond, a bond of trust and friendship, says Ibrahim, who finds time to visit the islands along with the rest of the group despite her busy schedule as the wife of the president.
True to South Asian conservative traditions and beliefs, Maldivian women were initially reluctant to embrace family planning. "When we first started to promote family planning, the women just smiled shyly and walked away," said Firdous, who handles the medical and health needs of the group, describing one such island visit.
"But they were not rude," the scepticism was partly overcome by building bonds between the islanders and the visitors after a woman leader from the community had to be taken to a Male hospital for an operation.
"She was having a large tumour and we suggested that she be hospitalised in Male. In addition to commanding respect from her community, she was also a big woman. I removed her tumour and she was happy. In the next few days at the hospital, we built up a solid support and subsequently she was happy with the work that we were doing. The others followed suit," Firdous said.
The group has won several international and local awards. Last year SHE won the World Health Organisation's Sasakawa award for health development and followed up by being the recipient of a Commonwealth award for improving the lives of women.
In the Maldives it has received many other accolades.
SHE, which receives financial help from IPPE AND UNFPA for some of its work, has been granted land by the government to build a new headquarters that, according to staffers, would have much more space than the present premises. But finding the funds to build the new block is not easy. "We are relying on donor help," says Zuhair, who also pleads for more donor assistance for Thalasseamia education.
"This is an important part of our work and we don't get any donor funds for it," he said.
"SHE's dedication to its work is reflected by the boundless energy of its volunteers.
The 30-40 member group, including well-known doctors in the capital, take off their goons, don denims and ordinary clothes and sacrifice their weekends. They leave on a Thursday afternoon, forsaking lunch to save on precious time, and return on Sunday after visiting a couple of islands and helping hundreds of people.
Their visits are normally greeted with a huge welcome by islanders and a carnival type-atmosphere on the island. Never-ending queues at the clinics mean SHE volunteers must work past midnight to ensure everyone gets the help needed.
"We felt that by educating the mother, we could help the family. Even in the field of family planning, we found that though they had access to contraceptives, they lacked information on it and whom to go to," said Ms. Ibrahim, who unlike most spouses of South Asian leaders, is not accompanied by gun-toting guards, as evident during the late-night interview.
Naila Firdous, another energetic founder member and an obstetrician by profession, said that with more than 90 per cent of the population being literate, the group felt that by giving the right information and guidance, women would be better equipped to deal with family situations.
Firdous says their work is unique in many ways. "Where in the world do you have to reach 200 odd islands that are so far-flung like here? It makes it more difficult because we have to cross the Indian Ocean to reach communities, some as small as 300 people," she said.
Doctors, nurses, mid-wives, educators, counsellors, teachers and social workers are among those in the group of 30 to 40 who visit the island by sea or air.
The visits are not without embarrassment and sometimes amusing moments. Once on a small island, Firdous and her team laid all types of contraceptives and leaflets in the local language, Dhivehi, on a camp cot under a shade tree and prepared to talk to women on family planning.
"I asked the local mid-wife how many babies were born that year. She said none so far and just one woman was pregnant. I raised my hands in horror and quickly told the nurses to hide the contraceptives. How could I talk about family planning?" she said.
SHE has many firsts to its credit. Though family planning is promoted by the government in a big way, SHE was the first to start family planning clinics. It is the same with counselling and Thalasseamia.
"We pioneered counselling and Thalasseamia education and the latter is now a household word in the Maldives. This is done through our health education programmes which have raised its (Thalasseamia) focus in the country. Even school leavers know a lot about the disease," Firdous said.
Thalasseamia is a serious problem in the Maldives, because inter-marriages take place commonly as the communities are small. According to statistics, 18 per cent of the population or one in 5.5 persons could be carrying the defective gene and can pass it to their offspring.
Their success can be measured by the 50 to 60 people who walk into SHE's cramped office daily for voluntary testing and advice a sizable number given that just 60,000 people live in Male.
Counselling is another important part of their work. SHE was the first to introduce counselling, organise a helpline and advertise the telephone numbers on local television.
Asked whether they planned to cover all the islands where there are small communities Firdous said. "We would like to try... but it is a difficult task. What we would like to do most is improve the quality of our services."
---
Continue to Plus page 7 * Finders keepers * Oh for that moment of silenat bliss
Return to the Plus contents page
| HOME PAGE | FRONT PAGE | EDITORIAL/OPINION | NEWS / COMMENT | BUSINESS
Please send your comments and suggestions on this web site to
info@suntimes.is.lk or to
webmaster@infolabs.is.lk