23rd November 1997

Abode for the abandoned
Another home for mentally handicapped girls in Moratuwa holds an exhibition and sale of their handicrafts today
By Kshalini Nonis
In society there are many who are treated as outcasts. The old, the poor,the orphaned... even the mentally handicapped. We often do not have time for such people. We take what we have for granted, and fail to realize the importance of lending a helping hand to others.....those who have thoughts and emotions just like us.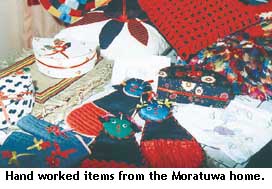 The Home for Mentally Handicapped Girls in Moratuwa was set up in 1968 by Ms. Ruby de Mel, the late Mr. H.E.B. de Mel and a few other public spirited citizens of Moratuwa. Initially the home had six girls but today there are 39 girls in the home with many of them being orphaned. "Although there is an age limit , today we have women who are in their 30's or 40's as they do not have a place to go to. There are no facilities for mentally handicapped persons who are of a higher age group to be accommodated," said Ms. Ranjanie Mendis, Honorary Warden of the home.
"The girls have been working hard for over an year to produce articles such as coir rugs, pillow cases, cushion covers and various other gift items," Ms Mendis said.
One of the pressing problems the home has to contend with is the lack of funds as they are given less than Rs 200/- per month per girl. With the ever soaring cost of living, it is obvious that this money cannot be stretched very far when it comes to providing food, clothing, medicines etc for the girls.
The home comes under the Ministry of Social Services and National Council for Child and Youth Welfare.
"We get Rs 40,000 from the state annually, but this is barely sufficient and we often depend on contributions," Ms. Mendis said.
She added that the Norwegian Red Cross which has been giving them aid financially had stopped this aid several months ago. Furthermore, the home is yet to get the money that is due to them for 1996. Apart from financial assistance the girls also need much patience, care and understanding, and it is evident that they enjoy having visitors. They greeted us very warmly and kept asking the staff at the home whether they are fond of them.
Some of the families of the girls visit them occasionally, but sadly the same cannot be said of all girls as their families seem to have lost interest in their welfare. During the day, the girls are engaged in various activities such as hand-work, coir weaving etc, according to their mental capacity.
Indeed the staff at the home work with dedication and show much love and concern towards the girls. I the mentally handicapped are not a burden to society. Rather those who are not as privileged or blessed as the rest of society.
A Sale and Exhibition of Handicrafts done by the girls of the Home of the Mentally Handicapped Girls, Moratuwa at No 6, Katukurunda, Moratuwa will be held today (November 23) from 9.00 am -5.00 pm.
---
A Touch of Class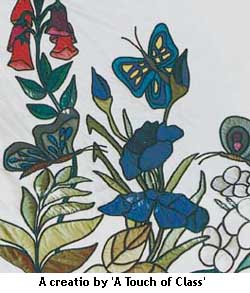 A Touch of Class, is a name not unfamiliar to admirers of fine handstitched work. For the past five years, this group of dedicated ladies have held an annual exhibition of their work and this year too on November 24 and 25 they will hold their show at the Lionel Wendt.
A Touch of Class is the brainchild of Shiranthi Peiris. Having a coconut estate in Pothupitiya in Dambadeniya, she during the difficult times of the JVP uprising began teaching the young girls of the village how to sew and embroider in the hope that this would stand them in good stead in later life. Shiranthi continued the effort with some friends. Included too will be the work of Shiranthi's pupils in Colombo and some of her efforts at porcelain painting, the latter skill learnt, she says, from Rohini Aluvihare who is both a gifted exponent and teacher of this delicate art.
The other members of Touch of Class are Kamini Samarasinghe, Rohini Jayaratne, Swarna Amithrigala, Neluka Kiriella, Lehana Ramanayake, Tushika Fernando and Anushka Peiris.
---
It's harmony
The students of Kamini Witharane will present their fourteenth annual exhibition on November 29 and 30 and December 1 at the Lanka Oberoi (New Function Area) from 9.30 am to 8 pm daily. They will display innovative ideas for table settings for different occasions. Linen and all other accessories such as cushion covers, carpets, wall hangings, table mats suitable for the appropriate interior setting, have been exquisitely designed.
The table decor has been designed to blend in pattern and colour with the interior settings created for occasions such as Christmas, Valentine's Day, Mothers' Day, Fathers' Day etc.
This exhibition is held annually to assess the creativity of the students of interior design and patchwork who attend Kamini Witharane's classes at Ladies College, Vocational Training Institute and her private classes in Mt. Lavinia. A panel of distinguished judges will select the best table setting and best needle art piece. There will be a selection for the best colour, harmony and best ornamentation. Viewers at this exhibition will be able to buy their Christmas gifts as well as other gift items which have been created with a great deal of attention to pattern, colour and texture.
---
Return to the Plus contents page
| HOME PAGE | FRONT PAGE | EDITORIAL/OPINION | NEWS / COMMENT | BUSINESS
Please send your comments and suggestions on this web site to
info@suntimes.is.lk or to
webmaster@infolabs.is.lk