26th October 1997
She does it once again
All that Jazz
By DeeCee
Our leading songstress Nanda Malini always likes to do something different. To be innovative. To experiment. That's just what she has done with her latest collection of songs 'Malmada Bissaw', which she describes as an attempt to see how far our folk songs can go.
Though based on folk songs the collection of 12 songs is presented in a totally new format.
The melodies, music composition and music direction is all Nanda's. And of course, she does the singing too.
Nanda Malini's unique attempt covers wide range of folk music - Yaga gee, Vannam, Keli gee, Bali stanzas in the Sabaragamuwa tradition, Tika kavi, Sivupada, Raban pada, Prashasti gee to Suramba valliya.. Joining her to sing two duets are Sanath Nandasiri and Victor Ratnayake .
It was truly a treasure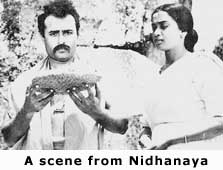 It was 25 years ago that master film maker Lester James Peries' 'Nidhanaya', chosen recently as the best film out of some 840 films produced in Sinhala Cinema's first fifty years, was screened. It was a fine effort with leading names in filmmaking at the time teaming up to produce a great film.
Playing the lead roles in the film were the much sought after pair of the day, Gamini Fonseka and Malini Fonseka.
The depiction of a man obsessed by a hidden treasure portrayed sensitively by Gamini Fonseka brought him the Critics Award of the Year. With the only film festival at the time, the Sarasaviya Awards being suspended, the film could not be rated amongst the others.
At the 20th Sydney Film Festival (1973) 'Nidhanaya' was hailed as "a moving love story which stresses the importance of simple human relationships told with compassion and sincerity." David Stratton wrote: Sharp black and white photography, excellent music. Peries' technique is impeccable which assimilates easily a complex structure - a flashback within a flashback within a flashback.
The evergreen Father
Now going on 96 plus Fr. Marcelline Jayakody is the oldest among those honoured recently with the Sinhala Cinema Golden Jubilee Presidential Award. "When I went for the Awards presentation I didn't have the vaguest idea that I was going to get an award. So when my name was announced, it was indeed a pleasant surprise," he told me when I visited him at his Havelock Road residence.
Fr. Jayakody was in Lester James Peries' team who made 'Rekawa' 40 years ago. The evergreen 'Vesak kekulu atu aga hinda natana vilase' and 'Olu nelum neriya rangala' were his compositions. He was also responsible for getting Sunil Shantha to compose the music for 'Rekawa'. He wrote a few other film songs. He could hardly remember them except 'Roses are my love' (Romeo Juliet kathawak), possibly the one and only English song in a Sinhala film. It was sung by Sunil Shantha.
Today Fr. Jayakody leads a relaxed life. He does some reading and writes a little bit. "I am in no mood to do any serious writing now," he says.
It took a long time to get the last book he wrote published. "I got a government grant too.Yet it was no easy task to get it out, until Godage came across and did the job," he recollects.
Professionalism spiced with adventure

A quiet, unassum- ing photographer celebrated 20 years in photography with a one man exhibition at the Art Gallery recently. A professional colleague called him "a gentle soul generous with his photographic knowledge." It was how Dominic Sansoni described Sarath Perera, the first student of the Hegoda School of Photography.
To communications specialist Irwin Weerakody, "Sarath is a great photographer who combines professionalism with a rare touch of adventure." Irwin who works with Sarath on many an assignment says that he has an adventurous streak that is much more than the usual.
---
Musical blendings
Pradeep Ratnayake, Sitarist will hold a musical evening - Pradeep in Concert - Pradeepanjali - at the Lionel Wendt Theatre on November 12 at 6.30 p.m.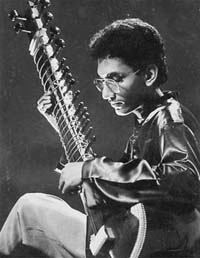 Visharada Pradeep Ratnayake returned to Sri Lanka this year, after following a specialized degree in music at the prestigious University of Visvabharati, Santiniketan, India, where he received the highest marks ever obtained for a degree by any student (Indian or foreign) in Sitar, for his final examination.
This will be his first show after the much acclaimed concert at the German Cultural Institute, held in March this year. Pradeep in Concert promises to be a unique experience, where the deep rooted traditions of Indian Classical music will blend with the music of the West, like Jazz, and our own traditional folk melodies.
This musician, who had held the Sitar in his hands from the age of five, gave his first public concert when he was just ten years old. Since then he has been performing both in Sri Lanka and in India. Completely at home with his chosen instrument, Pradeep has the ability to delve deep into the hearts of the different styles of music and find similarities and thrilling fusions that enrich music as a whole. Though a highly skilled Ragadhari musician rooted deeply in tradition, he has the ability, still, to experiment with other styles available on the Sitar, always seeking to find out and break its limits.
For the concert on November 12, which will have both the traditional Ragadhari music as well as Pradeep's own compositions that include elements of jazz and fusion music, he will be accompanied by some of the leading musicians in the country like Harsha Makalanda, Wijeratne Ranatunge, Ravibandu Widyapathi, Alston Joachim, Rifaaie Thowfeek, Antony Surendra, Lalanath de Silva, Krishna and others.
Tickets for the concert will be available from November 1 at the Lionel Wendt.
---
Continue to Plus page 13 * My goodness, it's my method!
Return to the Plus contents page
| HOME PAGE | FRONT PAGE | EDITORIAL/OPINION | NEWS / COMMENT | BUSINESS
Please send your comments and suggestions on this web site to
info@suntimes.is.lk or to
webmaster@infolabs.is.lk