26th October 1997
Contents
---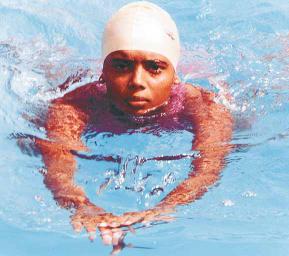 SWIMMING CHAMP IN ACTION. Chammi Wickremasinghe of Visakha who won the Individual Medley and the 800 metres Free Style event at the National Swimming and Diving Championships at the Sugathadasa Stadium in action. Pic by Dunstan Wickremaratne.
---
Bribery charges against Board official:
By Annesley Ferreira and Imran Vittachi
Cricket Board President Upali Dharmadasa has written to the Sports Minister giving further details on an allegaitons that a senior board official had sought a bribe of some Rs. 6 million for a five year contract with a world television company.

After an emergency meeting of the Cricket Board on Friday, Mr. Dharmadasa told The Sunday Times he had tabled the letter sent to him by Sports Minister S. B. Dissananayke recently and his answer to this letter.

Twenty one of the 22 executive committee members were present at Friday's meeting and The Sunday Times learns some Sports Minstry officials were also there allegedly carrying tape recorders.

The bribery scandal erupted when Mr. Dharmadasa telephoned the minister recently to tell him of the allegation that a board official had sought a bribe of Rs. 6 million from the Worldtel company before a contract was signed for the televison company to get exclusive rights on all international matches played in Sri Lanka.

Mr. Dharmadasa was reported to have told the minster that according to the Worldtel official, half the bribe had been paid and the board official was pressurising the Worldtel to give the other half claiming that part of it was to be given to the minster himself.

After receiving this message on the telephone, Mr. Dissanayake wrote to the Permanent Commission on bribery and corruption asking for an official investigation. The minister also told Mr. Dharmadasa to submit a written statement within two weeks and carry out his own investigations, going abroad if necessary to meet Worldtel officials.

"It's sad for cricket, in a way," Mr. Dharmadasa told The Sunday Times. "Cricket, today, is more like a religion in this country."

Mr. Dharmadasa said he had passed on a tape recording of a conversation that could be used as proof of corruption against the official.

He said he had "verbally" learned about the alleged bribe from a third party who had now left the country.

"There are three parties," Mr. Dharmadasa said. "One party now comes and tells me that he had proof. he gave this to get that contract or whatever it is".

Citing the need to respect confidentiality in on going investigations, he declined to clarify, however, if the informant had provided him with a voice recording to the transaction, or whether he himself had taped an incriminatory conversation with the board official at the centre of the allegations.

He explained that although the Cricket Board was a private body, the case had been handed over to commission the since a public figure, the Minster of Sports, had also been dragged into the alleged allegation.

Last Thursday, state radio SLBC quoted a Worldtel official as denying any such bribe had been offered or given.

Talking point
---
Is the women's Cricket Association of Sri Lanka legally the governing body for women's cricket in the country? This question posed by The Sunday Times eight months ago remains todate unanswered.
Has the association, in the first place, applied to the Sports Ministry Secretary for registration as a national association according to the procedure laid down by law?
Has the association been issued the certificate of registration of national association by the Sports Ministry Secretary?
Has the Minister of Sports appointed a selection committee to choose national teams? If so when were such appointements made and who are the selectors? If no such appointments have been made how has a women's national team been picked for a foreign tour?
Is it true that the seven clubs engaged in women's cricket prior to the formation of this association, as reported in "The Sunday Times", as many as four clubs have nothing to do with this association?
Is it true that softball cricket enthusiasts have been included in the association to find persons to hold office?
Is it true that two of the three male officials have not played cricket of the standard necessary to hold office?
Is it true that a male with a fine record in cricket and mentioned as an official of this association denies he has anything to do with this association? And, last but not least, are the constituent clubs properly constituted clubs as envisaged by the Sports Law?
---
An unbroken first wicket stand of 118 between Rajith Basnayake (54) and Lahiru Chaturanga (40) helped Colombo District North score an easy 10 wicket win over the Kurunegala District in the Under 19 Inter-District final at Kandana yesterday.
The tournament which was organised and conducted by the Board of Control for Cricket in Sri Lanka and hosted by the GDCA was sponsored by Celltel Lanka Ltd.
Kurunegala DCA - 116 for 9 in 43 overs (A.C.B. Samarakoon 13, S.Mendis 13; S.Rupasinghe 2 for 27; S.Rodrigo 1 for 9 )
Colombo North - 118 for no loss in 20.5 overs(Rajith Basnayake 54 n.o and Lahiru Chaturanga 40 n.o.) - SI
Senior Swiming Nationals
By Annesley Ferreira
Royal College Union emerged men's overall champions with Visakha finishing on top in the women's section at the Senior Swimming Nationals concluded at the Sugathadasa Indoor Stadium pool yesterday.
Royal aggregated 190 points with S.Thomas' collecting 68 points and St. Joseph's 65 pts. Visakha won the women's title with 87 points followed by Ladies (69 pts.) and Museaus (66 pts.)
Gheffari Dulapandan proved his mettle by winning six individual events - the 200 metres IM, 100 and 200 metres dolphin, 50 metres, 100 metres, 200 metres free style while Marlon De Lano won the 400 IM. Dulapandan was also a member of the Royal CU relay team.
---
By Kumaradasa Wagista.
A six-a-side soft ball tournament is being organised to commemorate 50 years of Sri Lanka's Independence which falls next year.
The tournament will be held countrywide and the winning team or club will win a cash prize of Rs. 100,000/- and awarded the Rt. Hon. D. S. Senanyake Memorial Trophy. A cash prize of Rs. 50,000/- to the runners up and Rs. 10,000/- to the 'Man of the Finals' will be presented, organizing Committee President Mayor Karu Jayasuriya said.
Eight members of Cricket Clubs or individual teams can apply to participate in the event which would be first held on an electorate basis and then on a district level. The final will be held in Colombo before the end of next January, the Mayor revealed. "There are no sex or age barriers, even women's teams may take part".
Between 7500 to 10,000 teams or clubs are expected to participate in the tournament scheduled to commence in December.
The venue would be a suitable playground within the respective electorates.
Entry forms are available at No. 30, Sir Marcus Fernando Mawatha, Colombo 07, accepted till November 25. No entry fee is levied.
---
Ceylon Motor Sports Club together with the De Soysa Organisation will conduct the CMSC-De Zoysa Challenge 97 Motor Rally on November 8 and 9.
The night rally will run for 600 kilo metres. It will start in Colombo in the early evening of November 8 and will go on through the night to Nawalapitiya and Dickoya where a short stop will be made.
The rally will then go on to Kandy for an early breakfast and then return to Colombo on the late morning of November 9.
The best of the rally drivers and navigators will be seen in action - Richard de Zoysa, Cassim Wahab, Suren Abeysuriya, Pubudu Wickrema, Reyaz Farook, Suminda de Silva, Stefan Furkhan.
Competitors will be given the option of carrying a third person in the vehicle if they want to. The rally will be divided into 2 classes - two wheel drive and four wheel drive. Awards will be made to the Classes and also the overall winner, with an award also made to the team of three drivers with the lowest debit points.
Entries will close on November 4th with the Ceylon Motor Sports Club, at Jinasena Limited, No. 4, Hunupitiya Road, Colombo 2.
---
The Inter-International schools Under-15 knock-out limited overs tournament conducted by Asian International Schools and played for the Kotmale Challenge Trophy are being played from October 25 to November 2.
All matches will be 30 overs matches and will be played at the Nomads grounds and Health grounds at Castle Street with the final of 50 overs to be played on November 2 at Nomads grounds.
The schools participating are: Asian International School, Colombo International School, Wycherley International School, Overseas Childrens School, Belvoir International School, Alethea International School, Leighton Park, British International School, College of World Centre, Stafford International School and Ilray International School.
Other than the 'man of the final' and 'man of the series' awards trophies will also be awarded to the best bastman, best bowler and best all- rounder.
---
P W L ND TIE %
Before WC 210 61 139 10 0 29
WC & after 42 31 09 01 01 74
Total 252 92 148 11 01 36
By Marlon Fernandopulle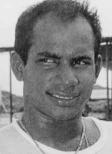 Sri Lanka's phenomenal one day record in the recent past is poised to improve further and reach greater heights when they take on Pakistan,South Africa and the West Indies in a Quadrangular tournament in Lahore next week to commemorate Pakistan's Golden Jubilee Independence.
After their fairy-tale success at the Wills World Cup Arujuna Ranatunga's team has gone from strength to strength in the one dayers.They have won four One day tournaments and boast of a success rate of 74% in the abbreviated game after that historic triumph last year.An astonishing rate when compared to the 29% they enjoyed before the World cup.Infact Sri Lanka has won 31 of the last 42 games played.A feat unparallel in history and poised to get even better.
Ironically they return to the same venue Gaddafi Stadium, Lahore where they snuffed up the Aussies 1 1/2 years ago. However this time Sri Lanka will be up against Pakistan, WestIndies and South Africa.
Billed as the quadrangular tournament among four of the best One day cricketing Nations the Jinnah cup will bring together some of the finest International cricketers of the current era. World One day record holders Saaed Anawar, Sanath Jayasuriya and Shahid Afridi who have revolutionized the One dayers will join the flambuoyant stroke makers Brian Lara, Aravinda De Silva, Ejaz Ahamed and Hansie Cronjie. Entertainers of no mean repute Arjuna Ranatunga,Gary Kirsten, and Inzamam ul Haq will add to the spectacle while the best and fastest bowlers in the world Waqar Younis, Wasim Akram. Curtly Ambrose, Courtney Walsh and Allan Donald will complete the galaxy of stars who will light up the Gaddafi Stadium.
Cricket will be dished out from the top drawer and excitement would be mounting as Pakistan's cricket crazy spectators throng the Gaddafi Stadium to watch the battle between Champions.
With the wicket in Lahore condusive for batting, batsmen will revel on the track which is bound to add to the excitement of this enthralling Quadrangular. Sri Lanka will look to their One day batting prodigy Sanath Jayasuriya to demolish the opposition with his incredible batting skills. Together with Aravinda DeSilva, Arjuna Ranatunga, Roshan Mahanama and Marvan Atapattu Sri Lanka's batting looks formidable as ever and capable of tearing even the best bowling apart.
However compared to their three opponents Sri Lanka has no big names in the bowling department.The relatively fast tracks at the Gaddafi Stadium will provide the ideal foil for Akram, Younis, Donald, Ambrose and Walsh.Although limited in their bowling attack the World Champions are backed by brilliant fielding which should be an adequate compensation.
Predicting the winner in a One day tournament is a difficult task. The Jinnah Cup is no exception,except that it makes the task even more daunting as four of the best One day sides in the world will be competing. However going by the recent form and the manner in which they play the game Pakistan and Sri Lanka look the most likely teams to qualify for the Final.
The Sri Lanka team is scheduled to leave the island on Tuesday.
Fixtures
November 1st(Sat) Sri Lanka-West Indies
2nd(Sun) South Africa -Pakistan
3rd(Mon) West Indies-South Africa
4th (Tue) West Indies - Pakistan
5th (Wed) Sri Lanka-South Africa
6th (Thu) Sri Lanka -Pakistan
8th(Sat) Final
All games are day/night encounters
---
S.Thomas' retained the T.L.Fernando Trophy defeating arch rivals Royal by 28 points to 12 in their 25th annual regatta at the Beira Lake yesterday.
S.Thomas' clinched the victory by winning the boat race easily to bag the trophy. Thus they went one up with 15 wins to 14 in the annual event.
Royal's 12 points came when they won the A Fours and Junior Pairs by identical margins of 1/2 length while the Thomian points came by way of winning the senior pairs, A sculls, B sculls and the boat race.
---
FAISALABAD, Pakistan, Saturday (Reuters) - South Africa, trailing Pakistan by 69 runs on first innings, were 21 for two in their second innings at the close of play on the second day of the third and deciding cricket test at Faisalabad yesterday.
South Africa first innings 239 (G.Kirsten 100 not out, P.Symcox 81, Wasim Akram 4-42, M. Ahmad 3-81)
Pakistan first innings (overnight 42-1)
Ali Naqvi b Donald 11
Saeed Anwar lbw b Pollock 3
Ijaz Ahmad lbw b Adams 16
Inzamamul Haq C McMillan b Cronje 96
Azhar Mahmood b Klusener 19
Wasim Akram c Richardson b Klusener 2
Moin Khan b Cronje 80
Aamir Sohail c Donald b Pollock 38
Saqlain Mushtaq c Bacher b Adams 6
Waqar Younis c Cronje b Donald 34
Mushtaq Ahmad not out 0
Extras (lb-1 w-1 nb-1) 3
Total (all out) 308
Fall of wickets: 1-10 2-18 3-42 4-74 5-80 6-224 7-229 8-246 9-304
Bowling: Donald 17.4-1-79-2 (w1), Pollock 20-5-64-2 (nb1),
Adams 23-5-69-2, Symcox 9-2-39-0, Klusener 8-1-30-2, McMillan 7-1-20-0, Cronje 5-3-6-2.
South Africa second innings
A.Bacher lbw b Mushtaq Ahmad 14
G.Kirsten c M. Ahmad b W. Akram 4
B.McMillan not out 2
P.Symcox not out 0
Extras (nb-1) 1
Total (for two wickets) 21
Fall of wickets: 1-15 2-21
Bowling (to date): Wasim Akram 3-0-8-1 (nb1), Waqar Younis 3-0-10-0, Mushtaq Ahmad 2-1-2-1, Saqlain Mushtaq 1-0-1-0.
---
Inter school cricket
By Saif Izzadeen
For the second week in a row off spinner Dilshan Rupasinghe with a match bag of 8 wickets helped St. Peter's score an easy 10 wickets win over Kalutara MV in their Inter-School cricket match at Bambalapitiya yesterday. This was St. Peter's third win for the season.
In reply to Kalutara MV's 107 St. Peter's, continuing from their
overnight score of 121 for 5, were bowled our for 157. The top scorers were A.Fonseka (40), M. Perera (37) and Ranga Dias (18). Kalutara MV bowlers M. Ranga ( 3 for 35), S. Pradeep (3 for 41), M.Bandara ( 2 for 19) and T.M.De Silva 2 for 38, shared the wickets.
In the second innings Kalutara MV were skittled out for 61 with the top scorer being D.Tillekeratne with 20. For St. Peter's Dilshan Rupasinghe (5 for 22) and Ranga Dias (3 for 14) did most of the damage.St Peter's who had to score 12 runs to win, scored them without losing a wicket.
Kalutara MV - 107 and 61 all out 35.2 overs in 130m (D.Tillekeratne 20; D. Rupasinghe 5 for 22, R.Dias 3 for 14)
St. Peter's - (121 for 5 overnight) 157 all out ( M.Perera 37, Ranga Dias 18; M.Ranga 3 for 35, S. Pradeep 3 for 41, M.Bandara 2 for 19 and Ranga Dias 3 for 14) and 11 for no wicket in six overs
Mubarak shines
By S.M.D.Sirisena
Twin half centuries and a four wicket haul by Royal's Jehan Mubarak were the highlights in the Inter-School cricket match played between Royal and Dharmapala which ended in a draw at Panniptiya yesterday.
In reply to Royal's 228 for 7, Dharmapala continuing from their overnight score of 144 for 2, made 248 for 8 dec thanks to a polished 54 by skipper Sanjaya Devapura. Sanjaya was supported by C.Prasad (48) and H.Gunasekara (46) enabling them to make 248 for 8. Royal's Jehan Mubarak took 4 for 65 with his off-spinners.
Royal in the second innings were 192 for 4 in 48 overs of 178 mts. at close with J.Mubarak making a well compiled 80 n.o which contained 13 boundries and one six. He was well supportd by T.Amarasuriya (50, 6X4) and R.Jayasuriya (24) in scoring 192 for 4
Royal - 228 for 7 and 192 for 4 at close (J. Mubarak 80 n.o, T.Amarasuriya 50, R.Jayasuriya 24)
Dharmapala - (144 for 2 overnight) 248 for 8 (S. Devapura 54, C. Prassad 48, H. Gunasekera 46, T. Premachandara 19 n.o and C. Jayasinghe 28 n.o; J.Mubarak 4 for 65)
Thurstan draw with St. Joseph's
By Bernie Wijesekera
The Thurstan and St. Joseph's inter school cricket match ended in a draw at Darley Road yesterday.Thurstan who were made to follow on did well to hold St.Joseph's at the end of the day.
In reply to St. Joseph's 275 for 8. Thurstan who were 43 for 3 overnight were bowled out for 157 . Their top scorer was T.Wickremasinghe who made 83. S.Warnakula 2 for 32 Aminda de Mel 2 for 17, bowled well for St. Joseph's. Thurstan following on with a deficit of 118 runs were helped by a fine opening stand of 93 between A.Dayananda (60) with seven fours and M.Wedage (58) enabling them to reach 216 for 4 at close.
St Joseph's- 275 for 8 in 65 overs (M.Perera 72, D.Ramanayake 79, T.Fernando 36 n.o, R.De Silva 20; T.Wickremasinghe 2 for 45, N.Randika 2 for 38)
Thurstan - 43 for 3 overnight 157 all out (T.Wickremasinghe 83, I. Wickremasinghe 18, N.Randika 18; J.Warnakula 2 for 32, Aminda de Mel 2 for 17) and 216 for 4 at stumps (M.Wedage 58, A.Dayananda 60, D.Premadasa 41. T.Wickremasinghe 43; S.Warnakula 2 for 49).
Draw at Campbell Park
The Wesley-Isipatana Inter-school cricket match ended in a draw at Campbell Park.
Isipatana - 218 for 9 dec and 170 for 7 (M.Fernando 24, T.Niroshan 40, W. Patabadage 34; B.Senedheera 4 for46)
Wesley - 87 for 5 overnight 167 all out (J.Jaldin 29, B.Senadheera 29, A.Zaid 30; M. Fernando 2 for 55, D.Samarasekera 5 for53)
POW triumph
By Shane Seneviratne
Prince of Wales, set to make 115 runs to win in 22 overs against Kingswood, reached their target in the 21st over at the Police Grounds, Kandy yesterday.
Kingswood - 111 (R.Perera 30 O.Weerasuriya 28; H.Fernando 5 for 37, T.Silva 2 for 18, D.Ranaweera 3 for 19) and 174. (M.Mallikarachchi 30, G.Madanayake 30, S.Weerasuriya 16, N.Rupasinghe 27, C.Seneviratne 27, S.Gamage 22; D.Ranaweera 2 for 40, T.Silva 3 for 6).
Prince of Wales - 171 (K.Fernando 88, H.Fernandi 19; V.Seneviratne 4 for 25, N.Rupasinghe 3 for 44) and 118 for 4 (K.Fernando 24, H.Fernando 27 n.o, P.Ranaweera 24 n.o).
---
By Marlon Fernandopulle
Triple champions Kandy SC created a major upset when their second string defeated CR & FC 'A' 22-12 and knocked out the defending champions from the Cup championships in the Carlsberg Inter-Club 7-a-side Rugby Championships at Longden Place yesterday.
Kandy SC 'B' went on to defeat Old Bens 48/14 and Old Zahirians 33/17 to finish on top of their group and enter the quarter final stage in the Cup championship.
Kandy 'A' notched up the day's highest points when they mauled Navy SC 54/0 while CR & FC 'A' also topped the half century mark defeating Old Bens 50/0.
Army SC also enjoyed a field day as both their sides moved into the Cup quarters. Army'B' stunned the much fancied Havelocks'A' with a good 19/7 victory that ensured their place in the last eight. Havelocks 'A' will thus play in the Plate Championship along with their arch rivals CR&FC'A'.
The line up for today's Quarter Finals.
Cup: Kandy'B' vs Army'B'; CH&FC'A' vs Petersons'A'; Kandy'A' vs Police'A'; Army'A' vs Air Force'A'.
Plate: CR&FC'A' vs Havelocks'A'; Air Force'B' vs Police'B'; CR&FC'B' vs Havelocks'B'Old Zahirians'B' vs Galle RFU.
Bowl: Old Bens vs Zahirians; CH&FC'B' vs Navy;
Army Diyatalawa and TristarSC have already moved into the semis.
---
Celltel Lanka Ltd,. for the Third successive year will be sponsoring the 27th annual Mercantile Rugby Sevens which will be worked off on November 8 and 9 at Havelocks and CR and FC grounds respectively.
The final days proceedings from the quarter finals stage onwards will be at Longden Place.The press conference for the above tournament was held at TransAsia Hotel last Thursday.
The defending cup champions are Asia Capital with Hatton National Bank being the runners up. In the plate Sampath Bank were champions and TriStar carried away the Bowl. This year there will be over 35 teams taking part and 28 teams have already confirmed their participation.Entries for the above tournament will close on Oct 28(Tuesday) and the entries for the above tournament should be handed over to Metropolitan Communications at 85, Braybrooke Place Colombo 2, Celltel Lanka Ltd 163,Union Place Colombo 2 TransAsia Hotel. - SI
---
CAIRNS, Australia, Saturday (Reuters) - Queensland beat New
Zealand by an innings and 127 runs on the fourth and final dayof their cricket tour match yesterday.
| HOME PAGE | EDITORIAL/OPINION | NEWS / COMMENT | BUSINESS | PLUS
Please send your comments and suggestions on this web site to
info@suntimes.is.lk or to
webmaster@infolabs.is.lk