26th October 1997
Cricket is their world too....
As the wives of the celebrities who are in the forefront of the Lankan cricket champs, these ladies often find themselves in the spotlight. Kshalini Nonis reports.
Sir Laurence Olivier once said that cricket is a low occupation. A view that perhaps does not hold good in a cricket crazy nation such as ours. With the Sri Lankan cricketers winning many international tournaments our people's pride in our cricketers is amply justified.
Cricket is also a game of glorious uncertainties, and one that is not believed to be finished until the last ball is bowled .The young, the old, and not so young are avid followers of cricket. We all know what it is like to cheer our heroes....... but as the saying goes, 'Behind every successful man is a successful woman'. So what does it feel like to be the spouse of someone who is always in the public eye? Interesting? Annoying? Do the wives enjoy being in the limelight or would they rather prefer more privacy?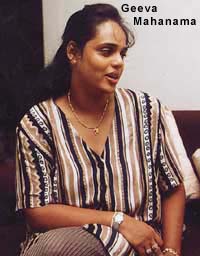 Geeva, wife of Test cricketer Roshan Mahanama feels that celebrity has its good and bad points. "It is nice to be recognized in public but at times it does become annoying as we do not have much privacy. Whenever we go out, someone notices Roshan and comes up and talks to him. Actually we do not go for carnivals anymore, as eventually the children are not able to go on any rides," she said.
And what about fan mail and numerous phone calls? The mail usually comes to our home or to Roshan's parents home and his mother answers the letters. Roshan gets a huge amount of fan mail and he does his best to cope with it." As for phone calls, Geeva said that the answering machine is on most of the time., but she has no objections to Roshan having a chat with one of his fans.
Geeva is fortunate in that she has been able to travel with Roshan on many tours and even take along the children. However, now having three girls, the youngest being merely 15 months old it is not easy, she said.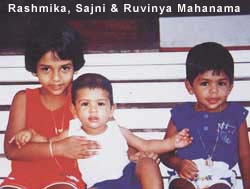 Geeva and Roshan are constantly in touch when he is on tour overseas and particularly the day before a match they make it a point of calling each other. "Roshan is very attached to the kids, and they do miss him. Apart from our eldest daughter Rashmika who is six and a half years, the others are too young to understand why he travels so frequently. Once Roshan was playing in a cricket match overseas and it was being telecast over TV. Our second daughter Sajni who is two and a half years old was eating a piece of cake at that time and she went and fed it to her father whom she saw was on the screen thus messing up the whole screen!! The youngest Ruvinya, often asks for Thatha when Roshan is away."
Geeva ensures that Roshan gets the nourishment he needs and often cooks his breakfast and dinner. "The physiotherapist of the Sri Lankan team insists that they eat a lot of carbohydrates and I therefore make food such as pasta, spaghetti etc often," she said.
It was great to see Roshan getting a double century and he deserved it, she said, referring to her husband's record breaking partnership with Sanath Jayasuriya.
Geeva married soon after completing her education at Museaus College. "I went to the then Colombo 2000 with my friends one day, and Roshan was also there with his brother , sister-in- law and a few friends. Many of my friends advised me against marrying a cricketer but I liked Roshan from the beginning. He always told me that he is a cricketer only on the field."
Initially Geeva admits that she knew very little about cricket but said that now she is well versed in the game. "It is not easy to go for all the matches with three young kids and now I often watch the games on TV," she said.
The Mahanamas have a small shrine in their garden where they perform religious rituals daily. "Even when Roshan is away, I do it on my own. We are very close," Geeva smiled.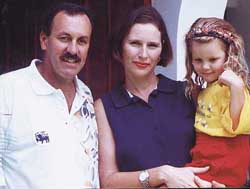 Natalia Yardley, wife of Coach Bruce Yardley said that coming to Sri Lanka was a rather quick decision but one that she has absolutely no regrets about. "We lived in a small town about 160 km away from Perth called Myalup, therefore coming to Sri Lanka was a big change as there is more hustle and bustle here, but I have been able to adapt to it. My family is here, and your home is where your heart is," she said.
Natalia enjoys the warmth and friendliness of the Sri Lankans and said that they have many friends. She admits that being the wife of the Sri Lankan coach has in a sense put her in the limelight and she tends to get noticed. "But I find this recognition very sweet," she added
Although she has been in Sri Lanka for less than a year Natalia seems to have adapted well to the lifestyle here. She even wears saree on occasion and said that she does not feel at all uncomfortable in it. "It is very elegant and I want to start my own collection of sarees. I love Sri Lankan food and eat hoppers whenever I can for breakfast. Our daughter Ariela (three and-a -half years) even knows the Sri Lankan National Anthem and we enjoy travelling out of Colombo."
Natalia initially attended university for two years but realized later that her career lay in a different direction. "I received my training as a nurse at the Perth Royal Hospital and actually it was through my profession that I met my husband. He came to the blood bank once and it was love at first sight. Bruce is the nicest person I have ever met," Natalia smiled.
The Yardleys socialize often, with the numerous friends they have. "However, as Sri Lankans tend to have meals rather late I often have a snack before I go out," she added. "Although I do realize that at a certain point we will have to return to Australia, Sri Lanka is a country I will definitely return to," Natalia concluded.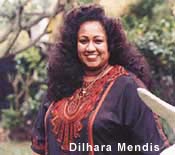 Dilhara, wife of the Manager of the Sri Lankan Cricket Team Duleep Mendis said that she does tend to get noticed but feels that she should be in the background whilst Duleep is in the public eye. "I maintain a low profile and it is seldom that I give interviews for the press," she smiled.
Indeed cricket is something Dilhara virtually grew up with. "My brothers played cricket from their young days and even my mother the late Phyllis de Zoysa represented the Sri Lankan Women's Team when they played against England in the 1940's. The conversation constantly centred around cricket at home," she recalled.
Dihara went onto say that she met Duleep through mutual relatives in the early 1970's. "Although I was used to a cricket atmosphere, I was somewhat overwhelmed by the publicity Duleep received and often complained to his parents whom I am very close to. But now looking back I feel that this was immature as in a sense cricketers inevitably find themselves in the limelight."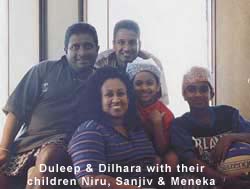 The children Niru (17), Sanjiv (12) and Meneka (nine years) are avid followers of the game and are very proud of their father. The two boys have even represented their school St. Thomas College in cricket.
"Although I accompanied Duleep whenever I could when he travelled overseas on tour, there came a point that we realized that it was more important for me to stay at home with the children. It was a decision over which we have no regrets as it is vital that one of us is always with them during their formative years. Of course the phone bills are enormous and sometimes Duleep tells me that it is cheaper if I actually joined him," Dilhara smiled.
So how did she support her husband particularly when Duleep played the game? "I saw to his meals as the coaches often complained about my husband's weight and I of course gave him all the support and encouragement I could," she replied.
Dilhara said that in cricket you get the good and bad times and she remembers the early 1980's. when the team performed badly and Duleep had to return home with a police escort.
"For sometime he had to go for matches with a few policemen and this scared our elder son Niru who was barely three years old at the time. He started crying when he saw his father leaving home with policemen. Even Duleep's fans turned against him," she recalled.
She went onto say that witnessing Sri Lanka winning the First Test match in 1985 was unforgettable and the team deserved their victory. "Actually my voice was quite hoarse at the end of the game," she said, recollecting that proud moment.
Indeed the Sri Lankan cricketers have come a long way since that victory and as they leave the country for another tour next week (October 28) the Sunday Times wishes them the very best.
---
Continue to Mirror Magazine page 3
Return to Mirror Magazine contents
Please send your comments and suggestions on this web site to
info@suntimes.is.lk or to
webmaster@infolabs.is.lk