12th October 1997
Ratifying Optional Protocol to International Covenant on Civil and Political Rights— what it means to us
By Kishali Pinto Jayawardena

HRC has been particularly concerned of the right to freedom expression and opinion
At last, the coin that trembled so precariously in mid air for over an year has dropped sunny side up.
Last week's jubilant announcement by Foreign Minister Lakshman Kadirgamar that Sri Lanka has ratified the Optional Protocol to the International Covenant on Civil and Political Rights calls for considerable celebration. By this act, the Government has opened itself up to a scrutiny that will continue for the future, regardless of whatever party in office.
Neither is it a mere academic decision. The onus will now be on human rights groups within the country to respond to the new avenues opened up, and take a test case before the Geneva-based Human Rights Committee (HRC).
A case could be thus taken only if it concerns a right recognised by the Covenant, and if it has been effectively considered by the Sri Lankan Supreme Court. The Covenant protects a whole host of rights including the right to freedom of life and liberty, right to a fair trial, freedom of expression, right to privacy and the right to freedom from torture.
Recent decisions of the HRC have taken governments to task for having failed to inquire into threats of violence against persons who hold unpopular views, for firing employees on account of political opinion, for denying inadequate medical care for detainees and for implementing gender biased laws.
One area where the HRC has been particularly active concerns the right to freedom of expression and opinion. It has questioned matters such as general and specific censorship, penal laws that restrict the media through laws of sedition, defamation and subversive propaganda and governmental attempts to muzzle the media. A fair number of individual communications on this right have been considered and upheld.
The procedure adopted by the HRC in considering individual petitions guarantees a fair hearing to both the alleged victim and the Government concerned.
The HRC looks at testimonies of the alleged victim, reports of witnesses called by both the defence and the prosecution, medical reports, judgments and administrative rules and regulations. Cases have been filed on behalf of persons by lawyers, law professors and non-governmental organisations.
Once the HRC forwards its recommendations, the government can still refuse to give effect to them. Few countries are however, so arrogant, considering the tremendous international displeasure that would arise.
The Mauritian Women case is a clear example of the manner in which the Committee is listened to. Here, twenty women appealed to the Committee alleging that the enactment of two laws by the Government was discriminatory against women.
The laws permitted foreign women married to Mauritian husbands to live in the country while an equal privilege was not given to foreign men married to local women.
On the HRC stating that the laws were contrary to the Covenant, Mauritius immediately amended the legislation. States that have listened to the Committee's opinions include countries as diverse as Finland, Jamaica, Canada, France, Italy, Norway, Denmark, Netherlands and Sweden.
The composition of the Committee says a great deal for the respect given to it internationally. The committee is comprised of eighteen members, all acknowledged experts in their area of work which is not necessarily law. One Sri Lankan legal academic J.A.L. Cooray served on the HRC in the late 1980's. Members of the HRC are elected by secret ballot by state parties to the Covenant at meetings conveyed by the Secretary General of the United Nations.
Human rights analysts have pointed out that one of the more controversial questions that the HRC might be called upon to answer following ratification of the Covenant could be the right to self determination.
This principle which states that all people have the right to freely determine their political status and pursue their economic, social and cultural development has been used by some separatist groups to support secession from the motherland.
The HRC has been extremely cautious in dealing with this issue through justifiable reluctance to get involved in nationally tense situations.
That the Government is taking head on the risks involved in ratification was apparent in the comment made by Foreign Minister Kadirgamar in New York that they went ahead in spite of the 'tendentious propaganda' that some terrorist groups may resort to.
Last week's decision make us the first South Asian country having fierce ethnic and terrorist tension to submit to scrutiny by the HRC. Nepal has already ratified the Protocol.
Our following suit is bound to send out important signals to the other countries in the region, specially India.
---
time corruption and crony capitalism, UNP General Secretary Gamini Atukorala
accused the President and the entire govt.
of protecting the big sharks and whales.Following are excerpts from his
speech at the emergency debate in Parliament on Thursday.
Gamini Atukorale UNP MP for Ratnapura :
Money is required for the war. Even if it is to purchase arms and to take commissions, money is needed. And monies that have to come to the state coffer are being stolen by big racketeers.
The PA in its policy statement made a reference to these matters. Mr. Deputy Speaker, you will recall that on page 4 of this statement there is this reference to bribery and corruption. As I have limited time I will read a paragraph that is there on page 6 about bribery and corruption. It says:
"The principle that the sharks who are engaged in bribery and corruption through political patronage are protected and only sprats are brought before courts has taken root in this Country."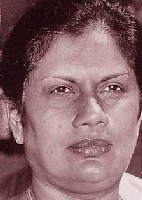 President Kumarathunga:Minister of Finance
Who are these sharks? Who are the sprats? Who protects these sharks and whales? I tell you on this occasion it is the President and the entire Government that is doing so.
Mr. Deputy Speaker, you know that there is a lot of controversy over the conduct of one individual. He is not a simple Simeon. He is the Chairman of AirLanka. Who appointed this Chairman of AirLanka, an individual named Harry Jayawardena? Who endorsed his appointment? It is this People's Alliance Government. Who is the leader of the PA Government? It is Chandrika Kumaratunga. This Harry Jayawardena was appointed a Director of the Securities Commission. Not only is he an advisor of the Civil Defence Authority. It is also well known that he funded the PA's campaign at the last presidential elections.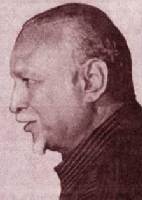 Harry Jayawardena: AirLanaka Chairman
What has happened today, Mr. Deputy Speaker. Customs on September 3 raided a business conglomerate owned by this person by the name of Stassen House.
This Chairman of AirLanka is one of the richest men in Sri Lanka. It has been reported that the Customs investigation into that raid on his Stassen House has been stopped. The investigation goes into several imports of foodstuffs that have been under-invoiced to the tune of millions of rupees.
He can be the richest person in Sri Lanka not one of the richest, if he's allowed to go on like this.
Why have investigations been stopped? I ask who is the Minister of Finance? Who is the Minister of Finance in charge of the Customs? It is the President.
Why is Prof. G.L. Peiris silent? Why is the Deputy Minister of Finance Prof. G.L. Peiris who talks of commercial courts, constitutional matters and racial integration silent on this? Why does he not probe this? This raid took place on September 3. Over a month - five weeks have gone but not a single statement has been recorded from any of the Directors of this company.
Why are others treated differently? Before the Customs raid on Stassens on September 3, on August 28 one Anthony Chrishantha Perera was taken into custody for a similar import under-invoicing. Then after the September 3 raid on Stassens, on September 6, one Mohammed Naleem Mohammed Siraj was taken into custody. They were made to pay fines.
But nothing has happened about the Stassen investigation. We wish to ask this Government why? Documents taken into the custody of the Customs clearly show the extent to which the under-invoicing has been going on.
The entire monies due to the state coffers the customs duties - have been ripped off. Monies have been paid off from a subsidiary in Australia.
Sir, I have with me three documents relating to one specific import order made by Stassen from Tulip International. Document 'A' refers to a letter from Stassen to Tulip International confirming an order. Document 'B' refers to a letter from Stassen to Stassen Australia requesting to transfer US $ 20,000 as a part-payment of that same order - That is where the racket is. Then document 'C' refers to the Invoice to the value of US $ 18,367.20 for customs duty purposes.
That is how these rackets have been done. While such blatant corruption goes on why are the customs investigators not allowed to proceed with their inquiries? That is what we want to be told.
That's not all. There is another injustice. Once these 41 documents were taken away by customs, the investigations stopped. There is a theory that amidst those files and documents are details relating to transactions with other people. Big people.
Even the lives of these customs officers are in jeopardy now. They have come in for threats. It has come to a stage where even their children cannot be sent to school because they have been threatened that their children will be kidnapped from schools.
On that day, when the Customs raided Stassen House, Harry Jayawardena had pulled a pistol containing 15 rounds and aimed it at the customs officers. They were warned not to interfere with the files, but the customs raiding party went ahead with their work despite those threats.
The Government has an obligation to protect these customs officers who went in search of documents relating to the defrauding of the state of millions of rupees. The President, who is the Minister of Finance of this country has a duty cast upon herself to protect these officers.
Equally, Prof. G.L. Peiris has a duty to protect these officers. They receive at least 50-60 telephone calls each day. Their children cannot go to school. Their cars are followed.
Mr Deputy Speaker, is it under such conditions that we must ask these customs officers to act with honesty and impartially? Then what is the meaning behind the PA's policy statement regarding bribery and corruption and catching the sharks?
Is that you cannot or should not catch the sharks? Can action not be taken against these sharks? We must act with great care at a moment like this. If not, Mr. Deputy Speaker, we will witness the creation of a dangerous Mafia in this country.
At the same time, this person is functioning as the Chairman of AirLanka. It was the Bank of Ceylon that first stood as guarantors for a Treasury Commitment for the Airbus deal. This person, without anybody's authority has transferred this to the Hatton National Bank. Why? He is a major share holder of the Hatton National Bank.
It is because Hatton National Bank is his that he transferred some US dollars 20 million. What does the Government have to say about this?
This Government said they will abolish bribery and corruption. Then what does it have to say about this? That's not all. Other companies under him are also into Large-Scale corruption.
(Interruption)
Mr. Atukorale: Mr. Deputy Speaker, people who came to the Avissawella Rest House to drink arrack found the liquor having less strength that it should. They reported the matter to the Rest House Keeper. What did he do? He reported the matter to the Distilleries Company of Sri Lanka Ltd?
He said the strength of the liquor in these arrack bottles were lower than the stipulated amount. He also complained to the Excise Commissioner in Colombo.
He was asked to bring three bottles to Colombo by the Excise Department. When they were examined they were found to be of less proof (strength).
This is a company that distributes arrack and its owner is Harry Jayawardene. The liquor was tested before officials of his company. Those officials accepted the fact that these bottles belonged to their company.
Mr. Deputy Speaker, there is a warehouse of this company at Dehiowita. It is from this warehouse that the Avissawella Rest House is supplied with stocks of arrack. On July 16,1997 the Excise Commissioner's office at Ratnapura examined stocks at the Dehiowita warehouse. 15 bottles were examined. All 15 were adulterated.
Next, this Dehiowita warehouse is supplied by the Kalutara Warehouse. A raiding party of the Assistant Excise Commissioner and 12 others examined the Kalutara Warehouse, the next day. There were 23,000 litres of arrack. That stock was also adulterated.
A report was sent to the Excise commissioner (Revenue), Elmo Fernando, for advise. He examined the bottles and came to the same conclusion, and said he was going to seal the stocks. Then a higher official said it was not necessary to seal these bottles.
On the next working day, July 21, the Excise Commissioner's request for these stocks to be examined was not done. On July 22, Mr. Deputy Speaker, as an intelligent person you will know what happened, a team of officials came from Colombo and reported that everything was fine. That was after several days.
On July 23, Harry Jayawardena got very angry. He made a complaint against the Kalutara Excise Commissioner. What happened to that complaint? The man who conducted the raid has been sent on compulsory leave.
This is what is important about all this. Who gave this order to send that official on compulsory leave It was B. C. Perera, the Secretary of the Ministry of Finance. Who is the Minister of Finance? It is President - Chandrika Bandaranike Kumaratunga.
As a Minister who has been in the Cabinet I know that before a decision like this is taken by a Secretary of a Ministry, he will always consult his Minister and seek advice. So finally what happened? The story is not about the three adulterated bottles at the Avissawella Rest House; nor the 15 adulterated bottles at Dehiowita; nor the 23,000 litres of adulterated arrack at the Kalutara Warehouse, but the sending of an Excise official on compulsory leave.
In future, will officers like this who are supposed to bring revenue to the state continue to do their work? I'm sure members of the Government agree with me.
If honest public servants are not allowed to sleep at night by abusive telephone calls, if their children are getting threatened in different ways and cannot be sent to school, if you can't go about freely in a vehicle with your children, will they continue to do their jobs?
Not only Customs officials but Excise officials also get various threats. We can see from these incidents what is happening. One official had to go on compulsory leave. What was better than all this? The Excise Commissioner is conducting an inquiry against the Avissawella Rest House. Here's the position.
(Interruption)
Mr. Atukorale:
This is the situation. Now - the Excise Commissioner has stopped issuing arrack to the Avissawella Rest House. What I ask is this. With whose powers are these things being done?
I can also speak about Balangoda Plantations.The final question is who is protecting sharks like this. They say they need money for the war. Then you need revenue. Today, millions that must come by way of revenue is not being collected.
You said bribery and corruption was rampant then. After Independence, if there was a Government so riddled with bribery and corruption it is this Government of the PA.
---
Continue to the News/Comment page 4
Return to the News/Comment contents page
| HOME PAGE | FRONT PAGE | EDITORIAL/OPINION | PLUS | TIMESPORTS
Please send your comments and suggestions on this web site to
info@suntimes.is.lk or to
webmaster@infolabs.is.lk