12th Octomber 1997
Contents
Junior National Tennis championships
Suzan in two major upsets
By Annesley Ferreira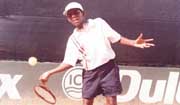 Sanjeewa Paramanathan in action in the Boys under 14 singles semi-finals. Pic by Dunstan Wickremeratne
Suzan Waheed of the Maldives accounted for two major upsets on the penultimate day of the Junior Tennis Nationals worked off at the National Tennis Centre Courts at Greenpath yesterday.
The unseeded Waheed first toppled the top seed in the girl's under 14 singles Ramya Salgado in two straight sets in the quarter-finals. In the semifinals the Maldivian lass Suzan Waheed was all power and grace as she downed number three seed Saroja Gunatilleke 6-2, 6-4. The latter had no answer to her powerful shots.
Meanwhile Anuskha Rajiyah made a strong claim of winning a double when she qualified to play in the girls under 16 and 18 finals.
In the finals played yesterday, Chavi R.Talagala, the top seed, beat the bottom seed R. Rukmal Cooray 7-2 to win the boys under 8 singles final and Yaveen Jayasekera beat Oshada Wijemnne to win the under 10 boys singles title.
Results of the other matches played yesterday:
Boys 12 and under quarterfinals: Daham Ratnayake bt D. Kaneshayogan 9-4.
Boys 14 and under quarterfinals: N.S. Paramanathan bt Dinuk Ranaweera 6-2, 6-4; Harshana Godamanne bt Upendra Walgampaya 6-3, 6-4; Thimothy de Abrew bt Manjula Ariyasena.
Boys 18 and under quarterfinals: Vanaka Gunawardena bt Rajeeva Rajapakse 7-6, 6-4, 7-4; Dhevan Peiris bt Renouk Wijemanne 6-4, 6-2; Lahiru Jayasuriya bt Samitha Ranaweera 6-0, 6-0.
Boys 18 and under semifinals: Ruth Manesha Perera w/o Charitha Gunawardene.
Girls 14 and under quarterfinals: Mahesha Avanthi Seneviratne bt E.D.M.Alles 6-1, 6-0,
Girls 14 and under semifinals: Suzan Waheed bt Saroja Gunathilake 6-2, 6-4.
Girls 18 and under semifinals: Anushka Rajiyah bt Sasha Wirasinghe 6-0, 6-1.
---
By Marlon Fernandopulle
A gallant fight back in the second half coupled with precision kicking by fullback Upul Silva helped Army Colts defeat Havelocks Bambaras by 15 points(05 penalties) to 11 (01 try & 02 penalties) in a thrilling Carlsberg B Division Plate Final at Longden Place yesterday.
After trailing 11-3 at the breather the Soldiers came back strongly with their forwards attacking relentlessly and forcing the Havies to make mistakes. Full back Upul Silva capitalized on the opportunity and put over five penalties to ensure that Army took the Plate Championship.
Havelocks began promisingly with their three quarters running the ball and making inroads into Army territory. After Saranga Jayakody put over two penalties early in the second half the Park club scored the only try of the game when second rower Zeran fell over for an unconverted try. Upul Silva put over a good 40 meter penalty ealy in the second half to open scoring for the Soldiers.
Army dominated in the second half and had their opponents on the back foot.They reduced the deficit through penalties from Silva in the 47th and 60 th minute before taking a slender 12-11 lead in the 66 th minute. Silva increased the lead in the closing stages with a 5 th penalty for Army to emerge winners of the Plate.
Air Force Chipmunks won the Bowl Championship defeating Moratuwa University by 22 points (1 goal,3 tries) to nil. Aruna Sham,Senerath Amukotuwa,Sumith Fernando and Dharsha Navindha scored for the winners.
---
Young Victory Sports Club scored an upset 2-0 win over Saunders SC in the under 17 youth soccer tournament match at A.E.Gunasinghe Playground. Goals were scored by Azwer Ali Siddek.
---
Inter-school cricket
Kingswood-S.Thomas' draw
By S.M.D. Sirisena
The Inter-School cricket match between S.Thomas' and Kingswood ended in a draw at Mt Lavinia yesterday.
Kingswood continuing from their overnight score of 32 for 3 were all out for 154 in reply to Thomains 183. For Kingswood Chamara Seneviratne scored 16 not out and Namal Puspakumar 15. They put on 32 runs for the last wicket which helped the visitors to reach 152.
In the second innings the Thomians were 95 for 6 at close. Paceman Namal Puspakumar took five wickets for 24 for Kingswood.
S.Thomas' 183 (N.Pieris 67, E.Jayasinghe 28, B.Athkorale 24 n.o; T.Madanayake 5 for 27; N.Rupasinghe 3 for 62, R.Perera 2 for 43) and 95 for 6( U. Fernando 19, J.Siriwardena 14, S.Caldera 24, L.Fernando 19; N.Puhpakumara 5 for 24)
Kingswood- ( 32 for 3 overnight) 152 all out ( R.Perera 33, S.Gamage 13. O.Weerasuriya 14, N.Puhpakumara 15, G.Seneviratne 16 n.o; S.Pieris 4 for 29; N.Pieris 3 for 23; L.Fernando 2 for 25)
Wesley Thurstan drawn
The Wesley - Thurstan match also ended in a draw at Campbell Park
Wesley - 121 all out (D. Jayakody 57; T.Wickremasinghe 5 for 40, S. Perera 4 for 17) and 214 for 9 dec (D.Jayakody 92. D. Medagedara 50, M. De. Silva 15, S.Perera 5 for 42) Thurstan - (98 for 4 overnight) 167 for 8 dec.( A.Dayananada 47, I.Wickramasinghe 35, B.Senadeera 4 for 39) and 71 for 3 at close ( Dayananda 30, Wedage 22).
Raddoluwa win
A match-bag of 11 for 52 by leg spinner N. Gunatilleke, enabled Raddoluwa MV to beat St Aloysius Galle by 9 wickets at Seeduwa yesterday.
Gunatilleke captured 4 for 26 and 7 for 26 respectively and has so far claimed a total of 25 wickets.
This was Raddoluwa 'MV's first 'A' Division win.
Set to make 41 to win in 17 overs, they reached their target in 4.3 overs.
St. Aloysius - 204 all out. ( M. Siddique 30, U. Kumara 39, S. Tillekaratne 51, N. V. L. Pannilawithanage 3/65, N. Gunatilleka 4/26, D. A. Maraga 2/46) and 97 all out. (A. Silva 27, S. Arangala 2/42, N. Gunatilleka 7/26).
| HOME PAGE | EDITORIAL/OPINION | NEWS / COMMENT | BUSINESS | PLUS
Please send your comments and suggestions on this web site to
info@suntimes.is.lk or to
webmaster@infolabs.is.lk