5th October 1997
Overcrowded, understaffed, Mulleriyawa's Unit 2
needs help. Many of its patients, though well enough
to leave languish there in pitiful conditions.
Hiranthi Fernando reports.........
For the 957 female inmates of Unit 2 at the Mulleriyawa Mental Hospital, it was a great event in their bleak, monotonous lives. A party was held for them last week, by NEST, a non-governmental organization involved in voluntary service at the hospital.
There was great excitement among the inmates. The wards were decorated with balloons and a stage, also decked with balloons, was erected in the garden, for the band. After partaking of a special tea served to them, they gathered around the band to enjoy the music. The staff of NEST dressed up in a variety of colourful costumes, beating bamboo drums led them towards the music like pied pipers and encouraged the women to participate. Many of them joined in the fun, clapping and dancing the baila with gusto. Some were content just watching.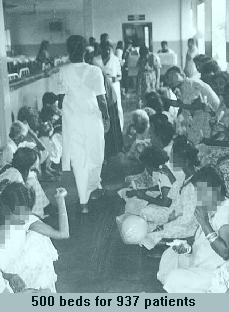 Observing and speaking to some of the women, one realises that many of them have no real need to be there. They seem capable of leading normal lives with perhaps medication where necessary. Soma (not her real name), has been at Mulleriyawa for five years. Having quarreled and lost contact with her children, she had been living with a friend. Realising that she had a mental problem, Soma on her own initiative, sought treatment at the Mulleriyawa Mental Hospital, where she was admitted. She is now ready to be discharged but cannot leave because there is no one to sign for her and take her out. Her children have no interest in taking her to their homes. Her friend back in the village has indicated that Soma has a home with her. However, since she is not a relative, it appears that according to the outdated regulations of the hospital, Soma cannot be sent out with her.
Nalini(not her real name), was admitted to the hospital by her father, who died shortly after. When she was discharged, her sister came to take her home. However, she was not allowed to go with her sister since the admission papers were not signed by her. After much discussion with the authorities, she was told that she could be taken out by her mother. Her mother being old and feeble and living far away, is not in a position to travel to Colombo. Thus Nalini still remains at the hospital.
Amara(not her real name), a young girl, had been at Unit 2 for about two weeks. According to her, she has been brought to the hospital for admission by her mother. She claims that she is quite well now but nobody has come to take her home.
This was a common lament of the inmates. They were eager to disclose their addresses and send messages to their homes.
"Tell them to come and take us," they clamoured. They also craved for visitors from home. It is indeed tragic that these women are left to languish in such pitiful conditions, unloved and uncared for by their relatives. In some cases, the families live too far away and visiting is difficult and unaffordable. In other cases, the families have rejected them because of the stigma attached to mental illness. A concerted effort is needed to find their families and try to rehabilitate them.
As one volunteer worker said, they need to have people to visit them and to be treated as normal human beings. The Matron of Unit 2 says that most of the women at Unit 2 are fit to go back to their homes and live. Their relatives have however, discarded them and seldom even visit.
"If a person lives under the conditions these women live, for a period of 15 to 20 years, he or she has to look different," say mental health workers. In fact, the very attire and hairstyle of the inmates of the Mulleriyawa Hospital set them apart. We found that a large number of women wore their hair cropped close to the head in a most unattractive fashion. Also, having lived there for many years, most of them have worn out whatever clothes they had brought with them. They looked unkempt and some were dressed in tatters. Those who did not have clothes to wear were issued shapeless, sack like dresses in a thick striped material or a grey checked cloth, both reminiscent of prison garb.
Mulleriyawa Mental Hospital has twenty four wards of which fourteen are in Unit 2. New patients are admitted to the ten wards of Unit 1. When they are ready to be discharged, if the families do not take them home, they are sent to Unit 2 which is thus occupied by long term patients. Some of the patients have been there for over 30 years. Unit 2 is equipped with 500 beds. Patients number 957 at present. Thus, almost half the patients do not have a bed to sleep on. Some of the wards are being looked after by various organizations and these patients have been provided with mats and pillows by their sponsors. Some do not even have a mat and sleep on the cold bare floors.
The open wards provide no privacy to the inmates for their dressing. They also do not have any place to keep their personal belongings. Those who have two or three garments often wear them all at once to prevent theft by inmates or staff. They even wear washed clothes while they are still wet. Treasured belongings such as photographs are carried on their person tucked into their blouses for want of a better place.
With regard to food and drugs, the Matron says the inmates are not deprived. "They have chicken once a week and salmon twice a week," she said. Members of organizations that visit the hospital however, feel otherwise. They claim that although the quantity of food is sufficient, quality is lacking.
A frequent visitor says she has seen each plate served with a very small piece of canned fish. "These women are under strong medication and often develop various skin conditions and rashes," she explained.
"To counteract these effects, they need plenty of fresh vegetables and fruits which they do not have."
They also need to bathe regularly. According to some volunteers, baths are restricted at the hospital. They say that the inmates are allowed to bathe only once a week.
The Matron says that they are given supervised baths once a week but they could bathe more often if they wished to. She said however that the flow of water to the bathrooms is controlled since there is "much wastage of water."
Mental health workers observe that apart from the psychiatric drugs the women are given, their other medical needs receive scant attention. Those who need hospitalization are transferred to the General Hospital, Colombo. Each ward in the Mulleriyawa hospital is placed under the care of a psychiatrist. Some of the psychiatrists visit the wards weekly while others visit only once a month. They say that some wards have not been visited by a psychiatrist for several months. When the psychiatrist visits the ward, he sits at a table just outside the ward. The ward nurse decides which of the patients need to be seen by him. The others continue on the usual drugs. No ward rounds are conducted, they added.
One of the greatest shortcomings at the Mental Hospital is the lack of any form of occupational training or rehabilitation. Although there is an Occupational Therapy room there are apparently no facilities there except a sewing machine which the inmates are not allowed to use. A few selected inmates are given patchwork rugs to stitch but the majority of them have absolutely nothing to occupy their time. If one had nothing to do but eat and sleep day after day, that in itself would be enough to destabilise any human being.
In an effort to provide a change in their daily routine, and relieve their boredom, NEST, started a programme where they took small groups of women on a days outing. Since two years ago, this programme was abruptly discontinued with no valid reasons given. One reason given by the psychiatrists was that patients get a relapse after such an outing. Fortunately however, after much discussion, at a meeting of the National Advisory Board for Mental Health, permission was given to resume this programme for groups of ten inmates under stipulated conditions. The volunteer workers stress that if these women are ever to be able to live independently outside the institution, they have to see what the world outside is like.
"Our mental hospitals are a national disgrace," commented one mental health social worker. "No other place in the world houses over 950 women in one institution." When the Mulleriyawa Hospital was first built, conditions were quite different, they say. There were not so many patients. The staff too find it difficult to cope with the increasing numbers of patients. Some of the inmates have been there for years and are likely to remain for the rest of their lives. Social workers say that if the inmates are to remain there for life, it should be run more like a home. "There has to be a proper plan and effort, at least to cooperate with other NGOs who are willing to make the effort."
Dr. Roy Perera, Medical Superintendent in charge of the Mulleriyawa Mental Hospital says that overcrowding is one of the greatest problems at the hospital. The numbers exceed a thousand sometimes. "Eighty per cent of the inmates in Unit 2 are fit to go back to society. When society rejects them, they become chronic long standing patients of the hospital," Dr. Perera said. "Only about 200 of them really need treatment at the hospital. These women have come from all over the country. They should be taken back by their families or the government should establish half way homes or community based rehabilitation centres for them. In fact, such a unit will soon be opened at the Walasmulla Hospital.
Some inmates at Unit 2, whose homes are in that region will be transferred to that unit."
Dr. Perera says the average cost of psychiatric care for a patient is around Rs. 1,500 - 1,800 per month. The expense incurred by the hospital for dry rations alone is Rs. 45,000/= per day. He stressed that if the recovered patients from the various provinces could be accommodated in units closer to their homes, better quality service could be given to the patients who are in need of psychiatric care.
The shortage of psychiatrists and nursing staff trained in psychiatric care in the country, seems to be another problem affecting the care of mentally ill patients. Dr. Perera said there were nine psychiatrists serving both Angoda and Mulleriyawa Mental Hospitals. In addition, they also visit the daily clinics conducted at Room 22 of the General Hospital for follow up patients.
"The management of psychiatric patients needs to be a team approach involving Psychiatrists, Psychologists, Occupational Therapists, psychiatric social workers and counsellors," Dr. Perera said. "Psychiatrists cannot do it alone. The role of the Psychiatrist is different to that of the Psychologist. In the entire government health sector, there is no Psychologist. There are only 18 Psychiatrists in government medical service, so it is heavy work for them. The Psychiatrist as the leader of the team should motivate the team. Unfortunately, there is not much coordination among them."
As regards the lack of facilities for occupational therapy and rehabilitation at the hospital, Dr. Perera said there are two Occupational Therapists at the Mulleriyawa Hospital, one for each unit. The numbers of patients are however too large for them to cope. He says recreational facilities by way of games such as Carrom and Badminton are available, but that too has to be looked after by the two Occupational Therapists.
Explaining the procedure of discharging a patient from the hospital, Dr. Perera said that after the Psychiatrist certifies that the patient is fit to be discharged, the Medical superintendent signs the release papers and the patient is usually given in charge of the person who originally admitted her. Before the patient is given over to anybody else, he or she would have to provide a letter of authority and proof of identity. Dr. Perera says this procedure is followed in order to safeguard the patient's interest. There are instances when a brother, sister or other relative attempts to get a patient released in order to acquire rights over her property.
Dr. Perera reiterated that the only solution to the problem of congestion at the mental hospitals is to establish and enhance peripheral community based psychiatric services. "It would not only ease the burden at Mulleriyawa but also help to dilute the stigma attached to patients at Angoda and Mulleriyawa. There will also be better support from society. In the case of psychiatric patients, cooperation is needed between the state, the families as well as the community."
At a seminar on Mental Health for the media held this week, the Minister of health and Indigenous Medicine, Mr. Nimal Siripala de Silva acknowledged that the conditions at the mental hospitals in the country were not satisfactory. He said he would visit these hospitals and take steps to improve their condition. He also spoke of plans to convert some little utilised small hospitals as well as wards of some hospitals in the provinces into units for psychiatric care, so that the patients would be close to their families.
In order to overcome the shortage of Psychiatrists in the country, the Minister said that in the next five years they intend to train and produce the specialists the country needs. Priority will be given by the Post Graduate Institute of Medicine as well as in the granting of post graduate scholarships, to training specialists in the fields that are in need.
---
Continue to Plus page 4 - Mental illness: he prescribes 'care cure'
Return to the Plus contents page
| HOME PAGE | FRONT PAGE | EDITORIAL/OPINION | NEWS / COMMENT | BUSINESS
Please send your comments and suggestions on this web site to
info@suntimes.is.lk or to
webmaster@infolabs.is.lk