5th October 1997
By Sirohmi Gunesekera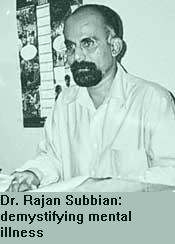 "The major issue is non-acceptance of the mentally ill amongst us. If I can make you sensitive to others' feelings, then you will definitely accept the mentally ill in your presence. Thus the caring of the mentally ill can improve only if the mental health of others is good. It is difficult to look at the rehabilitation of the mentally ill alone as a separate issue," said Dr. Rajaram Subbian, a consultant in Psychiatric Social Work attached to the Ministry of Social Services.
Born in Tamil Nadu, Dr. Subbian obtained his doctorate from the National Institute of Mental Health and Neuro-Sciences in Bangalore where he worked for 16 years training others and practising Psychiatric Social Work.
"I have been working with people who are emotionally disturbed; individuals or family members and organising programmes in the community in prevention, promotion and rehabilitation. My special area is de- addiction to alcohol and drugs. We are concerned with psycho-social rehabilitation of the mentally ill."
The consultant who is organising and conducting a diploma programme in Social Work on invitation from the Ministry of Social Services explained that he is also helping to start a course leading to the B.S.W. (Bachelor's degree in Social Work). He is also involved in the training of trainers in Counselling.
"The more and more I work with people the more and more I am convinced that human beings have a rich potential. If only we can come out of the barriers that we have put up for ourselves or the family or society has put up for us, our lives can be beautiful and much healthier. Every interaction has helped me. When I see situations where people just struggle with such shackles, it pains me. I definitely feel that these shackles can be removed. Especially the rehabilitating of the mentally ill is not difficult at all if only we (the professionals) simplify the rehabilitation process. If we can explain it in simple words to the public or to the family, rehabilitation becomes easier. Unfortunately, we expect rehabilitation in institutions. In Sri Lanka, there are no centres of rehabilitation but that's not the answer because it won't meet the need of the public. The vast population of the mentally ill has needs which cannot be satisfied but we need centres as models. Rehabilitation should take place inside the community," he said.
Dr. Subbian added, "Taking care of the mentally ill in the family is a burden. Nobody would like to desert a family member. They try all means and then, disgusted and frustrated, unwillingly they leave the family member. So we need to address the needs of the family. If we make them aware of what mental illness is and provide the treatment facilities appropriately, most of the families would be willing to take care of them at home itself. The only other difficulty is the social stigma. So we need to educate the society and improve facilities for treatment. We also need to help the family to accept the mentally ill at home. In my experience, wherever the family accepts the stigma, it doesn't disturb them. The family is often a partner in aggravating the stigma. The National Mental Health Week is a wonderful opportunity for this message to reach all parts of the country and also to de-mystify mental illness."
Dr.Subbian said that on October 14th there will be a workshop on School Mental Health for principals and parents and on the same day there will be a workshop for soldiers with a disability and also that the School for Social Work was organising programmes through their students in their respective areas.
"So many researchers have proved that mental illness is an organic illness; like a physical illness, it originates due to biochemical changes in the brain. Only previously we thought mental illness was due to past life or karma or because the family has not looked after the person. There were also misconceptions that it was due to supernatural causes," he explained.
Dr.Subbian stressed that it was important how one coped with problems both fortuitous and inevitable in life and that the art of coping was Mental Health. "The basis of problems faced by human beings such as parenting, performance in school, adolescent turmoil, marriage, substance abuse, family violence and caring for the elderly boils down to maintaining healthy inter-personal relationships. If only we can learn how to develop and maintain good relationships with people with whom we live and interact, we learn to cope better and that is Mental Health," he commented.
"Most of us while interacting don't look to the future. We interact for the day and this affects our Mental Health. We do not think that this relationship is necessary for the future. This attitude permeates society at every level in the administration of offices and in politics. We are very short-sighted in looking at relationships. When a husband and wife fight, it is only the fight that matters. If we can keep the importance of the relationship in our minds, we don't indulge in many unnecessary activities," he observed.
He stressed that relationships are paramount and that even in education there should be a fourth R; "Education should not simply be to make people literate but to make them educated to live better. There would be harmony in society if relationships improved. If the teacher helped children to relate well in the classroom there would be no dropouts. Thus the Mental Health in the school would improve."
The major issue is non-acceptance of the mentally ill amongst us. Mental illness per se is not a major problem. If mental illness is identified early, treatment is provided adequately and the family is supportive, caring for the mentally ill is not a problem. Don't laugh at the one who is mentally ill, accept him because everyone of us is susceptible to mental illness, more so the youngsters. A child or a college student is at higher risk. Though our focus is on better care for the mentally ill, we should also think of preventing the youngsters becoming mentally ill. 'Preparing for better relationships and well-being' should be the motto of the National Mental Health Week. If I can cope with my problems, then I can spare a thought for the mentally ill and be sensitive to their needs by having empathy," he remarked.
---
Continue to Plus page 5 - Saving them from the seamy side
Return to the Plus contents page
| HOME PAGE | FRONT PAGE | EDITORIAL/OPINION | NEWS / COMMENT | BUSINESS
Please send your comments and suggestions on this web site to
info@suntimes.is.lk or to
webmaster@infolabs.is.lk