28th September 1997
Recalling the tragedy and legacy of his father, Anura Bandaranaike says the whole ethnic war would have been averted, if the Bandaranaike-Chelvanayakam Pact had been implemented firmly by his father.
The one-time heir apparent of the Bandaranaike dynasty in a Sept. 26 interview - also said his father would have been horrified to see the scheming, corruption and inefficiency of the PA Govt. today.
By Roshan Peiris
The picture on the wall depicted a young politician's history in the making. The most poignant of those pictures was of the eight-year- old Anura Bandaranaike standing beside his father father's arm around his shoulder in national dress, shawl and all, being introduced to Jawaharlal Nehru and Indira Gandhi. There were pictures of the young man through the years with the Pope, Rajiv Gandhi, Chou-En Lai, Benazir Bhutto and Begum Khalida Zia.
I met Anura Bandaranaike on Friday, the thirty-eighth death anniversary of his father before he left to pay his respects at the Samadhi in Horagolla.
As he relived the traumatic story of Sept. 25 1959, the day his father was shot, Anura was only 8 years old. Anura's face grew both grim and sad. "As I left for school with my sisters that morning I saw the monk at the gate but I never imagined what was going to happen.
"Around 10 o'clock the maid came to class completely hysterical told me and my teacher Mr. Williams that my father had been shot. I was dumb struck, seated next to Ranil in class.
"I left for St. Bridget's to collect my sisters, went home and found the passage to the entrance full of blood. It was not my father's blood but that of Somarama who had been badly beaten by the crowds there. The area was cordoned off by the police.
"We went to hospital and found my mother uncontrollable and hysterical with grief. But even today I cannot but admire my father who actually walked from the car to the operating theatre for a seven hour operation.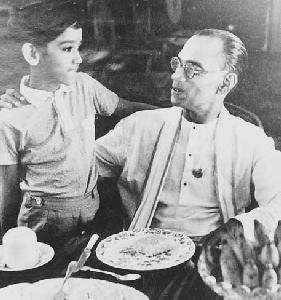 Like farther like son, Anura with SWRD:a pragmatist, like the father
"I stood on my toes and peeped through one of the peep holes and believe it or not, there he was fully conscious under a local anaesthesia surrounded by doctors and dictating the statement he made to Duncan de Alwis asking the people not to harm the foolish monk who shot him."
Anura was sad as he said "My father died the next morning and he had been asking to see me several times, but the doctors would not allow me, saying it would be too emotional for my father. How I wish they had. Those last moments would have been very precious to me."
Q: In retrospect what would you say is the most important legacy he has left you?
A: Honesty, decency in dealing with human beings, modesty and of course his oratorical skills.
Q: Don't you think in hindsight that SWRD in some ways began the ethnic issue with his 'Sinhala Only' policy and making Sinhala the official language?
A: No I don't agree. I think that Sinhala should have been made the official language in 1948. Like India which has made Hindi the official language throughout the country, even in the South. Making Sinhala the official language was a historical necessity. But my father was a good political tactician. Having done that, he worked to help the Tamils by the Bandaranaike-Chelvanayakam Pact. It was a far reaching agreement on federal lines. This would have solved the ethnic problem, and I wish he kept firmly to it. After that it was too late unless he won at the next election.
Q: Looking back what would you say are the most important lessons SWRD gave this country.
A: On the plus side he ushered in a social and political revolution. He changed the face of Sri Lankan politics and it has never been the same after him. It was the first time the common man emerged as a decisive factor in the politics of this country.
"On the minus side he should have been much more firm and certain on the B-C pact, also he was too liberal. He put up with a mediocre cabinet. He was the only outstanding man among mediocrities. He should also have disciplined them more.
Q: In what ways are you aspiring to emulate him and follow in his footsteps.
A: I am a pragmatic man and I feel that the 1956 policies are not relevant today. I am quite sure if he was alive he would have changed his policies. He was also a pragmatist at heart.
Q: How do you feel after leaving his party? Are you sad?
A: I must confess it was very hard for me when I left and also very sad. But I am sure he would have understood my dilemma. How could I have worked with this Government which has schemers, infighting and unprecedented corruption which would have horrified my father. I see inefficiency and a total lack of governance today.
Q: Are you happy working with the UNP?
A: Yes: I must say that I have never been happier in my political life. I find it both easy and fruitful to work with the U. N. P.
PS. There was some mix up about the time of the interview and Anura apologised.
When leaving I told him this sort of thing won't happen if he acquired a wife." No, he said, "it would have been worse" and chuckled.
---
Smoking in buses and trains will be prohibited by law if commuters fail to heed the 'no smoking' signs, Transport Minister A.H.M. Fowzie has warned.
The Minister told The Sunday Times he was having talks with Provincial Transport Ministers to enforce the ban on a wide and effective scale.
In the meantime, flying squads would regularly board buses and trains to check on smokers. Any driver or conductor found smoking would be fired, while heavy fines would be imposed on smoking commuters.
Mr. Fowzie said several previous attempts to stop smoking on buses have failed and he felt the time had come for tough legislation.
---
By Frederica Jansz
The killing of Rev. Arulpalan is yet an other murder committed by unknown forces in the north. A priest of Konavil in the Kilinochchi district? He was reportedly taken in for questioning by the Sri Lankan army on August 25. He was not seen again until his decomposed body was discovered on September 9 together with two others in a hastily dug grave. Aid workers in the northern peninsula said one of the bodies had its head cut off.
While there is little evidence yet as to who could be responsible, humanitarian organizations assert a serious problem exists in the Vanni whereby the Army have admitted to killing on sight any human detected crossing the line from uncleared territory to government controlled land.
Security forces personnel say they cannot take any chances as it could be the LTTE. Some 90 persons have gone missing since the beginning of this year from this particular area in the Kilinochchi district.
Acts of murder and disappearance in the north and east seem to continue unabated while the voice of human rights activists in Colombo seem to have been effectively muzzled by the present political administration. It is indeed pathetic that a vacuum has been created for political opponents with 'blood on their hands' to fill this vacuum, virtuously pledging the causes of human rights.
Brutal forms of torture still exist in many a police station and prison.
Amnesty International has recently lent focus to the extent of torture in various countries - torture which is calculated to disintegrate the mind of an intelligent victim. In Sri Lanka it has become an almost accepted stance to perceive that if one is a Tamil and arrested it is a duty carried out by the armed forces to protect the country from terrorism.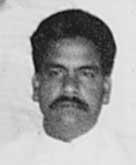 Rev. Arulpalan
The present censorship on news relating to the situation in the north is one of the main reasons for even those well meaning people to remain in ignorance of the appalling human rights violations that continue in Sri Lanka today. The lack of independent news coverage whereby even foreign correspondents are barred from visiting certain areas in this country is also the reason for the government's own failure to sell the proposed devolution package in the South. It is a basic human right for people to be informed instead of meeting with a stone wall in seeking information.
The murder of Rev. Arulpalan has not caused any ripples in government or military circles. He was just another Tamil mistaken to be a Tiger.
The brutal slaying of all those other Tamil people also does not require any explanation according to the authorities, who when questioned did not even know a serious problem existed in the north for hundreds of civilians attempting to cross the line from rebel held territory to government land.
Many of these civilians are farmers and others who for various reasons are forced to make that crossing into Kilinochchi and other areas to complete a day's work. However, the military say the LTTE too move around in civilian attire and so no chances can be taken.
The Human Rights Commission (HRC) appointed by the government is practically defunct and was not even aware of the murder of Rev. Arulpalan and other disappearances taking place in the country's north and east.
At 2 pm on a working day there is no responsible official at the offices of the new HRC to answer or record statements of human rights violations.
Finally, tracking down one official to his home The Sunday Times was told the HRC intends opening an office in Jaffna but cannot find the right personnel to man such a post as it would require a knack of knowing how to "deal with both sides," he said.
This body first needs to get its act together in Colombo before embarking on a project that will end before it has even begun.
Other than appealing to the President there seems no mechanism in place to effectively monitor the human rights situation in the country. No local body is functioning by which members of the community and NGO's can bring complaints of violations without fear, impartially investigated and where necessary acted upon. NGOs also seem to have receded into a state of lethargy allowing the atrocities to continue. While it is true efforts are being made by sections in the military to win the hearts and minds of the Tamil People in the north and east such acts are few.
Meanwhile a government propaganda drive is rolling along at half-steam to promote the power sharing package. The theme 'one country - one people' seems to mock the fact that thousands of Tamil-speaking people are today living under conditions that are anything but similar to that of their brothers and sisters in the south.
Some of them have lost all their belongings and are totally dependent on the government's relief measures and other aid. Problems faced by people in the Wanni are unimaginable as they remain a lost entity, lacking food, medicine and other essential items.
Some 50,000 people from the east recently called for an end to the war. A memorandum requesting an immediate ceasefire was handed over to the ICRC. The military are reported to lose some 700 soldiers every three months in the long drawn out battle against the rebels. The loss to rebel cadre can only be guessed at.
The stark reality is, death and destruction are common features in Sri Lankan society making little or no impact as it does not affect the so-called middle and upper classes. C. G. Weeramantry, author of 'Justice Without Frontiers: Furthering Human Rights,' states that power, wealth, position or birth should have no intrinsic relationship to an individual's true claim to respect and privilege.
People continue to be arrested under the pretext of national security. Freedom of association, demonstration and opinion continue to be violated. Safeguarding human rights in society at large and advancing collective positions on such issues have not been addressed by Sri Lankan society as a whole.
---
Continue to the News/Comment page 3
Return to the News/Comment contents page
| HOME PAGE | FRONT PAGE | EDITORIAL/OPINION | PLUS | TIMESPORTS
Please send your comments and suggestions on this web site to
info@suntimes.is.lk or to
webmaster@infolabs.is.lk