28th September 1997
Contents
---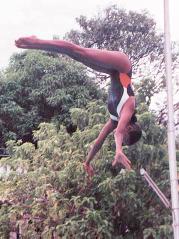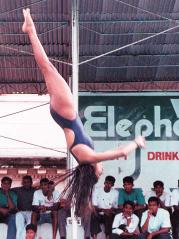 IF I WERE A BIRD .... Harini Jayasekera and Ruanika Ranasinghe of Royal College Union Aquatic Club are caught in mid-air as they go through their phases at the Aqua Gala diving competitions held at the Royal College Pool. Pic by Dunstan Wickremaratne.
---
By Bernie Wijesekere
In a game of fluctuating fortunes the touring Australian Commonwealth Academy team, sent in to bat registered their first win of the tour in a rain-affected 35-over match against the Board President's XI at the SSC grounds, yesterday.
The tourists, after a poor start, did well to score 164 runs in their thirty five overs.
Commonwealth Bank Academy
Mark Higgs, c Indika de Saram, b Hewage 	18
D. Hussey, c Kalavitigoda , b Hewage	0
S. Karppinen, b Boteju	2
D. Hornley c H. Wickremaratne, b Amal Dalugoda	12
L. Carseldin c Mendis, b Hewage	7
Simon Dart, b Boteju	27
J. Vaughan, not out	52
D. Reeves run out	8
Nathan Bracken, c Perera, b Samaraweera	27
M. Anderson not out	0
Extras	11
Total (for 8 wickts in 35 overs in 143 mts)	164 
Fall: 1-02/02-22/3-24/4-36/5-53/6-96/7-111/8-162
Bowling: C. Botheju. 7-01-26-02, P. Hewage 7-0-42-03, A. Dalugoda 7-0-31-01, T. Samaraweera 7-0-26-01, B. Perera 7-0-32-0.
Board President's XI
Chaminda mendis, c Vaughan, b Dart	55
Shantha kalavitigoda, c Reeves, b Anderson	11
Indika de Saram, c Higgs, b Hussey	23
H. Wickremaratne, c Vaughan, b Innes	10
Avishka Gunawardena, run out	9
Pubudu Dassanayake, c Dart, b Hussey 	1
Amal Dalugoda, run out	4
Bathisha de Silva, b Bracken 	18
T. Samaraweera, b Dart 	4
Pradeep Hewage, not out 	5
C. Botheju, run out 	1
Extras	7
Total (all out in 33.3 overs, 160 mts)	148
Fall: 30, 66, 88, 104, 109, 117, 125, 137, 145, 148
Bowling: L. Karppinen, 3-0-18-0, M. Anderson 7-0-34-1, N. Bracken 5-1-23-1, M. Innes 7-1-25-1, D. Hussey 7-0-24-2, S. Dart 4.3-0-23-2.
---
BULAWAYO, Zimbabwe, Sept 27 (Reuter) - A brilliant 96 from Nathan Astle aided New Zealand to avoid the follow-on as Zimbabwe leg-spinners Adam Huckle and Paul Strang took all seven wickets between them on the third day of the second and final test on Saturday.
At the close New Zealand were 268 for seven, still trailing Zimbabwe's first innings 461 by 193. Needing 262 to avoid the follow-on, Astle watched from one
end as his team slumped from 130 for three to 162 for six in the afternoon. Strang had sent back Blair Pocock (27) and Matt Horne (5) in the morning session, adding Craig Spearman for 47 in the second over after lunch.
Huckle then took over, inducing Stephen Fleming (27), Chris Cairns (0) and Adam Parore (17) to miscue and offer catches in six overs of teasing spin. That brought in number eight Chris Harris to partner Astle and they shared in an increasingly authoritative partnership of 97 in two hours 20 minutes to frustrate Zimbabwe hopes. Astle finally went three short of the follow-on mark when he too was beaten by Huckle's flight. Looking to on-drive he got a leading edge and was caught by substitute fielder Andy Whittall in the covers.
---
By Saif Izzadeen
Sri Jayawardenapura MV turned in a stunning performance to down St.Joseph's College and knocked them out of the second round of the School Cricket Sixes competition at Campbell Park yesterday.
This popular two day event is conducted by the Old Wesleyites SC for the Lemonade Trophy.
This win was one of the highlights on the first day of the competition. The other highlight was the record breaking preformance from the Thomian skipper Upeka Fernando who made whirlwind 70 to break Nalandian, Mahela Jayawardenad's record of 51 .
This knock helped S.Thomas' to total the highest score of 79 for the day against the 'giant killers' Sri Jayawardenapura who were saved by bad light in the last match of the day.
Today the match will be replayed.
There was two close matches which was decided on the last ball. Naren Ratwatte of S.Thomas' came to the rescue as he helped The Mt. Lavinia school to beat Isipatana by one wicket as they needed two runs off the last ball. He hit a four through third man to gain the winning runs and be an instant hero in the Thomian camp.
The other match decided on the last ball was the that between Thurstan and Sri Sumangala which was won by Thurstan by scoring a huge six on the decicing ball.
Today's pick will be between Royal and Thurstan and hosts Wesley will meet Prince of Wales Moratuwa.The tournament will be shown live on Rupavahini today.
The final line up which will decide the teams who will go to the final round are: Nalanda Vs Sri Priyaratne MV; Maris Stella vs De Mazenod; Royal vs Thurstan; Wesley vs Prince of Wales; S. Thomas' vs Sri Jayawardenapura MV.
---
Chandana P. Abeyguna-wardena one of Sri Lanka's best scrumhalves has taken over the coaching of Royal College rugby team from Dr. Fred Pereira.
Dr. Pereira, an outstanding forward, who played at the top level for CR&FC has left for Australia on a personal commitment.
Abeygunawardena, a dedicated player, who skippered the Sri Lanka team in 1984, played with dedication and was a live-wire at the CR&FC and played a dynamic role on and off the field.
'CPP", a firm disciplinarian, is bound to lift Royal's rugby to greater heights. He is still fit and believes that sportsmanship and the game which matters at the end.
Disabled Soldiers Games
Two interesting events will be worked off at the Disabled Soldiers Games to be held tomorrow at the Vihara Maha Devi Park.
The first event will be the wheel chair marathon at 8 am followed by the standard cycling events. All participants are requested to be present in front of the John De Silva Memorial Hall at the Town Hall.
Postponed
The Schools Junior National Shuttle Championships conducted by the Sri Lanka Schools Badminton Association from Monday (Sept. 29) to October 1, has been postponed.
This event has been postponed on an order issued by the Ministry of Education due to the All Island Tournament to be held from October 3. - (AF)
---
HYDERABAD, Pakistan, Saturday (Reuter) - Complacency will be the only Indian enemy when the tourists take on Pakistan in the first of a three-match one-day series starting tomorrow.
India's 4-1 victory in the Sahara Cup in Canada last week and the non-availability of experienced stalwarts in the Pakistan team make the visitors clear favourites for what could be their first one-day series win in Pakistan.
The last time an Indian cricket team crossed the border was in 1989-90 when the third of four-one day internationals was abandoned as violence broke out at Karachi's National Stadium. Pakistani selectors have dropped skipper Rameez Raja and experienced batsman Salim Malik while former captain and fast bowler Wasim Akram and leg-spinner Mushtaq Ahmad are nursing shoulder and knee injuries respectively. Opener Aamir Sohail was available but not named.
"We are not complacent at all, we know Pakistan are a dangerous side ," Indian skipper Sachin Tendulkar said.
Pakistan's new captain, Saeed Anwar, admitted that the odds were against his team. "They have beaten us convincingly in the Sahara Cup and, most importantly, they have been playing with an unchanged team," he said.
---
By S.M.D.Sirisena
Malwatte SC of Matale showed signs of retaining the Pettah Pharmacy Gold Cup when they recorded convincing wins in Group F on the opening day of the Pettah Pharmacy All Island Inter-Club seven-a-side men's hockey tournament at the Police Grounds yesterday.
Their record on the first day was as follows: beat St. Benedict's 3-0, Air Force 5-0 and drew with Police B. Police B are the closest contenders to Malwatte SC in this group with two wins.
In the women's section Sangamitta BMV are the favourites for the title as they are heading Group A with three wins. They beat Visakha 1-0, Sujatha 3-0 and Army Ladies 1-0
The leaders in various groups at the end of the first day are: Group A - Dark Blue; Group B - BRC Blacks; Group C - Army Blue; Group D - Zahira Golds; Group E - CR&FC Blue; Group F - Malwatte and Police B; Group G - Wennappuwa.
In the Camillus Cup women's section the leaders at the end of the first day's play are as follows: Group A - Sangamitta; Group B - Pushpadana and Swarnamali; Group C and Group D are still open.
---
A project to provide facilities to the cricket playing clubs and schools in all districts, was initiated by the District Development Committee of the Board of Control for Cricket in Sri Lanka.
As a first step, construction of concrete pitches in districts picked for the purpose commenced yesterday.
Upali Dharmadasa, the president of the Board of Control for Cricket in Sri Lanka handed over the concrete pitches constructed at the Nationalised Services Cricket Association grounds, Ratmalana to the Colombo District Cricket Association.
---
By Marcus Joseph

Mervyn J. Cooray former State Minister for Power and Energy and a vice President of the Sri Lanka Volleyball Federation was re-elected for the Board of Administration of the Asia Volleyball Confederation at its 12th General Assembly held in Manila, Philliphines on September 17.
Mr. Cooray's re-election for the next term of four years along with 16 others to serve on the Board was unanimous.
We Min of China was elected President of the Confederation and Bin Nazzar of Saudi Arabia as its Vice President.
Sixty volleyball playing countries in Asia and the Middle East represented at the Asia Volleyball Confederation. Mervyn J. Cooray, S.A Premaratne and Sunil Wijeratne Vice President of the Volleyball Association represented Sri Lanka.
Top boxing at Junior Meet
---
By Annesley Ferreira
A high standard of boxing was seen at the Junior Boxing Championships which lasted three days. The meet was conducted by the Amateur Boxing Association of Sri Lanka and was held at the Depot Police Ring.
The best boxer of the meet was K.A.C.N. Alexander of Seevali M.M.V. Ratnapura.
H.A.N.S. Hettiarachchi of Mayaduna MV Attulugama, Ruwanwella was the best loser.Kingswood with an aggregate of 17 points emerged as overall champions with Seevali MMV as runners up with 12 points.
The winners and runners up of the respective bouts were a disappointed lot when they were presented with certificates by the ABA which were photocopies not valid to hold onto.
The results of the finals.
Light fly-weight-32 kilo's and under - W.E.S.D. Fernando (St. John's Nugegoda)
Fly-weight 34 Kgs & under - P.K.O.H. Kumara, Seevali MMV.
Bantam-weight 36 Kgs & under - K.H.K. Sumudu - Ananda Sastralaya Kotte.
Feather-weight 38.5 Kgs & under - S.L.K. Anuraddha - St. John's Nugegoda.
Light-weight 41 Kgs & under - R.D. Perera - Kingswood.
Light welter- weight  43 Kgs & under - K.A.C.N. Alexander - Seevali MMV.
Welter-weight  45.5 Kgs & under - C.M.S. Sanduruwan - Kingswood.
Light middle-weight  48 Kgs & under - H.D.J. Fernando - Kingswood.
Middle-weight 41 Kgs & under - J.G. Ishan Peumantha - St. John's Nugegoda.
Light heavy-weight  54 Kgs & under - N.S. Ayagama - Kingswood.
Heavy-weight - 57 Kgs & under - H.N. Gunaratne - Ananda Sastralaya.
---
By Bandula Jayasekera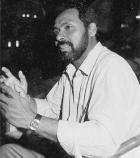 Flavian Aponso is 44-years-young but the oldest player to take part in the World Cup representing his adopted country Holland.
He had been playing in the Netherlands for the Amsterdam Cricket Club for the past 16 years. He went Dutch because the Sri Lankan Cricket Board didn't give his due place in the late 1970's and early 1980's. "I was not even in the pool of 33 players picked by the Board despite having scored the fastest 100 for Bloomfield at that time", lamented Flavian.
"Aponso in one of the brains behind the Rebel Tour to South Africa". The Sunday Times met Flavian Aponso who is here on a short holiday to find out the truth.
"The South African Tour was organised by Tony Opatha and I as a good friend of Tony, gave my fullest co-operation and support as we were very sad and frustrated at the way the BCCSL treated us at the time of selection for the first Test. Once on our way to Holland we decided to organise a tour to South Africa. Thereafter Tony approached the players individually and after agreeing to make the tour 14 players signed the contracts in Sri Lanka. Bandula, Duleep and Roy were among the 14 players.
"D.S de Silva never signed any contract nor was he involved. However, Duleep and Roy changed their minds and backed out later and our original contracts were automaticaly terminated. Tony had to make representations to the South African Cricket Union again and managed to re-organise the tour and since the tour details leaked out, the South Africans gave us about five hours to leave the country. This led us to abandon a mercantile cricket match during the weekend. I still regret that I had to disappoint Mr. Raja Mahendran my boss at Maharaja's who is a great cricket fan and a promoter.
"We performed very poorly in South Africa and it is true that the same lawyer who came to Sri Lanka, masquerading as a journalist had gone to Zimbabwe to approach Duleep and Roy to strengthen our team. We learned that Duleep and Roy had rejected the offer once again.
"We returned to the island to face a 25-year ban which was imposed even before we left to South Africa. We were well received and the public treated us well except a forced visit to the 4th Floor of the CID during the New Zealand Tour of Sri Lanka for no fault of ours.
"Thanks to our tour BCCSL was forced to introduce various incentives such as match fees, pension schemes etc. and this tour was an eye opener to the BCCSL and the present cricketers are being well looked after. We sacrificed our cricketing careers for the sake of the future of Sri Lankan cricket. I have to say this to Bandula Warnapura. Nobody can strip your honour of being the first Test cricket Captain of Sri Lanka, our 25-year ban was lifted in 7 years. After earning a substantial amount from the Rebel Tour you were nominated without any grudge as the beneficiary from Sharjah. I don't think that Graham Gooch, Lawrence Rowe or Kim Hughes would have been ever nominated by their respective boards for such a honour. Your are doing a great job as a TV cricket commentator and the viewers and listeners are very impressed with your positive comments on Sri Lankan cricket.
"I confirm that the South African tour was organised by Tony Opatha with my support and not by Duleep, Roy or Bandula.
"Let this clear all differences and I appeal to Bandula, Duleep, Roy and D.S to forget and forgive. Let the Sri Lankan cricket lions roar."
Note by Sports Editor
Many have admitted signing the contracts to play in South Africa while one person has denied signing any contracts.
But the mystery behind all this is, who were the local individuals in planning out this tour? They are even supposed to have held secret meetings in this connection.
---
Sri Lanka will be represented by six gymnasts at the Womens Gymnastics Championships to be held in Australia next month.
The six were picked after a trial held at the Ananda College Gymnasium.
Those picked are: Achini Charmaine, Naomi Andreas, (Good Shepherd Convent), A.H. Nimesha (Sri Sumangala, Wariyapola), Dinu Gunatilleka, Vinitha Imbulgoda (Visakha), Danuskha Wijeratne (Presidents College).
At the trials: Floor exercises - Dinu Gunatilleka - 9.26 points, Achini Charmaine - 9.20 points, N. Andriyas - 8.60 points Vault- Dinu Gunatilleka-7.40 points, Achini Charmaine-7.20 points, Danuskha Wijeratne -7.20 points.
Uneven Bar,- A.H. Nimesha - 8.30 points, Achini Charmaine 7.77 points, N. Andriyas 7.17 points.
Balance bar- Dinu Gunatilleka 8.10 points, N. Andreas-7.73 points, Achini Charmaine-7.50 points.
---
By Lenord Mahaarachchi
St. Servatius' College Matara where master blaster Sanath Jayasuriya was educated which was virtually unknown till recent times, will be 100 years old in November.
St. Thomas' Mt. Lavinia, Royal College Colombo in the earlier days, and Ananda, Nalanda, were reputed to produce most of the top cricketers. Now because of record-breaker Sanath Jayasuriya, St. Servatius has come into the limelight.
The countdown to the centenary celebrations has already commenced with the climax on the November 2.
The genesis of this school goes back to November 1897. A Belgian priest is credited with the honour of commencing the school dedicated to St. Servatius, on the banks of the Nilwala Ganga on November 2, 1897. His name was Augustus Standard. Later the location was shifted to Kotuwegoda by its second Director Rev. Fr. Adolphus Clessasisti. In 1961 it was taken over by the government.
The centenary celebrations started last year. A blood donation campaign was held on September 20, in honour of past principals and members of the staff who served the institution through ten decades.
A series of cricket matches will be played commencing today and ending on October 12. The centenary match (limited overs) is due to be played on October 9, between a touring Indian schools cricket eleven and a combined team from the Matara district.
There will be a carnival from October 19 to 25, and a cultural cum educational exhibition from October 26 to November 1, organized by students of St. Servatius.
On the same day there will be an opening ceremony of a new 3 storeyed building, and a museum built with donations from past pupils.
Young Mens Sports Club, Dharga Town, Aluthgama beat Golden Rise SC by 2 goals to 1 to win the Fatha Hadijar Memorial Challenge Cup at the Zahira College grounds, Beruwala.
M.T.M. Mulaffer and M.F.M. Fazly scored a goal each for YMSC while M. Nowfer scored the loser's solitary goal.
Other than the challenge trophy the winners were awarded Rs. 10,000/= while the runners-up were awarded Rs. 5,000/ by the Minister of Vacational Training and Rural Industries Amarasiri Dodangoda.
Andrew de Silva, the GA Kalutara, A.A.M. Saheed, the president of the Beruwala Football Association and Sri Lankan cricketer Kumar Dharmasena were the guests of honour.
Five teams participated in this tournament. They were Young Mens SC, Zavaia SC, Golden Rise SC, United SC and Crescent Light SC.
---
The 25th anniversary celebrations of Sri Lak Sports Club, will be held on October 30, November 1 and 2.
On October 30 the open road race will be held from the Sports Ministry grounds Torrington Square to Sri Jayawardenapura junction.
The athletic events will be held on November1 and 2 at the Sports Ministry grounds, Reid Avenue.
---
Defending champions Wycherley International School having one victory already go out favourites to retain the title in the Inter-International Schools Under-17 limited overs cricket tournament which is currently in progress at the Shalika (CTB) grounds Narahenpita.
Wycherley is led by Imran Ali and coached by Shiraz Shamsudeen.
In 1995, Wycherley International School won the Coca Cola Trophy and bagged the Under-17 title winning the Shafter Trophy last year. They also won the Honda Heros Cup for Under-19 last year.
Results of the matches played so far.
Wycherley International School beat British School by 182 runs.
Wycherley International School -260 for 7 in 40 overs. A. Rahaman 83, Imran Iqbal 43, Arijith Das 27, Channa Rasanga 26, Rizley 20, R. Jayasinghe 2 for 39, Mayan 2 for 40.
British International School - 78 for 9 in 40 overs. Rafihra 27, Damith 10, Rukman 4 for 10, Fawaz 2 for 11.
Alethea International School beat Asian International School by 2 wickets.
Asian International School - 44 all out in 24.3 overs A. Iqbal 17, M. Raj 10, J. Farook 3/10, N. Tharuka 5/10.
Alethea International School - 45 for 8 in 21.1 overs. F. Naufer 15, A. Sathwale 4/17, A. Iqbal 2/9.
Colombo International School beat Asian International School by 10 wickets.
Asian International School 66 all out in 24 overs. T. Shariff 14, A. Wickremasinghe 2/7, J. Chintika 2/3. Colombo International School - 69 for no loss in 7.1 overs. A. Junaid 34 not out, N. Gunawardena 26 not out.
Sports round up
Cager tourney
Thirty two clubs and schools will do battle at the Open Invitation Basketball Tournament to be played at Elie House Park Courts, Mutwal on October 11 and 12.
This tournament will be jointly sponsored by Leo Club of Colombo North and the Lions Club of Colombo North.
Lion K.Thillainathan will be the chief guest at the awards ceremony.
Hockey Sevens
The 25th Pettah Pharmacy Gold Cup for men and 9th Camillus Cup for Women's All Island Inter-Club 7 a-side hockey tournament will be continued today. The tourney started yesterday at Police Park.
Thirty nine men's teams and 21 women's teams are taking part in this tournament conducted by the Sri Lanka Hockey Federation.
The teams participating and their groups are,
Pettah Pharmacy Gold Cup -
Group A - Park Blue, CR&FC Red, Old Anandians, St Josephs, Old Bens.
Group B - BRC Blacks, Wesley, Police A, Vazians, Kandy.
Group C- Army Blues, Joseph Vaz, Air Force A, Hindu College.
Group D- Zahira Golds, NCC, Kingswood Kandy, S.Thomas.
Group E- CR&FC Blues, Park Reds, D.S. Senanayake, Colts, Youngsters.
Group F- Mahawatta, Airport
---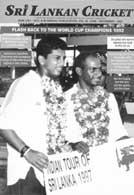 With Sri Lanka hitting the top in world cricket and matches becoming major national events some sports enthusiasts have launched a colour magazine exclusively for cricket.
The magazine titled "Sri Lankan Cricket" will be published twice a year and the latest issue has record breakers Sanath Jayasuriya and Roshan Mahanama on the cover. The articles include special features on Sanath Jayasuriya and Muttiah Muralitharan, a medical analysis on the prevention and early treatment of injuries in cricket, reports on school cricket, regional and domestic tournaments.
The magazine is edited by L.R. Mendis.
---
Sports Round up
Schools Football
By H.P.P Perera
Kalutara Football League has organised an Inter-League Schools' Football Tournament to be played at Kalutara esplanade.
The following were elected as tournament Committee members:- Jayalath Andradi (Velapera Vidyalaya); A.H.M Jesmin (Jeelan Central College); F.H.M. Rizwan (Muslim M.V); S.K.P Silva (St. John's M.V); Ravindra Mendis (Holy Cross College, Kalutara);
Crucial VB Meeting
By Marcus Joseph
The Executive Committee of the Sri Lanka Volleyball Federation will meet on October 1 to discuss a statement said to have been made by the Minister of Sports.
According to certain press reports the Minister has said that it would he better if the officials of the Volleyball Federation submit their resignations before they are removed.
---
By M. Ismeth
Mohamed Junaid Mohamed Lafir, Sri Lanka's first World Champion in any sport breathed his last on 26th April, 1981. He was 52 years old at the time of his death.
Lafir started playing billiards on his home dining table with a broomstick for a cue, and marbles at the age of 12. He was the second child in a family of 4 - three boys and a girl.
His first big venture was the All Ceylon Snooker Championship in 1948, which he won with consummate ease. He won the All Ceylon Snooker Championship 18 times and the All Ceylon Billiards title 17 times still a world record for any sport.
His first assignment outside Sri Lanka was when he was invited to play in the All India Snooker Championship in 1955, which he won at the first time of asking, and till the time of his death he was eight times All India Snooker Champion, which is still a record as no Indian has won the Snooker championship eight times.
He also won the All India Billiards Title once in 1978, beating Michael Ferreira in the final who a month earlier won the World Championship in Australia.
His first venture in the World Snooker scene was when he participated in the Inaugural World Snooker Championship in 1963 where he finished 3rd. In 1970 in the World Snooker Championship held in Scotland he lost in the semi finals to Sidney Hood of England 4-2.
His first entry to the World Billiards scene was in 1967 when the World Championship was held in Colombo at Taj Samudra where he beat all contenders but lost in the finals to Leslie Druffield of England.
In 1969 when the World Billiards Championship was held in England he was joint runner up with Michael Ferreira of India and Manual Francisco of South Africa.
In 1971 when the Championship was held in Malta he finished fourth.
Came 1973, the year of sheer magic when the Championship was held in Bombay he beat all contenders from England, Australia, Malta, Wales, India, New Zealand & Scotland, and also made the highest break of 859 in 47 minutes and 49 secs. which is still a world record made in World Championships.
The Indian Express of Bombay reported that Lafir's touch was the gentlest the game has ever known. In the finals of the 1973 Championship he beat India's No. 1 and hot favourite for the title, Satish Mohan by 2213-1079.
He did not participate in the 1975 & 1977 Championships, but took part in the 1979 event which was held in Colombo. He was unhappy at this championship because of the internal squabbling in the local association and also his cue tip was broken by an unpatriotic individual who did not want to see Lafir winning this championship.
In 1960 Pakistan was the first to offer Lafir a house, and car plus a good salary and wanted Lafir to represent Pakistan in future championships but Lafir turned down this offer saying that he wanted to first bring home a world title to his motherland. In 1969 Wales offered him £60 a week plus a house and a car to play for Wales, but even this offer he turned down without batting an eyelid. Such was Lafir's patriotism to win a World title for Sri Lanka. Ultimately he made it in 1973 becoming Sri Lanka's first World Champion in any sport.
Lafir's Record at a glance:
18 times Sri Lanka snooker champion
17 times Sri Lanka billiards champion
Twice runner-up in World Billiards C'ships in 1967 &1969
World champion in 1973 Bombay
Fourth in World Billiards in 1971.
8 times All India snooker champion
Once All India Billiards champion 1978
5 times Western India snooker champion
Semi Finalist in World Snooker in 1970 held in Scotland.
3rd in the Inaugural World Snooker - 1963
Holder of the highest break in World Billiards - 859 in Bombay - 1973.
He has been responsible for getting down several rugby teams from Australia
---
By Bernie Wijesekera
Former Trinity College athletic 'lion' Dilip Kumar, who is doing yeoman service to promote and develop sport in Australia and in Sri Lanka, is the brain behind next month's Northern Territory R.F.C.'s rugby tour to Sri Lanka.
Kumar, who migrated to Australia in 1974, is a popular figure in Sydney promoting rugby football. He accompanied the New South Wales Country rugby team to participate in CR and FC's 75th anniversary International club tournament.
inspiration
Their tour here turned out to be a source of inspiration to raise the standard of rugby and encourage the local players as well. Eventually the N.S.W. Country team defeated CR and FC in a close contest in the final to emerge the first winners of the Singer Trophy.
Though Kumar migrated to Australia his heart was with the country of his birth. This was one reason for him to develop and promote rugby within his motherland.
Kumar has made a tremendous impact in Australia be it business or rugby.
He is the managing director of Kumar Group in Sydney - one of the leading companies in Australia and a live-wire of Aussie rugby. He was interviewed by The Sunday Times:-
Q: What made you take up to rugby seriously and for its promotion?
A: Though I won a 'lion' in track and field by winning the Public Schools hurdles, I had a great interest for rugby from my school days.
Trinity has made a tremendous impact in the schools rugby scene. It has also produced some of the best players for the country, he said.
In New South Wales, the Kumar Group, which is doing much for its development is considered to be the largest private firm, contributing much for the development of Warringah Club in N.S.W. for the past ten years.
Despite being permanently settled in Australia, Kumar has not forgotten his country of birth, which has paved the way for him to reach the top - thanks to his parents and Alma Mater he added.
"Never ask what parents have done for you. Ask what you have done for your parents", he says. This is what Kumar is striving to do for his school and for Sri Lanka's sport in general.
Firstly, he was instrumental in getting Warringah R.F.C. to make a short tour here in 1990.
respect
Kumar, a man of few words commands a lot of respect from the Australian Rugby Union, for his ability and experience when it comes to the promotion and development of this manly sport in the region. A.R.U. has appointed him as the chairman of the Union Committee.
Kumar has already drawn out a plan and Sri Lanka rugby, too has benefited from it.
His appointment as chairman of the committee, is not a feather in his cap, but a matter of pride for Sri Lanka rugby as well.
What are your plans to uplift sports in your old school and Sri Lanka in general I asked.
I was able to help Trinity to participate in the World Schoolboys 10s tournament in Sydney, last July he said.
Trinity has plans for a new venue at Pallekelle - a great boost for Kandy sport. I am having discussions with the authorities to build a grandstand at the new venue, he added. 'God's gift to you is life. What you do with it is your gift to God'.
This is what Dilip Kumar is striving to do, not forgetting from where he started life. Kumar stated that all efforts via rugby will help change some of the wrong perceptions some Sri Lankans have of Australians. I can understand their disappointment after the last tour, he said.
"They play hard and open rugby and leave everything that happens on the field behind after the game.
They love their rugby and do not carry any luggage around" he added.
Kumar further stated, he was impressed with the level of rugby played in Sri Lanka today.
In 1990 when he brought the Warringah team they defeated the Lankan national team by 40 points. But today I am not sure, when they are here next month.
It will turn out to be close contests. Priyantha Ekanayake and few others whom I saw playing in Bangkok, are capable of walking into any national team, he concluded.
Dr. Maiya Gunasekera President of the Rugby Union, when contacted by The Sunday Times said Dilip Kumar has been a source of inspiration and has done much to uplift the sport here.
He has been the brainchild for next month's tour by the Northern Territory Rugby Union. This tour is going to have a tremendous impact and that much needed exposure. It will also help improve the skills of the local players. while playing against strong opponents Dr.Gunasekera added
Sri Lanka will tour Sydney next year (1998) thanks to the foundation laid by Dilip Kumar.
It will also serve as an objective for the local players to maintain their fitness, physical strength and further their skills to match their opponents. A boost for the development of this sport.
Forgotten
Dr. Gunasekera, further stated that Dilip Kumar also gave a helping hand to Nimal Leuke to attend the Level 11 coaching clinic in Sydney. Leuke is the present coach of Kandy S.C.
Kumar's success on and off the field shows that he has not forgotten the people, who helped him at grassroot level.
He will be here next month, when he will accompany the N.R.F. team, who will play against the national team at Nittawela and in Colombo.
---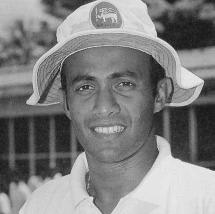 A versatile cricketer, Hashan Tillekeratne has been an integral part of the Sri Lankan cricket team in the last six years or so. An extremely talented left-handed batsman who has often proved his worth in crisis, Tillekeratne is also a useful wicket-keeper. When he was dropped as a 'keeper, he worked hard on the field and turned out to be a capable close-in fieldsman.
It is rather ironical that this experienced batsman who averages 42.98 from 43 Tests is battling to regain his place in the national team. An injury in his right forearm, suffered in the recent tour of the West Indies, rendered him hors de combat. By the time he was fully fit, he found it difficult to break into the Sri Lankan team. Marvan Atapattu pushed himself into the playing XI on the strength of his excellent performances in one-dayers, while the young Mahela Jayawardene created a good impression on his debut against India.
Ranjit Fernando, the live-wire of Sri Lanka cricket. coached Hashan in the initial stages. He says, "probably because Hashan is an introvert not many have understood the true qualities of him as cricketer. Hashan is an extremely talented player who has often put the team's interest in top priority. When 14 or 15 he faced Rumesh Ratnayake, Sri Lanka's quickest bowler. Though he must have suffered enough agony facing him, Hashan did not utter a word and went about his task in a quiet, effective way. He has enormous natural talent. He can bat at any position, keep wickets and can also bowl spin, both with his right and left hand."
When pressed with the job of keeping wickets in Australia, Tillekeratne a regular 'keeper, filled in the slot quite superbly. But when dropped on account of bad 'keeping, Tillekeratne was quick to concentrate on fielding and emerged a top quality fielder. "With Jayasuriya and Aravinda de Silva having a roaring time, the true value of players like Tillekeratne is not felt. But then players like him are hard to find and harder to be replaced," notes Ranjit Fernando.
After being in the wilderness for some time, Tillekeratne practised hard, a day before he was to lead Board President's XI in a one-day warm up match against India, when The Sportstar spoke to him at the Nondescript Cricket Club ground in Colombo.
Excerpts from the interview:
Question: Can you tell us something about your early years?
Answer: Initially I was coached by W.A.N. Silva and Raja Atukorale. Then I came under Ranjit Fernando.
Q: How did you suffer that injury in West Indies?
A. In the first Test, in the first innings, I was struck on wrist by a lifting ball from the West Indies skipper Courtney Walsh.
Q: You were disappointed....
A: Naturally. I thought I was in good nick for, in the match before the first Test, I had made 50 not out and 25 not out against Leeward Islands.
Q: Now you find yourself out of the Test squad.
A: That's right. I will have to prove my worth again. With Atapattu and Mahela in good form I am facing a test. What to do?
It is all a part of a cricketer's job. But I am certain I will regain my place in the team.
Q: Can you tell something about Sri Lanka's roaring form?
A: It all started in 1995. We triumphed in Sharjah. We had a pretty good one-day series in Australia. It was tough cricket all the way. Duleep Mendis worked hard on our coaching schedule.
Dave Whatmore emphasised to us on the need of physical fitness.
Importantly, after the Sharjah success we began to believe in ourselves. Confidence pays.
Q: Test cricket is a tough and hard grind...
A: When I was dropped against Australia in the home series, I thought I had done a fair job as 'keeper when the country wanted me most. But against Australia when the selectors preferred Romesh Kaluwitharana to me, I realised that I should improve my fielding in order to stabilise my place in the team. After I was dropped the first time, I became mentally stronger.
Q: What were your bright moments as a fielder?
A: Against New Zealand at the SSC ground, I took seven catches to equal the record by a non-wicketkeeper, eagerly seizing the chances off the bowling of Muralitharan and Warnaweera.
Q: Your most satisfying Test knock?
A: Against Pakistan in Faisalabad. I hit a century and Sri Lanka recovered after being 29 for four to post a creditable win.
Q How would you look back at your international career?
A: I have often batted No. 5 or 6 for the country. I can say with pride that I have never tossed my wicket away. That's how Test cricket should be played.
I believe in playing the game hard. Whatever my shortcomings I have always tried to play the game in a tough manner. I feel I have given a satisfying account of myself. I won't say I am delighted but I am happy nevertheless.
Q: Your favourite batsman?
A: For sheer artistry and elegance, England's David Gower is hard to beat.
Q: The best bowler you have faced.
A: Wasim Akram. He is so deceptive. Then I also admire Muralitharan.
Q: After making over 2500 runs in Tests and nearly 3000 runs in one-dayers, are you finding it hard to get your place back?
A: That shows the strength of Sri Lankan cricket as of today.
That also tells that however talented or result oriented one is, one has to work hard. There can be no room for complacency.
Tillekeratne's figures: Tests: 43 Tests, 72 innings, 12 not outs, 126 highest, 2,579 runs, 42.98 average; six hundreds, fourteen 50s, 72 catches. One-dayers: 158 matches, 135 innings, 31 not outs, 104 highest, 2,935 runs, 28.42 average, two 100s, nine 50s, 70 catches and five stumpings. - P.V. Vaidyanathan Sportstar
| HOME PAGE | EDITORIAL/OPINION | NEWS / COMMENT | BUSINESS | PLUS
Please send your comments and suggestions on this web site to
info@suntimes.is.lk or to
webmaster@infolabs.is.lk