21st September 1997
By Nalini Jayasuriya
Samgita is the inclusive Asian term for both music and dance, suggestive of the oneness of the two art forms. So it was appropriate that both musicians and dancers of Sri Lanka combined to commemorate the birth centenary of Surya Sena, famed musicologist, teacher and performer, in a concert at the Ladies' College hall, on Thursday, 4th September.
The Surya Sena Trust sponsored the concert and it was a tribute to a man who believed in the universality and unifying power of music to bring understanding and acceptance into culturally different societies.
The Symphony Orchestra of Sri Lanka, ably conducted by Lalanath de Silva, and a team of gifted Sri Lankan singers, drummers and dancers, played and interpreted the work of Sri Lankan composers and choreographers. The melodies and rhythms, the accents and forms, the gestures and movements, were both ancient and new.
There is a strangely compelling power in the Vannams or the chanted poetry of the Sinhala people; there is a certain magic in the stylized movement, the undefined gesture of both music and dance that deals in centuries, encompassing an ancient and forgotten world of space and time. And when that becomes a confrontation with one's forgotten ancestors, the experience renews and resurrects with brightness.
The concert began with a recital of songs by Surya Sena, sung beautifully by soprano Menaka de Fonseka and Srimanthika Senanayake, tenor, with orchestral accompaniment arranged by Lalanath de Silva and Gayathri Attiken. I wished though that the wistful village lullaby could have been sung by Menaka, unaccompanied; if an accompaniment was needed, a very muted unvarying drone of strings and woodwind might have been rather beautiful.
The major musical work of the evening was the Svarasange Vannama for piano, drums and orchestra by Harsha Makalanda, with soloists Ramya de Livera Perera, and master drummer, Ravi Bandhu Vidyapathy.
The Vannams, steeped in the vibrations of an ancient time, are a pastoral ancestral musical memory, grounded in Hindu and Buddhist rituals and beliefs. They are a blending of racial and religious discernment, manifested in an array of forms that have survived for over three thousand years. The Vannams enclose the truth of all life as it begins, ends, and returns ceaselessly. Harsha's composition was ambitious, provocative and manifold in its complex ideas and manifestation.
The second half of the programme was a recital of dances danced to the music of Sri Lankan composers Lalanath de Silva, Vasantha Kumar Fernando, and Anil Mihiripenna. Most of this music came from the recited chant, movement, and visual images inspired by the Vannams. Primitive dances described birds and animals. The movements were realistic, stylized, deliberate and abstracted. Timing in primitive dance was a very important element; so was a magical secrecy.
The first of Lalanath de Silva's three dances was Ukussa, choreographed and danced by Khema. The third movement of Vasantha Kumar Fernando's unique Folk Symphony, was danced to by Ravibandhu and Samanthi, supported by five young dancers.
Jaya Keli, choreographed by Ravibandhu Vidyapathy, and danced by eleven young men and women, found both power and grace in the music composed by Lalanath de Silva. There was in all of the music and dances of the evening a certain originality, a joy of adventure and fearlessness.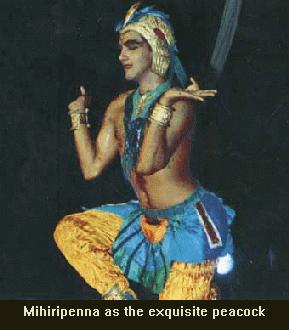 The peacock arrived as the third dancer. Anil Mihiripenna wrote the music which was orchestrated by Robert Morrow, and Deshapriya Mihiripenna was the Peacock, dancing his dance.
A very long time ago I saw Ram Gopal, the famous Indian dancer in a London theatre. He was a golden eagle. And the whole theatre was alight with his wings.
On Thursday evening, the exquisite peacock, fluttered, strutted, flew, and swept his glorious imaginary burden of plumage across the lighted space with originality, delicacy, and poetry of gesture and movement; a visual eloquence and a silence that I have seldom seen in Sri Lanka.
This was ritual, ceremonial magic, and dramatic characterization at its finest. And with fluttering hands and expressive eyes he gathered in a surprised and admiring audience.
One word however to the beautiful peacock. The pavane, is a stately western musical dance form that describes the dancing peacock. The movement is slow, measured, royal, deliberate.The peacock postures and parades slowly in between his flights, so the world can brood over his royal grandeur.
The concert paid tribute also to famed singer and teacher, Lylie Godridge, and Sri Lanka's well known dancers, and teachers of dance, Chitrasena and Vajira.
The Surya Sena Trust achieved greatly in making known the dream of Surya Sena - the dream and hope that music of every kind has its own value and reward.
---
Flying into Colombo early September to the non-stop sad news-reports, we decided to escape to Lionel Wendt Theatre for an evening of 'Dance Reflections', by Alison Rosemary Kock and Waidyawathie Rajapakse, a mix of western music and traditional dance.
We adored the collection of dancers, pianists, Kandy drummers and trumpeters - superbly dressed by designer Hemathileke Geetharatne. The air exploded with thunderous festive drumming of 'Magul Bera' echoed by haunting trumpets. Exotica was promised us. The dance - accompaniments came from Andre' Jolivet's '5 Dances Rituelles' played by Alison Rosemary Kock. For the rest of the program, Sujeeva Hapugalle joined for Claude Debussy's 'Six Epigraphes Antiques' piano-duet. We were ready to fly - off on a magic carpet.
But something wasn't quite right. We became confused and frustrated because what we saw seemed to conflict with what we heard. Dancers danced beautifully, but the music seemed to pull away rather than accompany them. We could have been attending a piano recital, except dancers blocked our enjoyment of it. The pianists performed beautifully; but the chosen items rarely appeared to accommodate the traditional rhythms. Generally speaking, the dancers seemed to dance inspite of the music.
Contrary to my expectations, the music conjured scenes like trolls in peat bogs; valkyries on cumulus-nimbus clouds; elves in forests; travellers lost in snow - drifts. I felt the dances, their rhythmic or langurous movements - could have been served, perhaps, by Borodin's 'Polovtsian Dances' popularly - known as 'Kismet', or Rimsky-Korsakov's 'Song of India'.
Alternatively, if the music was the focus of the production then the dancers should have been prepared to express themselves according to the nuances of the music. Only two dances satisfied that evening. For example, Jolivet's 'Danse funeraire' (Funeral Dance) was corroborated by dancers moving in cloudy-mists dancing to a universally understood mood of grief. Another example, was a solo performance of 'Pour L'Egyptienne' (In remembrance of the Egyptian Woman), where the dancer's expressions absolutely mirrored Debussy's music.
'Dance Reflections' was an interesting production but with teething problems: it set out to mix multi-cultural art forms but never quite addred the dichotomy of choice.
Occasionally, the production managed to marry the traditional dance with western music, but harmony between dance and accompaniment was missing, to the detriment of audience satisfaction. Our evening became an 'intellectual exercise,' an exploration of the viability of mixing traditional and western art forms, which did not quite work.
---
Return to the Plus contents page
| HOME PAGE | FRONT PAGE | EDITORIAL/OPINION | NEWS / COMMENT | BUSINESS
Please send your comments and suggestions on this web site to
info@suntimes.is.lk or to
webmaster@infolabs.is.lk