21st September 1997
The first successful use of the Euthanasia Law was on September 22, 1996
It was exactly a year ago - on September 22, 1996 - that Australian cancer patient Bob Dent was allowed to kill himself.
Dent was the first person to make use of a landmark piece of legislation, 'The Rights of the Terminally Ill Act" which the parliament of Australia's Northern Territory enacted in 1995. Introduced by former Territory Chief Minister Marshall Perron, the Act legalised what had up to then been illegal - it permitted the practice of Euthanasia within the territory from July 1st 1996.
Provided a terminally ill person was examined by three doctors - his own family doctor, a specialist who would confirm the diagnosis of incurable disease, and a psychiatrist who would confirm that he was not suffering from medically treatable depression - the new law allowed that patient to "...request a doctor to administer a lethal drug or provide such a drug for the patient to administer it himself and end his own life".
Bob Dent was a man who had suffered terribly from cancer that had spread throughout his body. In a letter written shortly before his death, he described the Euthanasia law as "the most compassionate piece of legislation in the world" - a law that would allow those suffering from terminal illness to die with dignity. Dr. John Ellard, the internationally respected psychiatrist who examined Dent and certified that he was not suffering from depression, outlined his support for the principle of Euthanasia on the grounds that it is inhumane to prolong extreme and unnecessary suffering.
Those who had campaigned to get the Euthanasia Law on to the statute books felt that other countries, once they saw the Australian law proved effective in practice, would enact similar laws for their own people.
Despite their initial euphoria, in the end just four patients were allowed to make use of the law to die as they wished.
From the initial stages, the campaign to make Euthanasia legal had evoked opposition from a variety of quarters. On May 14, 1995, Catholic priests throughout Australia at their Sunday services read a pastoral letter condemning Euthanasia. Deputy Prime Minister Tim Fischer observed that with the passage of the Euthanasia law, the world would be taking an awful step away from the "culture of life to the culture of death". Claimed the Archbishop of Melbourne, Dr. Keith Raynor, "It will not be long before economic factors intervene... it will soon be a short step to the taking of a life that is no longer productive."
Three weeks before Bob Dent became the first person to make use of the law, Kevin Andrews, an MP from the southern state of Victoria introduced a private members' bill in the federal parliament, seeking to overturn the Northern Territory's "Act of Mercy."
The arguments against allowing patients to take their own lives were twofold - it was unnecessary and it was dangerous.
The first argument rested on the belief that modern palliative care can ensure that a terminally ill patient can be relieved of pain and distress and allowed to die naturally; the second argument is based on the fear that acceptance of "assisted suicide" could lead to pressures on dying patients to hasten their demise - or even lead to involuntary Euthanasia to meet the needs of unscrupulous relatives or overburdened hospitals.
Andrews himself asserted that as funds for health care became scarcer in the future, pressure on terminally ill patients to choose Euthanasia would increase. His bill was duly debated in the lower house of parliament and passed in December 1996 - and on March 24 this year, after a prolonged debate and intense lobbying by both pro - and anti-euthanasia advocates, it was passed into law by Australia's senate.
Following an agreement that senators would be allowed to vote according to their conscience rather than along party lines, the closeness of the senate vote - 38 for and 34 against - was an indication of how the issue of Euthanasia had divided Australia. Both Bob Dent and the second person to die under the law, Mrs. Janet Mills, knowing that parliamentarians would be voting on the matter this year, had left letters appealing posthumously to federal legislators to understand the suffering of the terminally ill and to leave the law in place.
Speaking in the senate in support of Euthanasia, Social Security Minister Senator Jocelyn Newman cited her own battle with cancer and said, "If the day comes that I am facing a long and painful death, I would wish to have the right to knowingly choose the time and circumstances of my death."
Following the federal parliament's decision, the Northern Territory law had to be repealed - because under Australia's present constitution, the federal government has the power to overrule laws enacted by the states and territories.
But the debate about Euthanasia will continue. With the availability of modern health care facilities there has come an attitude that people must be kept alive as long as possible. Those who are suffering from the ravages of terminal illnesses are often given increasingly large doses of increasingly ineffective painkillers - when they would much rather die in dignity in the presence of their families.
Yet, although anybody who assists someone to take their own life commits a crime in the eyes of the law, doctors all over the world have been known to assist those with incurable illnesses to end their suffering. In England last month Dr. David Moor, a general practitioner in Newcastle-upon-Tyne was arrested for allegedly administering lethal injections to a terminally ill cancer patient - but was released without charge.
Says Dr. Phillip Nitschke, who as Bob Dent's GP was the first doctor to put the short-lived Australian Euthanasia law into practice, "Clearly the passage of the Andrews bill and the loss of our law was a major setback, but there's a lot of positive signs around. I still see our campaign as an ongoing one."
As another pro-euthanasia nursing sister expressed it "The campaign to legalise Euthanasia is not a campaign to legalise killing, rather it is a campaign to legalise dying - with dignity."
---
Bestselling pulp novelist Wilbur Smith
is facing legal action after describing
his estranged children as 'biological freaks', the culmination of a bizarre
feud spanning almost 20 years
He is one of Africa's most famous authors. But Wilbur Smith, whose tales of adventure and death in the bush have sold more than 100 million copies around the world, would be hard-pressed to make up a storyline as poisonous as the scandal surrounding his seemingly perfect existence.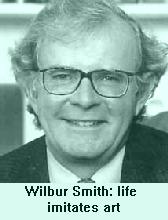 More than three decades after shooting to international prominence with 'When the Lion Feeds,' his first book, Smith, 64, is facing legal action for describing his estranged children as 'biological freaks' and their mother as 'somebody whose name I can't remember'.
Shaun and Christian, Smith's children by Anne, his second wife, have not seen their father for years. He walked out on them in 1966, saying he had to make a choice between Danielle, his current wife, and 'other intrusive elements'. But the abandoned family has been incensed by comments Smith made during a recent interview with a South African magazine.
"We have had enough. I am consulting lawyers. This has gone on for far too long. This man has a very big shock coming his way," said Shaun, 38.
Legal experts believe the family has two ways of retaliating against Smith, who earns an estimated four million pounds a book and owns an island in the Seychelles as well as homes in London and Cape Town: they could sue for damages or try to take out an injunction banning him from speaking about them in derogatory terms.
The controversy could be the final chapter in a bizarre feud between Smith and his children spanning almost 20 years. The former accountant has refused to have the children in his home and cut all ties with them in 1980 signing his letter: 'Your father Wilbur Smith'.
Smith, who employs 50 servants at his various retreats, left his family after being introduced to Danielle by her then husband, a friend. He told the magazine that Dieter, Danielle's son, was where his 'love and affection and duty' lay. Saying power was control, he added that if you cannot control your children 'you must let them go'.
However, his natural children were even more stunned when Smith slighted their mother, who supported him during the early days when his manuscripts were rejected by more than a dozen publishers. He told one interviewer: 'I was walking down the street in Cape Town the other day and a middle-aged lady said, 'Hello, Wilbur.' I said, 'Excuse me, madam, do I know you?' She said, 'You should. I gave you two children.'
In another celebrated episode Christian, his daughter, now 37, turned up at her father's home after hitch-hiking more than 700 miles across South Africa. "I stood at the door of his house and he told me I was an embarrassment to him," she said. "He said, 'Have a good life,' and closed the door."
Smith, however, has hinted that his children and their mother are 'birds of prey' - the title of his latest book - and are after his money. "They're over," he said. "It's a closed book."
---
Return to the Plus contents page
| HOME PAGE | FRONT PAGE | EDITORIAL/OPINION | NEWS / COMMENT | BUSINESS
Please send your comments and suggestions on this web site to
info@suntimes.is.lk or to
webmaster@infolabs.is.lk