21st September 1997
Eminent Buddhist Monk Ven. Dr. Walpola Rahula has played his part in the political history of Sri Lanka. As far back as the 1940s, he clashed with political giants such as D.S. Senanayake, S.W.R.D. Bandaranaike and J.R. Jayewardene. During the 1947 General Elections while travelling to address an LSSP meeting at Kelaniya, he was pulled out of his vehicle and beaten mercilessly, until he fell unconscious on the middle of the road. In later years he was incarcerated at the Welikada Remand Jail along with the Lion from Boralugoda, Philip Gunawardena for his role in championing the rights of the working class.
By Roshan Peiris
The Ven Dr Walpola Rahula who died on Thursday at the age of eighty seven was one of the most revered and eminent Buddhist monks of this country. He was Chancellor of the University of Buddhist and Pali Studies and had a PhD from Sorbonne.
I met Ven Walpola Rahula just before Vesak last year. He walked with the help of an acolyte since he said he suffered from arthritis. His few strands of hair though were black, notwithstanding his age.
Ven Rahula had a strong charisma which came through easily. He was forthright and quite sure of what he had to say. Asked about President Kumaratunga's government, the Ven Rahula said, ''I am very disappointed, I knew she would not make a good President.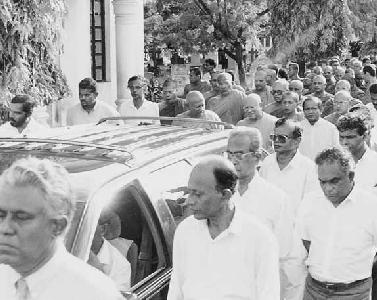 The casket bearing the remains of Ven Walpola Rahula was taken to the crematorium amidst a large gathering of Buddhist monks,relatives and dignitaries of other religions. Pic by Dunstan Wickremaratne
He also recalled that he treated her as his own child and gracefully acknowledged that despite doubtful aspersions she was the holder of the degree of 'Science Politique' from the Sorbonne University.
"You see I knew her well in Paris too, but I consider it an error when she was elected President. I have said this quite openly'', he said.
''I feel she lacks commitment and I feel that a person who is often late for her appointments cannot properly govern a country.''
Being the season of Vesak, I asked the Ven Rahula whether one should not think of maithri and peace and could not a dialogue be held with the LTTE. His voice was strong and loud. The Ven Rahula was agitated as he said, ''you are talking of peace and maithri. What maithri and peace is there when the terrorists in the North and East are trying to divide our country asking for Eelam.'' The Ven Rahula thundered, ''our country is so small that four times our country could be accommodated in just one Indian State.''
I recall how he said, "get this straight and quote me, Sri Lanka is a Buddhist country. Let no one make a mistake. Seventy percent of the country consists of Buddhist and Sinhala people. And make it clear that Sri Lanka is the only Sinhala Buddhist country in the world".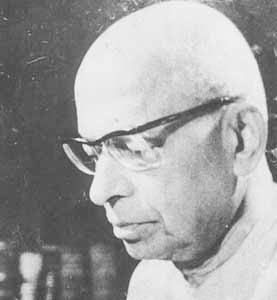 Ven. Dr. Walpola
"I got angry with Mr Premadasa because he chose to call Sri Lanka a multi-ethnic and multi-religious state. No, it is a Buddhist Sinhala State, but we show no discrimination to other races and religions.
"I would ask the Tamil people, the political parties in particular, to tell us whether they are debarred from holding any post or have lost the right to buy property wherever they choose to live. Tamils have held high positions as Chief Justice and Attorney General. So can they say we Sinhala people are discrediting them?''
Of the Devolution Package the late Prelate said, ''We cannot support the Devolution Package. It seeks to merge the North and East. Otherwise the Tamils will not accept it."
The learned Ven Rahula's voice is now stilled forever. His intense charisma could never be ignored even if one did not agree with him.
He was learned and he spoke fluent French.
The present French Ambassador, Elisabeth Dahan, told me she was surprised at his fluency in French.
Now, sadly his voice is heard no more and it leaves the country poorer for it. He was also a great champion of the working class and was imprisoned in the Welikade jail along with Philip Gunawardena for his championing the rights of workers.
---
Veteran journalist M.E. Marikar, popularly known in Kandy as 'The Sunday Times mahattaya' passed away on Friday ending a chapter in journalism for the hill country.
As correspondent for the earlier Times of Ceylon and then 'The Sunday Times' the enterprising Mariks - as friends and colleagues knew him - built up widespread contacts and relationships not only in the field of sports but also in politics, social work and areas such as travel and tourism. Among his friends were top sports personalities, political figures, top police officers and public servants. Thus he was a kingpin of Kandy journalism. Whenever colleagues or others from Colombo needed some help in Kandy they would often call Mariks and he would be there ever ready to help and always generous. Mr. Marikar, a top class sportsman during his days, was a senior journalist attached to the "Wijeya Group" of newspapers. An old boy of St. Sylvester's College, Kandy, Mr. Marikar excelled in many sports for his school and Kandy. He was a soccerite, a hockey player, an athlete and a boxer who participated at Stubbs Shield meets. He was also a fine cadet.
Mr. Marikar was the first Sylvestian to play premier cricket. He played for Moors Sports Club and was their opening bowler. When he was representing the 2nd Bri. Sinha Regiment, Kandy, it won the Inter-Army Cricket and Football Championships.
Mr. Marikar was a fine medium pace bowler, and one of the best during his days, and also was a hard-hitting middle order batsman.
He later played for Kandy, Central Province, Up-Country against several visiting teams that included Test cricketers.
Mr. Marikar also played for the Sri Lanka Press XI against visiting teams.
Mr. Marikar dedicated his life to promote sports first as an active participant and then as a journalist.
Mariks, 63 leaves his wife, Hidaya Marikar two sons Hilmy, Faumi and daughter Soraya.
The Janaza took place yesterday at Mahaiyawa.
Goodbye Mariks. The Sunday Times has lost a good journalist and a good friend. May Allah Bless you.
---
By Kumaradasa Wagista
The U.N.P. group of the Colombo Municipal Council will take up the incident involving a PA coucillor who has entered the council with a gang of thugs to allegedly threaten Mayor Karu Jayasuriya, informed sources said.
It is claimed the gang came into disrupt the meeting on Thursday. It is also alleged that one in the gang was armed with a revolver.
Meanwhile, Housing and Urban Development Minister Indika Goonewardena has reportedly informed the NHDA to pull down unauthorized structures on land belonging to the NHDA.
---
A company manufacturing and selling cigarettes in China has depicted an image of the Buddha on the packet, hurting the feelings of world Buddhists.
The company is named 'Sanghi' and manufactures fags under the trade name 'Dunghuvang'. The offending picture shows the Buddha on a pedestal of lotus flowers, a replica of a world renowned 'Buddha statue' in Dunghuvang.
---
By Christopher Kamalendran
Thousands of villagers in the Sabaragamuwa province live in danger with huge rocks hanging over their homes which could snuff out their lives at any moment just like what happened early this week after the torrential rains.
Earthslips and landslides in the province have been a common occurrence in the past, but the Tuesday's incident in which the Uduwila area was covered in an earthslip was most tragic. Three persons including a 10 year old boy and his nine-year old sister were killed. Uduwila, in the Ruwanwella electorate by the Kelaniya river was struck with grief with the deaths of Gihan Dharshana and Sithara Thilini.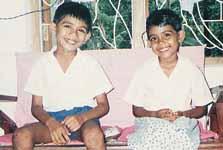 Sweet smiles no more: Gihan and sister Sithara
''On Monday night there were heavy showers. My children were scared. After early dinner we went to sleep, my husband was in bed with my daughter while my son was with me on my bed', the mother Irangani Kulatunga said.
"Suddenly I heard a sound. I thought a jak tree in our garden had fallen. Within moments I saw water gushing towards us and in a while our entire room was covered. My children, husband and my mother-in-law were all buried in the mud, Irangani said as she sobbed bitterly. Her husband was the first to come out by struggling through the debris of the walls and the roof that had collapsed. Irangani who was buried up to the neck was struggling her way out. But the two children and the elderly woman sleeping on the ground were killed instantly by suffocation.
Villagers battled throughout the night until dawn to retrieve the bodies of the three despite the heavy showers and the risk of another earthslip. Irangani and her husband were taken to the hospital only the next morning and the husband is still in the Avissawella hospital.
The tragedy has set off fear and panic among the some 325 families in the Uduwila area as landslides could occur at any moment.
'Our village did not face this threat earlier. But in the recent past deforestation has had a direct impact', an elderly villager in the area said.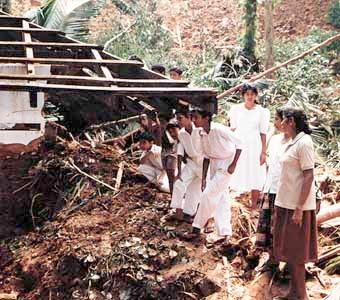 The children who were at home were buried when the earthslip occured - Pix by Gemunu Wellage
The Grama Sevaka of the area who is supposed to look after the needs of the villagers had returned only on Friday - four days after the tragedy.
Ten miles away in a similar incident in Yatiyantota more than 10 houses were destroyed in the earthslips the same day.
Ven. Yatiyantota Wanarathana Thera of Sri Nandaramaya said that the earthslips were the direct results of deforestation in the area in the recent years.
Over 200 persons have taken shelter in the temple. Some of them have lost their houses, the others fear that they would suffer a similar fate. Many villagers accuse the government for its lack of feeling towards the people living in these areas. They were not warned of possible earthslips earlier. But after the tragedy the government has directed some of them to vacate the areas occupied and allocated 15 perches of land and promised them Rs.10,000 each.
'Should the government wait until an earthslip occurs to give us land and warn us. Some of the areas are vulnerable, but the government waits until some tragedy happens to move in', Sarath Munasinghe whose house was completely damaged in the Yatiyantota area said.
'My wife worked in the Gulf for nine years and built a large house. Now the government is giving us Rs. 10,000 to build a house', Munasinghe said dismally. The view is not only of Munasinghe, but many others feel the same.
---
Continue to the News/Comment page 3
Return to the News/Comment contents page
| HOME PAGE | FRONT PAGE | EDITORIAL/OPINION | PLUS | TIMESPORTS
Please send your comments and suggestions on this web site to
info@suntimes.is.lk or to
webmaster@infolabs.is.lk