31st August 1997
| | |
| --- | --- |
| | Contents |
---
Blindness is no barrier if you've got the will to persevere.
Shelani de Silva meets Athukoralage Seneviratne
Forty seven year old Athukoralage Seneviratne does an unusual job in his free time. He repairs Braille typewriters. This may not sound very impressive until one realises that he is blind. Sheer perseverance has helped him achieve success in life and today he is the only qualified Braille typewriter repairman in Sri Lanka.
Although Mr. Seneviratne took an interest in type writers from his youth, it was only a few months ago that he received the qualification after participating at a workshop in Pakistan. Of the 11 participants from other countries, Seneviratne was the only blind person to follow the course. The organisers, he says, had been surprised when he enrolled and some had even asked him why he was sent and whether there was no one else in Sri Lanka suitable for this job. Seneviratne was not offended by such remarks, rather he was challenged by them. Says he "if a person has the ability, does the disability count?"
'More than the knowledge, it was the experience and the qualification I needed. Earlier I did not have any tools. Whenever I had a repair, I borrowed a screwdriver but after the course I was given a tool kit which has made my work very easy,' he said.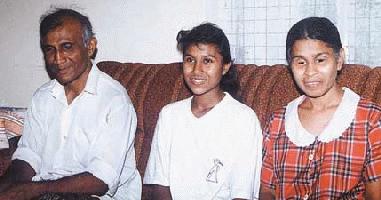 Seneviratne was born normal but contracted an eye disease in his left eye when he was three years old Within three days it spread to the other eye and he became blind. His parents who could not believe their misfortune tried all possible medication, but nothing worked. Finally he was sent to a school for the blind, not so much to become independent but mainly to be occupied. But things turned out well for him and he took the opportunity of learning and it is at this school that he found his sweetheart Bisomanika who is also blind. Their disability was not a barrier to their love and in 1978 they entered wedded life.
Daughter Harshini was born, the following year. Today they are both employed as government servants, have their own home and are the proud parents of a loving teenager.
Looking back the Seneviratnes admitted that life had never been a bed of roses.
'We had no proper income or a steady job when we got married but as my husband was able to type, we started a small typing class. We had about twenty students and we were very happy, though the income was inadequate. With God's grace both of us got government jobs. When we lost our eyesight, we felt that there was no purpose in living but today we can honestly say that we are better off than some normal people, even our own brothers and sisters. We have everything,' said Bisomanika.
While Mr. Seneviratne is employed at the Vocational Training Centre for the Disabled administered by the Department of Social Services as a Braille instructor, Bisomanika is attached to the Braille Printing Press under the Ministry of Education. The repairing of typewriters is done in his free time.
'You don't get that many Braille typewriters but I do at least three typewriters a month. No one taught me, I learned it all myself. I could remove all the parts and fix them back. Before any one tells me what is wrong with the typewriter, I detect the problem and tell them. I did this on a very low key, only a few knew about me but now that I have got the qualification I am hoping to start a repair shop at home. It's not easy especially considering the finances needed, but I will not give up-this is my dream,' he said.
The Seneviratnes function like any middle-class family. They have no help at home and manage all their household chores by themselves. Bisomanika does all the cooking at home and is also training her daughter.
"Not that I want to hand over the house work to her but as a girl she has to learn these things.I use firewood and though so many have asked me not to use firewood it is so easy and that is what we are used to. I think the only advantage we have is that we are very neat and tidy. If we take something we keep it back in the same place, where as normal people don't do this,' she said.
Bisomanika admitted her pregnancy had caused her a great deal of mental stress as a result of the comments she received from those around her.
'But as a person who has always been able to face any storm I took this also as a challenge. I did everything a normal person would do. I never had doubts as to whether my baby would have any disability. But when she was born I did ask the nurse how she was and whether everything was okay,' she said.
Not surprising for a woman of her strength of character Bisomanika had looked after her baby alone. But when she was about one year she found it difficult to handle her job and the baby so she left the baby at the Sarvodaya for one year. 'I did this because I could not give up my job, not because I was blind."
Bisomanika said that her daughter did not feel disadvantaged in having blind parents.
'We have the usual squabbles. She acts like any other teenager demanding things and getting angry with us. But she is a very loving child,' she said.
Harshini on the other hand said that she had never felt that her parents were blind.
"Maybe because Amma does everything for me and they are both so independent, it's very difficult for me to imagine them blind. The only time I get worried is when they get late to come home after work,' she said.
Seneviratne also is the only person who has reached the required standard in making white canes in this country. "Recently the Council for the Blind issued specifications for the making of the canes. There were about fifteen of us who sent in applications but only I was chosen. So, now I have another job. The only problem is getting the raw material," he said.
The Seneviratnes have the kind of will that would put many of us, blessed with all faculties to shame. The way they see it, it's no miracle, just a question of accepting life and making the best of it.
---
Continue to Plus page 2 - Revamping: no easy task * The public view
| HOME PAGE | FRONT PAGE | EDITORIAL/OPINION | NEWS / COMMENT | BUSINESS
Please send your comments and suggestions on this web site to
info@suntimes.is.lk or to
webmaster@infolabs.is.lk