6th July 1997
Contents
---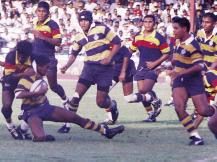 NO COLLARING. This Royalist is well collared by a Trinity player in the hotly contested Second leg Bradby Shield game between Royal and Trinity at the Sugathadasa Stadium yesterday. Royal won the match yet lost the shield. Pic by Dunstan Wickremaratne.

---
Royal win, but Trinity keep Bradby
By Marlon Fernandopulle
Skipper Nuwan Fernando kicked a 40 metre penalty on the stroke of full time to help Trinity retain the Bradby Shield for the third successive year ,despite losing the second leg to Royal by 18 points (six penalties) to 11 (a try and two penalties) at the Sugathadasa stadium yesterday.Trinity won the first leg 14-6 in Kandy a fortnight ago.
Royal rose to the occasion in style, when they dominated yesterday's game displaying some innovative rugby. They enjoyed the required eight points plus lead required to take the Shield,after running a 12- 3 lead at the breather.However they were unable to savour their victory and had to agonizingly walk away empty handed after the Trinity skipper made no mistake with the injury time penalty that set the Lions roaring.
Royal place kicker Rananja Gonaduwa made amends for his first leg lapses as he had a field day putting over all six penalties for his team.His first attempt struck the upright but later made no mistakes as began converting Royal's dominance to points.
Trinity drew first blood in the seventh minute when Fernando put over an easy penalty.Their lead was short lived when Gonaduwa put over two penalties in quick succession for Royal.Royal dominated proceedings, with their forwards quick to pounce on the loose ball and their swift back division threatening in attack.Skipper Abdulla Yusuf playing at fly-half was outstanding with his judicious kicks and daring runs.Two more Gonaduwa penalties helped Royal to enjoy a 12-3 lead at the breather.
Trinity was in disaray and looked unsettled.Their back division was a pathetic sight except for winger and last year's Bradby hero Prasanna Jayawardene.The lanky winger made a few daring runs and was threatening to score whenever in possesion.However he was well marked by the Royalists.But Jayawardene finally had his way when he breached the Royal defence lines midway in the second half and scored the only try in the game.Fernando missed the conversion as Trinity trailed 8-15.
With the game approaching it's dying moments and Royal only enjoying a seven point lead, Gonaduwa put over his sixth penalty for Royal to lead 18-8 and have a sniff at the Bradby Shield. But with seconds to go, Trinity skipper Nuwan Fernando bisected the uprights with a superb kick which left the Royalists kicking their heels even after winning 18-11. Referee Dilroy Fernando. Royal won the under 17 game 10-3.
Off to Sydney
The Trinity College rugby team will take wing to Sydney, Australia tonight as they have been invited by the Trinity College Old Boys Union(Sydney Branch) to take part in the Schools Cathay Pacific Ten-a-Side rugby championships in Sydney which starts on July 9. The team will be in Australia until July 18.
SCOREBOARD
Australia first innings 235 (S.Waugh 108; D.Headley 4-72, D.Gough 3-52)
England first innings (overnight 161-8)
M.Butcher st Healy b Bevan      51
M.Atherton c Healy b McGrath    5
A.Stewart c Taylor b Warne      30
N.Hussain c Healy b Warne       13
G.Thorpe c Taylor b Warne       3
J.Crawley c Healy b Warne       4
M.Ealham not out        24
R.Croft c S.Waugh b McGrath      7
D.Gough lbw b Warne     1
A.Caddick c M.Waugh b Warne     15
D.Headley b McGrath     0
Extras (b-4 lb-3 nb-2)  9
Total (84 overs)        162
Fall : 1-8 2-74 3-94 4-101 5-110 6-111 7-122 8-123 9-161. Bowling: McGrath 23.4-9-40-3, Reiffel 9-3-14-0, Warne 30-14-48-6, Gillespie 14-3-39-0, Bevan 8-3-14-1.
---
Waugh twins steady Australia
MANCHESTER, Saturday (Reuter) - The Waugh twins, Mark and Steve, steadied Australia after England made early inroads into their second innings on the third day of the third test at Old Trafford on Saturday.
After losing their first three wickets for only 39 runs, Australia recovered to be 154 for five at tea, a lead of 227. Their bowlers had earlier made short work of ending England's first innings, taking the last two wickets for the addition of only one run as they were dismissed for 162.
One of those wickets fell to leg-spinner Shane Warne to take his finally tally to six for 48.
The Waughs put Australia back on track to square the Ashes series with a 92-run fourth-wicket partnership and although Mark was bowled for 55, Steve was still unbeaten at the interval with 56.
Openers Mark Taylor and Matthew Elliott both fell to slip catches by Mark Butcher off seamer Dean Headley but there was some doubt about the dismissal of Greg Blewett, given out to a catch at slip by Nasser Hussain after umpire Srivinas Venkataraghavan had a long consultation with his colleague at square-leg, George Sharp.
* FLASH. Australia took a commanding lead of 335 runs over England at close on the third day of the Third Test with Steve Waugh being unbeaten on 82 and Shane Warne not out with 33.
---
Visakha and S. Thomas' emerge swimming champs
Visakha Vidyalaya and S. Thomas' Mount Lavinia won the girls and boys over-all championships respectively for seniors at the 24th public schools Age Group Swimming and Diving championships concluded at the Sugathadasa Indoor Stadium pool.
Overshadowing the championship winners, were the two relay quartets of St Joseph's College in the under 19 age group (100 m medley and 100m freestyle)
Spearheading this performance was Marlon. S Delano who was involved in five records, which may possibly be another record.
Delano won three individual events, all in record times, and figured in the two relay records in the 4x100 medley and 4x100 metres free style relays.
The 4x100 metres medley relay team of St Joseph's clocked 4 minutes 47.58 seconds bettering the old record held by Royal in 1991 which was 4 minutes 55.15 seconds.
The quartet comprised Delano, Trehan Mirando, Gayan Kondachchi and Johannes Jayasuriya.
The 4x100 metres free style record set by the Josephian's and earlier held by St. Thomas' was 4 minutes 05 seconds while the old Thomian record stood at 4 minutes 18.76 seconds. The quartet comprised Delano , Gayan Kondachchi, Romal Silva and Johannes Jayasuriya.
---
Schoorman scored first points in 'Bradby' series
By Bandula Jayasekera
When Mr. E.L. Bradby donated a shield for the winner of the rugby match between Royal and Trinity it was the first time ever that a trophy was at stake for a schools rugby football match.
In the historic first match in 1945, both sides were evenly matched and there was no scoring in the first half. The pattern continued in the second half with fine defences of both Royal and Trinity and it was only ten minutes before the end that the deadlock was broken.
A Royal three-quarter move was stalled by Trinity but in the ensuing loose maul the ball came Royal's way and vice captain Fred Schoorman crashed through the Trinity defence and fell over near the corner flag.
The conversion was missed but Royal held on to their slender 3-0 lead till the final whistle.
The significance of his achievement hit Fred Schoorman only later. He had scored the first points in the biggest ever school rugby match.
We visited Schoorman, now 71, and the seniormost Royal Bradby player, in his home at Polgasowita and talked to him about the historic match.
"Memories have faded now but I recall we had one of the finest sides those days with players of the calibre of Mahes Rodrigo - one of our finest scrum halves," says Schoorman whose greatest regret was that he missed the return leg of that year when Trinity beat Royal 6-0 to take first possession of the Bradby Shield.
"I was badly concussed in the first game and had to miss the return",
Fred said.
"We were also fortunate to have the legendary Mr. B.C. Anghie as our Master in Charge of Rugger, Anghie would walk up and down the touchline shouting encouragement and he probably covered as much ground as any of our forwards,'' said Schoorman, a former prop forward.
The game has seen many changes since that first game but it still retains that special magic about it that only a Bradby Shield can produce.
"We could barely afford rugby kits those days and had to put up with our injuries till they were attended to after the game.
There were no luxuries like Salon Pas sprays for us," Fred said. Schoorman tries not to miss out on the Bradby each year and has seen many great players, but feels that Royalist Jagath Fernando was probably the best ever ruggerite produced by either side.
"He was a sheer joy to watch," Schoorman said.
Talking Point
---
Lobbying for Liaison officers
High lobbying is taking place in the Board of Control for Cricket in Sri Lanka to appoint persons, recommended by certain higher-ups, as liaison officers for the forthcoming Pepsi-Asia Cup cricket tournament starting on July 14.
Persons who have not held a bat in their lives nor holding office in any District Association are being considered to be appointed as liaison officers to the four participating teams, namely: Sri Lanka, India, Pakistan and Bangladesh.
Meanwhile the Kandy District Cricket Association is finding it difficult to run their affairs due to non presentation of the statement of accounts for the annual general meeting.
---
Havelocks, Tri Star in semis
By Saif Izzadeen
Havelocks SC and Tri Star SC were the first teams to get into the semi finals of the Carlseberg under 24 rugby tournament yesterday at Longden Place.
Tri Star scored the first upset win when they beat CH & FC by 9 pts. (2 penalties, and a drop goal) to 5 pts. (1 try).
At lemons Tri Star led 6-5.
In the first half, CH & FC scored first in the fifth minutes with a try (5 pts.) by prop forward Lakmal Fernando. The try was however not converted.
Tri Star in the 10th minute was awarded at 25 meter penalty which was taken by fly half Thusara Tidiman. This reduced the CH lead to 5-3.
Tri Star was awarded another 25 meter penalty which Thusara Tidiman took easily by which Tri Star grabbed the lead (6-5).
In the second half Tri Star earned still another penalty bringing the score to 9-5, which they held up to the long whistle.
D. Nimal refereed.
In the earlier match Havelockes crushed Galle RFC by 74 (7 goals, 5 tries) to nil.
At lemon Havelocks led 31-0
Reeeree Wimal Perera.
---
Tennis queen at sweet 16
LONDON, Saturday (Reuter) - Switzerland's Martina Hingis became the youngest Wimbledon champion this century today when she beat Jana Novtona of the Czech Republic 2-6 6-3 6-3 in the final.
It was the 16-year-old Hingis's second grand slam title in three attempts this year, but represented another disappointment for Novotna, beaten by Steffi Graf in the 1993 Wimbledon final after blowing a 4-1 lead in the final set.
Novotna had raced through the first set in just 22 minutes as Hingis appeared to suffer a repeat of the big match nerves which contributed to her below-par display in the French Open final last month.
But the Swiss girl rediscovered her touch in the second set and pulled away to win in one hour 50 minutes to claim the winner's cheque of $596,000.
The only younger Wimbledon champion in history was the 15-year-old Lottie Dod in 1887.
---
Yaseen Cup
Entries for the A.R.M Yaseen Cup knockout football tournament conducted by the City Football League for division 2 and 3 clubs will close on July 25th.
---
Royal athletics
The old Royalists Athletic Club with an idea to further promoting athletics in the school has decided to conduct age group championships on Friday and Saturday July 11 and 12 at their college grounds at Reid Avenue.
The events to be held are,
Under 11 - 75 metres, 100 metres, long jump, high jump.
Under 12 - 80 m, 100 m, long jump, high jump.
Under 13 -100 m, 200 m, long jump, high jump.
Under 15 -100 m, 200 m, 400 m, long jump, high jump, shot putt.
Under 17 - 100m, 200 m, 400 m, 800 m, long jump, high jump, shot putt, javelin throw.
Under 19 - 100 m, 200 m, 400 m, 800 m, 110 m hurdles, long jump, high jump, shot putt, javelin throw.
Under 21- 100 m, 200 m, 400 m, 1500 m, 400 m, hurdles, long jump, high jump, shot putt. (AF)
---
Sampras serves on towards fourth title
LONDON, Saturday (Reuter) - A rare thing happened in the semifinals at Wimbledon — Pete Sampras dropped his serve.
On Sunday, the three-times champion will be trying to ensure that Frenchman Cedric Pioline — a player who has perfected the art of chasing everything that moves at the championships — will not make him do it again.
It took a doubles specialist from Australia, Todd Woodbridge, to crack Sampras's seemingly impenetrable armour on Friday when he stole a service break in the fourth game of the third set in their semifinal.
"I wasn't too happy about that, but in all I've got no complaints of the way I've been playing," said Sampras after beating Woodbridge in straight sets to reach Sunday's final.
"I don't remember a Wimbledon that I've served as well as I have this year. I mean I've only lost a serve a couple of times."
Only one other player has managed to break the American's serve at the grasscourt championships, Sweden's Mikael Tillstrom in the first round.
Now just 28-year-old Pioline, who becomes the first Frenchman in 50 years to reach the Wimbledon final, stands between Sampras and a fourth grasscourt grand slam title.
"I'm tired of this man," said Pioline, who has not beaten Sampras in seven previous meetings, including straight sets losses at the 1993 U.S. Open final and last year's Wimbledon fourth round.
"I know what it's like to lose a final, maybe I would like to know what it is like to win one.
"My game is more mature since that U.S. Open, it happened so fast I didn't realise what I was doing.
"If I keep playing like this you never know."
Pioline, ranked 44 in the world, won a thrilling five-set semifinal against 1991 champion Michael Stich, his athleticism standing out as refused to give up any shot as lost.
Rated a 100-1 bet by British bookmakers before the start of the tournament Pioline will carry the tricolour into the Wimbledon final for the first time since Yvon Petra won the title in 1946.
The American world number one has totally dominated the 1997 tournament, and will start as one of the hottest favourites since William Spencer Gore lifted the first title 120 years ago.
The American has dropped only three sets in his six matches.
| HOME PAGE | EDITORIAL/OPINION | NEWS / COMMENT | BUSINESS | PLUS
Please send your comments and suggestions on this web site to
info@suntimes.is.lk or to
webmaster@infolabs.is.lk