29th June 1997
Contents
---
By Marlon Fernandopulle
Isipatana staved off a stiff challenge to beat traditional rivals Thurstan by 15 points(03 tries) to nil and retain the Abdul Jabbar Shield at Longden Place yesterday.
In a game that was played at a sizzling pace underdogs Thurstan put up a gritty display but finally went down to a better side - Isipatana, who once again proved that they were undisputed in this game.
Thurstan kicked off in style and went on the offensive not allowing their opponents to settle down.Their robust set of forwards matched their opponents but lacked the finish to breach their opponents defence line.
Isipathana took time to settle down before unleashing wave after wave of attacks.Their back division was a treat to watch whenever they were on the move.Stand -off and playmaker Sajith Mallikarachchi led the way with some innovative moves that had the Thurstanites guessing at all times.
In the 22 nd minute Isipathana scored off a 5 metre scrum. Scrum half Chryshantha Chandran worked the blind side and full back Shenazad Ousman formed the overlap and touched down for an unconverted try.
Inspired by the first points on the board Patana attacked relentlessly and had the Thurstinites on the defensive. Centre Nishantha Kaushaliya touched down in the 27th minute when he put the finishing touches to a dashing three-quarter move.Ousman failed with the conversion again as Isipathana went into lemons 10-0.
Thurstan began the second half on a high note pegging their opponents in their territory. They lost a golden opportunity to score when stand off Chaminda Fonseka collected a ball off a loose maul,brushed past a host of defenders but dropped the ball with the goal line in sight.
Isipatana dominated for the rest of the second half but failed to score mainly due to some good tackling from the Thurstanites. However the green shirts were rewarded in the 50th minute when centre Nishantha Kumara fell over after collecting a ball from his co-centre off a short tap. Ousman failed again with the conversion as Isipatana recorded an emphatic 15-0 victory.
Ref. SW Chang
---
Nalaka Weerakody shone for Kandy in their crushing 47 points to 10 win over Police at Nittawella last evening with the first half points of 21 to Weerakody.
Weerakody dropped two goals and 5 penalties in the first session.
In the second half, Imthie Marikar, Tuan Boharan, Priyantha Ehanayake and Eramasi scored a try each with Weerakody goaling three of them.
For Police their points came off a goal and penalty.
Referee: Sanjeewa Saranapala.
Today, Old Trinitians will take on Petersons at Nittawella.
---
By Saif Izzadeen
Four tries in injury time helped Trinity to a 26 points (Three goals and One try) to 5 (one try) win over a St Peter's in a Milo A Division rugby match Played at Bambalapitiya Yesterday. At the breather the scores were dead locked at Nil all.This was Morale boosting win for Trinity before the all importent Bradby Shield Second leg against Royal next week. With the kick off Trinity winger Prasanna Jayawaradana scored a try which was disalowed by the referee with Jayawardene over stepping the line.There after Trinity earned three penalties but all were kicked astray by Nuwan Fernando. Trinity dominated the first half but were unable to score because of some robust tackling by the Bambalaptiya lads. Ershad Hasimdeen missed an easy penalty for St Peter's.
In the second half play was a bit scrappy and both teams suffered injuries.St Peter's went ahead to lead 5-0 through an unconverted try by Sohantha Wijewickrama in the 20th mintue. Erashad Hashimdeen missed the convertion.St Peters held on to this lead untill the final few mintues. Trinity got their act together during injury time and scored 04 quick tries through Surein Hulangamuwa, Mohamed Kaleel, and Prassana Jayawardene (02). Nuwan Fernando converted three of these tries to give Trinity a 26-5 victory.
Referee Aruna Jayasekar The Junior game was won by Trinity 22-12
---
Air Force, helped by a try by Kini Kobo, beat Army by 8 points to 3 in their Carlsberg Inter Club A Division rugby encounter at Havelock Park last evening. For the Airmen, Tony Wimalasuriya dropped a goal to make it 8-3.
Army led 3-nil at the half with a penalty put over by Nimal Wijesiri.
Sri Lanka will play 02 tests and 03 One day Internationals against India soon after the conclusion of the Asia cup Tournament.
The Two tests will be played at the R Premadasa Stadium and the SSC grounds. Two of the 03 One dayers will be played under lights at the Premadasa Stadium. August 2-6 - First Test at R Premadasa Stadium 9-13 - Second Test at SSC grounds. 18 - First ODI at SSC grounds 21 - Second ODI At RPS - Day- Night game 23 - Third ODI AT RPS -Day -night game.
---
The Milo Inter School rugby league championship's first round will come to an end tomorrow, with Ananda playing hosts to Vidyartha played for the William Gopallawa Trophy at the Sugathadasa Stadium. Kick off at 4.45 p.m.
The Secretary of the Sri Lanka Schools Rugby Association, Sisira Kumara said that the second round matches will get underway in the second week of July. He also said that the Ananda versus S.Thomas match and the Wesley versus Trinity match will have to be played in deciding the final positions of the participating schools.
Wesley win Blaze Trophy
Wesley won the second leg of the L.E.Blaze Trophy rugby match defeating Kingswood by 17 points (2 goals, 1 penalty) to 8 (1 try, 1 penalty) at the Sugathadasa Stadium.
Wesley led 14 nil at lemons.
For the Cambell Park, lads, Winger Shehan Johari touched down in the 20th minute with M.Zulfikar goaling it, in the 20th minute.
Wesley Skipper playing as flanker Anupama Wadugodapitiya scored their second try in the 22nd minutes which was also goaled by Zulfikar.
After the turn round, Kingswood reduced the lead through a try scored by K.Gunawardena with K.Ranasinghe failing to add the extra points. Ranasinghe however put over a penalty.
Zulfikar put the issue beyond doubt with a penalty.
Mahanama win 12/5
Mahanama beat St.Annes Kurunegala by 12 points (1 goal, 1 try) to 5 (1 try) at Maitland Crescent.
Joes held to a draw
St Joseph's were held to a 5-all draw by S.Thoma's Mt.Lavinia, in their Lady Jayatilleka Shield match played at the Sugathadasa stadium.
The Josephians scored first in the fifth minute of play through a try scored by winger Harin Fernando while hooker Indrajith Perera touched down for the Thomians.
– (AF
---
By S.M.D.Sirisena
Kalutara Balika Maha Vidyalaya entered all semi-finals in the ongoing Milo Schools Netball tournament at Anuradhapura Esplanade.
St. Joseph's Balika Vidyalaya Nugegoda entered three semi-finals except the under-12.
In the under-18 quarter-final, St. Joseph's beat Maliyadeva Model School Kurunegala by 32-20. SJC star player Danushika Vithanage collected over 24 points.
The semi- finals and final will be played today at the same venue. In the under-18, Kalutara BMV will meet St. Joseph's BMV while Maliyadeva BMV will meet Swarnamali Kandy.
Quarter-finals
Under-18:
Swarnamali beat Holy Family Convent Wennappuwa 27-20, St. Joseph's BMV beat Maliyadeva 32-20, Maliyadeva BMV beat Henegama MV 26-14, Kalutara BMV beat St. Anthony's Kandy 36-20.
Quarter-finals
Under-12:
Kalutara BMV beat Pannala MV 13-3, Marawila MV beat Sirimavo Bandaranayaka BMV 6-5, Maliyadeva BMV beat Ranjan Wijeratne MV 13-7, St. Anthony's Kandy beat Sujatha BMV 6-5.
Under-14:
Maliyadeva BMV beat Mahamaya BMV 15-14, High School Kandy beat Holy Family Convent Kurunegala 13-6, Kalutara BMV beat Puwakpitiya BMV 13-9, Pannala National MV beat Prajapathi Gothami 12-10.
Under-16:
Swarnamali BV Kandy lost to Pannala MV 9-19, St. Joseph's BMV Nugegoda beat Swarnapali BMV 13-8, Anula BMV beat Holy Family Convent Kurunegala 14-9, Kalutara BMV beat Poramadulla MV 17-14.
---
By Annesley Ferreira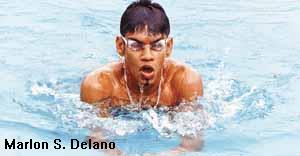 Marlon.S.Delano became the only Josephian to break three records at the 24th Sri Lanka Public Schools Age Group swimming and diving championships held at the Sugathadasa Indoor Stadium pool.
On the first day, Marlon coming back into competative swimming after being suspended over on incident in Chinese Taipei in which he was found innocent, proved his capabality by setting two records.
Already Marlon had broken a 10-year-old mark in the 400 metres free style touching in at 4 minutes 29.05 seconds, improving on the record held by Prasanna Mendis of 4 minutes 49.05 seconds set in 1987.
The two other records set by Marlon are the 800 metres free style, and the 400 metres Individual Medley for boys under 19, both held by Gheffari Dulapandan.
Marlon finished the 800 metres in a time of 9 minutes 14.38 seconds, thus improving on the record by 35.67 seconds and in the 400 metres individual medley he clocked 5 minutes 06.52 seconds while the old record was at 5 minutes 14.21 seconds.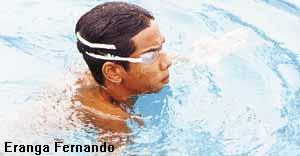 The other record breakers were, Eranga Fernando of S.Thomas Mount Lavinia, 400 metres individual medley boys under 15- (5 minutes 21.18 seconds).
The old record set by Gheffari Dulapandan was 5 mins. 33.57 seconds.
Menaka Rajapaksa - St Peter's - won the 200 metres back stroke boys under 13, in 2 minutes 57.84 seconds.
The old record held by Jehan Mubarak in 1994 was 2 minutes 57.91 seconds. Duleeka Nanayakkara - S.Thomas Mount Lavinia, won the 200 metres breast stroke under 17, in 2 minutes 48.29 seconds. The old record by Nishan Madawela was 2 minutes 49.89 seconds.
Asela Pradeep of Ananda won the 200 metres back stroke boys under 17 in 2 minutes 36.32 seconds. The old record was held by Charya de Saram was 2 minutes 26.53 seconds in 1987.
| HOME PAGE | EDITORIAL/OPINION | NEWS / COMMENT | BUSINESS | PLUS
Please send your comments and suggestions on this web site to
info@suntimes.is.lk or to
webmaster@infolabs.is.lk