29th June 1997
The National Health Run will take off this year too from Galle Face Green on July 20.
This annual event organised by the Sri Lanka Anti Narcotics Association-(SLA-NA) supports the organization's fight against drug abuse.
The high level of participation in the run, especially in the younger age categories, shows increased awareness among youth of the ravages of drug addiction.
The 14 km run within Colombo begins and ends at Galle Face. Starting time is 7.30 a.m. Registration for the run will close on July 1.
Attractive cash prizes are on offer for the winners. Participants could register under many categories - Open Class, National, Family (parents and one child) and Special Age Groups of over 50 under 15 and under 10.
---
A nine-month-old baby girl allegedly abandoned and left to die by the mother, has been rescued and adopted with love by the staff of the Anuradhapura hospital, headed by the Medical Superintendent.
Just one day after birth, this child had been dumped into a pit and covered with leaves. A passer-by heard the cries of the baby and alerted the hospital staff. They took the child to hospital and are tenderly caring for it while a court decides on what to do about the child.
The woman who dumped the child has been arrested on charges of attempting to kill her baby.
---
By S. S. Selvanayagam
The number of refugees in Mullaitivu has doubled to more than 51,000 in the wake of Operation Jaya Sikurui, but food and other essentials are scarce or costly, officials said.
They said kerosene, used by most people in the district for cooking and house lighting had reached the bottom of the barrel, since the Defence Ministry had not granted permission for the supply of some 3,000 barrels per month.
Govt. Agent R. Tharmakulasingham has appealed to Rehabilitation Authorities to provide relief immediately. Officials said government was claiming that lorries were bringing food and other essentials, but little or nothing appeared to be reaching the refugees, sources claim.
---
By H.P. P. Perera
Some of the suspects in the Kalutara child sex abuse case have been acquitted by the magistrate due to lack of evidence. Among those acquitted are M.A.S. Mahawaduge, former Managing Director of Warnel's Reef Hotel and five others. The case against the other suspects will continue but not in open court, Magistrate S. Rajapakse said.
---
The New Democratic Party, a left wing socialist movement comprising mainly of minorities, has called on the Government to rise above pride or prejudice and hold talks with the LTTE unconditionally.
In a resolution adopted at its third national conference in Colombo, the party has also called on the LTTE to hold talks within the framework of a united Sri Lanka.
The party says the cruel suffering caused by the war and the colossal expenditure cannot be endured anymore by the country.
---
---
Saying no restrictions had been placed on this or any other interview by the UNP leader, the controversial Sarath Kongahage one of the better public speakers on the UNP platform told The Sunday Times he would resign his seat in parliament if anyone could prove the charge that he was involved in a move to impeach the President or form an alliance headed by Anura Bandaranaike. Mr. Kongahage reiterated his full loyalty and support for UNP leader Ranil Wickremesinghe but also explained why he had a close relationship with the former UNP strongman Sirisena Cooray. Mr. Kongahage who entered politics through the SLMP which was at that time headed by Mr. Vijaya and Ms. Chandrika Kumaratunga, said the UNP had nothing to fear about Mr. Cooray. It was the Kumaratunga administration that feared him and that was why Mr. Cooray was detained. Excerpts from the interview.
---
By M. Ismeth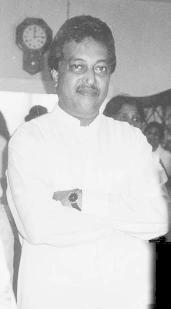 Q: On Tuesday UNP leader Ranil Wickremesinghe said he was removing you from all posts you held in the party. What do you say about this?
A: I know only what I saw in the media. I held no post and I have not been officially informed of any removal upto today. I serve in the Trade Union Committee and Media Committee which I consider was not a position but a place given to me for service.
Q: Your loyalty to Mr. Wickremesinghe has been questioned because of your links with Mr. Cooray. What would you say?
A: My friendship with Mr. Cooray is more personal. It was he who brought Ossie Abeygoonesekera, myself and other SLMP members to work with President Ranasinghe Premadasa and the UNP. Thereafter, he was instrumental in making me the Chairman of the Central Provincial Council.
SLMP worked closely with Mr. Cooray and the UNP in propagating the cause of the poor.
It was Mr. Cooray who urged us to identify more with Mr. Wickremesinghe when Gamini Dissanayake took over the leadership.
After 1994 general elections Mr. Cooray went into self-exile. Then we SLMPers rallied round Mr. Wickremesinghe and worked under him.
Mr. Wickremesinghe at one stage felt that we should not work as separate parties but get together as members of the UNP and work together. At a Central Committee meeting of the SLMP we discussed Mr. Wickremesinghe's proposal and agreed to it. On March 14 1996 about 1500 SLMP cadres from all parts of the country gathered at the UNP headquarters, Siri Kotha, and merged with the UNP accepting Mr. Wickremesinghe as the undisputed leader. We dissolved the SLMP. We felt Mr. Wickremesinghe must become the next President of the country.
You will understand my difficulty in being disloyal or ungrateful to Mr. Cooray while I still continue to work with my people to make Mr. Wickremesinghe the president of this country. In this struggle, I faced death threats and damage to property as in the recent case.
I explained the situation to Mr. Wickremesinghe in my last meeting with him.
Q: You have been accused of scheming with Mr. Cooray to introduce a motion to impeach President Chandrika Kumaratunga. Is there some basis to it?
A: Impeachment is a democratic, constitutional process. It was used to impeach the common man's President, Ranasinghe Premadasa, by a faction of the UNP. I consider that as a conspiracy. An attempt by a member of the opposition to do so would not be construed as a conspiracy but an exercise of the right enshrined in the Constitution.
But a member who wants to make an attempt to impeach has to get the approval of the party leader and the party group, which can be done only by the party leader who commands the backing of 85 MPs in Parliament.
In addition to this, such a motion must carry more than 85 MPs including some government MPs. If anyone can prove that I have made such an attempt or if I have spoken to any MP, I am prepared to resign from Parliament.
These allegations are baseless.
Q: There are allegations of plans to form a new political alliance, possibly headed by Anura Bandaranaike comprising UNP and PA members. Would you comment?
A: I have nothing to do with all these rumours.
Q: What about the charge of leaking information to the media against your leader?
A: There are 85 UNP MPs. They all have contacts with journalists. Anybody may say anything giving another's name. But it could be proved only if the journalist who writes any story could come forward and admit that so and so said...
Q: We understand that you met Mr. Wickremesinghe and sorted things out. Have you been rehabilitated?
A: I did not lose the portfolio of Rehabilitation as Minister Ashraff did! There is nothing to rehabilitate me. But I reiterated and pledged my support to Mr. Wickremesinghe.
Q: Have you been muzzled? Can you speak freely within your party? Have you got permission from your leader to give this interview?
A: Mr. Wickremesighe has not muzzled anybody. He only wants to discipline the party. He does not want anyone to leak incorrect information with malicious intentions. There are no restrictions placed on me in giving interviews to the press. He has told us often that we must talk to the press as much as possible with our names being quoted. I think problems are sometimes due to some of the political columns carrying information based on hearsay.
One must not forget that Mr. Wickremesinghe is the son of Esmond Wickremesinghe acclaimed as a man with a golden pen. And hence will uphold media freedom.
Q: How do you see the political scenario now with Mr. Cooray in detention?
A: The UNP has officially condemned the detention of Mr. Cooray. Our top lawyer K. N. Choksy is leading the team in defence of Mr. Cooray. As long as Mr. Cooray was projected as a man who could disrupt the unity of the UNP, the government did not mind his freedom of movement and political activities. But two days after Mr. Wickremesinghe agreed to participate in the Premadasa commemoration function, the government got panicky. So Mr. Cooray is in detention and barred from further activities.
The UNP has nothing to worry about. It is the PA that has to worry about its survival.
Continue to the News/Comment page 5 - * Journalists play bigger role than politicians, * JJ must be given those documents
Return to the News/Comment contents page
| HOME PAGE | FRONT PAGE | EDITORIAL/OPINION | PLUS | TIMESPORTS
Please send your comments and suggestions on this web site to
info@suntimes.is.lk or to
webmaster@infolabs.is.lk