22, June 1997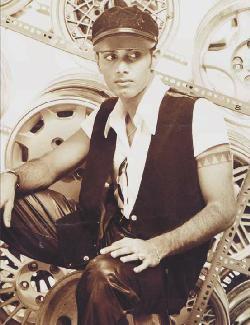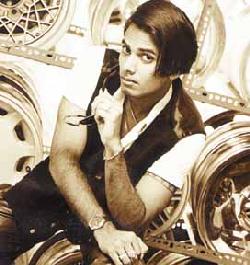 Contents
Young model Ayaz poses for the Mirror Magazine in an outfit by Nilan Seneviratne who also handledhis hair and makeup. Ayaz was photographed by Anuruddha Medawattegedera at J.J Lanka Wheel, Dehiwela.
---

The Word
by: Chunky Monkey
"Park it , my lusty lad, and try not to tarnish the mink upholstery" I chided , tossing the keys to the valet parker at the Oberoi. The Chunkmobile has seen better days - alright, so it's a tetanus mobile that has parts fall off it every three days - but I do try to valet park as often as possible so that the attendants get a taste of the real world after too many BMW's and Mercedes. I highly encourage you to do the same - there is nothing funnier than the look of horror on a valet parker at a five star hotel when he sees my old claptrap rattle up, sides shivering like a horse about to run theKentucky Derby. But I digress. I was here to sample some Swiss delicacies at the food festival at the London Grill, together with dining companions Cockney, a fellow media addict and the Drill Instructor, a commanding figure of a woman if there ever was one.
Walking into the lobby , I saw two men's with large horns. Oh dear, that doesn't sound right. Two darlings in lederhosen and funny hats with feathers stuck into them , cheeks puffed as they played mournful tunes on flugelhorns or whatever, sounding like the Brandenburg Concerto at 33 rpm instead of 45. Apparently this is how they communicated in the Alps before the days of pagers and email. So what I was hearing could be the rough equivalent of "Your dinner appointment is cancelled and your shirts are ready at the laundry." How mundane . We sauntered into the elegant confines of the London Grill, and the memories flooded back . Regular readers of this column might remember that the last time the Culture Vultures descended in hordes upon the eating house we managed to get the musicians to start playing the theme from "Sesame Street". When the flugelhorn players strolled in (inasmuch as anyone can stroll in carrying something that's ten feet long and shaped like a bong) , we contemplated asking them for "Wild Thing" by the Troggs , but the poor dears would have probably had a cardiac arrest.
Now Switzerland is well known for the cliched chocolates, clocks and and bank accounts so secret that only you and God know the number. But as anyone who been to Berne would tell you , it isn't exactly famous for its rocking nightlife . So we weren't expecting anything too funky. But then we got stuck into the food - smoked salmon starters, so good that we ordered them again. Then barley soup for moi, and something called bazler soup for Cockney, bread flavoured and yummy. The centrepeice of the meal is the fondue , where everyone is equipped with miniature spears which you skewer bits of bread and then dip in a cheese sauce that bubbles away merrily in the centre of the table. Decidedly delicious, and something that completely negated my workout with my kickboxing trainer earlier that day. (Kickboxing - it's the sport of the future). Completely satiated and satisfied we left, vowing to return as soon as our cholesterol levels would let us . Man, these Swiss can really party hard.............
The Chunk , together with Ma Bete Noire, the Marquis De Pita Kotte and Cockney recently spent a most enervating weekend at the Culture Club resort in Dambulla. The drive from Kurunegala onwards is heaven itself, and we merrily bustled along to the sounds of Radiohead's "The Bends" , The Cowboy Junkie's "The Trinity Sessions" and that marvellous Marvin Gaye compilation. We arrived in a sunny mood at this utterly Sri Lankan themed hotel , and it was a bit like stepping back into the era of the ancient King's. The main entrance hall is a barn like affair, complete with vesak lanterns and a pleasant bearded man who looked like a real vedamahattaya. The rooms are comfortable cabanas, the doors painted with the images of noblemen , and the fresh linen is taken around daily by means of a bullock cart - very picturesque except for the large piles of dung that one occasionally walks into (just kidding) . The whole local flavour of the hotel was taken a step further by the dancers in papier mache caricatured masks dancing to baila by the verandah in the night. The food at the hotel was disappointingly staid and unimaginative - at one point we were eating a dish which was basically a mixture of the scrambled eggs, sausages and potatoes we had eaten at breakfast. But the moon hangs beautifully over the lake at night and the setting is truly serene. Just take plenty of books and good company and you won't get bored......
---
Johnson - A rare man for his time
A man should begin to write soon; for, if he waits till his judgement is matured, his inability, through want of practice to express his conceptions, will make the disproportion so great between what he sees, and what he can attain, that he will probably be discouraged from writing at all.
-Samuel Johnson
English poet, critic, essayist and lexicographer Samuel Johnson was famous not only for his writings but also for his forceful and witty conversation. After Shakespeare, Johnson is possibly the best known figure in English literature and perhaps the most frequently quoted in the whole range of English literature. In addition to all of his literary achievements, he was also famed during his time for his tea drinking (yes, tea drinking!) abilities - he was able to consume twenty five cups of tea at one sitting! A man who detested hypocrisy, violently opposed war and pleaded for more humane treatment of prisoners of war, attacked censorship and championed the poor and the oppressed and argued for the rights of blacks and other indigenous people - Johnson was a rare man for his time - or for any time period, for that matter.
Born at Lichfield, Staffordshire on September 18, 1709 in a bookstore because his father, Michael Johnson, was a bookseller. Samuel was not a healthy child. His eyes were weak and he was the victim of a tubercular infection in the glands of the neck, commonly known then as "the King's Evil." A popular belief at that time was that the cure for this disease lay in the royal touch and so, Mrs. Johnson travelled to London with Samuel in March 1712 and he was duly touched by Queen Anne. But it is not recorded whether the royal touch did indeed work but the gold amulet that the Queen hung round his neck remained there until his death.
In 1717 Johnson entered Lichfield grammar school and began the study of Latin. His ability for learning was termed "uncommon" and one of his schoolmates had this to say about him : "His ambition to excel was great, though his application to books ... was very trifling ... his dislike to business was so great that he would procrastinate his exercises to the last hour." This was a trait that remained with Johnson throughout his long literary career.
After a brief period at the grammar school at Stourbridge, where he was a student and also took some part in the teaching of the younger boys, Johnson helped his father in the bookshop. During this time, he read widely and with the instinct of a budding scholar - "not voyages and travels, but all literature, Sir, all ancient writers, all manly . . ." Thus, by the time that he entered Pembroke College, Oxford, in 1728, he was familiar with many works unknown at the universities; and when he was first introduced to William Jorden, tutor of the college, his own contribution to the conversation was a quotation from the Latin grammarian and philosopher Macrobius. Johnson was compelled to leave Oxford in December 1729 after a residence of 13 months, possibly due to a lack of funds.
His prospects were poor. He had no degree or other qualification; his father's business was declining and an application for an ushership (assistant teacher) at Stourbridge was unsuccessful. His father died at the end of 1731, and in the following year Samuel accepted a post as undermaster in the grammar school at Market Bosworth. Through the influence of an old friend, Johnson secured the task of translating into English the French version of "A Voyage to Abyssinia" by Father Jerome Lobo. During this time, he married Elizabeth, who was 20 years older than Johnson. The marriage took place at Derby in 1735 and the bride brought with her a reputed dowry of £700. Using this dowry, Johnson decided to set up a school on his own at which young gentlemen could be boarded and taught the Latin and Greek languages. He prepared an elaborate curriculum, but only a few young gentlemen, among whom was David Garrick, came as pupils, and at the end of two years Johnson had to admit failure.
In spite of ill health, of melancholia, of his lack of a degree and of the collapse of his school, the desire to be known as a scholar and a writer remained clear in his mind. So, Johnson decided to seek his fortune in London and he rode to London in March 1737.
The publisher of "The Gentleman's Magazine" quickly recognized his journalistic ability and Johnson contributed a number of pieces in prose and verse. In the later part of 1737 he returned to Lichfield, finished his tragedy "Irene" and brought his wife to London. In 1738, he anonymously published "London" which became an immediate success and quickly went into three editions and won high praise from his contemporary writers.
Though "London" was a big success, Johnson's fee was only 10 guineas and he had to look for an alternative means of livelihood instead of being "starved to death in translating for booksellers." He was offered the post of headmaster at a school in Leicestershire but it was subject to his obtaining the degree of M.A. Unfortunately, negotiations for its conferment broke down both at Oxford and at Dublin. Similarly, his lack of a degree in law frustrated his application for permission to practice as an advocate.
Perhaps due to his bitterness and disappointment, he came out with two of his most violent and satirical strictures upon the government during this time - the first was Marmor Norfolciense (1739) and the second, A Compleat Vindication of the Licensers of the Stage (1739). Both of them are the protests of an angry young man rebelling against authority and striving, as he had striven at Oxford, to fight his way out by his wit.
It is rumoured that a warrant was issued for Johnson's arrest but this has never been verified but, as a member of The Gentleman's Magazine's staff, he was required to treat contemporary politics in more sober style. One of the most interesting things that he did during this period was report on "parliamentary proceedings" which were nothing of the sort. He would glean a few salient details about the proceedings in parliament from other reporters and then invent his own speeches for the proceedings. Some of the words he put in the mouths of politicians of that time are supposed to be masterpieces of oratory.
Well … it looks as if Samuel Johnson has had a really long and interesting life because I still haven't even got to the really prolific parts of his career but unfortunately, I seem to be running out of space and so, we will continue this introduction to the brilliant Dr. Johnson the next time. So, till then, adieu …
Comments? Criticisms? Send mail/e-mail to:
Off My Bookshelf
C/o The Mirror Magazine
P.O. Box 1136
Colombo 2
---
Continue to Mirror Magazine page 2
Please send your comments and suggestions on this web site to
info@suntimes.is.lk or to
webmaster@infolabs.is.lk