15th June 1997
Contents
---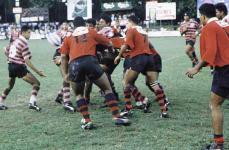 HAVIES BALL. Havelocks scrum-half Leonard de Zilva readies to get the ball from a ruck. Action from the Havies-CR rugby game at Longden Place yesterday. CR won 22-5. Pic by Ranjith Perera
---
By Marlon Fernandopulle
Defending champions CR & FC maintained their unbeaten run this season and scored their fifth successive victory defeating Havelocks SC by 22 points (two goals, one try and a penalty) to 5 (one try) in a Carlsberg A division League game at Longden Place yesterday.
The game never reached any great heights of rugby with both teams guilty of dishing out scrappy fare.Havelocks in particular were completely out of sorts yesterday and paid the price for their lacklustre performance.CR & FC on the other hand did not do anything spectacular but capitalised on their opponent's weakness to score their fifth win.
CR & FC drew first blood in the 15th minute when Fijian Rusiyati Sakuru, helped by the momentum of his players touched down off a short tap taken five meters from the Havelocks goal line.Shanitha Fernando added the extra points after missing a penalty earlier for the Red shirts to take a 7 - 0 lead.The home side increased their lead in the 35th minute through a 25 meter penalty put over by Fernando.
Havelocks never looked like scoring and were struggling to get their act together and settle down to play to a plan.To make matters worse they missed three penalties all within kicking range and missed by Sukavavelu,Amila Ratnayake and Chanka Jayaweera.
CR & FC added to their tally early in the second half when winger Kishan Musafer sneaked through the blind side after receiving a pass from a line out and touched down by the corner flag for a unconverted try.
CR & FC kept up the pressure and continued to attack with forwards Hapugoda,Hensman and Manoj in the thick of things.Apart from a few threatening runs from Havelocks winger Yuganthara Karunaratne and Gideon Raka the visitors never looked like challenging their traditional rivals.
Fijian Sakuru scored his second try of the game when he touched down off a short tap taken ten meters away from the Havelocks goal line.Fernando added the extra points for the home side to take a commanding 22-0 lead.Havelocks forced a series of scrums soon after and finally broke through the CR defence when center Sukavavelu fell over for an unconverted try. Referee: Ian Goodall
---
ST JOHN'S, Antigua - Dismissing the star West Indies batsman Brian Lara for a 'duck', Sri Lanka fought back on the second day of their first cricket Test - having the Caribbeans struggling at 135 for 4 at lunch in reply to the visitor's 235.
Stand bye pace bowler Ravindra Pushpakumara, leading the attack, in the absence of the top strike bowlers, put Sri Lanka back in the game with three wickets. Openers Campbell and Williams were dismissed for 50 and 21 while Reifer went for 29. By lunch Harper and Holder were at the wicket.
Earlier, Curtly Ambrose joined the exclusive club of test bowlers to have taken 300 test wickets as West Indies took the initiative on the first day of the first test against Sri Lanka on Friday.
Choosing his native island as a backdrop, Ambrose took five for 37 in just 13.1 overs to dismiss the Sri Lankans for 223 and become only the 12th bowler to reach the 300-wicket landmark, joining team-mate Courtney Walsh among the game's elite performers.
W. Indies were 168 for 6 at the time the paper went to the press.
---
Sri Lanka first innings
S.Jayasuriya b Hooper 85
R.Mahanama c Browne b Ambrose 1
R.Arnold c Williams b Ambrose 0
A.De Silva c Walsh b Ambrose 0
A.Ranatunga run out 42
H.Tillekeratne retired hurt 1
R.Kaluwitharana hit wicket b Bishop 23
K.Dharmasena c Browne b Ambrose 29
R.Pushpakumara c Reifer b Bishop 1
S.De Silva c Reifer b Ambrose 6
M.Muralitharan not out 6
Extras (b-4, lb-11, nb-14) 29
Total (all out) 22
Fall of wickets: 1-19, 2-19, 3-23, 4-133, 5-171, 6-206, 7-210, 8-216, 9-223.
Bowling: Ambrose 13.1-3-37-5 (nb5), Bishop 15-3-46-2 (nb2), Walsh 11-0-46-0 (nb4), Rose 10-2-30-0 (nb3), Hooper 19-2-49-1.
West Indies first innings
S.Williams not out 24
S.Campbell c Arnold b Pushpak. 21
F.Reifer not out 10
Extras (nb-1) 1
Total (for one wicket) 56
Fall of wicket: 1-40
Bowling: S. de Silva 4.1-0-28-0, Pushpakumara 6-2-22-1 (nb-1), Dharmasena 2-0-6-0
---
By Shane Senaviratne
Kandy ran up 55 points ( six goals, two tries and a penalty) to the Old Trinitian's,14, (made up of a try and three penalties) in their Inter-Club A Division league rugby encounter played for the Carlsberg Trophy at Nittawela yesterday.
Kandy led 34-3 at the breather.
For Kandy Harris Omar touched down first with Nalaka Weerakody goaling it in the fifth minute followed by another try by Omar, Imthie Marikkar (3), Tuan Boharan, Indrajith Bandaranayake and Upeti.
Nalaka Weerakkody goaled six tries and put over a penalty while Old Trinitian's Riaan Botha scored a try and put over three penalties.
Referee Ana Saranapala.
* TODAY: Police vs Army at Police Park
---
Royal scored at will to defeat Mahanama by 28 points to 3 in their 'warm-up' match at Reid Avenue yesterday, before the first leg of the Bradby next Saturday (June 21) at Pallekale.
Royal's points came off two goals, a try and three penalties to their opponent's solitary penalty. The winners led 9-3 at the breather.
Royal opened scoring through a try by T. Roland which was goaled by Ranjana Gonaduwa, who earlier put over three penalties. Mahanama's penalty was by Sampath Lasantha.
The second try for Royal was scored by Dishan Samarasinghe with Gonaduwa adding the extra points while the third try was scored by Raviu Athukorale.
S.Thomas' win 6-3
S.Thomas' aided by two penalties beat Nalanda by six points to three in a scrappy game at the Sugathadasa Stadium yesterday. There was no scoring in the second half. - (AF)
---
Gheffari Dulapandan did Sri Lanka proud by winning a silver medal in his pet event, the 200 Metres Dolphin Stroke, at the Second Asian Age Group Swimming Championships in Chinese Taipei on Friday.
Natasha Kodituwakku of St. Bridget's, the girl's captain, won a diploma in the 200 metres Breast Stroke while Zoe Sandya Veeru of Anula Vidyalaya won a diploma for the Under 10 age group 50 metres Breast Stroke.
---
By Bandula Jayasekara
The 53rd Bradby Shield Rugby Football match first leg will be played next Saturday (June 21) at the new Trinity Rugby Stadium at Pallekele. I met Jagath Fernando and 'Jupana' Jayawardane, two rugby greats of Royal and Trinity for a Sunday Times Bradby special.
Trinity 'Lion' Brigadier Jupana Jayawardane played for Trinity in 1966, Havelocks and Ceylon from 1967-69. Rugby coach and referee, Jupana served as the Chairman of SLRFLU in 1993/94. Jagath Fernando played for Royal from 1966 and captained the rugger team in 1970 and cricket team in 1971 and played for CR&FC and Sri Lanka in 1974. Rugby coach and referee, Jagath is a Director of John Keells Holdings.
Q: The game of rugby lost you because of cricket and cricket lost you because of rugby. What happened in between?
J.F: It was due to an injury sustained in a rugger match. Most people thought that I preferred rugby more but I enjoyed both cricket and rugby.
Q: Who is the greatest Royal/Trinity rugger player of all time?
J.J: Jagath Fernando. Lionel Almeida comes a close second followed by 'Maiya' Gunasekara, Brian Baptist, Ali Ratnapala and Rohantha Pieris.
J.F: Mohan Sahyam.
Q: Which Bradby Shield game is considered as the greatest victory for Royal and Trinity?
J.J: When Royal beat Trinity n 1968. Royal was captained by C.R. De Silva and Trinity by Ajith Abeyratne.
J.F: The Bradby in 1970 when Trinity came back from 12-nil down to beat us 16-12.
Q: What is your most memorable Bradby moment?
J.J: The Bradby in 1966 when we held Royal to a draw in Colombo and beat them in Kandy under Glen Vanlangenberg. I scored off a five-yard scrum with the whistle, by the corner flag.
J.F: The Bradby in 1967. When I intercepted a pass from P.M. Talwatte the Trinity fly half and scored a try under the post.
Q: How do you propose to maintain the spectator interest of the Bradby?
J.J: The spectator interest is still there but the Sugathadasa Stadium has made comradeship wilt away and we have no other ground to cater to such big crowds. However more get togethers before and after the Bradby will help.
J.F: Both sides must concentrate on playing good rugby. Today there is too much fear of losing the game and trying not to lose rather than to play rugby for its enjoyment.
Q: Were you encouraged by the presence of the fairer sex at rugger matches during your time?
J.J: Yes very much. It is sad that we don't get to see them enough these days. I think they have other things to do outside than come for rugger matches.
J.F: Certainly not during my school days as I concentrated only on the game. The younger generation is always encouraged by their interest and presence.
Q: Why do most families keep away from rugger matches now?
J.J: Security and studies. These two prevent parents and children coming for rugger matches.
J.F: The unruly crowd behaviour witnessed after a match and it discourages many from bringing their wives and children.
Q: Do you like to see the Colombo leg of the Bradby played at Longden Place once again?
J:J. Yes. If the security arrangements can be improved.
J.F: Yes. If the facilities at Longden Place are brought up to the required standards.
Q: Do you miss the great cheer leaders of Royal and Trinity, late Kadalay and Kotal?
J.J: Yes. They were institutions by themselves and we really miss them. We have yet to find suitable replacements for them.
J.F: Both of them were personally known to me and they were part and parcel of the game during our time. We miss them very much.
Q: Rugby is a great sport and are you happy that the schools are playing for a championship trophy named after a tin of chocolate milk?
J.J: We have to look at it in two ways. This is an amateur game which is fast changing into professionalism. We need sponsors. However the sponsors should not override the comradeship, competitveness or the credibility of the game. Traditions of great trophies and shields must be kept alive sponsorship coming a close second.
J.F: Commercialism is the name of the game today. Chocolate drink or otherwise it is more appropriate because it is a health drink rather than something like cigarettes.
Q: Why are the standards of discipline in schools rugby at such low level?
J.J: The spirit of rugby has not been inculcated into the new schools taking up rugger. The administrators, masters in charge and the boys must be taught that rugby is a contact game played hard but not violently. Most of my lifelong friends are people I played for or against.
J.F: It all goes down to the masters in charge and the positions taken up by the higher authorities of the school who tend to condone unruly behaviour. In a number of cases this year even principals have tried to justify some of the misbehaviour of their students which is obviously the reason why we continue to see repeated incidents of this nature and also sometimes politicians do intervene and tend to interfere with what should be justice.
Q: Royal and Trinity are not producing enough players to join the national team at present. Why?
J.J: I think because rugby is drifting towards violence and most parents don't encourage their children to play rugger.
J.F: I believe that it is due to poor standards of coaching at junior level of rugby and even cricket for that matter. The schools must take necessary steps to correct that aspect.
Q: Your special message to the two teams and who will win at Pallekele?
J.J: I wish both teams all the very best. Royal has a heavier pack and Trinity a mobile pack and a fast set of three quarters. It will depend on the tactics used, initiatives and opportunities taken by the two sides. Playing for the first time and winning at Pallekele will be historic.
J.F: Play to enjoy the game. Play to satisfy yourselves that you have played good rugby and the result will add spice to the worthy winners.
---
Dilanth Malagamuwa of Sri Lanka is matching his skills against the Japanese and foreign Racing Drivers in the Nippon Racing tracks.
Dilantha is the only non-Japanese Asian to compete in the Nippon Formula 3000 racing series now held in Japan. The series consists of ten events, Dilantha has already taken part in three events held in Susuka Mineh, and Pisco racing track. In this tracks Dilantha was sixteenth (16th), fourteenth (14th) and eleventh (11th).
The length of the tracks is 3.8 kilometres. The event was composed of 62 laps. His average speed per lap in this event was one minute and eighteen seconds (1.18mm).
Dilantha takes part in the series in a bluish racing car which cost him approx. Rs. 40 million, Minister of Sports and Youth Affairs Mr. S.B. Dissanayaka sent a mesage of felicitation to Dilantha encouraging and wishing him every success in this Formula series.
Dilantha who made his debut in the racing tracks as a Motor Cycle rider in 1980 after and before migrating to Japan, has won various titles riding and driving, winning the 2nd place in the Indian Grand Prix race, Corolla Cap, Thokachi Championship and many more. Now his goal is to be a Formula I racing driver and bring glory to Sri Lanka. Dilantha spends approximately Rs. 50,000,000/= in Sri Lankan currency (JY 100,000,000) for an event.
---
By Marlon Fernandopulle
World champions Sri Lanka will go out as favourites when they battle against India, Pakistan and Bangladesh in the Asia Cup cricket tournament scheduled to be played in Colombo from July 14-26.
Each of the participating teams will play each other once after which the top two teams will qualify to play in the final. All games will be day-games and will be played at the R. Premadasa Stadium and the S.S.C grounds.
Pakistan are likely to be without their main strike bowlers Wasim Akram Waqar Younis, Mushtaq Mohamed and a few others who are serving in the English counties. However the side is not short of talent as it was proved in the recent Independence Cup where they emerged runners-up.
Defending champions India will be under tremendous pressure to retain the title.
The team under Sachin Tendulkar has not performed too well in the recent past and will be looking forward to the quadrangular tournament to prove their prowess in the limited over game.
ICC Champions Bangladesh who have already staked a claim for Test status will have a good opportunity to prove their worth when they compete against three formidable teams. Bangladesh will have to spring some surprises if they are to strongly back their claim for full ICC membership. All odds will favour the Sri Lankan team who will be playing on their home grounds after recording successive wins in the Singer Akai Cup in Sharjah and the Independence Cup in India the Lankan outfit looks certain of adding another feather to its cap.
A reserve day has been set aside for each game if adverse weather conditions prevent play on the scheduled day. India is expected to stay on and play two tests and three one-day Internationals. However, the local Cricket Board is awaiting confirmation from their Indian counterparts on the tour.
July 14 (Mon) Sri Lanka vs Pakistan at R. Premadasa Stadium
July 16 (Wed) Pakistan vs Bangladesh at R.Premadasa Stadium
July 18 (Fri) Sri Lanka vs India at R. Premadasa Stadium.
July 20 (Sun) Pakistan vs India at S.S.C. grounds
July 22 (Tue) Sri Lanka vs Bangladesh at S.S.C grounds
July 24 (Thu) India vs Bangladesh at S.S.C grounds
July 26 (Sat) Final at R. Premadasa Stadium.
---
All athletes from 1922 who have won the first placings in international meets and the national championships in Sri Lanka are requested to get in touch with the Amateur Athletic Association (AAA) Headquarters at Reid Avenue immediately.
This is being done to update such performances since the Amateur Athletic Association will be celebrating its 75th anniversary this year. Plans are afoot to make this a memoratble occasion (AF)
---
Hyderabad, Saturday. The match between India and Pakistan in the Siyaram Cup limited-overs cricket tournament at the Lal Bahadur Stadium was abandoned due to the wet outfield and badlight here today.

Winning the toss Pakistan made 339 for seven wickets in 49.1 overs and in reply India were 68 for no loss when rain and bad light called a halt to the game.

The umpires were BC Cooray and K.T.Francis, both from Sri Lanka.

SCOREBOARD

Pakistan XI innings
Saeed Anwar c Laxman b Kuruvilla	5  
Shahid Afridi c Ganguly b Ganesh	29  
Ramiz Raja c Singh  b David	50  
Inzamam-ul-Haq c & b David	71 
Salim Malik c Singh b David	66  
Hasan Raza b Ganesh	73  
Moin Khan not out	12  
Mohammad Hussain c Singh b Kuruvilla	1  
Extras (b 6, lb 3, w 12, nb 1)	22
Total (7 wickets, 49.1 overs) 	339
DNB: Arshad Khan, Azhar Mahmood, Aaqib Javed.
Fall: 1-32 (Saeed Anwar), 2-48 (Shahid Afridi), 3-147 (Inzamam-ul-Haq), 4-183 (Ramiz Raja), 5-297 (Salim Malik), 6-326 (Hasan Raza), 7-339 (Mohammad Hussain).
Bowling: Kuruvilla 9.1-0-55-2 (1w); Ganesh 8-0 -78-2 (3nb, 6w); Kumble 5-0-48-0 (1nb); Singh 10-0-52-0(3w); David 10-0-47-3 (1w); Ganguly 2 -0 -17-0; Laxman 5-0-34-0 (1nb, 1w)
India XI innings
SC Ganguly not out 52
SV Manjrekar not out 15
Total (0 wickets, 8 overs) 68
DNB: VG Kambli, VVS Laxman, A Jadeja, RR Singh, NR Mongia, N David, A Kuruvilla, A Kumble, D Ganesh.
Bowling: Aaqib Javed 4-0-39 -0 (4nb); Azhar Mahmood 3-0-21-0 (1w); Shahid Afridi 1-0-8 -0;
---
St. Petersburg, Russia - Italian Massimo Roggiero survived five yellow flags Sunday, running an incident-free race that delivered a third-place finish for the Gold Leaf F1 Racing Team in the second race of the 1997 Formula One Powerboat World Championship.
Teammate Jonathan Jones of Wales wasn't as lucky, forced out of the Grand Prix of Europe by defending world champion Guido Cappellini of Italy on the 12th lap.
| HOME PAGE | EDITORIAL/OPINION | NEWS / COMMENT | BUSINESS | PLUS
Please send your comments and suggestions on this web site to
info@suntimes.is.lk or to
webmaster@infolabs.is.lk