15, June 1997
Contents
---
Sharmila Kamat gets onto the fusion wagon with the Colonial Cousins - Hariharan and Leslie Lewis
THEY'VE got the world and her husband (and the kids too!) grooving to the beat of 'Sa ni dha pa'. They've waltzed to the top of the music charts, clad in their trademark black 'bandgallas', chains and ponytails, and staggered off the dance floor, laden with an armful of trophies.
Between the two, there's not an inch of musical territory left uncharted. 'Ghazals', 'bhajans', fusion, remixes - you name the style, they've cut a disc around it.
In the 50th year of India's Independence, they crisscross the country bearing a label that harks back to the country's colonial past.
THEY are Hariharan and Leslie (Lezz) Lewis, better known as the Colonial Cousins. Relatives in rhythm who have taken Indian sound waves and tuned them to their own wavelength.
In a freewheeling chat, the Cousins launched into a different kind of 'jugalbandi' - of views expressed, feelings articulated and beliefs held. Trying to fathom the reason why that certain something in the way they sing has got the country swinging to their tunes...
A jingle and remix specialist joins voice with a 'ghazal' and playback singer. A strange kind of 'milan' this: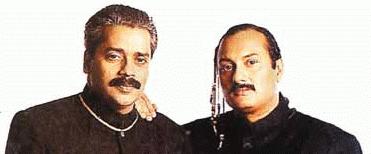 Lezz: There's more to our music than just the oft-trotted 'ghazal'-jingleremix tale. My dad was a dance director in Hindi films. Every time he choreographed a dance, film music resounded through our house. See this? (Pointing to a scar below his eye.) That's me doing the Shammi Kapoor routine in the 'Yahoo' song in 'Junglee'. I jumped off the bed and collided headon with the cupboard.
Dad was also a 'tabla' player - so, like it or not, I listened to a lot of classical music. While boarding at St. Mary's, Mount Abu, I was influenced by all kinds of musical styles, thanks to my fellow boarders' tastes in music. So, it's not just jingles or remixes - it's a mixture of so many diverse elements.
Hari: My parents are classical musicians and I've been trained in classical music. I've done 'ghazals', film songs, pop songs, jingles and, now, Colonial Cousins.
How did the two come together?
Hari: We were taking a break while doing a jingle for some commercial. Lezz started strumming a guitar, I piped in with some vocals. Pausing to listen to ourselves, we realised we shared lot of musical vibes. We could make magic together.
And how did the cousins become related - colonially?
Lezz: We were looking out for an ethnic name that would personify our music - English with just that dash of Indian flavour. Unlike common perception, we don't sing in Hindi. Our songs are in English because our album was originally designed for a release in the West. But no title seemed to be ring a bell. Until...
Hari: While in London, I met an Indian friend who asked me, "Do you know what my British friends and I call each other? Colonial Cousins!" That sounded just right for us. We liked the sound.
So what is the sound of the Cousins?
Lezz: What do you feel when you hear a Colonial track? Good, peaceful, relaxed? That's us, that's our music. That's the sound of the Cousins.
Hari: We don't focus exlusively on the music or the lyrics - it's a bit of both. The music is a fusion of classical rhythms and pop. But, more importantly, it is good.
Lezz: We're the next sound of India. We're not bragging; we're just lucky to have made it. Each generation has its own idols. For me, first it was Deep Purple. Later on, Guns-n-Roses grabbed the collective imagination. Today, it is the Colonial Cousins who have become the idols for the kids.
Hari: We have fans from four to 60. It's amazing the way the kids have responded to 'Sa ni dha pa'. I have three-year-olds running up to me, to meet 'Sa ni dha pa' uncle! The secret why the song clicked? If only we knew! Then we'd churn out one success after another.
How is the work divided between the Cousins?
Lezz: We don't know who's doing what at any time. Yes, I generally write the lyrics because they're in English. But it's mostly a sharing of ideas. He suggests a word, I weave a line around it.
Hari: It's a joint effort. And I think it should stay that way. When you say I'm doing this part and you're doing that, you only look at the parts. We'd like to look at the whole.
Have the Cousins spawned a whole family of fusion musicians?
Lezz: The beauty of the album is that we have started a wave of fusion music. We've introduced a sound that has caught the country's imagination, even of the world's!
Hari: During the 'ghazal' craze, everybody was singing 'ghazals' - clad in shawls, even in summer! How many of those are left now? Today, everyone is into fusion. A few years down the line, only the good guys will remain.
As a 'ghazal' singer feels naked without a shawl, does a pop singer feel undressed without long hair?
Hari: To a certain extent, the external persona is important for a singer. Thanks to the influence of music channels and music videos, a singer can no more afford to look repulsive. The long hair, however, dates back to the pre-Colonial days. I had it when I sang 'ghazals', only then, I used to tie it into a ponytail.
Lezz: If you see our earlier pictures, you'll realise that we didn't have such long hair then. We just felt the need to grow it. Tomorrow, if we feel the need, we'll cut it. For a good artiste, what's important is the voice. The looks can, at most, add to make the right balance.
But a lot of today's music videos have make-up scoring over quality of voice. And lip-syncing only helps deceive the listeners.
Hari: It's a fact that, in-between, some record companies assumed that a good figure, looks and scanty clothes sold. But then, there's market for good music as well. Else for two fat guys to start Colonial Cousins and make it a success would just not have been possible.
Lezz: Those who lip-sync at live shows aren't singers; they are music artistes. Yes, sometimes lip-syncing is necessary - for a line, at the most, a verse. But lip-syncing for an entire show is just NOT ON. With advanced electronics entering the music industry, a lot of non-musicians have become musicians, and a lot of non singers, singers. Technology now allows you to sing just one line or one word at a time, which is then pieced together in the studio. So, while technology can be used to enhance the quality of music, it can also be used for a detrimental purpose.
How does it feel riding the wave of success - winning a clutch of awards from music channels and being the first Asian act to feature on MTV Unplugged?
Hari: Good, great, but a little pressured. You know you're good. Now the world agrees with you.
Lezz: Maybe that's why we grew the ponytails. (Grinning) "Sunte nahin the!" (They didn't listen). So now, at least they look at me and listen to me because I'm good. Seriously though, it's a great feeling.
Between the two, they have tried different styles in music. Any personal favourites?
Hari: No favourites. Just good music, period.
Lezz: When we sing abroad, people come up to say, "We like your music - it is contemporary, different, fresh." In India, people are interested in dissecting the music - is it English or 'Carnatic'? Pop or 'ghazal'? What's important is not the compartmentalisation of music. What's important is, "Is it good music?" and "Am I enjoying it?" Then, it's my favourite.
Lezz has done a remix album with Asha Bhosle. What are the reactions to the protests made by some artistes (who feel that old tunes should be left alone) against remixes?
Lezz: I agree that the original track has its own aura, its own fanfollowing. But when we do the remix, it's for the younger generation, to introduce the youth to a bygone melody. Else, old tunes will be forgotten. Ideally, the same artiste should do the remix, as was the case with Asha Bhosle. But if it is not possible, let another artiste sing it and allow the song-writer, composer and the rest to be remembered - let the song get a new lease of life.
A remix merely carries the melody forward. Tomorrow, when we are no longer here, we wouldn't like a Colonial track to die with us.
What does music mean to you?
Hari: Life. Music is always in my head, whatever I do. I probably think more about music than anyone or anything else in the world.
Lezz: It is basically spiritual. Good music should give you peace of mind.
When do we hear the next stanza in the song of fusion?
Hari: We now have the music video for the song 'Krishna'. Then, it's off to London to mix the CD of the live show we did for MTV Unplugged. Our next album will, hopefully, be out at the end of the year.
We're the next sound of India. We're not bragging, we're just lucky to have made it.
---
Continue to Mirror Magazine page 2
Please send your comments and suggestions on this web site to
info@suntimes.is.lk or to
webmaster@infolabs.is.lk