15th June 1997
Sri Jayawardenepura offers a medical faculty with a new vision
By a Special Correspondent
Four years ago, on the first of March 1993, 139 medical students trudged wearily to the Vice-Chancellor's Lodge at the University of Sri Jayawardenepura and occupied that building. But this was not yet another undergraduate protest. Instead, history was being made: Sri Lanka's sixth Medical Faculty was born.
Thus began a journey of aspirations and frustrations, innovation and enterprise that has now changed the lives of over 600 undergraduates and many others forever, as this suburban seat of learning strives for greater heights - "A new Medical Faculty with a new vision", as its administrators would like to say.
Today, the faculty, significantly styled the "Faculty of Medical Sciences" takes a giant stride forward with the commissioning of a new auditorium and an inaugural faculty lecture, to be followed by the faculty's first academic sessions tomorrow.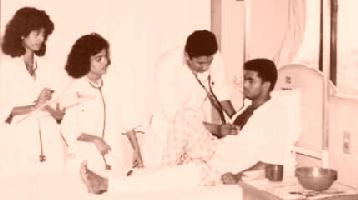 "The problems were many-finding hospitals to train students, recruiting qualified staff and finding the equipment necessary for teaching" says the Faculty's First Dean, Professor, M.T.M. Jiffry, who is also Professor of Physiology.
However, slowly but surely, the hurdles were overcome, mostly due to the efforts of a dedicated staff, a government that was co-operative and students who were patient and persevering.
Initially, the Colombo South Hospital at Kalubowila and the Sri Jayawardenepura Hospital were used to train students. The then Health Minister, A.H.M. Fowzie intervened to start a building project at the Colombo South Hospital to be used as the University Professorial Unit to train students.
"We also had the enthusiastic support of President Kumaratunga and Minister Richard Pathirana who provided guidance and encouragement to the project always assuring state assistance to the faculty when necessary," says Prof. Jiffry gratefully.
But, that was not all. Expensive equipment was still needed to make the Faculty a fully functional teaching unit. Vice-Chancellor Professor, P. Wilson, Prof. Jiffry and senior academics worked round the clock to convince the Japanese aid agency, the Japan International Co-operation Agency (JICA), that this was a worthy cause.
When they visited the fledgling faculty, representatives from JICA were impressed - more so since the faculty had adopted the concept of a "Faculty of Medical Sciences" which trained not only doctors but nurses, pharmacists and other para-medical staff as well - and obliged with a grant of over Rs. 600 million.
"With the JICA funded equipment due by 1998, the Faculty is set to establish itself as a premier teaching and research centre," says Prof. Jiffry. Students we spoke to agree, "Life has not been easy for us," says a student of the first batch now in her fourth year of studies. "But we have learnt to cope with hardships because, despite all the problems, we know the dedication of our staff will see us through..."
And, if only to escape the tedious life of a medical student, students have formed an 'Art Circle' in the faculty, promoting extracurricular interests. Their last public performance, an evening of song, dance and theatre titled "Talents" was a phenomenal success. The academic staff recognise that students deserve their share of credit. "Not only did they put up with meagre resources at first," says a senior lecturer, "they set a fine example for others by not indulging in ragging."
Senior, staff, though being doctors, were trained in management techniques and the faculty does not hesitate to ask for and obtain help from its fellow faculties at Sri Jayawardenepura.
The academic sessions to be held tomorrow also emphasises the faculty's close co-operation with the other established Medical Faculties. "We are indebted to them for their help," says Prof. Jiffry. Even now, they oblige us with help in lecturing and in conducting examinations. Then, perhaps in a unique set up, the faculty's family medicine department will in July launch a "Family Practice Centre", a model healthcare service for the local population which will also help students understand better the concepts of primary healthcare.
With all this, the faculty of medical sciences at Sri Jayawardenepura has a message for aspiring students. "Many do not even know a medical faculty exists here until they see the university application forms. We want them to know that we are here and doing a job of work and we welcome them to join us in this challenge," says Prof. Jiffry.
---
Continue to Plus page 5 - 'I regret I sent my child to this school' - UNRESERVERD SPACE * How the Police captured Sardiel in 1864
Return to the Plus contents page
| HOME PAGE | FRONT PAGE | EDITORIAL/OPINION | NEWS / COMMENT | BUSINESS
Please send your comments and suggestions on this web site to
info@suntimes.is.lk or to
webmaster@infolabs.is.lk