15th June 1997
By Hiranthi Fernando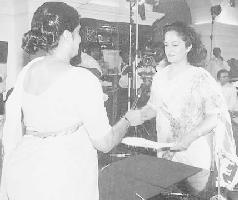 NDUNLF leader Srimani Athulathmudali, arbitrarily dismissed from the cabinet in a sweeping reshuffle last Monday, has charged that her work was sabotaged by factors ranging from the delay or denial of funds to the derailment and delays of trains by political opponents.
Her sudden dismissal from the Cabinet has given rise to both speculation and concern among the public.
Speaking to The Sunday Times at her home in Flower Terrace, Ms. Athulathmudali was calm and relaxed. "My first reaction was surprise," she said.
"At the last Cabinet meeting, I spoke to the President on matters concerning my ministries. I was given no indication of any changes. However, on looking back, the same thing had happened before, when the Ministry of Highways was taken away from me," she recalled. "On the previous occasion, I received a letter informing of the change at 4 a.m., a few hours before the swearing in. In this instance too, I was informed by letter only on Monday morning."
"However, of late I had a feeling something was in the air. Funds were not given to my ministries. Also, three to four months ago, I felt there was some sabotage in the Railways. Suddenly, there were more derailments and more trains being cancelled. I gave firm instructions to the Railways General Manager that it should be stopped immediately as it ultimately affects only the people.
"Our party entered politics not just to say we have got various posts, but to serve the people", Srimani stressed. "At the same time I would like to say that according to the agreement reached between the SLFP and the NDUNLF, we were assured of at least one Cabinet portfolio. This agreement has now been violated. The President has the right to appoint and remove a minister. One would imagine however that when an agreement is signed, it would be honoured".
Ms. Athulathmudali feels that her removal from the Cabinet was due to the stand taken by her party against the continuation of the Executive Presidency and the political package. "Now I also have strong suspicions about other reasons for wanting me out of the Cabinet, but I would not like to mention them right now," she said.
Speaking of the recent Local government Elections, she said that some people attributed their non-participation at these elections with the PA, as another reason for her dismissal. "Nowhere in our agreement with the PA is it stated that we will contest any other election with them," she asserted. "They say I should have got on the election platform during the elections. However, when we had discussions with the PA in terms of the number of candidates , we were not given any nominations in seven districts and very few in the other districts. Therefore, it was obvious they did not want our support. They cannot therefore demand our presence on the election platform".
"Our party stated quite openly that we would not be contesting the election with the PA and that we had given our members the choice to contest independently if they so wished," Ms. Athulathmudali continued. "The realities of politics are such that when there is an election many party supporters hope to contest."
She dismissed the allegations that she had supported the bat symbol. She said many of their party supporters contested not only under the bat but under other symbols as well. Some of them won and are now members of various Councils.
"There are people who are waving affidavits to say I have supported various groups. However, some people within those groups have informed us that they were promised Rs. 5,000 if they would sign some affidavits. I believe affidavits seem to be a dime a dozen", Ms. Athulathmudali said with some amusement.
"After the initial feeling of surprise, I think I felt somewhat relieved as well," reflected Ms. Athulathmudali.
Although she found the work at the ministries interesting and enjoyed the challenge, there were many constraints due to non-availability of funds in certain sectors. They could not get started on many of their programmes of work since funds were not released by the Treasury. In the Ministry of Women's Affairs , although a series of programmes and seminars were planned for women in different districts, they were unable to get them going since the funds were not released until about two weeks ago. " For the Sri Lanka Central Transport Board, Ms. Athulathmudali said that of the budget of Rs. 300 million requested for 1995 only Rs. 100 million had been released up to date. The vote for 1996 was not released at all. The full amount of the Railway budget for last year was also not released, she said.
Ms. Athulathmudali felt disappointed however that the plans she had hoped to implement in the three Ministries have got disrupted. In the Railways especially she hoped to achieve a great improvement. Two locomotives had been obtained through the Indian line of credit last year, and four more were expected in July/August. They have started rehabilitating other locomotives, some of which are already on the tracks. By the end of the year, eighteen locomotives are expected to be on the tracks. Plans to improve freight services were being discussed.
Speaking of the experiences gained during her period as a minister, she said she was happy to have had the opportunity to study the various subjects connected with her ministries. "It stimulated my mind and opened it up with regard to the subjects I was handling. As Lalith used to say, education is a continuous process and does not end with formal education". As for being in the public eye, "I was always recognized as Mr. De Saram's daughter, then as Lalith's wife. Finally I got to be recognized as Srimani the minister but that was getting overshadowed by being Sarala's mother", she laughed.The reactions of her party members and associates, to her removal from the cabinet are mixed, she said. Whilst some are upset by it, others feel it is better that she is no longer involved as a cabinet minister. They feel there is criticism against the government that nothing constructive is happening. "As long as she remained a cabinet minister they felt that criticism would be levelled at their party.
As for her family members, Ms. Athulathmudali said they had never been in favour of her entering politics, although they supported her once the decision was taken. "When I received the letter on Monday, my daughter Serela said it was the best news she heard for a long time."
---
NDUN(L)F supporters are unhappy about what they see as the step-motherly treatment given to their party especially in regard to Samurdhi appointments, Surathura loan scheme and houses and plots of land distributed under the poverty alleviation programme, party leader, Srimani Athulathmudali said after she was expelled from the Cabinet.
Ms. Athulathmudali told The Sunday Times the PA came to office with the support of the NDUN(L)F and they entered into an agreement prior to the last General Election according to which her party was to be allocated a ministerial post.
Dismissing rumours that she was contemplating legal action to challenge the government for violating the agreement, the NDUN(L)F leader pointed out that there was no provision for such a thing in the agreement.
Furthermore, she said that under our law the President couldn't be taken to court and this was one of the reasons why her party was agitating for the abolition of the Executive Presidency.
"Though the President has the power and right to appoint or remove a Minister, we expected that as an agreement had been signed, the SLFP as the main constituent party of the alliance would honour it.
However, as our agreement is with the leader of the SLFP, Premier Sirimavo Bandaranaike, I will meet her when she returns from China to express our concern," Ms. Athulathmudali said.
---
By Roshan Peiris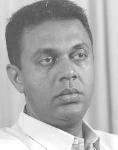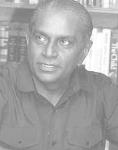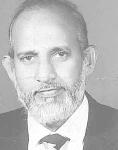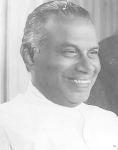 As the reverberations continue from last Monday's major political show of ministers and musical chairs The Sunday Times spoke to senior ministers who were apparently unhappy about their new positions but were ready to go on.
Newspaper reports over the past few days said Minister A.H.M Fowzie, was clearly disturbed over his shift from the strike ridden health sector and had at first been reluctant to accept the new appointment and created a heated scene at the oath taking ceremony.
But when The Sunday Times met Mr. Fowzie on Thursday he was like the typical optimist who sees an opportunity even in a dfficulty. "I would have solved the whole problem of doctors and nurses by September," said Mr. Fowzie who during the month of turmoil with doctors and nurses had joked that his favourite song was the popular 'nurse nona'.
"The whole problem of signing registers and the abolition of private practice could have been sorted out," he said with a little regret but in the same breath stressing he was proud to take over responsibility for the vital Ministry of Transport.
"I am proud that at the swearing in ceremony President Kumaratunga made it a point to say I was specially chosen to take charge of transport and highways since in her opinion I was the best person to restore the transport services. She also observed I had made remarkable improvements in the highways sector," Mr Fowzie said.
"The President also revealed that I was to have been offered the portfolio of transport and highways in the first Cabinet of 1994 if not for the request of Srimani Athulath–mudali for the same portfolio. The President also said she had confidence that I could restore bus and rail services to an efficient level. So I am happy with my transfer. Though I was happy with the health portfolio too despite the many tussles with doctors and nurses Mr. Fowzie told The Sunday Times.
Minister Mangala Samaraweera emerged from last Monday's reshuffle as one of the most powerful ministers with the vital media portfolio being added to his Ministry of Posts and Telecommunications. He was busy on Tuesday meeting representatives from various media institutions. When we finally tracked him down at the ministry on Thursday night Mr. Samaraweera said, "I don't know what to say just now. The subject is so vast I need time to look at it carefully".
Meanwhile Dha–rmasiri Senanayake, though stripped of his media portfolio where he earned much respect from independent journalists gave his usual loud laugh when I asked whether his love affair with the media would now end. No my old love affairs will not change!
My portfolio might have changed but not my friendship and dialogue with the media," the affable Mr. Senanayake quipped. "My attitude towards journalists will always be the same. I am thankful to the press for their cordiality and co-operation with me," he added.
We then met S. Thondaman who for 10 years running held the portfolio of Rural Industrial Development. Now it has been taken away from him but a new portfolio of estate infrastructure was given in its place. We asked him, "Do you mind the change?" "It is not a matter of minding. I did like my portfolio where I worked for the rural people. But now I have been given an opportunity of doing something in a subject close to my heart, looking after the infrastructure of estates. After all for over half a century the welfare of the Indian workers on estates has been my devoted task. So I thank the President and accept my new portfolio with much pleasure," he said.
Another minister known to be unhappy if not angry about his shift is Mahinda Rajapakse who has been removed from the sensitive labour portfolio and moved to fishing which has been somewhat of a family concern. As cartoonist portrayed the ridiculous scene of Mr. Rajapakse fishing while seated on a whithering workers charter, the radical minister who is in Geneva for an ILO meeting did not respond to our fax message asking for his reaction.
---
By Christopher Kamalendran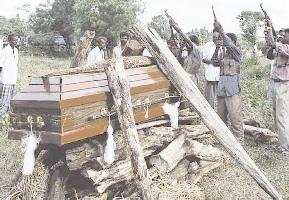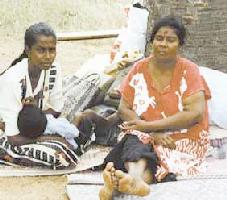 The night sky beyond Vavuniya was suddenly lit up in the early hours of Tuesday followed by the terrifying sound of cannon fire. For the civilians beyond Vavuniya the sound was not unusual, but in this case the exchange of artillery and gun fire was quite heavy.
The exchange of artillery fire seemed to be increasing and civilians sensed something dangerous was happening. In recent years they have not been troubled by the war after security forces regained control around the Vavuniya town a few years ago. It did not take much time for their homes to be hit by shell attacks and people sensing trouble soon started fleeing their homes around the early hours of Tuesday and were coming towards the Vavuniya city limits for safety.
G.N. Gopalan, 68 a farmer living in Samayapuram, less than two kilometres from the Thandikulam Brigade Headquarters which was destroyed in the attack told us that around 3.00 a.m. artillery shells started falling on his roof.
"We were too scared to move out of the houses and decided to remain indoors despite the shells falling on our roofs. We were not sure what was going on outside. For more than five hours all our family members were hiding under beds and tables fearing that artillery would fall on our houses,"Mr. Gopalan said.
"We knew the fighting was at a close range and did not want to step out. But with the break of the dawn we realised that it would be a risk for us to remain in our homes. The shelling had ceased for a while and we decided to step out," he said
Only a few feet away from his home a shell had fallen on a stone slab completely destroying it. Mr. Gopalan first sent his wife, daughter and son in-law along with both their children to safety towards the town on Wednesday morning. "I have been living in this area for more than 20 years. This is the first time that I have heard sounds of such large explosions, gun fire and artillery exchange," he said .
Prakash Mary , 26 from Pattakadu,who was within two kilometres of Thandikulam and escaped with shrapnel injuries following the artillery attacks said she was injured as she and her family was escaping towards Vavuniya town in the early hours of Tuesday.
The woman now living in a refugee camp in Vavuniya town said that she could not get proper treatment for her injuries as she had to feed her two year old child.
"I do not think I can go back and lead a peaceful life there until we are assured of full security ,"she said. These were the experiences of just two families. It was not too different for some 4000 others who fled their homes following the LTTE's pre-dawn attack.
The exodus of refugees has triggered off another crisis in the Vavuniya town with government authorities finding it difficult to cope with the new influx. Already with 14,000 refugees living in various camps in Vavuniya town authorities say they cannot find more buildings to provide shelter for the newly displaced.
'The Government has passed only Rs. 25 a day for the meals of an adult. This money is not sufficient to feed them. In addition now more refugees have come into the area and we are going to have more problems', a senior official in the area said.
Meanwhile the PLOTE group led by parliamentarian Dharmalingam Siddarthan was making arrangements to provide meals to the displaced but also had to pay attention to security matters as they were helping the army in the area.
Seven PLOTE cadres who were on the front line duty were reportedly killed, but only one body has been recovered.
The main problem for the civilians is whether they would be able to get back in the near future to their homes.
Most of those who fled their homes were farmers doing well, but now they live in fear that they would have to live as refugees for several more months.
---
Continue to the News/Comment page 4
Return to the News/Comment contents page
| HOME PAGE | FRONT PAGE | EDITORIAL/OPINION | PLUS | TIMESPORTS
Please send your comments and suggestions on this web site to
info@suntimes.is.lk or to
webmaster@infolabs.is.lk