25th May 1997
| HOME PAGE
| FRONT PAGE
| EDITORIAL/OPINION
| PLUS
| TIMESPORTS
Interim solution through 13th amendment proposed
By Roshan Peiris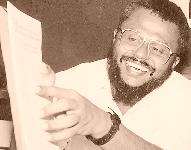 Devananda: I don't consider myself isolated.
The bachelor leader of the Eelam Peoples Democratic Party (EPDP) seated in his 15 million rupee residence at Layards road chuckled as he said his relationship with President Kumaratunga is "one of love and hate". Douglas Devananda interspersed this remark with his invariable throaty chuckle and we are meeting her this week. Time will tell he said with a schoolboy grin whether we are willing to seal this friendship with love or hate.
He chuckled again as he calmly said that Minister M.H.M. Ashraff and he who are battling it out in the East were brothers.
We did enjoy Mr. Devananda's hospitality but entering both his office and later his home at Layards Road gave a feeling of playing cops and robbers with gun-totting men at every turn with no nonsense written on their glum features. We wondered whether the security was tighter than for the President. It gave us an eerie feeling!
Excerpts from the interview
Q:-Are you quite confident that your proposal for the full implementation of the 13th Amendment will be acceptable to the P.A. and the U.N.P?
A:-A bird in hand is worth two in the bush. The devolution package and all that will take time. We already have constitutional provisions for regional autonomy through the 13th amendment and what we need is full implementation.
Today the Tamil people need a urgent solution to their day to day problems.
They have no forum today to solve their day to day problems.
Q:-What about Parliament?
A:-Parliament is there, but it is a national body and people need a forum in their own areas. So we say let the package be and let's start implementing the 13th amendment.
The EPDP is not doing this for any political mileage. We want the Tamil speaking people to have the peace and freedom they had before 1983. The 13th Amendment could at least provide some temporary relief.
Q:-How is your civil administration in Jaffna getting on? Is the LTTE sabotaging your work.
A:-The civil administration is run by the Armed forces we have nothing to do with it. We want to lend a hand to the people in sorting out their grievances. We have offices in Jaffna town, Point Pedro and Chavakachcheri. I spend around fifteen days a month working amidst the people, so that they feel there is someone to attend to their everyday problems.
Around two hundred people visit our offices daily. Indeed the LTTE will try to disrupt. Especially in a situation where the people don't get much support from the security forces.
Q:-How was your meeting with British, American and Australian diplomats, on the issue of implementing the 13th Amendment as an interim political solution?
A:-Not bad. They listened to our views and felt a start must be made somewhere to help the Tamil speaking people.
Q:-Are you clashing with Minister Ashraff and the SLMC in trying to woo the support of the Muslims in the East? They also complain that you are trying to conscript Muslim youth.
A:-(with a throaty chuckle) Mr. Ashraff and I are brothers.
Q:-Isn't it rather a queer way of showing brotherly affection?
A:-Our problems are like those between brothers. Remember that we both represent the Tamil speaking community.
Look at our symbol. It has a crescent symbol of Islam. We work or must work together for the welfare of the Tamil speaking people. About the other question I am not conscripting any youth. They are coming to our party on their own ideological beliefs. Even Mr. Ashraff admits it. When there is trouble who cares whether a person is sixteen or ninety. I was sixteen years old when I joined to fight for the rights of the Tamil speaking people. So this talk about conscription is rubbish.
Q:-You met former UNP Minister Cooray recently. What did he tell you?
A:-As friends we discussed many things but I can't tell you.
He might do what Sonia Gandhi did. She had said for years she wont get into active politics but now she has. So it is possible though Mr. Cooray says he wont enter active politics again he might do so. He did say he is willing to help any political party on national issues.
Q:-How is your relationship with the President? After all you support her in Parliament with your nine seats.
A:-Ours is a love hate relationship. We are meeting her soon probably this week.
Q:-Will your support decline if she does not agree to the implementation of the 13th amendment?
A:-The problem is not so much the implementation of the 13th amendment, but the setting up of an interim council to administer the north east.
Q:-Are you hopeful about the bipartisan accord between the PA and UNP?
A:-Normally the opposition is hostile and opposes any Govt.. overtures towards peace. At last Mr. Wickremesinghe has shown a positive approach and given up confrontational politics.
Q:-What is your view of Mr. Wickremasinghe as a leader?
A:-He is a man of good character. That's why he holds the position of leader with the respect of his party and the country.
Q:- There is an impression that you are batting all round and that you are being isolated by other Tamil political parties. Your comment?
A:-I don't consider myself isolated. Such talk arose when 22 MPs signed the Manila Agreement where members of the Tamil Parties wanted the LTTE to be brought into negotiations. I did not agree to sign and so this led to various conjectures.
Some of the Tamil political parties do not like me because I do not speak with two tongues. The EPDP says no to talks with the LTTE because we feel they do not represent the views of Tamil people. They have justifiable aspirations while Mr. Prabhakaran only seeks to be a dictator. From last week as you may now know the LTTE has started talking with the Govt.. though not openly.
The analogy I see is that when you talk to a dumb person you have to talk in a way that he or she understands so the Govt. will have to talk to the LTTE the only way it understands.
Q:- At present there is no clear leadership for the Tamil speaking people. Are you seeking that leadership?
A:-It's left to the people. If they want Douglas Devananda I am there.
Q:-What is your view on the merger of the north and east. It is a prickly issue.
A:-What harm is there if the north and east is merged. We are not advocating the splitting of Sri Lanka. Let the north and east be a unit within a united Sri Lanka. It still will be a part of the country
---
By Roshan Peiris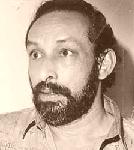 Vasu: threatened
Outspoken LSSP parliamentarian Vasudeva Nanayakkara, who has called on President Kumaratunga to resign if she cannot govern on democratic principles, complains he has received threatening calls.
Mr. Nanayakkara said his party was part of the ruling People's Alliance and he was entitled to express his opinion on any national issue, though it may be different from what the President thinks.
President Kumaratunga addressing a meeting at the youth centre at Mirihana last week had cited the success story of South Korea where there is virtual one party rule and a state controlled media while labour strikers are dealt with firmly.
Mr. Nanayakkara in an angry response said Ms. Kumaratunga and the PA had been given a mandate by the people to govern according to democratic principles and not some Korean system. If she wanted a dictatorship she must resign and go to the people for a fresh mandate, he said.
"Since my reply to the President's Mirihana speech was published in the 'Yukthiya' I have got many threatening calls obviously from her supporters who consider that it is their job to do so I presume," Mr. Nanayakkara told The Sunday Times.
"We are an alliance and it is a serious matter when some sections threaten and abuse me. My party and I are part of the alliance. I am taking a serious view of this matter," he said.
"The President talks glibly of the development in South Korea which has one party. One newspaper and one radio. Also she says those who seek the strike weapon are dealt with firmly and sometimes imprisoned.
This is certainly not the mandate we of the alliance and the country gave her. We wanted her to rule the country on accepted democratic norms. Otherwise she must seek a fresh mandate from the country to govern it like a dictator, if that is what she wants," he said.
"We are all for the development of our country but we must do it our way under a democratic system."
There can be accelerated development under democracy we need not copy the Korean method. It is part of the international Covenant to govern under a democratic system. It is an international norm. The President never mentioned ruling under one party, with one newspaper and one radio and taking strong armed action against strikers, during her election campaign," Mr. Nanayakkara said.
---
By S.S. Selvanayagam
A citizens action group in Colombo has invited representatives of all Tamil political parties today to discuss a possibility of working out a common strategy in finding a peaceful solution to the ethnic conflict.
Dr. K. Velauthapillai, the spokesman for this action group of Tamils in Colombo (AGOTIC), said they hoped to have a wide-ranging dialogue at this meeting to be held at a Community Hall in Bambalapitiya.
He said five representatives each from the All Ceylon Tamil Congress, the EPRLF, the EROS, the EPDP, the TULF, the TELO, the PLOTE and the CWC as well as the Up-Country People's Front were expected to participate.
---
By Kshalini Nonis
The grievances of the Government Surveyors Association (GSA) are expected to be solved at the end of this month following the recent talks between the GSA and authorities ending on a positive note.
With the GSA strike entering its third week representatives of the Association had two rounds of talks with the authorities at the request of President Chandrika Bandaranaike Kumaratunga.
The talks were chaired by Dr. Tara de Mel, advisor to the President. The main issue at the discussions was the ad-hoc training in surveying.
According to the Assistant Secretary of the Association, K. Shammugalingam this issue had been discussed at length and they had pointed out that those selected for training did not have the required basic educational qualifications. This is a violation of the Sri Lankan Surveyors Service Minutes and "this action is degrading to the survey profession," he added.
Mr. Shammugalingam also said other long-standing grievances have also to be settled despite two Cabinet papers being submitted in this regard.
---
Thousands of letters have been sent to the Vatican by Christian lay people and movements all over the world appealing for a reconsideration of the excommunication order imposed on the radical Sri Lankan priest, Rev. Fr. Tissa Balasuriya earlier this year.
A spokesperson for the Centre for Society and Religion, where Fr. Balasuriya continued to do his normal work, told The Sunday Times yesterday that copies of the appeals were also sent to the priest in Colombo and he was deeply encouraged by them at this time of crisis. Meanwhile, the CSR has published a book, giving a full background to the dispute over Fr. Balasuriya's book, 'Mary and Human Liberation,' which led to his excommunication on grounds of going against basic teachings of the Church. The new book contains all the letters exchange between Fr. Balasuriya and Church authorities along with other documents.
Fr. Balasuriya is still maintaining that he was not given a fair hearing by a proper theological body before the Vatican Congregation for the Doctrine of Faith (CDF) decide d on its excommunication. The CSR, the OMI community to which Fr. Balasuriya belongs and several other Catholic groups in Sri Lanka and all over the world have stood by Fr. Balasuriya and called on Pope John Paul II to reconsider the case.
---
Labour and Vocational Training minister Mahinda Rajapakse said that his ministry is not in a position to handle problems regarding the plight of Sri Lankan workers overseas, as they come under the Foreign Ministry, Foreign Employment Bureau and relevant Embassies, when contacted about the harassment undergone by 50 Lankan workers at a garment factory in Dubai.
---
Among unauthorized arms dealers in Asia, the LTTE is believed to head the list.
It is believed to be buying weapons from countries in the Meditteranean area and the Far East, and rates as a primary unauthorized purchasing organisation, according to a report by UN experts. The report also said that besides buying arms for their cadres, the LTTE is also selling arms to other guerrilla organisations.
The UN experts believe the LTTE is the only organization in Asia that buys weapons like Anti Aircraft and Sam missiles, anti-tank bombs and rocket propelled grenades.
The arms arrive in India via the Bay of Bengal only to be distributed among the various guerrilla organizations such as Tripura, Mesose, Naga and Alpha, Indian guerrilla units. The LTTE has its agents in the Middle East and Southeast Asia specially Burma and Cambodia and Thailand among them.
---
By Kumaradasa Wagista
A Rs. 4 m. project to teach and train children and youth in road safety was inaugurated by Deputy Mayor Omar Kamil at Viharamahadevi Park this week.
"There is an alarming increase in road accidents which always cause injury and sometimes death," said Kamil. "This project is mainly for children and the young who should be taught the correct use of roadways," he added.
The model traffic park has signs and markings used on highways replete with traffic lights and a ghost island. It is also prescribed for learner drivers.
---
One of Sri Lankas most prominent NGOs has been thrown into turmoil with charges and counter charges being hurled at a stormy general meeting.
The Wildlife and Nature Protection Society of Sri Lanka — widely known here and abroad saw chaotic scenes when angry members demanded the resignation of its President Ranjan Fernando.
Among the charges levelled against him were misuse of society funds for unauthorised foreign trips, taking arbitrary decisions, and failing to table correspondence and accounts before the decision making general committee.
A committee member told The Sunday Times that amidst wild scenes at the general meeting many had called for the resignation of Dr. Fernando, forcing him to leave the meeting with an acting chairman presiding, the meeting had continued but due to the confusion a new President could not be elected. This would be done within the next three weeks.
Dr. Fernando told The Sunday Times the allegations against him were baseless and he might have to take the matter to courts.
---
Continue to the News/Comment page 4
Return to the News/Comment contents page
Go to the News/Comment Archive
Please send your comments and suggestions on this web site to
info@suntimes.is.lk or to
webmaster@infolabs.is.lk