Year on the Web
9th March1997
| HOME PAGE | EDITORIAL/OPINION | NEWS / COMMENT | BUSINESS | PLUS
Contents
---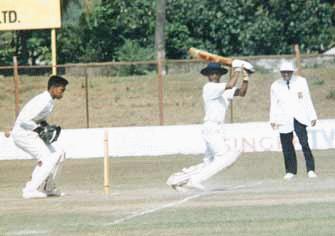 Nalaka Silva of Thurstan cover drives a delivery from Vidura Nuwan of Isipatana on his way to a well compiled 95 during their 34th Inter-School Big Match at the Sara Stadium which ended in a draw. Picture by Ranjith Perera.

---
Lankans milked by the Kiwis
DUNEDIN, New Zealand, Saturday (Reuter) - A big double century by opener Bryan Young and three wickets from Simon Doull put New Zealand firmly in charge at the end of the second day of the first cricket test against Sri Lanka today.
Young, on 267, was denied the chance of attempting a rare triple century when New Zealand captain Stephen Fleming declared at tea on 586 for seven wickets.
By stumps the Sri Lankans were in serious bother at 78 for four after seamer Doull cut through the top order to claim three for 32.
Sri Lanka will resume on Sunday with Arjuna Ranatunga on 13 and Hashan Tillekaratne on seven and will need a further 290 just to avoid the follow on.
New Zealand's total, milked on an ideal batting pitch and against a moderate Sri Lankan attack, was the second highest it has scored.
Young was at the crease for a shade over 10 hours to pilot New Zealand. His score was the second highest test innings by a New Zealander after Martin Crowe's 299 against Sri Lanka six years ago.
Young resumed this morning on 154 with New Zealand already strongly placed at 343 for four.
Nightwatchman Daniel Vettori was dismissed on the second ball of the day before Young, who had added just one, offered his first and only chance which was put down by Roshan Mahanama at second slip.
From there on Young was in total command, adding 123 for the sixth wicket with Chris Cairns, who made a feisty 70, in just 141 minutes.
He scored 148 in boundaries, most on the offside and a high proportion his trademark backfoot drive.
While left arm seamer Chaminda Vaas was the most successful bowler, with four for 144, the tourists' most impressive performer was 18-year-old test debutant Nuwan Zoysa.
Sri Lanka responded poorly when Fleming left them to bat out 34 overs until stumps.
Sanath Jayasuriya was bowled for a duck by Doull when he failed to remove his bat and got an inside edge on to his stumps, Marvan Atapattu was trapped leg before wicket by Doull for 25 and the experienced Aravinda de Silva flayed at a wide delivery from Heath Davis only to guide the ball to Patel at gully.
The tourists then lost opener Roshan Mahanama for 26 when Doull won his second lbw verdict. Sri Lanka lost the last three wickets in the space of 14 balls.
Scoreboard
New Zealand first innings 586 for seven wickets declared (B. Young 267 not out, M. Horne 66, S. Fleming 51, C. Cairns 70).
Sri Lanka first innings
S. Jayasuriya b Doull   0
R. Mahanama lbw b Doull 26
M. Atapattu lbw b Doull 25
A.de Silva c Patel b Davis      3
A.Ranatunga not out     13
H.Tillekaratne not out  7
Extras (lb-4)   4
Total for four wickets  78
Yet to bat: R.Kaluwitharana, M.Muralitharan, C.Vaas, P.Wickremasinghe, N.Zoysa
Fall of wickets: 1-4 2-55 3-58 4-58
Bowling:
Doull 12-4-32-3 , Davis 11-3-26-1, Horne 6-5-4-0, Astle 3-0-11-0, Patel 2-1-1-0.
---

Thurstan's Nalaka steals show
34th Big Match with Isipatana ends in a draw
By S.M.D.Sirisena
Thurstan opener Nalaka de Silva was unfortunate to miss his debut century by five runs in their drawn 34th Inter-School Big Match with Isipatana at the P.Sara Stadium yesterday.
Nalaka de Silva, who was adjudged the Best Batsman, hit nine boundaries and two sixes in 154 deliveries. De Silva was associated in a 72 runs partnership for the first wicket with Sumeda Bandaratilleke.
Isipatana who continued from 87 for 3 overnight, were 301 all out in reply to Thurstan's first innings score of 258. Thus Isipatana equalled the highest score of 301 for 8 set up by Thurstan in 1980.
Overnight not out batsmen skipper Suresh Perera and Kanchana Madugalle of Isipatana added another 22 runs for the fourth wicket. Suresh Perera who took four wickets in the first innings was adjudged the Best Bowler and the Man of the Match as well. The Wickremasinghe brothers Indunil and Tharindu was responsible for dismissing the middle order batting by claiming three and two wickets respectively.
Scoreboard
Thurstan first innings 258
Isipatana first innings 159 for 3 overnight contd. 
Rangana Fernando c Bandaratilleke b Liyanage    21
Suresh Perera c & b Indunil Wickremasinghe      70
Kanchana Madugalle run out      73
Sohan Wijesekera c I.Wickremasinghe b Liyanage  1
Gayan Mendis b J.Wikremasinghe  18
Vidura Nuwan b Wickremasinghe   21
Krishna Jayawardena not out     7
Vasana Patabendige lbw b T.Wickremasinghe       0
Extras -        48
Total  - 301 in 72.5 overs
Fall of Wickets - 27, 67, 103, 169, 213, 217, 255, 280, 298, 301. 
Bowling: Tharindu Wickremasinghe 16.5-3-64-3; Indunil Wickremasinghe 10-2-34-2; 
Chamara Liyanage 32-8-93-2; Sameera Samarasinghe 15-2-52-2. 
Thurstan second innings
Nalaka de Silva c Wasana b Suresh Perera        95
Sumedha Bandaratilleke c Madugalle b S.Perera   47
Gehan Sendhanayake c Atapattu b Mendis  23
Manoj Hettiarachchi c S.Perera b Vidura Nuwan   11
Sudara Jayawardena c & b V.Nuwan        31
Chamara Liyanage not out        26
Sampath Nanayakkara not out     2
Extras -        15
Total - (for 5 wkts) 250 in 69overs
Fall of Wickets - 72, 132, 179, 201, 237. 
Bowling: Suresh Perera 18-24-62-2; Kanchana Madugalle 7-1-20-0; Amal Wanigaselkera 4-0-26-0; 
Vidura Nuwan 27.4-4-80-2; Saman Wijesekera 3-0-17-0; Gayan Mendis 8-0-23-1.
---

Joes trounce Trinity by 7 wkts
St. Joseph's underlined their strength as one of the strongest schools cricket teams this season when they trounced Trinity, Kandy by seven wickets at the Moors Grounds yesterday.
Set with the task of scoring 55 runs to win in 11 overs, the Josephians reached their target in 9.2 overs losing three wickets in the process.
Trinity - 44 and 193 (Indika Gunawardena 80; Shamal Warnakula 5 for 48, Monto Perera 3 for 48)
St. Joseph's - 183 for 5 overnight nad 56 for 3 (Trevin Mathew 21, Amendra de Mel 16 n.o)
Rajans draw with D.S.Senanayake
At Wijerama Mawatha Dharmaraja Kandy and D.S.Senanayake figured in a tame draw.
Dharmaraja - 190 and 191 for 3 (C.Weerasekera 52 n.o, H.Basnayake 34, Pubudu Senaratne 36 n.o)
D.S.Senanayake - 11 for 2 overnight and 165 for 7 dec (D.Amarasekera 51 n.o, Yohan Fonseka 48)
Dinesh Silva 109
St. Benedict's were in a strong position over St. Anne's Kurunegala in their Inter-School cricket match which began at Kotahena yesterday. Dinesh Silva batted extremely well for the Kotahena lads to make a fluent 109.
St. Benedict's - 221 for 1(Priyan de Silva 81, Dinesh Silva 109)
St. Anne's Kurunegala - 140 (C.Tissera 48, S.Mendis 41, N.Iddagoda 20; T.Cramer 2 for 28, D.Silva 5 for 18)
Palihakkara 11 / 65
The St. Peter's vs St. Anthony's Katugastota Inter-School cricket match ended in a draw at Bambalapitiya yesterday.
St. Anthony'd who had to score 96 for a win were 25 for 5 at the close. Antonian Mahinda Palihakkara had a match bag of 11 for 65.
St. Peter's - 177 and 111 (J.Fernando 26, Mahinda Palihakkara 5 for 21, Taraka Gunaratne 4 for 2)
St. Anthony's - 193 for 8 dec (Taraka Gunaratne 43, A.S.Pinnaduwa 34, H.Chitrasena 34; Malinda Warnapura 4 for 63, Indika Sonal 3 for 36)
---

Sri Sumangala held
Sri Summangala-Kalutara ends in draw
The Inter-School criocket match between Sri Summangala, Panadura and Kalutara Vidyalaya ended in a draw at Kalutara yesterday.
---

Indika, Asela help Tamils
By Marlon Fernandopulle
A swashbuckling century by Indika de Saram and a hurricane half century by Asela Jayasinghe helped Tamil Union to be on course for a crucial outright victory over NCC in a Division one P Sara trophy game at Maitland Place yesterday.
Openers Chandika Hathurusinghe (46) and Sapumal Herathge (52) gave Tamil Union another flourishing start with a 65 run stand after which their middle order sent the mediocre NCC bowling attack on a leather hunt.De Saram was in full cry when he made use of the second string NCC attack to compile his maiden century. De Saram's century came off 112 balls and included 7 boundaries and 3 sixes. He was well supported by Asela Jayasinghe(65) who recorded his 50 in just 27 balls and Damien Nadarajah(63)
Enjoying a first innings lead of 153 runs Tamil Union tightened the screws further when they had the home side reeling at 34 for 5 by the close. Former Sri Lanka opening batsmen Chandika Hathurusinghe was once again the chief destroyer claiming 4 wickets for seven runs.
Tamil Union who have an outside chance of winning this years title will have to register outright victories in their remaining two games if they are to displace SSC and Bloomfield from the top spot.
At Havelock Park BRC routed Singha SC by an innings and 73 runs with a day to spare. After hitting 265 in their first innings today ,BRC bowled out their opponents twice to inflict a humilating defeat. Singha were shot out for a paltry 64 in the first innings and following on fared a shade better to be bowled out for 128. Spinner Suwanjee Madanayake was the pick of the BRC bowlers taking a match bag of 7 for 54.
Police were strongly placed in their game against Kalutara TC. Useful contributions from C Liyanage(86) N. Soyza(46) A. Priyantha (47) and D Gunawardene (52) helped the Cops to 311 all out.Kalutara trailing by 145 runs were 62/2 by the close.
Left hander Naveed Nawaz struck a stylish century as Bloomfield hit up a formidable 372/3 against Sebastianites in a game that got underway yesterday.Nawaz was well supported by Pubudu Dassanayake((96) and Sampath Perera (62).
At Maitland Place:NCC vs Tamil Union
NCC - 257 & 34/5 (Chandika Hathurusinghe 4/7)
Tamil Union- 410 (Chandika Hathurusinghe 46, Sapumal Herathge 52, Indika De Saram 105, Asela Jayasinghe 65, Damien Nadaraja 63, Sanjeeva Jayaratne 5/97 Sanjeeva Ranatunge 3/36)
At Havelock Park BRC beat SinghaSC by an innings and 77 runs.
BRC - 265
Singha SC - 64 (Janaka Kumudu 13, S. Madanayake 4/15 Duncan Arnolda 2/14 Ashan Ranaweera 2/20) & 128 (Asela Wewalwela 74 S Madanayake 3/39 Indika Galagoda 2/32)
At Police Park: Police SC VS Kalutara TC
Kalutara TC -166 & 62/2 (N Tilakaratne 31 n.o. )
Police SC - 311 (C Liyanage 86 N Soyza 46, A. Priyantha 47, D. Gunawardene 52 P. Perera 2/11 R Chandana 3/60 R. Kottachchi 5/60)
At Moratuwa Stadium:Bloomfield vs Sebastianites
Bloomfield - 372-3 (Pubudu Dissanayake 96 Naveed Nawaz 102 Sampath Perera 62)
---

Chairman Surath Wickramasinghe on suspension from domestic season....
"CCC were deprived of full inquiry"
By Annesley Ferreira
The Colombo Cricket Club (CCC) were deprived of a full inquiry regarding their suspension from playing in the domestic season, the P. Sara Trophy states it's Chairman Surath Wickramasinghe in an interview with The Sunday Times.
"There is provision in the constitution of the Board of Control for conducting an inquiry, but it was not properly done" the Chairman said.
"We had no alternative when we were pushed against the wall, and no reply was given to our protest about the unfair suspension," stated Wickramasinghe.
The club is over 131 years old, and the young cricketers had to pay the penalty which was too harsh, Mr. Wickramasinghe said. The suspension of one year was too long a period. True enough the wicket was not ready for the SSC game, the Board without suspending us for a year should have penalised us by deducting a few points and allowed us to continue in playing the tournament.
Nowhere in the world is this being done, said Mr. Wickramasinghe.
Mr. Wickramasinghe also stated that their protest was a genuine one since they have opened their eyes to point out that people sitting in judgement are not at all qualified to take decisions, where they have not played the game themselves.
The Cricket Board wasted time till the completion of the AGM and pushed us to the wall which prompted us to write to the Minister of Youth Affairs and Sports, S.B. Dissanayake.
Meanwhile, when 'The Sunday Times' spoke to Kumar Ponnambalam who was CCC's representative to the Cricket Board AGM, he stated that their main concern was the eligibility of those seeking election, which was totally against the country's 'Sports Law'.
"When he pin-pointed this, the reply given by Upali Dharmadasa was that "I held the post of Vice President earlier and President last year why protest now", Mr. Ponnambalam said.
"Our position is that we are not worried who gets elected, but those getting elected should be those who are qualified for the post according for the 'Sport Law' of having played the game at top level," stated Mr. Ponnambalam.
Meanwhile, Mr. Ponnambalam said the damage to his shrine may have been done by someone objecting to his raising the eligibility issue at the Cricket Board AGM, but he could not suspect anybody direct. The Police are making inquiries to this, he said.
The Sunday Times spoke to the President of the Board of Control for Cricket, Upali Dharmadasa regarding the AGM and this is what he had to say. The AGM was conducted in a manner that all the past presidents namely, Robert Senanayake, Gamini Dissanayake and Ana Punchihewa held it, since they were uncontested.
CCC's representative Kumar Ponnambalam was given the opportunity to raise objections and since he had every right to do so he did it to the point. His objections regarding my eligibility for the post of President and acting as Pro-tem Chairman of the AGM was overuled by a majority decision with Diyanesh Rajaratnam proposing and one Jayantha from the Kalutara District seconding, with no other proposals, I was elected pro-tem chairman with the added qualification of me being uncontested.
Mr. Dharmadasa also mentioned that CCC issue should have been settled in their favour had they not hidden the fact about the grounds as mentioned to him by a CCC representative.
A postponement should have been given if the CCC told the Board that the ground was dug up and due to the rains they could not prepare a wicket.
On an earlier occasion CCC who are now talking about not sticking to the rules did not favour a postponement of an under 24 match against SSC citing the tournament rules.
If clubs, like CCC, NCC, SSC, Tamil Union, Bloomfield and Colts cannot prepare a wicket for their matches being the oldest clubs what could we expect from the smaller clubs, voiced Mr. Dharmadasa, who said that they should lead by example.
Finally, Mr. Dharmadasa, said that they were elected to promote the game and not to ruin the game.\
---

Colombo CC Chief writes to Sports Minister
PROCEEDINGS OF ANNUAL GENERAL MEETING OF THE BOARD OF CONTROL FOR CRICKET IN SRI LANKA ON 2.3.1997
Hon. Minister,
We write this letter to bring to your immediate notice that the proceedings of the Annual General Meeting (AGM) above mentioned was conducted in a manner that was completely contrary to the provisions of the Constitution of the Board of Control for Cricket in Sri Lanka, the Sports Law and the Regulations thereunder.
The AGM was due to commence at 10.00 am. The President who took the chair at 10.00 a.m. arbitrarily asked whether the AGM could start in 15 minutes to enable those at the gates to come in. We say this was wrong procedure.
Thereafter, at 10.15 a.m. the President commenced the AGM. Mr. Amarapulli from Kalutara raised an objection at the outset that the documents that they were entitled to, for the AGM, was received by them on the 20th February, barely 10 days before the AGM, and that both the Sports Law and the Constitution of the Board stipulate that these papers be given 30 days before the AGM. Having said that, he said, he wanted his objections recorded but that he was not making an issue of it. If the AGM papers were not sent out in proper time, the AGM loses validity.
Thereafter, Items 1,2 and 3 of the Agenda were taken up and they were finished in double quick time.
After the 3rd Item was concluded, the President got on to the 4th Item, which was the election of office bearers. Before he announced that, he looked out of the window and said, that, since there were still people at the gate, whether the House could give about 5 or 10 minutes for them also to come in. He also suggested that, in the meantime, those who wanted to have tea could do so. At that time, Mr. P.A.H.N. Dias said, there was no point having tea because proceedings started only 15 minutes previously. Mr. Dias also said, that if the House was going to wait for the others to come in, why did the House not wait without concluding Items 1, 2 and 3 of the Agenda. When Mr. Dias said this, the President said the AGM will carry on with the election of office-bearers.
At this stage, Mr. Mahinda Deshapriya from Galle announced that they had got late and wanted to make submissions on matters under items already disposed of by the AGM. There was discussion of these matters and the minutes were also altered. We say this was completely wrong procedure.
After this interlude, The President then started by saying, that, since there were no nominations to the post of President other than his name.......At this point, Mr. G.G. Ponnambalam, representing the Colombo Cricket Club (CCC), objected to the President making any announcement and called upon the office-bearers on the rostrum to vacate their seats and have a protem Chairman elected in order to carry out the business of electing the office bearers. If not, at least the election of a President should be done under the chairmanship of a protem Chairman.
When this objection was taken, Mr. Amarapulli from Kalutara said, since at the time of the closing of nominations, there was no other name other than Mr. Dharmadasa's, he is deemed to have been elected and, therefore, the necessity of him vacating the seat does not arise, and he can carry on presiding. Mr. Ponnambalam said, that, that suggestion was contrary to the Constitution of the Board, Rule 11 (b) which says all office- bearers "shall be elected at the AGM".
At this stage, Mr. Ponnambalam requested to speak from the mike because he wanted all his submissions recorded. He was permitted to do so. He also requested the President to have the shorthand stenographers, also to record everything that he was saying.
At the mike, Mr. Ponnambalam begged co-operation of the House to conduct this meeting properly because as the country that have the World Champions in Cricket, the eyes of the world were on this election, and also because of the publicity that had been generated about this AGM. Therefore, he wanted this AGM conducted properly according to the Constitution of the Board and that it should not degenerate into personal comments or as a mudslinging forum.
Having said that, Mr. Ponnambalam again reiterated his objection and requested the office-bearers to vacate the rostrum for good order.
There were then loud noises from the floor and some suggested, that the President should leave it to the House to decide whether he should vacate the chair or not. Mr. Ponnambalam said, it was wrong procedure. There was then a suggestion from Mr. Schaffter that, whilst there was merit in what Mr. Ponnambalam said, in the past the AGM of the Board were carried out with the President in the chair and that this year also it be done so. Mr. Ponnambalam again objected and said, that it was not the proper procedure, and he insisted that a protem Chairman be elected. A gentleman from the floor suggested that Mr. Ponnambalam's objections be heeded and that there was nothing lost in the way of dignity or status for the President to step down and have a senior member of the assembly voted as protem Chairman for the purpose of the election. Another member from the floor then proposed that Mr. Dharmadasa be the protem Chairman and that suggestion was seconded. Again Mr. Ponnambalam objected and said that, that was wrong procedure and that Mr. Dharmadasa cannot be in the chair when he( Mr. Ponnambalam) was going to take a substantive objection to Mr. Dharmadasa's eligibility to stand for election and even his nomination.
The moment Mr. Ponnambalam mentioned that Mr. Dharmadasa ordered Mr. Ponnambalam to his chair saying that he had spoken enough. Mr. Ponnambalam went back to his chair. He was huffed up and asked Mr. Ponnambalam whether he was challenging his credibility. Mr. Ponnambalam said, he was not challenging Mr. Dharmadasa's credibility but his eligibility to stand for the post and that it was against Rule 11 (f) (i), of the Constitution of the Board. Mr. Ponnambalam also said that it was against Rule 11 (f) (ii) because he had not been properly nominated by having obtained prior written approval. The moment this was said, Mr. Dharmadasa got on to personal aspects and spoke about his father wearing a sarong. Mr. Ponnambalam interjected and said that he never mentioned about anybody wearing a sarong and he would request that the meeting does not degenerate into personal allegations. Mr. Dharmadasa then referred to a letter sent to the Board by the CCC and Mr. Ponnambalam again said that there was no reference to that letter and that was a thing of the past. Mr. Ponnambalam said that he was on the substantive point that Mr. Dharmadasa's nomination to stand for election was bad according to the rules of the Constitution of the Board.
Hon. Minister of Sports
Mr. Dharmadasa, knowing full well, the substantive nature of the objection, as enough publicity had been given over the print and electronic media, and also through a letter sent to the Board by the CCC dated 20th February 1997, was dishonest enough not to tackle that aspect by disclosing his eligibility, but spoke about the fact that he was four years a Vice-President and one year the President. Mr. Ponnambalam said, he was not interested in what happened at previous elections, and that he only wanted to see that this election was properly conducted according to the rules of the Constitution.
It would be seen that Mr. Dharmadasa did not, when he spoke about the four years he was a vice-president and the one year as the President, tackle the question as to whether he was eligible under Rule 11( f) (i) of the Constitution of the Board.
At that stage, Mr. Dharmadasa said that he was ruling Mr. Ponnambalam out of any further discussion and that if there is anything that Mr. Ponnambalam wanted to do, he should raise that up at a different forum. Mr. Ponnambalam requested the President not to make decisions in his own favour and in a matter that concerns him and said that it was immoral and illegal and requested the President, not to make a ruling but to allow the protem Chairman to conduct the election of office-bearers. Mr. Dharmadasa refused and arbitrarily got on to the next item which was the election of the Vice-Presidents.
As soon as Mr. Dharmadasa got on to the election of Vice- Presidents, Mr. Mirando, the Secretary and Mr. Sumathipala, one of the Vice-Presidents vacated the rostrum immediately. Why the office-bearers could not have done that when Mr. Ponnambalam raised these substantive matters, is a mystery. If some of them thought that they should vacate it at the stage when the Vice-Presidents were being elected, they could have done that at the time when this objection was taken by Mr. Ponnambalam.
When the election for Secretary came up, again Mr. Ponnambalam took up the position that Mr. Mirando, a candidate for that post, was not eligible under Rule 11 (f) (i) of the Constitution. Mr. Schaffter said if Mr. Ponnambalam was putting Mr. Mirando's eligibility in issue, he was asking Mr. Ponnambalam to prove his eligibility to be present at the AGM. Mr. Schaffter forgets the fact that Mr. Ponnambalam played for the club that Mr. Schaffter represented at the AGM, which was the Tamil Union C.F & A.C., from 1969 upto 1976, both for the Daily News Trophy and the P. Saravanamuthu
Hon. Minister of Sports Trophy, and played not only with Mr. Schaffter but also with the other representative from the Tamil Union at the AGM, Mr. Perumal.
Mr. Amarapulli from Kalutara said that Mr. Ponnambalam's objections were out of order because he should have objected to Mr. Mirando's name, and any other name, at the time when the names of those nominated for election was circularised. Mr. Ponnambalam, at that stage, requested the President to see that his submission was recorded, which was that the list of those names was never sent to the CCC though they were couriered to all others. Mr. Dharmadasa said that that objection would be recorded. The fact that the names nominated were not circularised was contrary to Rule 11 (d) of the Constitution of the Board.
From the foregoing, it would be evident to the Hon. Minister that the entire proceedings of the AGM of the 2nd March 1997 was conducted in a manner that was against the provisions and spirit of the Constitution of the Board or in total ignorance of these provisions and in an arbitrary manner. The CCC charges that all this was done purposely and dishonestly. We charge, therefore, that the AGM was a non-est.
It will also be evident to the Hon. Minister that some individuals who stood for election did not satisfy the qualifications and they, were also not properly nominated. If those individuals consented to stand for election, knowing full well and all along the line, that they did not have the necessary qualifications, then they have been dishonest and are not fit and proper persons to occupy those posts and we ask that they be removed forthwith if they still refuse to prove their eligibility.
We object to the Hon. Minister ratifying any matter that was decided at the AGM for the reasons we have mentioned above.
We request the Hon. Minister to consider all matters mentioned above and, in the interests of the game of Cricket in Sri Lanka, hold that the AGM of 2-3-1997 is null and void because it was not conducted according to the provisions of the Constitution of the Board and also because some of those who stood for election were not eligible under the relevant Rules of the Constitution, and to call for a fresh AGM that would be conducted strictly according to the Rules. We also request a high ranking official of your Ministry to be present at such an AGM, as an observer.
Hon. Minister of Sports
The matters raised by the CCC at the AGM and also mentioned in this letter, are matters conceived with principles and are not personal. The matters of principle involved, and, therefore are of public importance and interest are:
(i) whether Cricket Board AGMs, (or any other meeting) are to be conducted or allowed to be conducted, in callous disregard of the provisions of the Board Constitution or to put it very charitably, in total ignorance of those provisions? (ii)if such disregard was done purposely or deliberately, was it, therefore, done dishonestly?
(iii) if persons persisted in standing for election, even when they were put on notice, both at the AGM and week before it, that their eligibility is being questioned, and taking no steps to prove their eligibility, is it not total dishonesty? (iv) is it not dishonesty that persons should lend their names for contest, knowing full well and all along the line, that they are not eligible to contest ?
(v) if so, should all, or any such person, be allowed to hold posts of responsibility from this moment in the Board of Control for Cricket in Sri Lanka ?
We hear that the first Exco meeting of the new ''officials'' had been scheduled for Friday 7th March 1997. We request that the Hon. Minister directs that that meeting should not take place till the Hon. Minister holds a full-scale inquiry into what has now escalated into a public scandal of inconceivable proportions. If this public scandal is not cleared to the satisfaction of the public, it would amount to impostors and pretenders occupying seats of the Board and this is going to erode the confidence of the public in the proper administration of Cricket in Sri Lanka.
Let the principle of transparency be established and prevail !
As the matters contained in this letter are of public importance and interest, we are taking the liberty of releasing this letter to the media.
Yours truly,
Deshabandu Surath Wickramasinghe
Chairman
---

Ninth open trolling contest on March 16
The Sports Fishing Club, formed in 1988 and currently headed by Dickey Delpachitra, will be holding it's 9th trolling competition on the March 16. This is an open competition where anyone, including non-members of the club, can participate. Entry details will be available through the following phone numbers; 345014-5 (Anil), 636341-2 (Yohan) or 071-24822 (Russell).
Angling as a sport is very popular in Sri Lanka. The sport has drawn people of all ages to it because it is clean exciting.
Sport or Game Fishing involves the angler pitting his wits against the fish . It also demands that the odds heavily favour the fish because as any true angler will tell you it's the fight that matters, more than landing the fish. Sport fishermen, use light lines and barbless hooks which favour the fish. Moreover the trend amongst anglers today is to release the fish they catch so that fish stocks are maintained, and only keep their exceptionally large catches or what they require for the table.
Sadly however, despite the vast potential for the expansion of this sport in our country, and not to mention the potential it has for earning revenue by catering to tourists hungry for the excitement of game fishing, the sport is presently under threat from human negligence. Furthermore poor management of commercial fishing, pollution and the destruction of habitats in which fish breed and grow, such as the reefs and mangrove swamps, all lead to diminishing fish stocks in our waters, while tighter controls in countries like the Maldives have ensured a continuous supply of fish there.
---

In Brief
N'Eliya Road Races
The Nuwara Eliya Road Races organised by the Sri Lanka Motor Cycle Club will be held on April 19 and 20, according to Club president Ananda Jayasekera.
Those who are interested in taking part in the event, entry forms are abvailable at 321, Union Place, Colombo 2. Entries will be accepted from March 15 to 31.
Events will be held for 50 cc, 100 cc Standard Modified, 125 cc Standard Modified, 125 cc Racing, 250 cc Standard Modified, 250 cc Racing and 125 CC, 250 cc four stroke .
Sports Minister S.B.Dissanayake will be the chief guest and will flag of the races.
Bridge competition
The Nuwara Eliya District Bridge Championship for the "Kandasamy Cup" will be held at the Nuwara Eliya Golf Club on March 29.
The "Kandasamy Cup" will be given to the winners and there will be attractive prizes for the first three runners-up.
The tournament is being sponsored by leading businessman and philanthropist Prakash Butani.
The Deputy Indian High Commissioner will be the chief guest and his wife will distribute the prizes.
For reservations contact: The Tournament Director - Bridge Federation on 432049 who will also be able to assist with accommodation.
Judo Tournament
The 21st Japanese Ambassador's Trophy Judo championships '97 finals conducted by the Sri Lanka Judo Association in collaboration with the Embassy of Japan will be held on March 17 at the Sugathadasa Indoor Stadium at 4 pm.
The semi-finals will be held on March 16 at the Asoka Vidyalaya, Colombo 10.
All affiliated clubs to the Sri Lanka Judo Association will participate in the championships.
---

Ambrose underlines his supremacy
The ever reliable Shanaka Ambrose who rose to stardom in a very short time, underlined his supremacy in winning the challenge for two wheelers at the Karandapona Hill Climb. In doing so, he recorded the fastest timing as well.
His timing of 45.99 seconds bettered his fastest timing of last year 46.36 seconds while Rohan de Silva recorded the fastest timings for four wheelers.
Rohan's timing on his Mclarens special 2080 cc was 45.07 seconds bettering his own record of 47.38 seconds. Ambrose riding his pet Honda CR 280 came very nearly of even beating the fastest time of the day, just .92 seconds behind in setting up a record in motor racing history where a two wheeler records the fastest time than a four wheeler.
He is here on holiday and will be around until the Radella, and Mahagastota Hill Climbs are also completed next month.
Ambrose will celebrate his 31st birthday in Sri Lanka on March 31. (AF)
---

Polonowita gets DSW award
Anuskha Polonowita will be first recipient and will be awarded the Group Captain D.S. Wickremasinghe memorial award at a ceremony to be held at the Royal College grounds on March 11.
Polonowita captained Royal in cricket in the 1995, 96 season and represented Sri Lanka schools in tennis.
The 63 Group of Royal College has raised a fund in memory of their colleague, Group Captain, D.S. Wickremasinghe who paid the supreme sacrifice in April 1995 when and SLAF Avro he was in was shot down over Palali.
The interest of this fund and the D.S. Wickremasinghe memorial trophy is awarded to the most outstanding student in sports annually.
D.S. himself was an excellent sportsman who had college colours for rugger, tennis and athletics at Royal in his day.
---

Clifford Cup curtain raiser for '97 Rugby
The Clifford Cup knock-out Rugby Tournament will be the curtain raiser for the 1997 domestic rugby season in Sri Lanka. The past rugby season was kicked off with the Inter Club 7-A-Side Rubgy Tournament followed by the Major League Tournament lasting for more than four months.
This year the Clifford Cup Inter Club knock-out Tournament will be played from April 16th to May 3 sponsored by Carlsberg.
The fixtures will be:
16.4.97 - Old Zahirians vs Old Trinitians at Nittawela - 3.15 p.m. Petersons SC vs Air Force SC at Longden Place - 5.00 p.m. Army SC vs Navy SC at Longden Place 19.4.97 - CR&FC vs Winners of Old Zahirians and Old Trinitians at Nittawela - Havelocks SC vs Police SC at Longden Place 20.4.97 - CH&FC vs Winners of Petersons vs Air Force at Longden Place. - Kandy SC vs Winners of Army and Navy at Nittawela
The semi-finals and finals will be played at Nittawela, Kandy on April 26, 27 and 28. The matches will commence at 4.45 p.m. each day.
This year the Old Zahirians too have been promoted to the 'A' Division due to their good showing during the last few seasons in the 'B' Division.
The Carlsberg 'A' Division Inter Club League Tournament will commence on May 9 and will conclude on August 24.
The President's Trophy which too is being sponsored by Carlsberg will be from August 30 to September 5.
In this knock-out tournament the first six teams from the 'A' Division and the first two teams from the 'B' Division will be permitted to participate.
The inter club Seven-A-Side tournament will be worked off on September 13 and 14 under the Carlsberg sponsorship.
The local tournament will come to a close with the Lt. General Denzil Kobbekaduwa Trophy match between the Up Country and Low Country clubs.
Daya Jayasundara, the Chairman of the Tournament Committee who is also the General Secretary of the Sri Lanka Rugby Football Union said that the new format of the season's tournaments is to infuse more enthusiasm and to break away from the monotony of the ealier seasons. This has been wellcomed by all the clubs.
Carlsberg who broke into Rugby sponsorship last year will be sponsoring all the local rugby tournaments this year too.
League Tournament -1997
Date Home Team Visitors Venue
May 97
1st Week
09.05.97 Petersons CH&FC -
10.05.97 Kandy Navy Nittawela
10.05.97 Havelocks Army Havelock Park
11.05.97 Police Air Force Police Park
11.05.97 Old Zahirians CR&FC -
2nd Week
16.05.97 CR&FC Navy Longdon Place
17.05.97 Police Army Police Park
17.05.97 Old Trinitians Havelocks Nittawela
18.05.97 Kandy Petersons Nittawela
18.05.97 CH&FC Air Force Maitland Crescent
3rd Week
23.05.97 CH&FC Navy Maitland Crescent
24.05.97 Army Old Trinitians -
24..05.97 Old Zahirians Kandy -
25.05.97 Air Force Havelocks -
25.05.97 Petersons Police -
4th Week
30.05.97 Navy Old Zahirians -
31.05.97 Old Trinitians Police Nittawela
31.05.97 Army CH&FC -
01.06.97 CR&FC Petersons Longdon Place
01.06.97 Kandy Air Force Nittawela
5th Week
06.06.97 Army Old Zahirians -
06.06.97 Navy Air Force -
07.06.97 Havelocks Kandy Havelock Park
07.06.97 Old Trinitians CR&FC Nittawela
08.06.97 CH&FC Police Maitland Crescent
6th Week
13.06.97 Air Force Petersons -
14.06.97 CR&FC Havelocks Longdon Place
14.06.97 Kandy Police Nittawela
15.06.97 Navy Army -
15.06.97 Old Zahirians Old Trinitians -
7th Week
20.06.97 Old Trinitians Air Force -
20.06.97 Navy Petersons -
21.06.97 Kandy Old Trinitians Nittawela
21.06.97 Havelock CH&FC Havelock Park
22.06.97 Army CR&FC -
8th Week
27.06.97 Old Zahirians Havelocks -
27.06.97 Petersons Army -
28.06.97 Police CR&FC Police Park
28.06.97 Navy Old Trinitians -
29.06.97 CH&FC Kandy Maitland Crescent
9th Week
04.07.97 Air Force Army -
05.07.97 Old Trinitians Petersons Nittawela
05.07.97 CR&FC CH&FC Longdon Place
06.07.97 Havelocks Navy Havelock Park
06.07.97 Police Old Zahirians Police Park
10th Week
11.07.97 Air Force CR&FC -
12.07.97 Havelocks Police Havelock Park
12.07.97 Old Trinitians CH&FC Nittawala
13.07.97 Army Kandy -
13.07.97 Petersons Old Zahirians -
11th Week
18.07.97 Police Navy Police Park
18.07.97 Air Force Old Trinitians -
19.07.97 CR&FC Kandy Longden Place
20.07.97 CH&FC Old Zahirians Maitland Crescent
20.07.97 Petersons Havelocks -
Second Round
12th Week 13th Week 14th Week 15th Week 16th Week
1 Vs 6 1 Vs 5 1 Vs 4 1 Vs 3 1 Vs 2
2 Vs 5 2 Vs 4 2 Vs 3 2 Vs 6 3 Vs 5
3 Vs 4 3 Vs 6 5 Vs 6 4 Vs 5 4 Vs 6 
7 Vs 10 7 Vs 9 7 Vs 11 8 Vs 10 7 Vs 8
8 Vs 9 8 Vs 11 10 Vs 9 9 Vs 11 11 Vs 10
Please send your comments and suggestions on this web site to
info@suntimes.is.lk or to
webmaster@infolabs.is.lk