Year on the Web
9th March 1997
| HOME PAGE
| FRONT PAGE
| EDITORIAL/OPINION
| NEWS / COMMENT
| BUSINESS
Waterfalls are a delightful sight and we have a lot of them in our country. But do we really enjoy the beauty? Sirancee Gunawardena writes:

Sri Lanka is blessed with over one hundred waterfalls. The tallest is the Bambarakande Falls which cascades down 263 metres like liquid light. It is only four miles away from the Colombo-Bandarawela road in a forest glade, but it is not visited often, though well worth the trip.
Bambarakande is taller than the famous Diyaluma falls which is only 220 metres but thought to be the tallest waterfall in Sri Lanka. The Diyaluma or Diya Haluma collects its water from the Poonagala Oya in the vicinity of Koslanda and Wellawaya. Located six miles from Koslanda and 13 miles from Wellawaya, its waters originate from the Mahakande Pass in Koslanda. You can see this waterfall if you stop a while on your way to Haputale and detour.
Due to the geological formation of Sri Lanka, the central highlands are surrounded by peneplains, plateaus and valleys. Rainfall sends a large volume of water hurtling down the precipitous edges of the highland mass. The up thrust millions of years ago has caused several peneplains to form, the highest being well over 6000 ft. It is in this area that the water is collected when there are showers and flows down along tributaries down the mountain slopes.
The Kirindi Oya Falls is the third largest waterfall. It cascades down 200 metres. It can be seen when you go from Ratnapura to Pelmadulla and get on to the Katupitiya road which goes by a tea factory. You have to go along a foot path just beyond the tea factory and if you do not mind the wild grass and reeds, you could go quite close to the waterfall.
Also along the Ratnapura road, on the Agalawatta crossroad which is very narrow and winding, one can see another beautiful waterfall. The Bopath Falls, a 30 metre fall which descends in three cascades, in the shape of a Bo leaf, is a spectacular sight. It can be seen from afar, from the road opposite the falls. Bathing at the base of the waterfall is fraught with danger as many lives have been lost here. It takes only a three hours drive from Colombo to get there.
When I was in Wales, a waterfall by the exciting name of Devil's Falls was part of our tourist itinerary. After attending a concert and listening to a Welsh girl playing music on a golden harp, we set off to see the waterfall. We had to go a long way to get there and imagine our disappointment when we saw a relatively thin trickle of water. It was nothing like our Dunhinda or Diyaluma which cascades down in torrents. If you happen to go to Venezuela, you could see the highest waterfall in the world. The waterfall is named "Angel" and it has a wonderful drop of 3,200 feet from the edge of the cliff. It comes down in a sheer drop and ends in a mist like froth. The Kukenaam waterfall also in Venezuela falls 2,000 feet. The Niagra is the best known waterfall in the world and thousands of tourists go to see it. In Sri Lanka, though we have wonderful waterfalls of rare scenic beauty, very few people bother to enjoy them.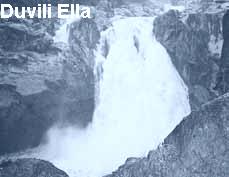 Once, friends of mine set off early one morning to see the Duvili Ella waterfall. Most were hazy as to where exactly it was located, only that it was close to Kaltota near the Walawe Ganga. It has been described as one of the most unusual waterfalls in Sri Lanka. The fat, the short, the old, the sprightly and not so agile, all joined the expedition and alighted from the bus with great gusto at Kaltota, 28 km. off Balangoda. The organizer of the trip had made prior arrangements and a soldier with a gun escorted the ladies as it was a politically tumultous time and some were fearful of the forest terrain. Everyone proceeded along a narrow path on the very edge of a precipitous incline.
Finally when the expedition came close to the summit, a huge boulder had to be scaled. And believe it or not, middle-aged sareed ladies were among those who got to the top. No one dared to look down or sideways as the sheer precipice made them dizzy.
Breathless and frightened, they continued their journey till all of a sudden they came to a place opposite the waterfall which fell from a broad rock 40 metres down in a haze of water. It was the most fantastic sight because unlike other waterfalls what you see is a misty cascade of droplets in a sheer veil of shimmering light. That is why it is called Duvili Ella - dust-like waterfall.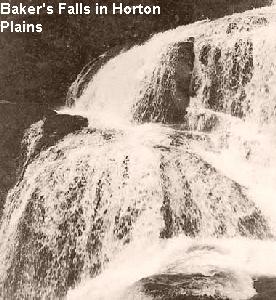 There are other waterfalls too like, Baker's Falls in Horton Plains, St. Claire's Falls which we never miss seeing each time we go upcountry by train; waterfalls in unexpected places such as the waterfall in the heart of the Sinharaja forest. A not very well known waterfall is the Ellatota waterfalls near Bandarawela, where we always have a bath holding our heads to the thud of the waterfall and freezing the moment the icy water touched our warm bodies leaving us happy and refreshed.
Also when staying in Bandarawela, we would visit Ella Rest House and then go to Ravana Ella on the Wellawaya Road. This waterfall is in a very picturesque setting of huge mountains and rolling valleys. The water source is the thick Wewatenna highland. This is connected with Ravana mythology and Sita is said to have bathed here while she was held prisoner by Ravana. The water cascades down in three stages for 9 metres and then meanders along. This is a favourite resting spot for pilgrims who stop off here awhile.
The Dunhinda Falls is in the Uva Highlands in the Veddah country. It is connected with the romantic episode of a Princess Manik Bandara who fled with her commoner lover. They leapt from the top of this waterfall pledging their eternal love. The Dunhinda cascades down in a beautiful stream of water which vaporises as it falls, hence its name.
The Baker's Falls in the Horton Plains gets its water from the Belihul Oya. It is close to World's End. The icy waters glisten in the sunshine amid a backdrop of mountain terrain and deep valleys and the patna through which you traverse give it contrast. If you are lucky you may see the rare black monkey and rhododendrons in bloom.
Waterfalls will never fail to delight. They are nature's jewels and a natural phenomenon of rare beauty. May they never be destroyed by man in his hurry for development. Picturesque scenic beauty is an integral part of our heritage. A beauty which touches our aesthetic sensibility and transforms our lives.
---
Third communication revolution part II
Shelton Gunaratne looks at how Sri Lanka can leapfrog into the Age of Information Technology
Continued from last week
However, considering Sri Lanka's literacy rate of 88 percent (compared with Bangladesh's 35 percent, Bhutan's 38 percent, India's 48 percent, Nepal's 26 percent and Pakistan's 35 percent), it is in the best position in South Asia to effect an economic transformation to enter the portals of the information society just as Singapore has done. Moreover, Sri Lanka's per capita GDP of $3,030 is the highest in South Asia (compared with Bangladesh's $1,350, Bhutan's $1,475, India's $1,280, Nepal's $1,165, Maldives' $1,373 and Pakistan's $2,235). It must move smoothly from an agriculture/manufacturing-based economy into one that places emphasis on information technology and leapfrog into the third communication revolution.
Singapore has a population of 2.8 million in a land area of 633 square kilometers compared with Sri Lanka's population of 18.1 million in a land area of 65,610 square kilometers. However, both are islands with an almost identical literacy rate. To achieve its economic goals, Singapore has tapped on the cheaper labor source in neighboring Malaysia. (Once it takes off economically, Sri Lanka will also have the capacity to draw cheaper labor from the neighboring SAARC nations.) Though 6.4 times smaller than Sri Lanka in population, Singapore's gross domestic product of $66 billion is higher than Sri Lanka's $53 billion. In other words, Sri Lanka's GDP should have reached $424 billion today to claim Singapore's current level of economic achievement.
Sri Lanka's Teledensity
Sri Lanka has an official 185,724 telephone lines (in addition to about 50,000 cellular phones thanks to Call Link, Celltell, Mobitel and MTN), a teledensity of 1.3 per 100 people. Only about 12 percent of these telephone lines are outside the Colombo area. This compares very unfavorably with the teledensity of 50 per 100 people in Singapore or 36.3 in Taiwan. The teledensities for SAARC countries are: Bangladesh, 0.23; Bhutan, 0.25; India, 0.89, Maldives, 4.21; Nepal, 0.35, and Pakistan, 1.24. Thus, even within the subcontinent, the Maldives is ahead of Sri Lanka while Pakistan has caught up.
Because telecommunication development precedes the entry into information society, Sri Lanka must give the highest priority to this aspect. Computer networks depend on modems hooked onto telephone lines. A backbone network needs high-speed (band-width) circuits that must go well beyond the few 64K circuits that Sri Lanka Telecom can provide at present. As Abhaya Induruwa, a computer science don at the University of Moratuwa, clarifies: "Once the backbone is up and running, the public and other off-line users can have access to the network using modems and telephone lines." Although it looks as if the abundant availability of high-speed digital leased lines for networking is a long way off, right priorities can bring about a quicker solution.
In the 1990s, the emphasis is clearly on telecommunication rather than mass media as a tool of development. An unofficial 1983 study by the World Bank concluded that the developing countries should extend telecommunication services to their rural areas. A 1983 report by the OECD and the ITU emphasized the importance of telecommunication for economic growth. The 1984 Maitland Report recognized the importance of shifting available resources to telecommunication rather than to massive new investment programs. It recommended the setting up of a global center for telecommunication development. Sam Pitroda, an Indian telecommunication expert, has estimated that the addition of a single phone line contributes an average of $3,700 to GDP in developing countries.
Looking at Year 2000
While the above clearly indicates Sri Lanka's awareness of the importance of telecommunications in economic development, one should question whether the planned rate of progress would be sufficient to enable the country to enter the portals of information society by the turn of the century.
Assuming the unofficial estimate of 300,000 telephones on the island at present, how many telephones would the country have by the year 2000? If you add the planned 200,000 new wireless telephone connections plus another 100,000 at the mid-decade annual rate of growth, the total number of telephones would approximate 600,000 - a teledensity of 3 per 100 people (assuming a population of about 20 million). This is a far cry from the present teledensity of any of the Four Tigers: Singapore's 50, Hong Kong's 54.1, Taiwan's 36.3 and South Korea's 39.7. Even reaching the goal of a million telephones by 2000, as a committee had proposed, seems remote at the present pace. Clearly, Sri Lanka has to do much more to get into the "racing car" mode.
Sri Lanka's computer density is most likely to lag behind its telephone density. It has an estimated 60,000 computers at present (Daily News, March 17, 1996) - a density of 0.3 per 100 people. India's recent gift of 100 computers (Daily News, May 16, 1996) will improve that density only slightly. This is hardly sufficient in the march toward the third communication revolution. Computerization and telecommunication expansion have to go hand in hand.
However, despite the lack of a developed infrastructure, the Lanka Educational Academic & Research Network (L.E.A.R.N.) had in 1989 pioneered connecting Sri Lanka to the Information Superhighway with subsequent support from Lanka Academic Network (LAcNet), a volunteer organization of computer-savvy expatriate Sri Lankans. Enterprising commercial entities - e.g., Lanka Internet Services Ltd. and Information Laboratories (Infolab) Ltd. - have now emerged to strengthen that connection together with Sri Lanka Telecom Corp.
These companies are showcasing the country's English-language newspapers - Daily News and Sunday Observer (since Sept. 4, 1995) and Sunday Times (since March 1996) - and the broadcasting stations - TNL (since February 1996) and SLBC (scheduled since April 9, 1996) - on the Internet's most popular information depository, the World Wide Web. (Meanwhile, the Union Bank has set up a Website that provides English translations of the island's Sinhala and Tamil press.) LAcNet has been a vigorous force behind these developments.
Expatriate interest groups have formed virtual communities through Websites such as Friends of Sri Lanka in the United States (FOSUS), Save Our Sri Lanka (SOS) and Tamilnet to disseminate their views on the country's ethnic conflict. The moderated SLNet Forum also provides opportunities to exchange views on numerous other topics. The Usenet newsgroup, soc.culture.sri-lanka, provides unmoderated discussion of Sri Lankan issues.
Some expatriates, particularly those in the academic community, have set up their own Websites to facilitate virtual communication. A Sri Lankan student at American University, Nishanthi Mendis, has a Website on a subject related to this essay: the state of information technology in Sri Lanka. These developments have had a positive outcome: the ability to be in real-time touch with Sri Lankan developments irrespective of one's location in the world. This essay, written in a remote Midwestern community in the United States, is the product of online research - a facility that many who live in Sri Lanka still do not have.
Just as in the case of Singapore, the government should continue to encourage the "brainpower" vital for software development. In March this year, the Sri Lanka Export Development Board (EDB) with the assistance of the Sri Lanka Embassy in Germany organized a national stand at the CeBIT '96, the International Exhibition for Information and Telecommunication in Hanover. Four Sri Lankan software companies - Informatics (Pvt.) Ltd., DMS Software Engineering Ltd., Jagath Robotics (Pvt.) Ltd. and Golden Key Co. Ltd. - displayed their software packages developed for hotels, banks, hospitals and plantations, along with their packages for vehicle management, hire purchase and cellular telephone billing systems.
In 1993, Sri Lanka had 30 software producers, seven of whom earned $2 million in software exports that year. Depending on their Q/P and C/N levels, such software will win or lose in the global market. But continuing encouragement to develop computer software is a step in the right direction.
CINTEC and Cybercafes
The Computer and Information Technology Council (CINTEC), the apex government agency for information technology, and Sri Lanka Telecom are aiming to connect academic, business and government activities to the Internet (Sunday Times, March 19, 1995). CINTEC has helped L.E.A.R.N., a wide-area network covering the island's universities, to access the Internet despite the "astronomical" cost involved - with a subsidy of Rs. 1 million for the initial year. The University Grants Commission has put in Rs. 5 million for the project, an undertaking of the University of Moratuwa. On the recommendation of CINTEC, the Ministry of Education has set up more than 10 regional computer centers - out of a planned total of 300 centers by the year 2000 - to prepare students for the National Certificate in Computer Applications. CINTEC is also collaborating with the Computer Society of Sri Lanka (CSSL) to conduct the National Examination in Computer Studies.
While Ceycom Global Communication Ltd. has teamed up with COMSAT to launch Sri Lanka's first satellite services network with an investment of $40 million with the aim of linking offices and homes to multiple information sources via satellite, one has to wonder about the social costs the country will have to face when the benefits of the Information Superhighway are unequally sliced in favor of a tiny elite.
Conclusion
It seems fair to conclude that despite outward appearances of progress toward entering the Third Communication Revolution, the steps Sri Lanka has taken so far are grossly inadequate to transform the country's telecommunication structure into one that would enable it to compete effectively in the global material economy. Much bigger investments in information technology will be necessary to enter the Information Superhighway at lower social cost so that the benefits will spread beyond a privileged minority. This means drastically reducing the "astronomical" cost of telecommunication.
Sri Lanka can also set an example in press freedom for the whole of Asia. It can create an environment conducive to a massive increase in daily newspaper circulation through newsprint and postal subsidies and other devices. High newspaper circulation and readership are hallmarks of a highly literate and educated society.
Continue to Plus page 3 -In his kingdom of animals * Helping'em to face the world * Peace, partnership and freedom
Return to the Plus contents page
Go to the Plus Archive
Please send your comments and suggestions on this web site to
info@suntimes.is.lk or to
webmaster@infolabs.is.lk