Year on the Web
2nd March 1997
| HOME PAGE
| FRONT PAGE
| EDITORIAL/OPINION
| NEWS / COMMENT
| BUSINESS
Submarine safaris and adventures
Mike Wilson in later years as a Swami
In this three-part article, Richard Boyle documents the life of Mike Wilson (Swami Siva Kalki) 1934-1995,who among other things made a significantcontribution to the Sinhala film industry, and pioneered underwater exploration around the island.
Being the second anniversary of the death of Mike Wilson (Swami Siva Kalki), as well as the golden jubilee of the Sinhala film industry, the time seems right to look back on the life of this remarkable man.
While the name Mike Wilson is familiar mainly to a certain generation of cinema-goers in Sri Lanka as the director of films such as Ran Muthu Duwa, others know of him as the diver who recovered the lingam associated with the Konesar temple, and silver treasure from a wreck on the Great Basses.
Some know of him as the Swami who championed Kataragama; some as the man who was claimed to be responsible for wrecking Satyajit Ray's science fiction film project, The Alien.
Mike Wilson arrived in the island with Arthur C. Clarke in 1956. The circumstances surrounding their friendship, and the manner in which fate brought them to Ceylon, is told in Arthur C. Clarke's The Treasure of the Great Reef (1964 and 1974).
In describing the main characters that frequent this factual account of underwater exploration off the south coast of the island, Clarke writes:
'The lead is undoubtedly my energetic partner Mike Wilson. I first met Mike around 1951, as a teenage intruder in the pub frequented by the London science-fiction fraternity. Every Thursday about 50 of us used to meet to discuss the books and stories we had read, and those we would write whenever we happened to have the time.'
Mike Wilson was in fact a 16 year-old crew member of a transatlantic liner and had attended his first White Horse meeting during short leave. This was his initiation into the wonderful world of science- fiction 'fandom' of the early 1950s, in which enthusiasts formed groups, published odd magazines, held even odder conventions, and devised elaborate hoaxes to play on one another.
As Clarke recalls, Wilson introduced him to the pleasures of skin diving: 'Mike who had done this during a spell in the British Merchant Navy, infected me with his enthusiasm, and I was soon learning to use flippers and face masks in a London swimming pool. After a few chilly dips in the English Channel we decided that this was a hobby for the tropics.'
However, in the spring of 1952, having turned 18 and left the sea, Wilson received his call-up papers, conscription being an ordeal all young men would have to endure until National Service was abolished in the early 1960s. At this time, Clarke was hatching a plot against Irish Fandom code-named Operation Shamrookie.
When Wilson informed him that he was going to do his training at Ballymeena in Northern Ireland, Clarke immediately understood the possibilities and began coaching Wilson.
Posing as 'neofan James Wainwright', Wilson fooled the 'Belfast mob' into thinking he was an ordinary soldier with no connections to London. Clarke had suggested that Wilson write some stories for Irish Fandom, but as Wilson had little time due to his intense training schedule, he resorted to submitting a story he and Clarke had developed earlier. It was a shade too good; suspicions were aroused and eventually the hoax was uncovered.
In early 1954 Wilson left the British Army and proceeded to Australia, where he met up with Clarke on the Great Barrier Reef so that they could pursue their interest in diving and collaborate in producing an account of their underwater experiences. Wilson was to undertake the photography.
"I have described our first expedition, writes Clarke, which took place in 1955, in The Coast of Coral; it is significant here because both Mike and I passed through Ceylon on our way to Australia, and both decided independently that we would like to come back and spend more time in the island. We were able to do this in 1956, and the first result was The Reefs of Taprobane."
When they landed at Colombo in January 1956 they had not 'the faintest idea' as Clarke puts it, that the island would become their permanent home. Clarke and Wilson were extremely active during their initial years in Ceylon. Together with the diver naturalist Rodney Jonklaas, they thoroughly explored the waters surrounding the island, and researched and investigated some 40 wrecks, many of historical importance
Parallel to this Wilson and Jonklaas endeavoured, without much success, to establish a diving business known as Clarke-Wilson Associates.
Their tasks consisted mainly of mundane ones, such as the cleaning of water inlet and sewage outlet grills of ships in Colombo harbour, and morbid ones, such as the retrieval of corpses. The most demanding and perilous job they performed was at Castlereagh Dam, where they had to work in the claustrophobic confines of an l8 inch wide shutter chase, with oxygen piped from the surface.
Jonklaas decided that his future lay in exporting tropical fish. So Wilson tried to promote what he called 'submarine safaris' underwater tours encompassing marine archaeology, exotic fishes and marine mammals, rare seashells and corals, and unrivalled spearfishing.
Despite the stirring words of a handbill I have in my possession - 'Your Guides, the top underwater men in the East; your equipment the finest in the World; your diving grounds the most exciting anywhere' - the idea proved to be ahead of its time.
As Clarke shrewdly observes, 'Perhaps it was just as well; Mike is not the person who suffers fools gladly, and if he had had to cope with underwater tourists, it would have been only a matter of time before he failed to bring one back.'
Nevertheless, Wilson's underwater expertise was well-respected, and in early 1958 he became embroiled in a controversial attempt to revive the pearl fishery in the Gulf of Mannar. This involved the use of a mechanical dredger, rather than traditional diving techniques.
But as a journalist from the Observer newspaper claimed, 'Experts who have explored the precious pearl banks are positive that dredging has caused immense damage to the oyster beds. Mr. Rodney Jonklaas, who explored the beds in 1945, swears to this. And so does Mr. Mike Wilson. He told me yesterday that "the dredger leaves a grim trail of desolation". He asked: "Why is it that other governments which have better dredgers and better scientists have given up dredging?"'
In the meantime of course Clarke's career as a science-fiction novelist of distinction advanced apace. The mid 1950s, for instance, had seen the publication of the impressive Earthlight and Expedition to Earth. And in 1957 Deep Range was published, which is dedicated to 'Mike, who led me to the sea and pulled me out of it'.
Their sojourn in Ceylon was occasionally interrupted by trips to the United States to undertake lecture tours and attend conventions. During his youth Wilson was a prodigious philanderer and these trips gave him ample opportunity. In '0120Odyssey: The Authorised biography of Arthur C. Clarke (1992), Neil McAleer relates how, at the 1956 World Science Fiction Convention in New York, Clarke received a knock on his hotel room door late at night.
It was the science-fiction author Harlan Ellison who requested Clarke to 'please ask Mike Wilson to leave my girl alone'. Nevertheless, it was while returning from a lecture tour a year later that Wilson met onboard ship his future wife, the acclaimed beauty Elizabeth Perera.
It was in the late 1950s that Wilson began to develop a reputation as a talented photo-journalist, contributing to magazines as diverse as TIME and Playboy, articles from surfing in Australia to missionaries in Borneo and Sarawak. He also covered Dave Brubeck's 1960 Australian tour, and Brubeck requested him to shoot the cover of his forthcoming album.
The late 1950s also saw the start of Wilson's mercurial career in both the local and international film industries - a career destined to last little more than a decade and which effectively was to end with the failure of The Alien project. Wilson wrote, photographed and directed the 25 minute documentary Beneath the Seas of Ceylon in 1958.
This 16 mm film was the first underwater one to be shot in the seas around the island. Like its more famous predecessor, Basil Wright's Song of Ceylon (1935), this film was sponsored by the Ceylon Tea Propaganda Board (and remarkably, both expend a minimal amount of time extolling the virtues of tea). Beneath the Seas of Ceylon features some breathtaking scenes of Rodney Jonklaas taming some very large groupers, and then being chased by sharks.
Wilson's next venture was the fantasy short film Boy Beneath the Sea, (1961), starring the American teenager Mark Smith. It was during the production of this film that Wilson, Mark Smith, and another American teenager called Bobby Kriegel, discovered a wreck on the Great Basses containing freshly- minted silver coins, all bearing the date 1702, some of which were donated to the Smithsonian Museum and to the British Museum.
In 1962 Wilson made his debut as a feature director with Ranmuthu Duwa, which has the distinction of being the first colour full length film to be produced in Ceylon. Made in Sinhalese and with a screenplay by Wilson, the film predictably involves the discovery of underwater treasure, with a mixture of ancient legends, human treachery and romance thrown in. It may not have been great art, but it proved to be a massive hit with audiences.
More next week
---
By Roshan Peiris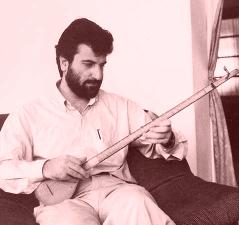 Bahman Panahi, as an experienced industrial designer can effortlessly design a car for the disabled, a conference hall for international seminars, bunkers and camps for war refugees and furniture and modular houses in industrial projects.
From the age of seven Bahman now 29 years old developed an expertise in Iranian calligraphy which he now teaches in Sri Lanka.
But Bahman Panahi has devoted his soul to music of which his favourite instrument is the Setar, a three stringed instrument resembling the Indian Sithar, but in a miniature form.
With his black hair falling in the centre of his bearded handsome face, he plays the Setar with emotion and feeling producing music with a poignancy and sometimes a kind of carefree gaiety. "One must play with emotion," he says, "it is in a sense a substitute for words."
Just over 200 years ago, Bahman said, "there was only an oral method of music. No written notes were used. It was termed chest to chest method." Now we see the Western influence on percussion music. Also we play orchestral music with the Setar, Sintoor and Barbat for strings.
The flute is accompanied by the tombak, something milder than the tabla. One plays the Setar alone, accompanied at times by the Tombal. Iranian music is not only melodious, but it also expresses pent up deep emotion and Iranian Islamic music must move the very soul and spirit of not only the player but also of the listeners.
"Instead of speaking one communicates by playing," he said. Some musicians, said Bahman, in Iran use the violin too in the field of traditional music.
The violin occupies a very important place in some orchestras of traditional music, he says.
Bahman has come to Sri Lanka to teach Iranian calligraphy. He is a member of the Iranian Calligraphy Society and graduated in the art when he was 17.
"I have over 200 pupils in my classes here," he said. But to Bahman Panahi, music is what moves him and he sits speechless after playing a piece of soul gripping music. He is at heart an Iranian Islamic musician. "I am proud to be one," he says.
---
Lanka-India combo in fashion focus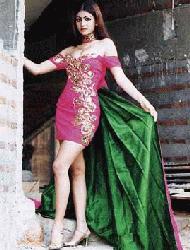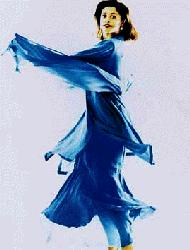 Left: a Michael Wijesuriya creation, Right: one by Rita Lai
The creations of Lankan designer Michael Wijesuriya and Indian designers Rita Lal will be the focus of Designer Debut, a fashion show to be held on March 9 at the Galadari Hotel.
The show is being organised by the Zonta Club of Colombo II to raise funds for their on-going project which is water and sanitation for the Barandana village off Kurunegala.
The Zonta Club's aim is to provide a toilet for each family in the village.
During the first phase of this project, 5 toilets were successfully built. Puttlam Cement has agreed to provide 100 bags of cement for this worthy cause.
The show is sponsored by Access International (Pte) Limited.


Left: Rita Lai, Right: Michael Wijesuriya
Designer Debut is choreographed by Graham Hatch. Rita Lal who is based in Madras and who designs under the label Mademoiselle will focus on Lengayas, Shararas, and Salwar Kamez outfits.
She excels in ethnic design, hand painted and embroidered clothing.
Michael Wijesuriya will display smart casuals, beach wear, tailored suits, oriental evening wear, evening wear, designer sarees and bridals. All jewellery for the show will be hand made by Michael.
Twenty one of Sri Lanka's leading models will take the ramp and their hair and make up will be done by Salon Nayana. All fabrics for the show will be supplied by "Glamourette" and "Fashion Fabrics".
Continue to Plus page 5 - The Birth of the Internet * The Sunday Times Across the world * Third communication revolution
Return to the Plus contents page
Go to the Plus Archive
Please send your comments and suggestions on this web site to
info@suntimes.is.lk or to
webmaster@infolabs.is.lk