Year on the Web
2nd March 1997
| HOME PAGE | EDITORIAL/OPINION | NEWS / COMMENT | BUSINESS | PLUS
Contents
---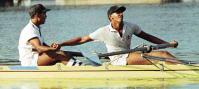 WELL DONE. R.Wanigatunga (bow) congratulates D.Seneviratne (stroke) as they beat Royal College in the Senior Pairs at the 14th National Championship Rowing Regatta at the Beira Lake yesterday. S.Thomas' won the event comfortably with a time of 7 mts 42 secs. S.Thomas' retained the F.H.Gerry Silva Trophy as overall champions. Colombo Rowing Club were second and Royal College were third with Moratuwa University taking fourth spot. Pic by Dunstan Wickremaratne.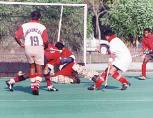 SIX-ONE ROUT. Singers romped home to a 6-1 win over Hong Kong Bank in the Mercantile A Division Hockey Tournament match. Picture shows goal-mouth action where Charith Senanayake of Singer scores and Hong Kong Bank goalie Shorab Saliman tries in vain to prevent the bullet-like shot.
---
Royal, S.Thomas' take all honours
Trinity, St. Peter's offer weak resistence
By S.M.D.Sirisena
Royal and S.Thomas' warmed up for their Big Match on March 14, 15 and 16 in grand style yesterday by excelling against Trinity and St. Peter's in their Inter-School cricket matches which ended in draws at Reid Avenue and Bambalapitiya respectively.
Royal took all honours against Bradby Shield rivals Trinity when they hammered 229 for 8 in the first innings and in reply Trinity floundered and were all out for 108.
Forced to follow on Trinity barely managed to save the match mainly due to bad weather and were in a bad way after losing five wickets for 98 in 33 overs.
Royal were helped by some tight bowling by pace bowler Anuk Samarakkody and Thusan Amarasuriya in the first innings. Once again in the second innings Royal bowlers Anuk Samarakkody and H.Rajakaruna made things very uncomfortable for the Trinitians.
At Bambalapitiya S. Thomas' took all honours against S. Peter's.
In reply to the Thomians first innings score of 301 for 3, St. Peter's were all out for 101 and following on the Peterites were 9 for the loss of one wicket.
Thomian pacies Naren Ratwatte and Amila Perera were the bane of the Peterite batsmen claiming 4 for 32 and 5 for 28 respectively.
Royal drew with Trinity at Reid Avenue
Royal - 229 for 8 (J.Gajanayake 30, T.Amarasuriya 67, R.Jayasuriya 23, U.Gunawardena 30; N.Ekanayake 2 for 48, N.Weeraratne 3 for 27)
Trinity - (overnight 53 for 30) all out 108 in 37.1 overs (R.Raffael 62, N.Ekanayake 16, A.Weeraratne 11; Anuk Samarakkody 4 for 25, Thusan Amarasuriya 2 for 19) and 98 for 5 in 33 overs (A.Imbuldeniya 26, C.Molligoda 14, S.Gamage 23 n.o; H.Rajakaruna 2 for 15)
S.Thomas' drew with St. Peter's at Bambalapitiya
S.Thomas' - 301 for 3 (C.Gunawardena 106 n.o, U.Paramasivam 88, Nilanka Pieris 62, Janaka Siriwardena 29 n.o)
St. Peter's -(overnight 84 for 5) all out 101 (R.Nonis 23; R.Ratwatte 4 for32, Amila Perera 5 for 28) and 9 for 1.
---
India win 3rd U-19 Test with a day to spare
India beat Sri Lanka by 6 wickets , with a day to spare, in their third Under-19 unofficial Cricket Test at the Uyanwatte Stadium, Matara yesterday.
Sri Lanka in their first innings scored 155 all out and in the second essay 155. Nimesh Perera top-scoring with 58 which include 1 six and 5 fours.
India was set a target of 177 to win which they made losing only four wickets. Skipper Joati Yadev top-scored with an unbeaten 67, which included 10 boundaries.
---
Win for St. John's Panadura
St. John's College Panadura trounced Isipatana MV 'A' by an innings in their Inter-School cricket match at Ratmalana.
The highlight of the game was a hurricane century by St. John's opening bat Champaka Udithakumara who hit up 114 runs in 86 balls which included eight hits to the ropes and seven sixes.
Isipathana , who were all out for 144 in the first innings were all out for a a shocking 32 in the second innings with six of their batsmen being out for 'ducks'
St. John's Panadura - 305 for 5 (C.Udithakumara 114, T.P.Thenuwara 79)
Isipathana A - 144 and 32 (C.Udithakumara 3 for 4, Indika Asela 3 for 13).
---
World Cup Rugby game with Singapore:Venue still in doubt
The organisers of the Rugby World Cup in Dublin have not responded yet to the Sri Lanka Rugby Football Union (SLRFU) regarding the Sri Lanka vs Singapore World Cup qualifying game being played in Colombo one week after they were asked to review their decision not to play the match in Colombo due to the safety of the players.
The Singapore-Sri Lanka match was due to be played on January 18 in Colombo but was put off for this March with the venue shifting to Singapore or a neutral Asian country. The SLRFU then sought the advice of the Sports Ministry which in turn referred the matter to the Foreign Ministry.
The Sunday Times learns that Singapore Foreign Ministry has viewed Sri Lanka Foreign Minister's concerns about not playing the game in Sri Lanka with some approval, but most parents of the rugby players who are reported to be under 21 (minors) are not in favour of sending their children to Sri Lanka to play the game.
The World Cup organisers in Dublin have referred the matter to the President of the World Rugby Union, a Queen's Counsel from Wales, but have had no response from him as yet
The SLRFU have in the meantime made inquiries from the Rugby World Cup organisers about logistical aspects if the game was to be played in a neutral country, most probably in Thailand or Malaysia. Yesterday the SLRFU faxed the organisers to however say that this did not mean that they had decided to play in a neutral country and that it was only an inquiry about logistics.
The coming week should unravel the big question whether this key game will be played in Colombo or not.
---
Jamaica 245/5
Kingston Saturday-Jamaica, after being put into bat, were 245-5 in their first innings at the end of play on the first day of their four-day match against India on Friday.
Donald fights back for South Africa
Johannesburg, Saturday- Australian number three Matthew Elliott failed by 15 runs to reach his maiden test century as his side allowed their powerful advantage to slip on the second day of the first test against South Africa on Saturday.
Replying to South Africa's 302 all out Australia had reached 189 for four wickets at tea.
Resuming after lunch on 93 for one, Elliott and opener Matthew Hayden took their second wicket partnership to 95 before fast bowler Shaun Pollock induced an edge from Hayden that was well caught by Daryll Cullinan at slip.
Hayden departed for 40 with the score at 128 for two and 41 runs later Mark Waugh attempted an ambitious pull from outside off stump against Allan Donald. Another thin edge was held low down by wicket keeper Dave Richardson.
With Mark Waugh departing for 26 from just 34 balls with four boundaries, Elliott played another pull shot against Donald but was not in position to cope with the extra bounce and succeeded only in splicing a simple catch to mid on.
---
England-NZ game called off
AUCKLAND, Saturday- Steady rain forced the fourth one-day cricket international between England and New Zealand at Eden Park to be called off on Saturday.
The match will now be played on Sunday.
New Zealand must win both Sunday's match and the final game at Wellington next Tuesday to square the series.
---
NCC, Tamil Union poised for wins
By Marlon Fernandopulle
NCC and Tamil Union were strongly placed and set to pull off outright victories against Singha Sc and BRC at the end of the second day's play in their Division one P Sara Trophy games yesterday.
Former Sri Lanka leg spinner Sanjeewa Weerasinghe claimed his first five wicket haul as NCC bowled out Singha SC for 193 runs.Weerasinghe showed glimpses of his past form and bowled his leg spinners to deceive the visitors who collapsed from a formidable 150/4 to 193 all out .Trailing by 189 runs Singha SC were forced to follow on and were 18 without loss by the close. Make shift spinner Chandika Hathurusinghe claimed a carreer best 7 for 158 runs as Tamil Union fought back to bowl out BRC for 291 and be in a position to enforce the follow on.
Tamil Union who were without their spin twins Muralitharan and Upul Chandana turned to Hathurusinghe who obliged with an effective spell.Hathurusinghe opened the bowling and later switched on to bowl off spinners in a marathon 38 over spell that earned him seven wickets.Niroshan Bandartileke chipped in with three wickets as BRC fell short by 05 runs to avoid being asked to follow on.
Thushara Kodikara hit a fluent 88 as Antonians SC replied boldly to be 229/6 in reply to Bloomfield's first innings total of 389 all out.Bloomfield who are fighting tooth and nail with SSC to clinch the Division One title were made to toil all day as the Antonian batsmen put up a stubborn batting performance.
Yasa Tilakaratne (46) and Upul Fernando(39 n o ) also joined in the runs to frustrate Bloomfield further.
At Maitland Place: NCC vs Singha SC
NCC - 382
Singha SC - 193 ( Janaka Kumudu 38 Gayan Sanjeewa 55 Asela Wewalwela 43 Sanjeewa Weerasinghe 5/66 Sanjeewa Jayaratne 2/5)
At Havelock Park : BRC vs Tamil Union
Tamil Union -444/6 Decl
BRC - 291 (Indika Galagoda 72 Udaya Hettiarachchi 24 Dhammika Rajapakse 79 Sidath Tennekoon 27 Deepal Madduraperuma 59 n o Chandika Hathurusinghe 7/158 Niroshan Bandaratileke 3/61)
At Reid Avenue : Bloomfield vs Antonians SC
Bloomfield - 389 (Ruchira Paliyaguru 117 Pasan Wanasinghe 3/65 Krishan Dhrmasena 2/15 Gamini Perera 2/71)
Antonians SC - 229/6 (Thushara Kodikara 88 Yasas Tilakaratne 46 Upul Fernando 39 n o Suranga Wijeynayake 3/54)
Colts win
Colts crushed Kalutara TC by an innings and 75 runs with a day to spare at Panadura yesterday.
After hitting an impressive 405/7 declared in the first innings Colts bowled out their opponens for 130 & 200 respectively to romp home as esy winners.
Colts SC - 405/7 decl.
Kalutara TC - 130 & 200 (Nilantha Ti;akaratne 55 T M Dilshan 67 Bhatiya Perera 3/71 Tilan Samaraweera 2/42 Sajith Fernando 2/34)
---
Old Thomians, Old Royalists clash
For the 6th consecutive year, the Chulaka De Zoysa limited overs cricket encounter will be held on today at the SSC grounds. Play will commence at 9.30 am.
During the past 5 encounters Old Thomians have won on 3 matches and Old Royalists have won 2 matches. The 6th Chulaka De Zoysa cricket encounter will have Channa Gunasekera and Vernon Prins as the Chief Guests. Old Thomians are led by Asanga Seneviratne and Old Royalists by Nigel Fernando.
Associated Motorways Ltd. will sponsor the match.
Old Royalists (from) - Nigel Fernando (Captain), Zulki Hameed, Nalliah Deverajan, Dinesh Dharmaratne, Anushka Polonnowita, Sampath Alvitigala, Haren Samarasekera, Malinda Ratnayake, Udaya Wijesena, Harith Jayasuriya, Rukman Nanayakkara, Kasala Withana, Chaminda Fernando, Chulaka Amarasinghe, Chanaka Thenuwara, Shehan Jayawardena, Asiri Perera, Arjuna Abeysekera.
Old Thomians (from) - Asanga Seneviratne (Captain), Anura Gunawardena, Manoj Mendis, Nisal Fernando, Dirk Tissera, Naresh Adikaram, Vajira Wijegunawardena, Jerome Jayaratne, Darshana Bodiyabaduge, Kapila Wijegunewardena, Mahinda Halangoda, Kaushik Amaleen, Suresh Gunasekera, Milinda de Silva, Daminda de Silva, S. Ahangama.
Please send your comments and suggestions on this web site to
info@suntimes.is.lk or to
webmaster@infolabs.is.lk