Year on the Web
2nd March 1997
| HOME PAGE
| FRONT PAGE
| EDITORIAL/OPINION
| NEWS / COMMENT
| BUSINESS
How the most eligible girl in India chose a commoner as her life partner. N.V. Mohan writes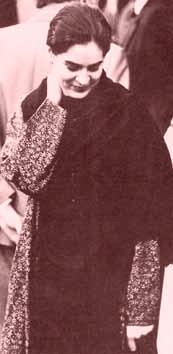 Priyanka: trying to lead a normal life
She: Tall and beautiful, a shutterbug's delight. Commands attention wherever she goes. Belongs to India's first family which ruled the nation for more than 30 years.
He: Son of a small-town business man. Loves fast life and has a passion for dancing. Short and chubby. There is nothing spectacular about him.
When the news of Rajiv Gandhi's daughter marrying a certain Robert Vadhera made headlines early this year, many Indians asked themselves, 'Vadhera, who?'
The answer lay in a photograph, splashed by the newspapers three years ago, of a coy youth sitting beside Priyanka at a fashion show hosted by designer Ashish Soni. The photographers had caught them in romantic moments, eyes locked.
It all began in an Italian home in Delhi. Priyanka 26, first met Robert, 28, six years ago at a party organised by their Italian friends. They had common friends thanks to his days at the New Delhi British School. There developed an instant liking for each other. Priyanka, a student at Jesus and Mary College was at that time beginning to regain some of the freedom she had lost the day two security guards shot her grandmother dead in October 1984.
The shots had ended her right to grow up as a normal child. She came under Z Plus security category; no school, few meetings with friends. For the next five years Priyanka and brother Rahul remained at home, with special tutors to coach them.
The only place outside the four walls of the Prime Minister's residence at 7 Race Course Road where they could step out without SPG security was their garden.
Priyanka's childhood was punctuated with violent memories: the accidental death of her uncle, Sanjay; the assassination of her grandmother; and later the tragic death of her father.
Even as a teenager she was aware of death hovering over her family and Rajiv and Sonia prepared their children to steel themselves mentally. They even drafted identical but separately signed funeral instructions for their children.
Rajiv's instruction read thus: "In the event of my death as well as that of my wife, Sonia, at or about the same time, at the same place or at different places, within or outside India, our bodies should be brought to Delhi and cremated together, in accordance with Hindu rites, in an open ground. In no circumstances should our bodies be burnt in a crematorium.
According to our custom, our eldest child Rahul should light the pyre. It is my wish that our ashes should be immersed in the Ganga at Triveni, Allahabad, where my ancestors' ashes have been immersed."
No wonder Priyanka admirably managed the situation after the death of her father. She stood like a rock beside her mother, consoling her and making arrangements for the funeral. She looked every inch her formidable grandmother, stoic and composed.
Her strength of character was on display when it came to marriage. Like her grandmother she made her own choice and convinced her family about it.
Robert who lives in Delhi's New Friend's Colony with his mother and sister seems every bit an ordinary young man who is soft-spoken and poised. As he starts talking the mask of ordinariness slips. "He is frank and open, nice and vibrant", said a Nehru family associate.
Still, how could a commoner be charming enough for a person like Priyanka? "Please understand that she is a person trying to lead a normal life in the most unnatural circumstances", said a family source.
Though the couple used to attend parties and dance together at the Oasis discotheque in Delhi, the affair was made public only recently. Their movement was largely confined to their close circles.
The Nehru family decided to keep the marriage a strictly private affair. The guest list was limited to l50 - only close relatives and friends, apart from the President, Vice-President, Prime Minister, Congress president and some constitutional functionaries. Other friends got cards informing them of the marriage and seeking their blessings.
Simeran, the 15 month-old daughter of Robert's brother Richard, was the only child around. Children, the Vadheras were told, would be difficult to control.
The civil marriage at 10 Janpath, on the evening of February 18, followed semi-Vedic rites and the entrance to the bride's residence was decorated with banana trees and tender coconuts, in the south Indian style.
Priyanka wore the same khadi wedding sari that her mother and grandmother had worn at their weddings, and clothes designed by Ashish Soni, including an embroidered pink lehnga, at the receptions at 10 Janpath and Hilton.
The Nehru family did not want the marriage to be a mega event and was annoyed about the hostile media reports on Priyanka's house hunt. Amid the controversy a bungalow at 35 Lodhi Estate was getting ready for the couple.
"On February 18 Priyanka Gandhi became Priyanka Vadhera. The change of surname has immense significance", said a source close to 10 Janpath. "Priyanka has opted out of the race for succession," said a political analyst.
She will certainly help her husband in his business. Robert runs a small scale costume jewellery export firm, Artex, on the outskirts of Delhi. The firm also designs jewellery and Priyanka lends him a helping hand. Earlier she was doing the designing work at her home but now she frequently visits his office.
Few believe that she would enter politics in the near future. Priyanka, who could have become Youth Congress president at 21 or MP at 25, will most probably start a pastry and pista business. She loves cooking, like Robert's mother Maureen.
Priyanka knows best to chart the course of her life. After all, the dissertation for her Psychology Honors was on 'functional relevance of belief in managing life events.'
Events in the Nehru family have often been the subject of disagreement. Motilal Nehru, with all his modern outlook, wanted Jawaharlal to marry only a Kashmiri.
The very notion of mixed blood was repugnant to him, and he once confessed to his son that he would not be able to love grandchildren of mixed parentage. Motilal, however, allowed his daughters to marry outside the narrow circle of Kashmiri Brahmins.
Jawaharlal's wedding, in Delhi, was an elaborate affair which lasted nine days. A special train brought friends and relatives from his home town Allahabad where the festivities went on for several weeks. The groom wore a white sherwani, a typical Muslim outfit and symbol of the secular out-look of the Nehru family. Kamala was dressed the traditional Kashmiri way: flowers, ornaments and pale pink sari.
As described by Jawaharlal's younger sister Krishna, Kamala was "Sixteen and very lovely; slim and rather tall for an Indian girl, with typically fair skin of Brahmins of Kashmiri descent. Her hair was dark brown and she had large brown eyes and a very gentle disposition. She was one of the most beautiful women I knew or ever had known." Jawaharlal, the Cambridge educated barrister, could not adjust with Kamala, a girl of simple manners. Even in the three years they really lived together, 1916 to 1919, he adopted a semi-forgetful attitude towards her and it was virtual oblivion after he joined the freedom struggle.
Kamala withdrew into a shell, went reluctantly to Switzerland for tuberculosis treatment and died young. She was only 36.
In Nehru's 600-page autobiography, the chapter on his marriage is only two pages, and the actual reference to it is just two sentences! "My marriage took place in 1916 in the city of Delhi. It was on the Vasanta Panchami day which heralds the coming of spring in India." Kamala is not even named in the chapter. And it turned out to be the last arranged marriage in the Nehru family.
Jawaharlal was, at heart, a romantic but when Indira fell in love with Feroze Gandhi, the father gently cautioned her that the difference in their social status might lead to problems later. Nehru wrote: " One marries a person, not a family, yet one cannot ignore it either." Feroze was the son of a Parsi shopkeeper.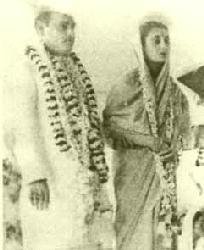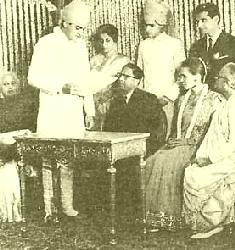 Left - March 1942: the wedding of Priyanka's grandmother Indira. Right - Another romance: Rajiv and Sonia's wedding
lndira liked Feroze's openness, self-confidence and his sense of humour. Nehru did not like the idea of his daughter marrying Feroze and sought Mahatma Gandhi's help to dissuade her. She was adamant. When the marriage plan was leaked to the press there was a hue and cry from orthodox Brahmins who considered it an insult to let Indira marry a Parsi.
Finally both Nehru and Gandhi had to come out with press statements supporting the marriage. Gandhiji said, "It would have been cruel to refuse consent to their engagement. As time advances such unions are bound to multiply with benefit to the society."
The pomp and splendour that marked Nehru's wedding was missing as Indira and Feroze got married on Rama Navami day (March 22,1942).
The marriage ceremony was according to semi-orthodox Vedic rites. Indira was nervous. During dinner she said to Sir Stafford Cripps: "Do have some potato cripps."
The couple began drifting apart soon after the marriage, first physically, then mentally. They lived in Lucknow, where Feroze was managing the affairs of the National Herald. When Nehru became the interim Prime Minister, Indira moved to Delhi along with her children, Rajiv and Sanjay, to be her father's official hostess and housekeeper.
---
The Vadhera family of Moradabad is a microcosm. There are Hindus, Christians and Muslims living under one roof. Rajinder Vadhera, the head of the family, married Maureen, a Roman Catholic. His eldest son Richard married Saira, a Muslim: Saira's mother is a Roman Catholic and father a Muslim.
And now Rajinder's youngest son Robert has wed Priyanka - whose mother Sonia is a Roman Catholic, said a Vadhera record-keeper: "All the mothers in our family are Christians."
The Vadheras are very enterprising people. Rajinder's father Hukumat Rai Vadhera migrated to India at the time of Partition. He left behind his fledgling sports goods business in Sialkot and settled in Bangalore with his wife and six children.
Robert and Priyanka's six years old the decision to marry came all of a sudden. "They (the Nehru family) planned it and it was basically their decision. We did not have anything to say about it", said a family member.
The family is delighted about the marriage but well aware of its responsibilities. "Everybody is happy of course", said a family spokesman.
But there are tremendous responsibilities in the future. It is not like any other marriage; you are noticed... everybody will be noticed. We are a business family, we have to tread cautiously now."
A decade ago Rajinder received trophies from Rajiv Gandhi for excellence in export and in billiards a game he is passionate about. Now he is receiving another precious gift from the Nehru family.N.V. Mohan(Courtesy The Week)
---
By Rajeev Syal
THEY are Britain's fastest-growing group of millionaires. A study has revealed that entrepreneurs from Britain's 1.6m Asians are exploiting strong family ties and the education system to get rich.
The top 100 Asians - collectively worth £5 billion - include a 20-year-old Sikh man whose retail business incorporates 50 stores across the country; a former caterer who started by making samosas from her kitchen and now packages food for supermarkets all over Europe; and a top television executive.
The survey shows how families originally from the Indian sub-continent have diversified from traditional bases in news-agent's shops and restaurants, first into retailing and manufacturing and now into computing, finance and the media.
Philip Beresford, who compiles Britain's Richest 500 for The Sunday Times and has surveyed Asian millionaires for Eastern Eye, a weekly Asian newspaper, said: "Asians have managd to combine discipline, family values and schooling to produce a formidable community which scrimps and saves for their children's education and works all hours until they achieve success."The richest is believed to be Lakshmi Mittal, a 46-year-old steel tycoon from Bombay. He came to Britain last year because he prefers the tax regime and has ambitions to bid for British Steel. Last year his steel company, Ispat International, bought a steel mill in Kazakhastan, once the second biggest in the Soviet Union. His fortune is £1.5 billion, putting him among the five richest people in this country. Mittal is helped by his wife, Usha, who supervises his investments and his son, Aditya, 20, is being groomed to take over the business.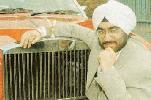 Left: Parween Warsi, Right: Reuben Singh,20, owns a chain of stores
Other prominent Asians started their companies in Britain. Perween Warsi, managing director of S & A Foods, began her business in 1986 by making and selling Indian snacks such as pakoras and samosas from her kitchen.
Warsi, 40, was supported by her family and was soon selling to leading retailers. Now she is worth £35m and exports to France, Denmark and Holland.
Reuben Singh, the 20-year-old owner of Miss Attitude, a chain of stores selling fashion accessories, is a member of the second generation of Asians who are starting to adopt more western styles of management by recruiting staff from outside the family. He lives in Manchester and drives a yellow Ferrari and a red Rolls-Royce. He was 12 when he started to watch his father work in a fashion import business; at 14 he clinched his first solo deal worth £500,000 during a school lunch break.
Now worth millions and in the top 30 on the list of rich Asians, he believes the younger generation will be even more successful. "Our people have relied on their families to join together to run their businesses - based on the suspicion that only those close to you can be trusted", he said. "As the younger people come through, they are less wary of employing outsiders.
"We work so hard because our communities are so close and everyone is aware of not letting the side down."
Sri and Gopi Hinduja, the London-based brothers from India whose international oil, banking and power empire was worth £1 billion last year, are believed to be second on the list. Sri, the younger brother at 56 and a friend of Lady Thatcher, said his success was because of his close-knit family.
Lord Paul, the Labour peer who saved London Zoo, owns Caparo Group, a steel business worth £500m. He put Asian success down to one fact: "We just work very, very hard."
Others believed to be in the top five are Tom Singh, 47, the owner of New Look fahion retailers, valued at £113m last year, and who owns more than 300 shops; and Manubhai Madhvani, a Ugandan Asian whose sugar business is worth more than £135m.
The list also shows that Asians have broken into areas where they were previously unseen. Waheed Ali, managing director of the television company Planet 24 which makes the Big Breakfast, is worth £10m; Tahir Mohsan, who runs Time Computers, is joint 17th with £35m.
Mindful of potential donations as well as votes, politicians are wooing the Asian community. Tony Blair has arranged visits to mosques and Hindu temples; next month a banquet thrown by John Major will bring together political leaders and the cream of Asian society to celebrate their business success.(The Sunday Times)
Continue to Plus page 3 - Dulanjalee: The hurly-burly of politics is not for me * A Word to "Maname" Hitters * Gamana No-Nimeyi: Book review * Miss Working Girl 1997
Return to the Plus contents page
Go to the Plus Archive
Please send your comments and suggestions on this web site to
info@suntimes.is.lk or to
webmaster@infolabs.is.lk