28th July 1996
| HOME PAGE
| FRONT PAGE
| EDITORIAL/OPINION
| NEWS / COMMENT
| BUSINESS
Contents
---

By Tharuka Dissanaike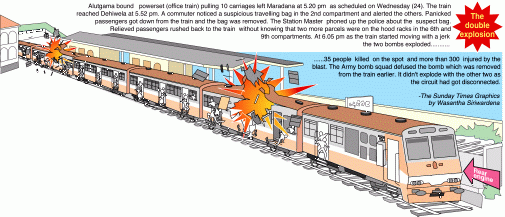 Larger picture - 122k
Getting into the Aluthgama bound train after work, from the Fort railway station Katherine Fernando (43) would not have dreamt that she would never reach home that day. An employee at the Ports Authority, she was feeling very rich that day, with her pay packet safely in her handbag. But fate had other plans for Katherine and thousands of other commuters on that train. When warned of an unidentified package in one carriage the train was stopped at Dehiwala and checked. The unclaimed package was unloaded at Dehiwala station and the passengers were asked to board the sardine-packed train.
"The train was stopped for about 20 minutes at Dehiwala, and as soon as it started to pull off from the station the bomb exploded." Katherine said. She remembers little else of the incident . But her office colleague, Ranjani, who was also returning home remembers how her hair caught fire and she collapsed onto the pile of raw human flesh on the floor of the carriage. She was in for a second rude shock when the poor woman discovered that her wallet, with her entire pay, was missing from her bag.
"They have cut open my handbag and stolen my money at a time like this." she said shaking her head in disbelief.
The twin explosions that wrecked the packed-to-capacity Aluthgama bound train last Wednesday evening which set the entire nation in mourning had so far cost 57 lives. The death toll kept rising last week. Even as we were at the Accident Service of the Colombo National Hospital last Thursday afternoon a patient in the Intensive Care Unit succumbed to the grievous injuries he suffered in the blast.
Asantha Wijerathne (35) was warded in the Accident Service with severe injuries to his arms and head. With a great deal of difficulty we spoke to the man, who was hard of hearing after the blast.
"I work at DCS Cargo systems," he said. "I was traveling on the footboard of the train because there was simply no room in the carriages. I travel daily in this particular train." he said, replying to our written questions.
Thajudeen (44) was also travelling in this train. Although he has not sustained serious external injuries, he was bleeding from his mouth, nose and ears when we met him at the hospital-a day after the blast. He comes from Panadura and works at Transtore Ceylon Limited. On Thursday Thajudeen was transferred to a general ward from the Accident Service.
Maheshwari (39) was also recuperating from head, arm injuries and shock in Ward 30 of the National Hospital . "I come from Wadduwa. From my office at Fort I got into the train and was in the fourth carriage. When the bomb exploded a ball of fire hurtled at me, and my hair, sari and leg caught fire. I stamped around to put out the fire and finally was taken to Kalubowila hospital."
She looked too tired to even cry. "I have two children but they are small and probably don't know about this incident."
Lidya Bastienzs who herself sustained grievous head and eye injuries and burns all over her body, suffered a double blow. Her husband, who was traveling with her in he train died in the blast. She was not in a condition to speak at the hospital. The relatives who were with her filled us in. Lidya works for Galadari Hotel while her husband was employed at Commercial Bank. They travel together from their home in Panadura everyday . Their seven year old son is not aware of what has happened to his mother and father.
At least for those who survived the terrible Wednesday, there is some solace in the fact they are alive. From the thousands of people in that train that day, they somehow managed to keep alive - whether they attribute it to fate, God, Providence or whatever. It is hard to imagine the thoughts that must run across the minds of the family members who have tracked their loved ones to the city morgues. On that Wednesday morning their loved ones left home on another day's work and now...
Farin Ghouse was at the Police Morgue in Colombo. His 22 year old nephew, Mohommad Niyaz was killed in the blast. "Niyaz and his brother work at the same office. His brother came early but Niyaz had classes that day. But the classes were cancelled and he took this ill-fated train home," said the grieving uncle.
"When my son did not come home that night we were worried and called the Kalubowila Hospital. But they said there is no one by that name. So, in the morning we came to Colombo National Hospital," said a father who was in shock having just identified his son among the maimed bodies at the Police morgue.
The trauma and terror of the bomb has not diminished. When the Central Bank was hit in January many felt the attack was too close home. Today the insecurity has worsened. Public transport is something the working masses today cannot avoid. The threat of bombs in the most familiar public places would turn paranoid usually easygoing commuters, who would now not only have to scramble, run and push to get into buses and trains but also watch out for suspicious persons after that.
Bomb attacks on civillians should not be regarded as those against one race or community, but against humanity. It strives to destroy the foundations of any society.
But it is upto the people to not let it destroy them being humans.
Continue to Plus page 2 - Masquerade! * It's double standards all the way
Go to the Plus Archive
Please send your comments and suggestions on this web site to
info@suntimes.is.lk or to
webmaster@infolabs.is.lk