28th July 1996
| HOME PAGE
| FRONT PAGE
| EDITORIAL/OPINION
| NEWS / COMMENT
| BUSINESS
Looking more like a mansion than a bungalow, the Talawelele bungalow stands within sight of the Great Western hills. Secluded in th hillside tea plantations are bungalows recalling part of Sri Lanka's recent past.

Royston Ellis and photographer Gemunu Amarasinghe set out to discover some of them in this monthly series - Plantation Homes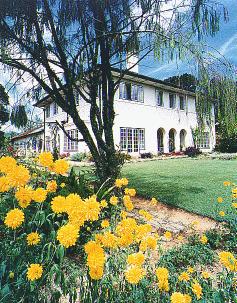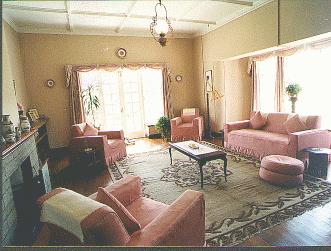 "When you see clouds over the Great Western range of hills", said the planter, "we know it will rain in the afternoon. That's why, when a captain wins the toss on the cricket field of the Radella Sports Club, he looks up at the hills. If there are clouds, he makes sure his team bats first."
Planters' lore goes well with the Talawakele bungalow for it is steeped in tradition, helped by its incumbent planter's deep passion for tea. A two-storey building more like a mansion, it masquerades modestly as a bungalow. It stands on a hillock overlooking the Talawakele-Hatton road, within sight of the Great Western hills.
Strictly speaking of course, the Talawakele estate residence is not a bungalow in the architectural sense which limits the word to describe a house of only one, the ground, floor. However among the plantation community the word bungalow is customarily used to describe an estate superintendent's house. In Words In Indian English, a book by former Times of Ceylon journalist, S. Muthiah, a bungalow is defined as "a large, garden-surrounded house, once usually tile-roofed and one-storied. Now a word used for any kind of spacious house."
The Talawakale bungalow no longer has a tiled roof perhaps for reasons of economy, green painted metal sheets form the roof of the main house, but tiles still cover the staff wing. It is surrounded by a garden and the resident planter's enthusiasm for knowledge has led to the labelling of trees with neat signs detailing their common and botanical names. Lawns are terraced and one used to be a tennis court in colonial times.
Plantation records date the building of the bungalow to 1928. Its exterior seems to lack character, resembling a two-storied cube perched inelegantly among the manicured lawns and flower beds. But viewed from a tea field on the hill opposite, its features are clearer. Notable is the loggia with access from the morning room, framed by three arches, lending it a Mediterranean flippancy.
"Why", wondered the planter, "with so much land did they build the house upwards instead of spreading out like a real bungalow?"
The answer might be in who was to live in the house. It was designed for a family rather than for accommodating a bachelor planter and his guests. Families don't mind sharing bathrooms, which is what happens at the Talawakele bungalow since it has only two bathrooms for its four upper floor bedrooms. Downstairs, conveniently by the entrance door, is the sole guest room, with bathroom en suite. The room was reserved for the Visiting Agent, when estates were managed by agency houses, representing the overseas owning companies.
From research done by the current manager, Dushy Perera, into plantation records, every visit by the Visiting Agent in the 1940s cost the estate Rs. 950. That was in the days when a superintendent's monthly salary was Rs. 1,000 plus an allowance of Rs. 500 and perks like servants, bungalow maintenance, furlough and transport. The daily earnings of a worker amounted to Re.1.86.
If the Talawakele bungalow has a period atmosphere, it is due in part to the antiques collected by Mr. & Mrs. Perera. In the lounge there is an unusual art deco standard lamp with swivelling shade on a brass bracket. Some fittings remain from when the bungalow was built. Especially delightful are the ceiling lamps on pulleys which enable them to be lowered or raised.
The bungalow's entrance is actually at its side, off a courtyard where a two-car garage has an inbuilt drain to enable water to run off when a car is being washed there. Thoughtful touches are evident in the layout of the house. The first room on the right of the entrance lobby is a cloakroom with toilet. On the left is a door into the marble-floored bathroom of the guest room, to enable the servant to enter and clean the bathroom or draw the guest's hot bath without disturbing the visitor.
A large, wood-floored morning room forms the centre of the house and has the inevitable fireplace (the estate is at 4,200 feet above sea level). The brass-cornered wooden firewood box is an essential piece of bungalow furniture not often seen these days.
The exterior arches of the loggia are repeated above the access to the staircase in an alcove of shelves, and above doorways. The adjoining lounge could be called the Pink Room because of its flourish of pink chair covers and drapes caressed by sunlight. It has a granite stone fireplace so carefully faced it could be an ultra-modern piece. Alongside it is a solid built-in, sheer 1930s teak bookcase.
The dining room shares a view of the Great Western hills with the corner Pink Room. French windows open onto the garden with a view of the former tennis court on the lower lawn. The kitchen adjoins it, leading to an outside passage and the single-story staff wing. One narrow room, with meshed screens set in doors at both sides, was for meat and food storage. The brass bell buttons located throughout the house, trigger a number in the box at the servant's door which indicates in which room the bell has been rung. A separate outside staircase enclosed in glass is the service access to the bedroom floor.
The main stairs, of wood, lead to a landing above the morning room, with two bedrooms on each side and a bathroom in between. There is an upstair sitting-cum dressing room with fireplace. All the windows in the house are criss-crossed with wire lattice work, not a 1920s touch but a necessary security measure during the JVP days of the 1980s.
The design of the Talawakele bungalow could have been copied without modification from a house on a modest lot the English shires. Its cold country origins mean its walls are thick enough to withstand the vagaries of hill country weather. When the weather turns miserable and the monsoon reigns, the Talawakele bungalow is a bright place to be, thanks to its careful upkeep and the keen appreciation of its work by its present occupants.
---
By Kishali Adhikari
Recently, an acquaintance of mine was apoplectic over an incident that had occurred while she was out job hunting. She had all but clinched a job at a prestigious company in Colombo when at the final interview, a number of questions had been put to her that were frankly discriminatory, not to say downright insulting.
She had been asked about the state of her marital relationship, when she was planning to have her first baby and worst of all, if it came to a choice between her family and her career, what would she choose? Needless to say, she did not get the job, her answers being brutally honest. "That is none of your business."
Such incidents are becoming increasingly frequent in Sri Lanka. While it is a well touted fact that Sri Lankan women are paid equal wages along with men, the other side of the coin is that covert discriminatory practices both in the private and public sector go virtually unchallenged.
Leave aside recruitment to employment where employers could be said to have a fair amount of sometimes unjustifiable discretion, even promotions in service are granted on clearly discriminatory grounds. Similarly, employees are fired due to reasons that could be challenged in court but never hired. A few months back for example, a well known governmental organization engaged in highly publicised social service work, fired a worker for engaging in "unprofessional conduct." This was that she had been having a relationship with a director of that same organisation and had been discovered with him in a "house of ill repute" in off duty hours. The irony was that the director was not dismissed. Presumably, the worker has to hold only herself responsible for "unprofessional conduct." The fact that she was only a lowly secretary is of course crucial to the case.
Such blatant examples of discriminatory employment practices put us to shame. The pity of it is that unlike in India, in Sri Lanka, women's rights issues have not been taken up in courts. Our constitution explicitly forbids discrimination on the grounds of sex. The problem is however that subordinate laws and administrative practices do not reflect this constitutional guarantee of equality. Very few women have the courage to challenge their employers in the court due to cultural norms and traditions. As a result, no case involving sex discrimination has yet come up before the Supreme Court. In this era of more liberal human rights jurisprudence, it would be interesting to observe how the court would react if such a case does come up before it.
There is an alarming discovery coming out of this entire debate. While overt and covert sex discrimination may only be one reason, the fact is that the numbers of women entering paid employment has decreased sharply in recent years. In the early eighties women workers were around 80% in 1990 this decreased to 55% though 1993 records a slight increase of 61.2% (source: Ministry of Women's Affairs).
The general unemployment rate of women by 1993 exceeded the rate for men by 11.1%. Meanwhile, women who were themselves employers were reckoned to be a mere 0.3% decreasing sharply from 1.2% in 1981. In contrast, the comparative rate of male employers was 2.4 in 1981 and increased to 2.5 in 1994. The signals are evident therefore that women are finding it difficult to survive in employment and finding it more and more difficult as time goes on. The women who do survive are generally to be found in low profile jobs said to be "suited to females" such as in health and education. In the public sector, 1990 records percentages of nurses as being 90.4%, midwives 98.3%, steno typists 81.4% and teachers 68.1%. Women decision makers in paid employment, are therefore few. The elite Administrative Service however records an appreciable increase in women holding responsible positions such as Additional Secretaries and heads of key departments. The first Secretary to a Cabinet Ministry was however appointed only in mid 1994. Interestingly, the Sri Lanka Administrative Service once actually imposed a quota that restricted women from entering the service. This was withdrawn by the government only in 1990.
The relatively high profile image of women in the Administrative Service remains the exception rather than the rule. In general the gap between university qualifications in which women often excel and the jobs in which they engage in remain wide, the legal profession is one particularly striking example. Enrollment of women in the University Law Faculty is at a commendable figure of 52.9% while the percentage of women passing out as Attorneys at Law from the Sri Lanka Law College is 44%. However, few women have as yet made an impact in the profession at its higher levels. Women judges compared to their male counterparts number only 23.2%. There has been no woman appointed to the Court of Appeal or Supreme Court. One judge has been appointed to the High Court.
Interestingly, promotion of women to higher grades in the police ranks have also been extremely slow. From 1953 up to the end of 1993, there was only one woman Assistant Superintendent of Police, one Woman Chief Inspector and thirty seven Women Inspectors.
Apart from attitudes of employers and traditional social conservatism that restrict women in their job choices, other reasons have also been cited for this decrease of women in paid employment. Labour laws are inadequately enforced and though equal wages are prescribed, women's rights groups have observed gender disparities in wages for equal work that again have gone unchallenged.
"Working hours exceed statutory provision particularly when production deadlines need to be met. Night work has been permitted since Sri Lanka withdrew from the ILO. Convention in 1984, but the assurances given regarding the protection of women workers travelling at night are not always implemented," states Swarna Jayaweera, a reputed scholar and rights activist. (Facets of Charge - 1995).
Small wonder it was then that the Sri Lankan National Report to the Fourth UN World Conference at Beijing in 1995 started in typically bureaucratic language "the open economic policy adopted by the government provides a large number of women with job opportunities. However concerns remain as to whether they have access to workers' rights that would enable them to enjoy such benefits as reasonable wages, maternity leave, security of service and insurance against industrial hazards that they are exposed to in work places."
Though the laws are there on paper, the question is therefore whether women workers are sufficiently aware of their right to protest when they are discriminated against. Publicity campaigns in this respect are a must. Social Action groups could appeal to the courts to lay down definite principles and clarify unclear areas of the law relating to all employment matters, such as hiring, placement, promotion, salaries, layoff, seniority, insurance and retirement benefits. If the proposed constitutional amendments ever get the go ahead signal, Social Action Litigation would be possible in Sri Lanka. This is where rights groups could institute action on behalf of a disadvantaged or discriminated person. This is the manner in which the Indian Supreme Court has made far-reaching judgements not only with regard to women's rights but also with reference to discriminatory labour laws and social security legislation.
Sri Lanka has signed a plethora of international conventions that oblige the Government to ensure that state employers follow non-discriminatory practices in employment. The convention on the Elimination of All Forms of Discrimination Against Women was ratified in 1981 and the Women's Charter modelled on the convention was accepted as state policy in 1993.
International law now inclines towards the view that states are bound even to prohibit discrimination by private parties. States should promote non discrimination which would sometimes oblige the state to interfere in private employment relations where a private employer is being clearly discriminatory. Sri Lankan Fundamental Rights provisions however only permit government actions to be challenged as a fundamental rights issue. This would exclude private employer-employee relations. One can only hope therefore that if discriminatory government employers are brought to task in a public and well deserved manner, it would act as a warning to private sector employers as well.
The family picture is on HIS desk

Ah, a solid, responsible man
The family picture is on HER desk

Hmm, her family comes before her career
HE's not at his desk

He must be at a meeting
SHE's not at her desk

She must be in the ladies room
HE's having lunch with the boss

He's on his way up
SHE's having lunch with the boss

They must be having an affair
HE got an unfair deal

Did he get angry?
SHE got an unfair deal

Did she cry?
Continue to Plus page 3 - Building Bridges: education for conflict resolution
Return to the Plus contents page
Go to the Plus Archive
Please send your comments and suggestions on this web site to
info@suntimes.is.lk or to
webmaster@infolabs.is.lk