28th April 1996
| HOME PAGE
| FRONT PAGE
| EDITORIAL/OPINION
| NEWS / COMMENT
| BUSINESS
Contents
---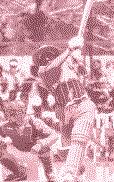 By Rajpal Abeynayake from Los Angeles
America was the first nation, after England, to form a national side at cricket. So if the England cricket team is in the pits, one can hardly blame America for being slaughtered by Sri Lanka, a third world cricketing side, right?
America stopped playing serious cricket for mundane material reasons, but then, cricket is not a game for materialists. The civil war saw the decline of cricket and the rise of baseball, because it was easier to "put down four sacks on the field for baseball than it was to lay a strip suitable for cricket".
These facts among other things came my way, courtesy Merril Dunuwille, a Sri Lankan among many who turned up for the game between superpower America and visiting Sri Lanka incidentally world superpower in cricket.
Duleep Mendis, Sri Lanka's team manager, when asked whether his side is taking this match seriously, let out a stocky belly laugh. Well said, Sir. Obviously, Sri Lanka could not bowl the United States out for a mere thirty runs. Just not cricket, wot? So, Sri Lanka sent in the wicket keeper Kaluvitharana to bowl, and guess he took so many wickets that eventually he had to be changed. The Sri Lankan cricket team has been swamped by fans ever since the world cup, but it was probably the first time that Arjuna Ranatunge came face to face with a Sri Lankan girl who asked him, "do you also play for the Sri Lankan side?" The whole world loves a champ of course, and that includes Sri Lankan women in Los Angeles who don't know a ball, I mean a bat about cricket. Jayasuriya, the darling of Los Angeles, after he became the darling of the Singaporeans was in a chatty mood, while the Sri Lankans were playing a slower, more laid back kind of one-day cricket with the Americans. "Do you like America?" a Sharon Stone look alike asked the new Don Bradman sequel Mr. Sanath Jayasuriya in the VlP tent. "Its a nice country." Sanath said, dryly. "But there is nothing like home." The lady asked something about his school. Obviously a Southerner, she wisecracked that "the best Sri Lankans are from the South." "The other side of the Bentara river", Sanath concurred......
Its a long way from the Benthara ganga to Woodley Park, Los Angeles. To a crowd of 3000 Sri Lankans, it didn't help to know that America and Canada have been playing the world's longest running international cricket series. When one team is like lambs to the slaughter, the game begins to look a bit like a schoolboy prank. But, that is good for the sideshows. Nobody really watched the cricket on Woodley Park, because what was really on display was an ersatz Sri Lankan display of camaraderie. There were nagasalang bands and cheering squads whose lusty shouts of "ara okata ara" would have befuddled many Angelino policemen who were on duty at Woodley Park.
The cricket was so relaxed that batsman Kumara Dharmasena had to pad up after he knew the man before him had fallen. While the Sri Lankan's were giving the Americans a chance at looking respectable, it was time to have a chat with the world beaters, and on some things in retrospect.
Question: What do you think of the new changes in the Board of Control for cricket?
Duleep Mendis: I hope they perform..
Question: When Sanath Jayasuriya breaks so many international records, isn't it correct to say that there is some kind of pressure on the batsmen who follow to emulate. I mean, he is a hard act to follow. Isn't that why we lost the Singer Cup, after Jayasuriya had performed so brilliantly?
Duleep Mendis: I don't think there is such a thing. Each batsman bats his own way. Gura can't bat the way Sanath does, or Sanath can't bat the way Roshan does, and so on and so on.
Question: When you are world champions, the hardest thing about it would be to live up to the expectations. Do you feel uneasy about keeping up?
Roshan Mahanama: Being world champions does not mean you are not expected to lose a match until the next World Cup. I think we play one match at a time, we have always done so, and we will continue to do so.
Question: But, how about the Singer Cup. Why did we lose two matches, after having got off to a great start. Is it the complacency brought about by World Champion status?
Roshan Mahanama: I do not think so. We never relax in international games. All international games are important, and the question of relaxation just doesn't come into it. We may relax in a match like this ( against USA ) but never, never in an international match.
Question: Any way to explain the Singer Cup failure?
Roshan Mahanama: At some point, when you go on winning, you have to drop a match somewhere. That's cricket. Remember. We won all world cup matches convincingly. So, when you are on this kind of roll, you have to drop a match or two somewhere, and that's what happened in Singapore, and that's inevitable.
Question: We have hit the zenith in one day cricket in magnificent style, but how about test cricket. What is the future like... ?
Duleep Mendis: I think we have good potential in that area as well.
Question: Don't you think we need to go into full time professional cricket to succeed in that league.... ?
Duleep Mendis: I think so. I think that should happen.
Question: There have been reports that Arjuna Ranatunge has considered retiring as captain, and he has thought so out loud. What's the story....?
Duleep Mendis: There is no decision to retire. We are only talking about it. He has not taken any such decision.
End of question time. The Americans, poor things, are in the meanwhile being bowled sitters and full tosses of all kinds, but such generous treatment does not obviate a collapse, and finally the US of A is all out for a hundred and ten. The American team is led by Albert Taxeria, a middle order batsman from St. Vincent, who represented his country against Dominica, Grenada and St. Lucia in 1981. Most US players are originally from the Windies, including Hopeton Barrett who hails from Jamaica, Paul Singh from Barbados, and Rudy Latchman, a left arm spinner originally from Guyana.
The Sri Lankans here are having a thing about cricket now. It is a trend worthy of analysis by a social anthropologist, or else a novelist about migrant communities, such as Vessangi. There are a few in Los Angeles, who have cricket in their blood, but their cricketing veins have got clogged unfortunately, simply because there is so little cricket in Los Angeles. I spoke to Mr. Serpanchi, a former captain of the St. Joseph's cricket team, way back in the 50s when Colombo schools dominated the Sri Lanka cricket scene. There is only one Josephian now in the team, says Serpanchi, and its hard to detect the man's mood when he says that. Serpanchi reminds me that cricket in Los Angeles has been played since the 1840s, but with names like the Hollywood Cricket Club, you would know that this kind of cricket was a little ersatz.. However, to say it as it is, there is a league championship in Los Angeles between clubs such as the Century Club and the Colts Cricket Club founded by Sri Lankan expatriates.
Somehow, cricket played under strict American civic conditions (strictly no alcohol on the grounds under pain of prosecution incidentally, Oklahoma bomber Timothy Mac Veigh has recently referred to the US as a police state!) made it difficult for Sri Lankans to think they were really in the old country, but it seems always that in these parts. Cry for the old country, but its never quite home. The grass of course is always greener on the other side.
Talking of grass, the pitch in Woodley Park was thick and carpet like, and so was the outfield.. But no matter. Those who flocked to Woodley Park didn't get any dynamite from Sanath or Kaluwitharana, and the batting, by current day Sri Lankan standards, was a bit tepid. But, the Sri Lankans in cavalier best, skittled through Uncle Sam's batting. If there is no dynamite in the batting, there is a nuclear threat outside. The controversy is raging? Did the organisers rake in the baksheesh, was it a piggy back ride on the world champ's popularity. The organisers say the tour was initiated in December, much before Sri Lanka was champs. Besides, they say, the pledge to the team was raised to 30000 from 15000 USD after the board protested, and the pledge was honoured. The teams were hosted in houses because they liked rice and curry. You need to bring in Petrochelli to get at the truth, but, as a fan was quoted here as saying, if there is no money in it these days, it's just not cricket.....
Continue to Plus page 2 - May day memories
Go to the Plus Archive
Please send your comments and suggestions on this web site to
info@suntimes.is.lk or to
webmaster@infolabs.is.lk