Long walk for equality
Adilah Ismail traces the roots of the Malaiyaha Tamils struggle as she catches up with the walkers at the end of the Maanbumigu Malaiyaha Makkal pilgrimage from Thalaimannar to Matale
View(s):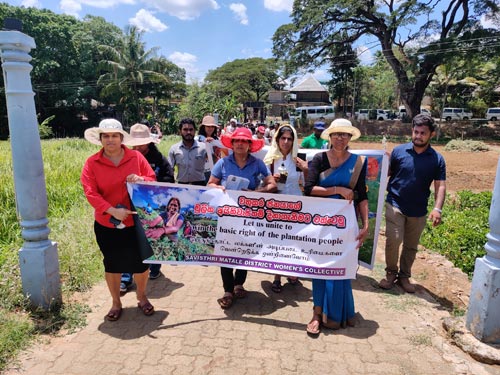 59-year-old R. Venu has walked 248 kilometres in 15 days. His knees are swollen, his skin has been burnt by a harsh, unforgiving sun and he made the long journey in a simple pair of slippers. When we meet, he has changed into a milky white veshti with a golden yellow ponnadai – a traditional silk weave given to honour dignitaries – draped on his shoulders to honour him and the others for the long walk they have just completed. A low-voiced man of few words, the next day he will report back to work in the tea estate where he works as a labourer.
Venu is one of many Malaiyaha Tamils who undertook a pilgrimage from Thalaimannar to Matale retracing the difficult journey their ancestors took when they first arrived in Sri Lanka. For many like Venu, the pilgrimage – Maanbumigu Malaiyaha Makkal – was a nod to their ancestors and an attempt to understand what they went through.
200 years ago, the British looked to South India to source workers for the thriving coffee plantations in Sri Lanka. Over the years, thousands of workers were shipped from India to Sri Lanka. They landed in Mannar and were made to trek on foot to Matale. The groups had to brave jungles, life-threatening disease and wild animals, often resulting in numerous deaths.
Maanbumigu Malaiyaha Makkal was organized by the Collective for Maanbumigu Malaiyaha Makkal which is made up of the National Christian Council of Sri Lanka and a wide group of civil society members who are from or work with the Malaiyaha community. The walk began on July 28 and culminated last week at the Muthumariamman Kovil in Matale. While punctuated with refreshments and rest stops, blessings from all religious leaders and filled with camaraderie and joined by many who showed solidarity, it was not an easy journey. Walkers and organizers spent their nights in churches, temples and schools which offered shelter, with Siddhalepa daubed on their limbs to keep away flies and mosquitoes. The group who completed the entire walk was feted on the final day.
For Rev. S. Devadasan, a priest from Hatton and one of the coordinators of the walk, the pilgrimage had multiple meanings. "On one side, I'm a person of the plantations. On the other, as a minister, I have a burden to serve the people," he says. For the priest, the walk affords dignity to a group within the country who have faced multiple layers of dispossession and systemic marginalization for two centuries. The Malaiyaha Tamils were stripped of their citizenship in 1948. Thereafter, many were subjected to arbitrary and involuntary repatriation to India. The Sirima-Shastri Pact (1964), and the Sirima–Indira Pact (1974), resulted in the expatriation of thousands to India, while thousands were made stateless and separated from their loved ones. It was only as recently as 2003, after years of hardship and struggle, that formal citizenship was granted to the community and the issue of citizenship substantially resolved.
"We have been living for 200 years in Sri Lanka and in 2003, we got full citizenship but still we are called Indian Tamils. Is that fair? Even in our birth certificate or any documentation by the government, we are still called 'Indian-origin Tamils'. We came from India and our origins are from India – we accept that – but we are no longer Indian," explains Rev. Devadasan. "We are a separate ethnic group in Sri Lanka. We have our cultures, our traditions, we have a language, we live in certain areas," he says explaining that a key ask for the community was acceptance as Sri Lankans and to be identified as Malaiyaha Tamils.
L. V. Weerasingham, a gender consultant from Panwila, Kandy and also a coordinator for the walk, agrees that there is dignity in determining how the community is named and the need to move beyond dated epithets such as 'estate people' and 'plantation people' – which corrals a vibrant community solely within the confines of the plantations – and 'Indian Tamils', which is a misnomer for a community which has lived in and contributed to Sri Lanka for two centuries. 'Recognize us as state people. Don't say estate people. 'E' is the problem for us' reads one placard at the walk.
"This walk is important for us because the Malaiyaha community is in their seventh generation and many don't know their real history and also undervalue our contribution," says Weerasingham.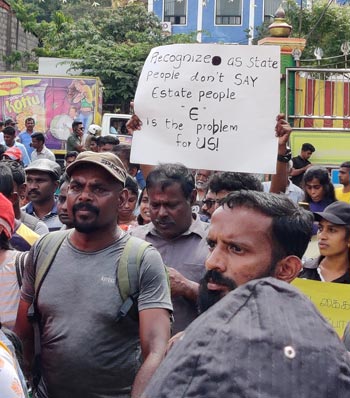 "People always think we are not citizens of Sri Lanka, that we are not dignified people, or that we are not of any value. So, we wanted to do this walk and identify our roots. To understand who we are, where we came from, what our contributions are, what our role to develop this country is – that is the first objective. The second objective is to move thinking patterns from sympathy to equal rights," he says. "Although we got citizenship in 2003, it's not a full citizenship. For instance, the Malaiyaha community cannot get a plot of land because they are 'estate people'." He also pointed out that often, Malaiyaha Tamils lacked equal access to government services on par with Sri Lankan citizens.
Over the years, the Malaiyaha community has been reliant on the estates for services such as health care, disaster relief and more. Further, it was only in 1975 that plantation schools were bought under the national education system.
Malaiyaha Tamils have been and are vital to Sri Lanka's history and economic growth. However, the community remains one of the most marginalized.
"The British colonial government amassed wealth from the plantations at the expense of Malaiyaha Tamils' disenfranchisement and labour exploitation. Upon independence, the government took advantage of legal and exploitative practices and rather than abolish them, denied Malaiyaha Tamils their citizenship rights. This decision was grounded in Ceylon's elite classes' discrimination of the community based on caste, labour segmentation, and ethnicity and desire to continue amassing profits from the plantations," notes Dr. Mythri Jegathesan, Associate Professor in the Department of Anthropology at Santa Clara University.
"Over the next 70 plus years, the government and plantation industries aligned and worked together to legally restrict the community's access to government services across land and housing ownership, education, health and employment opportunity. And yet, this community was sustaining the successes of the country economically in the face of this real legal, political, ethnic discrimination and violence. One cannot fully confront Sri Lanka's trajectory of unresolved political conflict and recognition in the global sphere without addressing the past and ongoing exploitation and dispossession of the Malaiyaha Tamil community," she says.
While G. Gowthami, a 28-year-old pre-school teacher from Hatton, wanted to experience what her ancestors went through, the walk was an opportunity to highlight the injustices her community faces.
"For 200 years, we have had no land. We still live in line rooms. There are many people living without basic facilities like electricity," she says. Her mother works as a tea plucker and her family of five live in a thinly partitioned line room – her father and brother in one section and her mother and sister in another. The road to the line room is narrow and unmaintained. As the house is near a river, water seeps in and they regularly contend with the effects of soil erosion.
Her dream, she explains without hesitation, is for the line room set-up to change into a village set-up where families live in houses. She also hopes that tea pluckers will one day have better working conditions – her mother, for instance, toils from 10 a.m. – 4 p.m. without basic washroom facilities when working in the fields.
Language is also a concern. "When we go to government offices people face very difficult situations because of the language barrier and because most of the forms are in Sinhala," she says.
"Citizen-led initiatives are especially critical for Malaiyaha Tamils but also communities and beyond Sri Lanka to know and recognize their demands for dignity and respect. Much of the official record of the community's presence, experiences, and contributions in Sri Lanka is dominated by representations created by and for consumer industries such as tea and tourism. But these representations of the community's social and life experiences are often not created or circulated with the community's consent or on their terms," says Dr. Jegathesan. "To have Malaiyaha Tamils citizens lead and define the terms of how they should be remembered is critical for future generations and a wider public that is willing to listen and learn."
"We want to go beyond religious and political barriers. And we want to get together with all Sri Lankans to recognize our community.  Everyone drinks tea. Ceylon tea is very famous in the world. We are people who have contributed economically to this. Every person has a moral and ethical responsibility to support the Malaiyaha Tamil people," says Rev. Devadasan, speaking about the broader aim of the walk  — to raise awareness.
For R. Venu, it is simple. "For generations we have been suffering. Our children should not suffer anymore," he says succinctly.
| | |
| --- | --- |
| Tomoya Obokata, UN Special Rapporteur on Contemporary Forms of Slavery, issued a statement last week stating: "I wholeheartedly endorsed the symbolic walk which has been taking place in support of the human rights of #malaiyaha #Tamil community in #SriLanka. I urge the Government to intensify its efforts in promoting & protecting their rights." | |
| | |
Their history: Exhibition now on at the Public Library
'ROOTED: Histories of the Malaiyaga Tamils,' an exhibition by the Collective for Historical Dialogue and Memory (CHDM), is now on at the Public Library, Colombo from 9 a.m – 6 p.m. until Sunday, August 27.

Today, (August 20) the exhibition will be open from 1p.m. to 6 p.m.

A collaboration with the Institute for Social Development (ISD), the exhibition traces the history of the Malaiyaga Tamils from their arrival from India to work primarily in the plantations through their political events and struggles, and to their achievements.

The exhibition consists of panels tracing the colonial and post- independence histories of the community, and artefacts that are significant to the community (many loaned from the Tea Plantation Workers' Museum and Archive, Gampola), along with audio-video material.

Commemorating 200 years of the Malaiyaga Tamil community in Sri Lanka, the exhibition seeks to create public awareness of the community's past and present by integrating public and personal histories with special focus on acknowledging the systemic discrimination they endured and in particular their struggle for recognition and identity as citizens in Sri Lanka.

The exhibition was first presented in Nuwara Eliya in May as part of a larger event #Malaiyagam200 organized by the ISD. Sections of this exhibition were also presented on the 'Maanbumigu Malaiyaha Makkal' walk from Thalaimannar to Matale.
Searching for an ideal partner? Find your soul mate on Hitad.lk, Sri Lanka's favourite marriage proposals page. With Hitad.lk matrimonial advertisements you have access to thousands of ads from potential suitors who are looking for someone just like you.