Inspired by her mum a tale unfolds of a Jaffna family
As International Women's Day approaches, Anoushka Jayasuriya meets Selvi Sachithanandam whose book 'Gnanam - Timeless Wisdom' is a story of empowerment
View(s):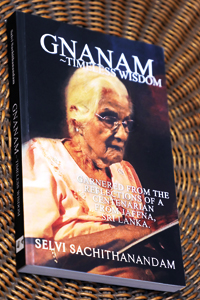 Gnanarathinam Muttiah Sachithanandam passed away at the age of 101 in November of 2017. The grand matriarch of a Jaffna Tamil family, she lived an eventful  life and left her daughter with a myriad tales steeped in wisdom and value which she reflected upon frequently. In her memoir, 'Gnanam – Timeless Wisdom', Selvi Sachithanandam documents the lives of five generations of women in her family through the lens of her mother, Gnanam's recollections as well as her own.
With a background in architecture and urban planning, Selvi didn't think of herself as a writer, even when encouraged by an old friend from university who insisted that her experiences were worth documenting. After a meeting with a tarot card reader who told her that she needed to 'awaken the writer sleeping within' her, Selvi began to give the suggestion more credence.
It was her mother's passing which helped settle her mind about writing. In March of 2018, Selvi began work on the memoir of her mother's life. She was able to tabulate her book within four months but it would take another four years to edit and fine-tune it.
'Gnanam' translates to 'timeless wisdom' in Tamil. "The stories she told us were not just narrations, they were filled with a lot of nuances of how we should live our lives and about the wisdom of living –  there were nuggets of wisdom in each of those stories," Selvie says.
The book provides a glimpse into old Jaffna but also encompasses many other areas whilst tracing the political and social history of the nation. After writing the book Selvi says that she noticed recurring themes throughout each chapter which she referred to as 'consistent yet parallel threads', all nonlinear but present throughout the book connecting each chapter to the last.
The book discusses the rise and fall of Trotskyism in Sri Lanka, the impact of socio-political changes over the years, how the members of her family coped during the harrowing events of the war, how families adapted to life in newly independent Sri Lanka, dealing with tragedy, grief and death, and the impact of leading a a more spiritual existence.
"This journey has been very significant for me and I am very happy that I sat down and wrote it," Selvi reflects. The most enriching part of writing the memoir she says was her daughter, Dhivya's contributions and participation in writing the book that helped shape the final print of 'Gnanam' greatly. Many stories and instances which Selvi had considered 'mundane' or 'normal', Dhivya found valuable and Selvi says, "I hadn't thought of it that way but for her as a young person I realised that a lot of these stories, although normal to me, were not the norm for people like her not from my generation."
Selvi described a significant shift in her own perspective after having written 'Gnanam'. In particular, she says that writing the memoir helped redefine her perception of women's empowerment. She says, "When I was writing about my mother, I found out that women empowerment is not what we are claiming – empowerment of women is to be kind." One of the most crucial lessons she learned from her mother by watching how she lived her life was that a person is empowered when they can address their own personal issues competently. When people are consumed by their problems they fail to see beyond those challenges and risk becoming completely absorbed by them, Selvi feels.
Of her mother she says, "The secret of her empowerment was that she was able to deal with her problems and that allowed her to help others deal with theirs. Because she was empathetic with people's problems, she became the kind of person everyone came to." While she didn't always understand the motivations behind her mother's actions as she watched her over the years she found that while writing the book, she came to understand her in a new light.
Asked what she hopes readers will take away from her book she says, "to be selfless and to be able to serve others in any capacity they can."
'Gnanam – Timeless Wisdom' is priced at Rs. 3000. The book is available at the Barefoot Bookshop in Colombo.
Searching for an ideal partner? Find your soul mate on Hitad.lk, Sri Lanka's favourite marriage proposals page. With Hitad.lk matrimonial advertisements you have access to thousands of ads from potential suitors who are looking for someone just like you.