Future "US" in the former "Licence Raj"
View(s):
Two weeks ago, Deepak Bagla, Managing Director and Chief Executive Officer of the National Investment Promotion and Facilitation Agency in India gave a short 15-minute keynote speech at the Treasury Leadership Forum 2023, held in Mumbai. The speech was about how India is changing fast creating a new "United States of America" in India just within next 10 years. In his eloquent speech with impressive numbers, Mr. Bagla portrayed a mesmeric picture of fast-changing India; I am going to quote some of the same numbers in today's column.
Prior to that on February 1, presenting the Union Budget 2023-2024, India's Minister of Finance, Nirmala Sitharaman stated that at the 75th year of its Independence (2022), the world has recognised the Indian economy as a 'bright star' growing at 7 per cent in 2022. Some of the economists and think tanks have already predicted that India's per capita income would reach the US$10,000 mark in another 10 years' time.
There has been a sudden turnaround of the Indian economy in the recent past enabling the Indian economy to grow fast. In terms of the size of GDP, it has already surpassed Italy in 2015, France in 2019, and the UK in 2021, and has become the world's "fifth largest" economy. Within the next couple of years, it is likely to move ahead of Germany and Japan to become the world's "third largest" economy after the US and China.
Stagnant economic growth
Historically, the world had many negative attitudes over the possibility of India becoming a fast-growing economy. There is no doubt that, with the world's largest population of over 1.4 billion people and with the world's largest number of poor, it still has many complications. With rapid economic growth, even the number of poor people has declined from 450 million to 138 million just within 15 years (2004-2019).
India is one of the best examples to cite confirming the popular claim that "democracies grow slow" and to compare and contrast with fast-growing East Asian economies. But the recent Indian growth trajectory has challenged this notion too.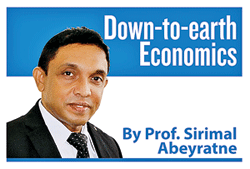 It was known to be the "License Raj" depicting the prevailing massive regulatory barriers that inhibited the potential growth of the economy for decades. As a result, the growth of the Indian economy was in the range of 3 – 4 per cent per annum for decades after Independence in 1947. One of the Indian economists, Raj Kishna of the Delhi School of Economics, coined the term "Hindu rate of growth" to explain the stagnant economic growth of India due to popular and widespread belief on fatalism and contentedness.
The critiques, however, challenge the notion and argued that the economic stagnancy in India until the time of its policy reforms since 1990 was due to socialist policies with a stringent regulatory economy. The miraculous economic growth since the mid-2000s has completely refuted such cultural and social obstacles to growth over the policy and institutional matters.
Open economy of India
The National Investment Promotion and Facilitation Agency in India was established, just seven years ago under the slogan "Invest India" as a "one-stop" centre for providing services to foreign direct investment (FDI), connecting all states in entire India. It provides a "single contact point" for foreign investors to promote and facilitate FDI inflows; as Mr. Bagla says, in terms of achieving this objective, this agency has been now ranked by the World Bank and the United Nations as the "No. 1 investment promotion agency in the world".
Throughout its post-independent history after 1947, India has received about $950 billion FDI, out of which $532 billion has come during the past 90 months, that is after 2015. In the early years after 2000, India received about $4 – 6 billion FDI annually, and grew to over $40 billion since 2015. The highest ever annual FDI inflow to India, which is $83 billion, was reported last year 2022.
India's FDI inflows, which have come from 162 countries, cover 61 sectors and spreads across 31 states. These numbers entail global records and indicate that new FDIs do not concentrate merely in major commercial cities but is spread throughout India. It points to the fact that India's emerging high-growth is widespread. Growing FDI flows indicate not just the available opportunities to exploit cheap labour and a bigger market, but also the investor confidence over the enabling environment that is being created in India in the recent past.
Furthermore, Mr. Bagla pointed out that 93 of the FDI flows came through the "open door" in a sense that they did not require any specific approval process. He claimed that today, "India is the most open economy in the world".
Emerging start-ups
The Invest India initiative also covers three more areas, in addition to FDI: (a) promoting India's own "start-ups", (b) bringing India's own innovations into commercialisation stage, and (c) digitisation of the government processes. The Invest India initiative also focuses on making India a tourist destination, wellness destination and film content destination.
The old notion that South Asian countries are lacking entrepreneur spirit and culture has already been rebutted by the impressive growth of new "start-ups" in India in the recent past. India is now No.1 in the world with new start-ups adding every day. In 2021, India added a "unicorn start-up" with over $1 billion value every 29 days, while in 2022 India added a unicorn start-up every nine days. It shows the emerging "entrepreneur population" in India.
The "Digital India" initiative of the Indian government which commenced in 2016 has been changing the economy and the society in India. While the government processes have become more efficient and effective with the new digitisation process, businesses have been able to expand their markets and reach millions of customers quickly and cheaply due to the digitisation process.
Young middle-class
India is already the second largest on the Internet today; every second three new people are joining that Internet in India, while two of them are from a village. In fact, every minute 30 people are moving from the village to a city, accelerating India's rapid urbanisation.
Well-managed urbanisation is the key to ensure labour supply to newly growing industry and services on the one hand and promoting rural agricultural productivity on the other hand. Moreover, the resulting economic expansion at both ends would ensure the distribution of growth dividends among people in the city as well as in the village.
It is also a remarkable advantage that India also has one of the world's "youngest working age population" in abundance at a time when many countries are faced with an ageing problem. As a result, investors can find any type of skilled human resources such as managers, engineers, scientists, doctors, and other professionals as well as any type of technicians, without a shortage in order to support investment promotion.
By 2047, 21 per cent of the world work force and 20 per cent of the world middle-class population will be in India in order to support and sustain the country's investment promotion and domestic demand. Thus, India's demographic transition and its socioeconomic outlook further buttress the growth impetus of the Indian economy.
New growth drivers
While India's GDP now exceeds $3 trillion, it's amazing to figure out how growth has accelerated exponentially in the recent past. It took 67 years for India to produce its first trillion GDP confirming the stagnant nature of the Indian economy after Independence. But the second trillion took only eight years, and the third trillion just five years; it's accelerating fast!
Compared with rapid economic growth in China which was export-oriented and regionally-integrated, the Indian economic growth is different. It's primarily domestic demand-driven, while there is limited integration with the regional economy and with the regional supply chains.
(The writer is a Professor of Economics at the University of Colombo and can be reached at sirimal@econ.cmb.ac.lk and follow on Twitter @SirimalAshoka).
Hitad.lk has you covered with quality used or brand new cars for sale that are budget friendly yet reliable! Now is the time to sell your old ride for something more attractive to today's modern automotive market demands. Browse through our selection of affordable options now on Hitad.lk before deciding on what will work best for you!