A taste of healthy goodness in town
By Shannon Salgadoe
Kemara Wellness Centre dishes out vegan, gluten and dairy-free menus at its new on-site cafe
View(s):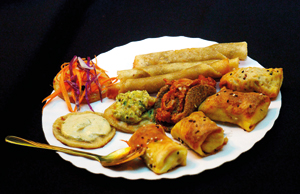 Wellness brand Kemara took another step forward in its holistic journey with the launch of an on-site cafe at the Kemara Life Spa and Wellness Centre located at the Lakpahana premises in Colombo.
At the cafe's launch earlier this month, guests could sample an interesting array from citrus and lavender spritzers to psyllium husk tacos with smokey jakfruit filling, vegan crepe parcels, taquitos, blinis and much more.
"This menu is great for someone who wants to try and become vegan, or who is already vegan and wants to continue," said Sumi, who was pleased with the variety of items. Seamus, another guest, was not familiar with alternatives to gluten, dairy, and sugar and like the majority had misconceptions about them. "I thought that gluten, sugar, and dairy-free would be bland and dry like a protein bar," he said, remarking that the food is "absolutely delicious!"
Kemara, meaning 'healing' in Sanskrit, is the tour de force of accountant-turned-holistic therapist Kishani Gunewardena, who initially became interested in alternative therapy techniques a little more than two decades ago. Creating the menu after extensive research in identifying foods that should be avoided in a diet, she looks at serving meals that are tasty and nourishing. "Our meals allow our customers to eat food that they like eating, such as pizza, without feeling guilty about it, or having to think about being allergic to gluten or dairy," says Kishani.
The Kemara philosophy is to maintain health and wellness holistically, focusing not only on physical health but also on mental and emotional health to maintain balance in an individual's life.  Kemara Cuisine was in fact launched in 2019 to augment that holistic lifestyle by catering to those with diet and food-related issues, such as intolerance to gluten and dairy and inflammation. The menu is free of grain, gluten, dairy, and processed sugars, having been based on a paleo diet. The meal plans can be customised and are available for delivery or takeaway, with the menu changing weekly.
Offering healthier alternatives to kotthu, bread, nachos, wraps, pizzas, burgers, cakes, and tarts that taste identical to the original versions,  "most people are surprised when they taste the food and realised that it's not made from the traditional ingredients," says Kishani.
The Kemara Life and Wellness Centre offers aromatherapy, hydrotherapy, deep tissue remedial massages, body wraps, scrubs, and Ayurveda rituals as well as various natural and organic product ranges for hair, skin and body. The cafe is open from 8 a.m. to 7 p.m. Visit https://www.kemaralife.com/cuisine/serving-all-day to browse through their menu.
Searching for an ideal partner? Find your soul mate on Hitad.lk, Sri Lanka's favourite marriage proposals page. With Hitad.lk matrimonial advertisements you have access to thousands of ads from potential suitors who are looking for someone just like you.